Jacksonville Jaguars 17 August, 2021 - 12:50pm
Cleveland Browns 17 August, 2021 - 12:50pm
Dawgs By Nature 17 August, 2021 - 12:50pm
We've now seen plenty of proof that Tim Tebow is, indeed, a former quarterback who hasn't played tight end in his entire career.
Well, we knew that. But maybe NFL fans were holding out hope that the ex-QB would pick up the position quickly.
As we saw in his Jacksonville Jaguars debut, Tebow delivered a goofy-looking block that everyone shared on Twitter and laughed at a lot at.
But it turned out that wasn't even the worst Tebow block of the night (and again, this guy's a first-time TE. It makes sense that this would be a weakness).
Check out this one that's being shared now:
Per CBS's Chris Towers, this was the next play after the one everyone made fun of. You'll see No. 85 on the right basically get tossed out of the way as a Cleveland Browns pass-rusher gets in to make a play on running back Dare Ogunbowale:
Honestly, the Tebow block that went viral wasn't even his worst block of the night. This was *the very next play* pic.twitter.com/tINWyJpWSE
— Chris Paul Towers (@CTowersCBS) August 16, 2021
we've gotta get our jokes off, and we will, but it's worth saying that this is just … bad for the team. The Jaguars have to make roster cuts by Tuesday and if he's still around, I don't know how you take that staff seriously.
— Chris Paul Towers (@CTowersCBS) August 16, 2021
these were the only two plays where Tebow was asked to run block (perhaps understandably) https://t.co/kzZIDQAOKK
— Bill Barnwell (@billbarnwell) August 16, 2021
Tim Tebow executing block assigments pic.twitter.com/WpuCtgC0gT
— chrisperalta.eth (@_chrisperalta) August 16, 2021
it's comical that tim tebow keeps getting these opportunities because he was briefly good at college football. bad in the nfl, bad on tv, bad in the minor leagues, bad in the nfl again at a new position. Like why is this happening? His last college season was 12 YEARS AGO https://t.co/LukXFE8cOQ
— Dylan Goforth (@DGoforth918) August 16, 2021
Looks like a 34 yr old who's never had to block. And before y'all come to cape for Tebow. When the Jags signed a minor league baseball player who's a former QB who hasn't played in a game since 2012 to the roster to play TE… this is the scrutiny he will get. https://t.co/ZRykuMB5Z7
— Geoff Schwartz (@geoffschwartz) August 16, 2021
— chillin… (@kcaesar414) August 16, 2021
Yeah he's cut on Tuesday lol https://t.co/F98qf7sICG
— #904 SZN (@SirSkippp) August 16, 2021
Nah, it wasn't a good block. The defender overpursued and Tebow bounced off him.
— Chris Paul Towers (@CTowersCBS) August 16, 2021
Like we know football players are big, but is genuinely shocking seeing how small a 6'3 250lb man is out there. He looks like a high schooler getting thrown around.
— eric. (@not8_bit) August 16, 2021
Sign up for the For The Win newsletter to get our top stories in your inbox every morning
Not a bad start for the No. 2 pick in last April's draft.
© Copyright For The Win 2021
Sign up for the Morning Win newsletter for an irreverent and incisive recap of daily sports news.
Please re-enter your email address.
You'll now receive the top For The Win stories each day directly in your inbox.
Please enter an email address.
Please check your email for a confirmation.
First Coast News 17 August, 2021 - 12:50pm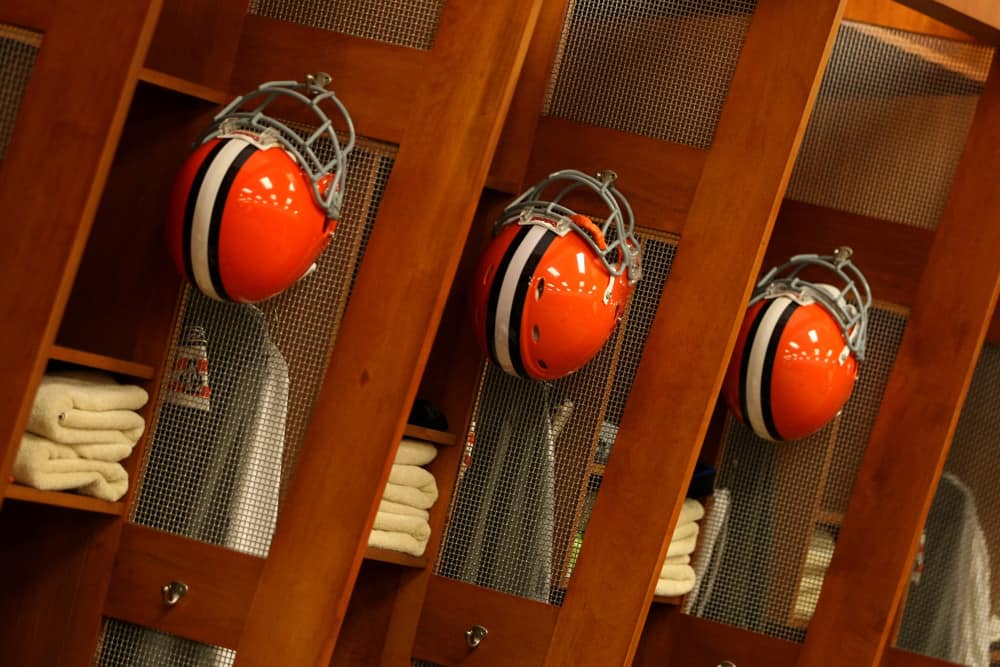 Browns Nation 17 August, 2021 - 12:50pm
Injuries played a role in bringing the Cleveland Browns roster to the new limit of 85 this week.
The team placed tight end Stephen Carlson (knee) and wide receiver Ryan Switzer (foot) on injured reserve.
But Defensive back Kiondre Thomas (hamstring) was waived with an injury designation.
Offensive lineman Cordel Iwuagwu and linebacker Montrel Meander rounded out the cuts.
We've reduced our roster to 85 players
📰 » https://t.co/et4Fo61LLo pic.twitter.com/jTB3wZePqQ
— Cleveland Browns (@Browns) August 16, 2021
Iwuagwu played 4 snaps against Jacksonville Saturday night.
That was the fewest plays of any active player.
Meander did not see action in the first preseason game.
But Thomas saw 40 snaps, including 4 on special teams, before incurring his injury.
The first round of cuts is usually the easiest as camp bodies provide excess resources.
And Meander and Iwuagwu probably saw the writing on the wall in Jacksonville.
Cleveland used 6 linebackers with the injured Tony Fields and free agent Anthony Walker sitting out.
No starting offensive linemen saw action as the Browns try to find the best among their backups.
#Browns have waived OG Cordel Iwuagwu, LB Montrel Meander, CB Kiondre Thomas and placed TE Stephen Carlson (knee), WR Ryan Switzer (foot) on reserve-injured list. Roster now down to 85.
— Jake Trotter (@Jake_Trotter) August 16, 2021
Veteran Chris Hubbard, secure in his swing tackle role, called it a night after 16 snaps.
But nobody else saw fewer than 24 plays of action, making Iwuagwu's limited action suspect.
Mack Wilson's shoulder injury might have given Meander hope of another week in camp.
But for now, he'll join Iwuagwu and the injured Thomas in searching for another opportunity.
The NFL brought back the shorter injured reserve time frames for the 2021 season.
But the rules only apply to players injured during the regular season.
Players on injured reserve before September 1 can not be brought back during the season.
Multiple sources report Carlson's knee injury is likely to knock him out for the 2021 campaign.
#Browns TE Stephen Carlson suffered what's believed to be a season-ending knee injury vs the #Jaguars, a league source confirmed. He left the stadium in a large brace and on crutches, as reported last night.
— Mary Kay Cabot (@MaryKayCabot) August 15, 2021
But if Ryan Switzer's injury is less serious, the team could finagle the roster to bring him back.
Cleveland could release Switzer and then re-sign and activate him later.
Andrew Berry can also trade Switzer before September and his new team can activate him.
But the fact they went right to injured reserve probably means Switzer is done for the year.
Pat Opperman retired from real life to write about the Cleveland Browns and other religious matters. Don't forget to watch the Browns Nation Station podcasts!
Copyright © 2021 · ALL RIGHTS RESERVED - Brownsnation.com
Yardbarker 16 August, 2021 - 02:29pm
LANSING, Mich. — Former Michigan Congressman Paul Mitchell died Sunday. Mitchell represented the 10th Congressional District in the Lower Peninsula. Mitchell left the Republican Party in December of its refusal to accept the outcome of the 2020 Presidential Election.