davidshepardson
davidshepardson
Here are the @Stellantis EV brand statements: @Dodge is "Tear Up the Streets… Not the Planet" pic.twitter.com/Zm1Qfrg7Z2

Phil LeBeau
Lebeaucarnews
Electric Dodge muscle car and Ram pickup part of Stellantis' $35.5 billion EV plans dlvr.it/S3KSvx pic.twitter.com/yMTlihtnVY
Ernest Scheyder
ErnestScheyder
Stellantis makes 30 billion euro wager on electric vehicle market reut.rs/3dVGi5n
Sam Abuelsamid
samabuelsamid
Looks like @Stellantis is going to follow @tesla and @volvocars in adopting structural battery packs with no modules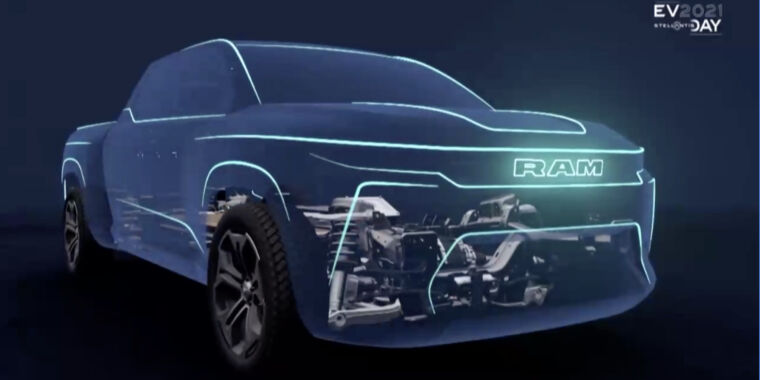 Sign up or login to join the discussions!
Stellantis, the automaker with a portfolio of 14 brands that includes Jeep, Ram, Peugeot, and Citroën, is planning four new platforms for battery-electric vehicles as part of its electrification strategy. The company revealed its new EV strategy on Thursday morning, laying out a roadmap that it says will result in class-leading EVs in every segment, from small city cars to body-on-frame pickup trucks and commercial vans.
"The customer is always at the heart of Stellantis, and our commitment with this €30 billion [$35.5 billion] plus investment plan is to offer iconic vehicles that have the performance, capability, style, comfort and electric range that fit seamlessly into their daily lives," said Carlos Tavares, Stellantis' chief executive officer. "The strategy we laid out today focuses the right amount of investment on the right technology to reach the market at the right time, ensuring that Stellantis powers the freedom of movement in the most efficient, affordable and sustainable way."
The STLA Small platform will be for city cars with a range of up to 300 miles (500 km), and we're unlikely to see many of them here in the US, barring some fundamental shift in North American attitudes toward small, slow, cheap cars. STLA medium will give rise to compact EVs with a range of up to 440 miles (700 km).
Finally, there is the STLA Frame, which (as the name suggests) is a body-on-frame platform as opposed to the monocoque construction of the other three STLA EV platforms. STLA Frame will be used for full-size pickups and commercial vehicles, with an electric Ram 1500 truck due in 2024. Stellantis also briefly mentioned something called the "Range Electric Paradigm Breaker," which sounds like it might be a series hybrid, but Stellantis says it's not prepared to share any more details on the REPB yet.
Each platform will be up to 2 million units a year. Volume and a high degree of shared components are key for both speed to market as well as cost control, Stellantis says. There will be three core drive modules that package the electric motor together with the transmission and power inverter. These drive modules also will be suitable for front-, rear-, and all-wheel drive applications, as well as 4xe in the case of plug-in hybrid Jeeps.
Power output will scale from 70 kW (94 hp) up to 330 kW (442 hp), with the most powerful drive modules operating at 800 V (as opposed to 400 V). There is a single common inverter across all three drive modules, which Stellantis says can operate at both voltages, with the main difference being the use of either silicon or silicon carbide semiconductors. Stellantis says it plans to build motors locally for each market, and in the US and China that will include building them in-house as well as from suppliers.
The new platforms will use a pair of battery-cell chemistries, one that uses no nickel or cobalt, and the other a high-energy density chemistry. (Additionally, it says that it will introduce solid-state battery packs by 2026.) STLA Small vehicles will use packs with capacities between 37 kWh and 82 kWh. STLA Medium EVs will carry between 87 kWh and 104 kWh, STLA Large will use packs of 101 kWh and 118 kWh, and STLA Frame will require between 159 kWh and 200 kWh packs. By 2030, that will require more than 260 GWh/year, which will be provided by five massive battery factories in Europe and North America. By that time, 70 percent of Stellantis' European sales and 40 percent of its North American sales will be low-emissions vehicles, it says.
You must login or create an account to comment.
Join the Ars Orbital Transmission mailing list to get weekly updates delivered to your inbox.
Read full article at Ars Technica
Associated Press 08 July, 2021 - 02:38pm
Automotive News Europe 08 July, 2021 - 02:38pm
MILAN -- Stellantis said it plans to invest more than 30 billion euros ($36 billion) through 2025 on electrifying its vehicle lineup.
The strategy will be supported by five battery plants in Europe and North America as the automaker gears up to compete with electric vehicle leader Tesla and other automakers globally.
"This transformation period is a wonderful opportunity to reset the clock and start a new race," Stellantis CEO Carlos Tavares said on a webcast on Thursday. "The group is at full speed on its electrification journey."
Stellantis said it is targeting more than 70 percent of sales in Europe and over 40 percent in the U.S. to be low-emission vehicles, either battery or hybrid electric, by 2030. That compares with 14 percent for Europe and 4 percent for North America in 2021, according to the company.
The automaker aims to make the total cost of owning an EV equal to that of a gasoline-powered model by 2026.
Stellantis said all 14 of its vehicle brands -- including Peugeot, Jeep, Ram, Fiat and Opel/Vauxhall -- will offer full-electric vehicles.
The EVs will be built on four electric platforms and have driving ranges of 500 to 800 km (300 to 500 miles) on a single charge and fast charging capability of 32 km (20 miles) per minute.
Stellantis is pushing hard to electrify in Europe, where its Opel and Fiat brands will phase out gasoline cars over the coming years amid pressure from regulators to cut emissions. It's less ambitious in the U.S., where Ram's first all-electric truck will be released in 2024 -- some years after rival models from Ford and GM.
By 2025, Jeep is to have a fully electric model for every SUV segment, Stellantis said.
Another focus for Stellantis will be electrifying its commercial vehicle lineup, and rolling out hydrogen fuel-cell medium vans by the end of 2021.
Dario Duse, of consulting firm AlixPartners, said the 30 billion euros earmarked for the EV program were a "conspicuous amount."
"The former PSA Group already had a good electrified offer that Stellantis will surely try to leverage at best and even the former FCA made steps ahead recently, so the big step up in electrification by 2025 seems achievable," he said.
"Stellantis seems to have put in place quite rapidly a unified platform strategy, same thing for the powertrain modularity, which will allow the company to benefit as fast as possible from scale effects," IHS analyst Romain Gillet said, adding that the company's targets are in line with its competitors.
Stellantis said on Thursday that one of the five battery plants will be at its engine facility in Termoli, Italy, joining previously announced factories in Germany and France. The automaker also is in final steps of securing a partner in North America.
A source told Reuters that Samsung SDI may build a U.S. battery cell plant and has been in talks with automakers, including Stellantis.
Earlier on Thursday, Stellantis said its margins on adjusted operating profits in the first half were expected to exceed an annual target of between 5.5 percent to 7.5 percent, despite production losses due to a global shortage of semiconductor supplies.
It said synergies from its merger were well on track to exceed the first year's target and would help to contribute to a positive cash flow for the year as a whole. Stellantis has promised more than 5 billion euros ($5.9 billion) in annual synergies.
Please select at least one newsletter to subscribe.
You can unsubscribe at any time through links in these emails. For more information, see our Privacy Policy.
Sign up and get the best of Automotive News Europe delivered straight to your email inbox, free of charge. Choose your news – we will deliver.
You can unsubscribe at any time through links in these emails. For more information, see our Privacy Policy.
Get 24/7 access to in-depth, authoritative coverage of the auto industry from a global team of reporters and editors covering the news that's vital to your business.
Founded in 1996, Automotive News Europe is the preferred information source for decision-makers and opinion leaders operating in Europe.
Autoblog 08 July, 2021 - 11:44am
This page is for personal, non-commercial use. You may order presentation ready copies to distribute to your colleagues, customers, or clients, by visiting http://www.autobloglicensing.com
Today's Stellantis "EV Day" information dump was littered with hints and teasers, but one of the most mysterious is this Chrysler EV that was rolled out during the company's discussion of its new vehicle architecture strategy.
We know virtually nothing about the concept apart from the fact that it's clearly electrified (duh, EV Day) and appears to have a fairly production-friendly interior; there are even visible panel gaps on the dash and center console, which would be indicative of more than just a simple rendering based on a hypothetical future product. The screens on the dash and seatbacks would be generous for a mainstream product in today's market, but for a future premium EV? Looks the part.
Sitting somewhere between a four-door sedan and the "c" word, the silhouette gives us some Polestar 2 vibes. If it's to be built, we expect it will be marketed as more SUV than sedan, which would mean an all-wheel drive option is pretty much guaranteed. Stellantis hinted that it is based on its new STLA Large EV platform, which will offer battery capacities between 101 and 118 kWh and up to 500 miles of range.
We've reached out to Chrysler for more information, but we expect they won't have much for us until they're ready to make a formal announcement. Stay tuned.
Please sign in to leave a comment.
2022 BMW 2 Series is bigger, more powerful, has a normal grille
2022 Honda Civic Review | Same greatness, way more style
Ineos Grenadier's interior is an exercise in function-over-form design
Lamborghini sends off the Aventador with a stunning grand finale
2022 Lotus Emira revealed with two engine options, Evija-inspired looks
This Dodge Charger pickup is like a modern-day El Camino, and it could be yours
We get it. Ads can be annoying. But ads are also how we keep the garage doors open and the lights on here at Autoblog - and keep our stories free for you and for everyone. And free is good, right? If you'd be so kind as to allow our site, we promise to keep bringing you great content. Thanks for that. And thanks for reading Autoblog.
You still haven't turned off your adblocker or allowed our site. It only takes a few seconds.
You must be logged in to perform that action.
VICE 08 July, 2021 - 10:10am
At least, that is what Dodge CEO Tim Kuniskis announced in one of the strangest, most toxic masculine marketing videos I have seen this side of a testosterone supplement infomercial. During the four-minute segment, Kuniskis likened the Dodge brand to hammerhead sharks, mocked the idea of making electric cars, said Dodge cars are "an experience, not a technology," and then concluded despite all that it will make an electric car but just make up its own word for them because of the technological advancements. 
You can watch the video if you'd like. It is, if nothing else, an artifact of what some people think it will take to sell electric vehicles in the U.S. Or, perhaps more accurately, it is a caricature of what some people think it will take to sell electric vehicles in the U.S. 
Dodge's current business model is selling about a hundred thousand big, thirsty, powerful gas muscle cars a year, which will soon become museum pieces. How do you sell an electric car to people who refuse to go electric because they like gas cars and, in addition, may have strange misgivings about electric cars due to associating them with a political ideology they don't like? By pretending it's not an electric car, as if that will fool them.
The fact is, despite Kuniskis's braggadocio about Dodge being the hammerhead sharks of the car world by evolving "intelligently to thrive," Dodge is more than a decade late in realizing people who do not care about the environment are more than happy to buy an electric car if it's cool and fast as hell. That is, in fact, Tesla's whole deal. For example, there is a whole YouTube channel devoted to hardened Australian coal miners wowing over Teslas not because they are environmentally friendly, but because they are fast and fun to drive.
Ironically, Dodge's desperate attempt to find some brand logic for pivoting to electric is a great sign for the exact type of environmentalist Dodge says it will never cater to. Not because I think Dodge will sell many "eMuscles" or even will exist within a decade—Stellantis has already hinted its days as a brand may be numbered, not surprisingly given Dodge sells fewer cars than Tesla these days—but because if even Dodge, the company least incentivized to go electric, is trying to find a reason to go electric, then the game truly is up. Electric cars are here, they are the future, and they will be here much longer than Dodge's Brand hierarchy of needs.
By signing up to the VICE newsletter you agree to receive electronic communications from VICE that may sometimes include advertisements or sponsored content.
CNBC 08 July, 2021 - 09:25am
Stellantis – the merged automaker between Fiat Chrysler and French automaker PSA Groupe – plans to invest at least $35.5 billion (30 billion euros) in electric vehicles and supporting technologies through 2025.
The world's fourth-largest automaker announced the plans Thursday during an electrification strategy event. Stellantis joins automakers such as Volkswagen, General Motors and Ford Motor in announcing investments of tens of billions of dollars in EVs.
The company said it expects to have 55 electrified vehicles in the U.S. and Europe by 2025. That includes 40 all-electric models and 15 plug-in hybrid electric vehicles. It's a different strategy from other automakers such as GM that have announced plans to eventually only offer offer all-electric vehicles.
Most notably, for the U.S., Stellantis said it would offer an electric Dodge muscle car by 2024 and Jeep would offer an all-electric SUV in every vehicle segment by 2025. The company also plans to launch a Ram full-size electric pickup by 2024, which would put it at least two years behind American rivals Ford and GM.
Stellantis shares on the New York Stock Exchange were down by about 3.5% during early trading Thursday morning to under $19 a share. The company's market cap is about $60 billion.
Stellantis CEO Carlos Tavares said the company is in "full execution mode" regarding its plans for vehicle electrification. He said Stellantis expects more than 70% of sales in Europe and over 40% in the U.S. to be EVs or PHEVs, which combine electric systems with internal combustion engines.
"Our electrification journey is quite possibly the most important brick to lay as we start to reveal the future of Stellantis," Tavares said during the event.
Executives with the company said they are working on new EV platforms as well as technologies to increase the lifetime of the vehicles such as over-the-air, or remote, updates as well as in-house technologies related to EVs.
The company said it plans to have five battery production facilities, which it's calling gigafactories, by 2030.
Stellantis CFO Richard Palmer said the company plans to have double-digit adjusted profit margins by around 2026.
Stellantis has 14 brands including Jeep, Ram, Opel, Fiat, Peugeot and Maserati. During the event, it highlighted electric plans for several of its brands. It was formed through a $52 billion merger between Fiat Chrysler and PSA Groupe in January.
Got a confidential news tip? We want to hear from you.
Sign up for free newsletters and get more CNBC delivered to your inbox
Get this delivered to your inbox, and more info about our products and services. 
Data is a real-time snapshot *Data is delayed at least 15 minutes. Global Business and Financial News, Stock Quotes, and Market Data and Analysis.
Motor Authority 08 July, 2021 - 09:00am
Stellantis CEO Carlos Tavares laid out the company's electrification plans for the coming decade during an online presentation held on Thursday.
Key to the plans is the introduction of four battery-electric platforms to cover Stellantis' 14 brands, including platforms with the capability of delivering up to 500 miles of range.
The plans also call for the introduction of a hydrogen-electric commercial van by the end of 2021, and solid-state batteries by 2026.
Stellantis will invest more than 30 billion euros (approximately $35.6 billion) on vehicle development through 2025, with the bulk of the funds to go toward electrification and software. Some of the funds will also go toward equity investments made in joint ventures. The company currently has or is completing joint ventures, ranging from electric drive units to batteries and in-car technology. For example, in March we saw Stellantis form a joint venture with Foxconn to develop digital dash systems and connectivity features and services.
Stellantis' four upcoming electric platforms are referred to as STLA Small, STLA Medium, STLA Large, and STLA Frame. The platforms have been designed to be flexible when it comes to length and width, and they've also been designed so that key components can be shared across them, like modular drive units combining the electric motor, transmission and inverter. The compact drive units can be used for front-, rear-, all-wheel- and plug-in hybrid configurations, and up to three of them can be fitted in a vehicle.
STLA Small will offer up to 300 miles of range and replace Stellantis' current CMP platform designed for mini and subcompact cars, while STLA Medium will offer up to 440 miles of range and replace Stellantis' EMP2 platform designed for compact and mid-size cars. STLA Large will offer up to 500 miles of range and has been designed for premium mid-size and large cars. The last platform, STLA Frame, will also offer up to 500 miles of range and will be suited to body-on-frame vehicles like pickup trucks, large SUVs, and some commercial vans.
Ram 1500 BEV and platform - 2021 Stellantis EV Day
The platforms will use existing liquid-type battery technology until denser, more stable solid-state technology is introduced by 2026. For the liquid-type batteries, Stellantis will have two chemistry types: a premium high energy-density option and a more affordable nickel cobalt-free alternative. Stellantis will have five of its own battery plants spread across Europe and North America, as well as outside suppliers. The company expects the cost of batteries to reduce by more than 40% from 2020 to 2024 and a further 20% by 2030. It also expects EVs to have a similar total cost of ownership to internal-combustion cars by 2026.
To ensure the platforms remain up to date in the fast-changing EV scene, Stellantis plans hardware upgrades and over-the-air software updates to extend the life of the platforms as far as possible. We're talking well into the next decade.
During the presentation, various new electric models were confirmed including an Opel Manta E and Dodge muscle car. That electric Dodge will arrive in 2024. An electric Ram pickup is also due about that time.
Sign up to get the latest performance and luxury automotive news, delivered to your inbox daily!
I agree to receive emails from Motor Authority. I understand that I can unsubscribe at any time. Privacy Policy.
CNET 08 July, 2021 - 08:28am
Lots of intriguing electric-vehicle news came out of Stellantis' EV Day media event, which went down on Thursday. Jeep is making waves and Dodge just teased an electric muscle car that promises boatloads of performance, but likely the biggest news to come out of this event -- figuratively and literally -- is that the Ram truck brand is developing an electric pickup. 
The automaker briefly shared a shadowy teaser image, which shows a windswept truck that looks like something out of a science-fiction movie. It's far more futuristic than the upcoming Ford F-150 Lightning, for instance. Ram is all-in on this pickup and promised it will be a "customer-first" truck. Plans for the pickup include smart and fast charging with the ability to share onboard power and other technologies to "push past what rivals introduced," according to Ram CEO Mike Koval.
The truck should ride on a brand-new EV platform engineered by parent company Stellantis, called the STLA Frame. It's one of four new platforms for electric vehicles, but the STLA Frame is the only architecture to support body-on-frame vehicles, like pickups. Battery packs may range from 159 to 200 kilowatt hours and vehicles riding on the Frame platform are capable of ranges up to 500 miles.
This new electric Ram pickup will accompany a secretive project under the Ram brand, too, which it called the "Range Electric Paradigm Breaker" or REPB truck. We don't have a clue what that means and Ram wasn't ready to share more. But, in good news for truck fans, there is an electric midsize pickup coming.
Across Ram, electrification will expand to the full portfolio and the brand plans to experiment with fuel-cell commercial vans in late 2021. Certainly, all eyes are on this electric Ram pickup. Look for it to launch in 2024.
Autoblog 08 July, 2021 - 08:25am
This page is for personal, non-commercial use. You may order presentation ready copies to distribute to your colleagues, customers, or clients, by visiting http://www.autobloglicensing.com
Dodge used Stellantis' EV Day to announced the world's first electric muscle car, along with a new tagline: "Tear Up the Streets … Not the Planet." The automaker says the overpowered electric car is coming in 2024, and along with the announcement showed off some dark images of a vehicle that we assume is a conceptual version of what will go into production.
The teaser car definitely has retro-inspired styling cues, with a fastback roofline and blunt fascia that look vaguely reminiscent of the iconic 1969 Dodge Charger. The front of the concept car sports a unique lighting profile, with what looks to be an LED light bar that mimics the square-jawed shape of the classic muscle car but with the addition of a lighted emblem directly in the center. Several jump cuts showed some very wide-looking wheels with meaty tires ... and we're certain that all four of those tires go up in smoke at the end.
The car will be built on the STLA Large platform, one of four battery electric vehicle platforms announced by Stellantis, with a 0-to-60 time as low as 2 seconds and a range of up to 500 miles, Stellantis said. The automaker also hinted at a maximum power output of as high as 886 horsepower courtesy of a pair of 330-kilowatt electric motors.
The automaker's electrification messaging is a bit convoluted. Along with a statement that "Dodge will not sell electric cars" but "will sell American muscle," the company says its engineers have reached the limit of what they can pump out of internal combustion engines. Therefore, Dodge "has an obligation to embrace" electrification for more performance. Considering there's an electric muscle car coming in 2024, it seems that Dodge will sell electric cars after all.
That's all we know for now. Will this be an electric Challenger? Charger? Is it something completely new? Or will Dodge instead resurrect another name from its past? We can't wait to find out. Stay tuned for more.
Please sign in to leave a comment.
2022 BMW 2 Series is bigger, more powerful, has a normal grille
2022 Honda Civic Review | Same greatness, way more style
Ineos Grenadier's interior is an exercise in function-over-form design
Lamborghini sends off the Aventador with a stunning grand finale
2022 Lotus Emira revealed with two engine options, Evija-inspired looks
This Dodge Charger pickup is like a modern-day El Camino, and it could be yours
We get it. Ads can be annoying. But ads are also how we keep the garage doors open and the lights on here at Autoblog - and keep our stories free for you and for everyone. And free is good, right? If you'd be so kind as to allow our site, we promise to keep bringing you great content. Thanks for that. And thanks for reading Autoblog.
You still haven't turned off your adblocker or allowed our site. It only takes a few seconds.
You must be logged in to perform that action.
The Verge 08 July, 2021 - 08:13am
Announcement came after the automaker's boss said Dodge wouldn't sell electric cars
The announcement about the electric muscle car was a little muddled as it came a few minutes after Dodge CEO Tim Kuniskis proclaimed forcefully that Dodge would not "sell electric cars — it will sell eMuscle," which is apparently Dodge branding for its future EVs (we assume, it was a little unclear).
"If a charger can make a Charger faster, then we're all for it," Kuniskis said, touting the company's commitment to tire-squealing horsepower and performance.
AWD EV "eMuscle" from @Dodge pic.twitter.com/O8UkGP49Ei
Despite that declaration, Kuniskis said he recognized that there is a "limit" to what gas-powered vehicles can deliver.
"Our engineers are reaching a practical limit of what we can squeeze from internal combustion innovation," he said. "They know we know that electric motors can give us more. And if we know of a technology that can give our customers an advantage."
Stellantis is the latest automaker to host an event briefing investors on its electrification strategy. Previously, Tesla, Volvo, and Volkswagen have produced similar events. As the fourth largest carmaker in the world, Stellantis has the global scale to drive EV sales — if it chooses.
Subscribe to get the best Verge-approved tech deals of the week.
Check your inbox for a welcome email.