Governor Phil Murphy
GovMurphy
BREAKTHROUGH CASES UPDATE: ➡️5,232,378 fully vaccinated individuals as of August 22nd Among the fully vaccinated: ➡️14,813 COVID+ cases (0.28%) ➡️356 COVID-related hospitalizations (0.007%) ➡️80 COVID-related deaths (0.002%) pic.twitter.com/68xlPT2Fol
Governor Larry Hogan
GovLarryHogan
For over 500 straight days, Maryland's dedicated health care professionals have fought to protect us from COVID-19. All of the state's hospital and health system CEOs have come together to urge Marylanders to get vaccinated. www.baltimoresun.com/coronavirus/bs-hs-maryland-hospitals-urge-covid-vaccinations-20210908-vqxjpxvpprgtdg3cy745u3v2ru-story.html
Dr. Deena Hinshaw
CMOH_Alberta
Here is a summary of the weekend's #COVID19AB numbers. Today's #s will be updated at 3:30pm: There are now 602 people in hosp. due to COVID-19. Of the 465 non-ICU, 75.9% are unvaccinated/partially vaccinated. Of the 137 in ICU, 89.1% are unvaccinated/partially vaccinated. (1/5) pic.twitter.com/3APLq9eiqZ
Governor Tom Wolf
GovernorTomWolf
Today I'm at @NorristownASD to thank teachers and school staff for their hard work, resilience, and strength during the COVID pandemic. We're helping schools keep kids in classrooms with: 😷 Masking 🧪 Testing 💉 Vaccines ⬆️ Increased funding pic.twitter.com/bNWNWLwz6t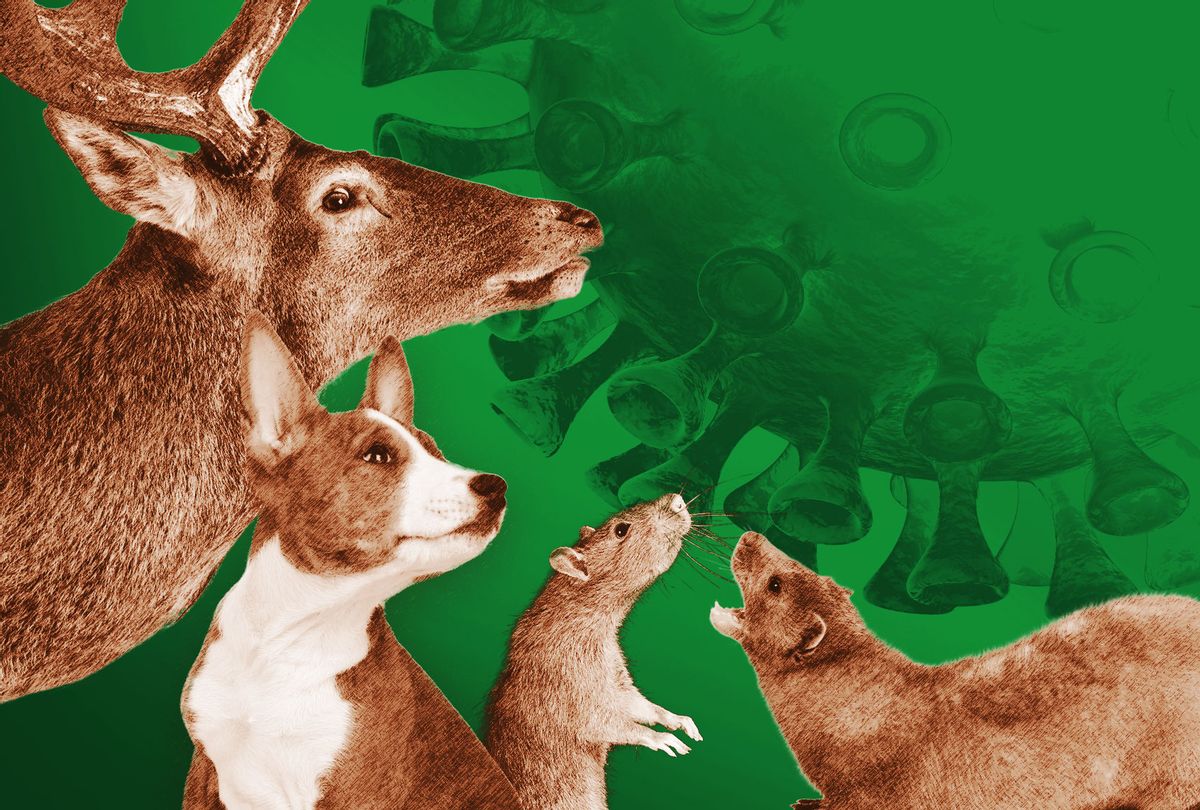 "The meerkat presented with bloody nasal discharge coming out of its face and was in respiratory distress," Gjeltema recalled. "It was just at the start of the pandemic, when we were getting significant amounts of community spread in our local area, and I was very concerned because we didn't know as much as we do now about how the virus behaves in humans, much less all of the animals that were in our collection."
Fortunately the meerkat was not infected and, after being comprehensively treated by medical experts, made a full recovery. Even so, the anxiety that she felt during this incident still clearly lingers with Gjeltema.
"It's challenging to work with less than perfect knowledge," she told Salon.
The knowledge we have today about animals and COVID-19 remains quite imperfect, although it has become less so than when Gjeltema had to assist the hapless meerkat. The story of the COVID-19 pandemic centers around a narrative of animal-to-human transition: The prevailing scientific theory is that it originated in a horseshoe bat, reached another animal through one or many "spillover events" (transmissions) and eventually got to a human host.
Yet zoo animals aren't the only ones who seem to be catching the novel coronavirus. White-tailed deer in both Ohio and Michigan recently tested positive for SARS-CoV-2 antibodies, indicating previous infections. We know that companion animals like cats and dogs can develop COVID-19, while mink farmers are at risk of losing their entire industry because COVID-19 is virulent within that species.
There are two questions that logically emerge from the broader subject of COVID-19 and animals: The first is how this poses a threat to humans. The second is what it means for the animals themselves.
Currently, the Centers for Disease Control and Prevention (CDC) says that it is unlikely but not impossible for an animal to infect a human with SARS-CoV-2. Even though SARS-CoV-2 likely originated in bats, there is no evidence of any animal species playing a significant role in spreading COVID-19 among people. Nevertheless, the CDC advises people to avoid interacting with unfamiliar wildlife and to enforce vigilant personal hygiene standards after they make contact with strange animals.
Lyndsay Cole, a spokesperson for an Agriculture Department agency known as the Animal and Plant Health Inspection Service (APHIS), elaborated specifically on SARS-CoV-2 and white-tailed deer, which are widely and densely distributed through most of the United States. Scientists know for sure that SARS-CoV-2 antibodies exist in wild white-tailed deer, but they are unclear about how they were exposed to the virus and what impact this exposure will have for the deer, humans and other animals.
"There is no evidence that animals, including deer, are playing a significant role in the spread of SARS-CoV-2 to people," Cole told Salon by email, later adding that "there have been no reports of deer showing clinical signs of infection with the virus." Notably, the tests on the white-tailed deer samples looked for SARS-CoV-2 antibodies rather than the virus itself, which limits how much we know about the nature of what those deer are experiencing.
Lori Ann Burd, the environmental health director at the Center for Biological Diversity, explained that experts are concerned about mink because their behavior makes them susceptible to both developing infections and carrying them to other wildlife.
"Mink are extremely wide-ranging naturally, and they're quite solitary," Burd told Salon, noting that this makes mink extremely stressed when confined to the compact conditions of a mink farm. Indeed, such cramped conditions weaken their immune system and make them susceptible to respiratory diseases like COVID-19. As notoriously intelligent animals, mink can figure out how to escape from captivity and return to the wild, meaning that if they were previously infected by their human handlers, they could spread the disease to other wildlife and create a hotbed for new COVID-19 mutations. There is also the risk that previously infected mink could spread the disease to uninfected people at the farms.
And what about man's best friend, the ever-loyal dog? Sadly there is evidence that our canine companions can die from COVID-19, as Americans learned after Buddy the German shepherd died last year. At the same time, as with other animals, there is no evidence that dogs are major carriers of the disease or particularly likely to be harmed if exposed to it. Health experts agree that it would be cruel and unnecessary for ordinary dog owners to feel unsafe around their companions.
If international statistics are to be believed, cats have more reason to worry about COVID-19 than their supposed rivals. The World Organisation for Animal Health reported that as of last month there were 102 outbreaks of SARS-CoV-2 infections among cats, compared to only 90 among dogs. (They are also more likely to get seriously ill.) Mink had the most outbreaks with 358 while multiple outbreaks were also reported among tigers, lions, pumas and snow leopards.
While scientists are not entirely clear about why certain animals are more likely to get infected than others, one prevailing theory is that it may have something to do with the ACE2 "receptor" (short for angiotensin-converting enzyme 2), a protein that serves as an entry point for SARS-CoV-2 to penetrate human cells. As a study published last year noted, it is possible to list animals that may or may not be more likely to be infected by the coronavirus based on their structure of these proteins.
The most vulnerable species to COVID-19 were catarrhine primates — a group that include chimpanzees, bonobos, Western lowland gorillas, olive baboons and Sumatran orangutans — but the scientists compiled a database with 410 vertebrates, including 252 mammals, to determine which ones had an ACE2 receptor that was likely to help the SARS-CoV-2 virus. They labeled as "high" risk animals like white-tailed deer, the Chinese hamster, the beluga whale, the giant anteater and the muskrat. At "medium" risk were golden hamsters, wild yak, jaguars, hippopotamuses and American bison. Giant pandas, polar bears, red foxes, dingos and horses were determined to be at "low" risk, while guinea pigs, harbor seals, striped hyenas, Northern elephant seals and Jamaican fruit-eating bats were deemed at "very low" risk.
This information is helpful to Gjeltema, who told Salon that when managing the zoological collection she is particularly worried about primates. At the same time, she is also worried about the exotic felines because of their higher susceptibility, and the otters because they are closely related to mink, and their bats (for obvious reasons).
When all is said and done, Gjeltema says she has kept her zoo safe by following the basic premises of the CDC's guidelines for humans.
"For example, we have established social distancing as much as possible," Gjeltema explained. "We have all of our keepers wearing face masks. We don't have members of the public interfacing near any of our susceptible animals. Obviously, good hygiene. We have close monitoring."
When it comes to keeping animals safe from COVID-19, and people safe from animals who might have it, Gjeltema at least knows that those ideas will work.
Matthew Rozsa is a staff writer for Salon. He holds an MA in History from Rutgers University-Newark and is ABD in his PhD program in History at Lehigh University. His work has appeared in Mic, Quartz and MSNBC.
Copyright © 2021 Salon.com, LLC. Reproduction of material from any Salon pages without written permission is strictly prohibited. SALON ® is registered in the U.S. Patent and Trademark Office as a trademark of Salon.com, LLC. Associated Press articles: Copyright © 2016 The Associated Press. All rights reserved. This material may not be published, broadcast, rewritten or redistributed.
Read full article at Salon
News-Medical.Net 08 September, 2021 - 04:10pm
We use cookies to enhance your experience. By continuing to browse this site you agree to our use of cookies. More info.
Be the first to rate this article
The severe acute respiratory syndrome coronavirus 2 (SARS-CoV-2) – the virus that causes coronavirus disease 2019 (COVID-19) – is not associated with neuroaxonal damage, according to a new study from researchers in Germany.
Neurological symptoms have been observed in about one-third of coronavirus cases. However, the full extent of the virus's impact on the brain remains unclear. In the current study, the researchers found that changes in plasma neurofilament light chain (NfL) — a marker of neuroaxonal damage — levels did not correlate with COVID-19–induced neurological symptoms such as loss of smell and taste and headaches.
Our findings indicate that mild-to-moderate COVID-19 is unlikely to be associated with a clinically relevant degree of neuroaxonal damage, even in those cases associated with neurological symptoms like olfactory and gustatory dysfunction, headache and myalgia."
The article "The association between SARS-CoV-2 infection and neuronal damage: A population-based nested case-control study" is published on the preprint medRxiv* server.
The study consisted of administering a survey measuring antibody levels in people living in Bonn, Germany, from April 24 to June 30, 2020. People who tested positive for SARS-CoV-2 antibodies were labeled cases. Plasma NfL levels were also measured during the survey period and also from samples collected from the same individuals from 2016 to 2019.
In total, there were 22 individuals with positive serological confirmation of a COVID-19 infection. One of the 22 individuals was excluded from the final analysis because of insufficient plasma levels needed to measure NfL levels. The study controls were randomly selected individuals who did not show evidence of antibodies after recovering from SARS-CoV-2.
There was no change in NfL levels before and after the pandemic. Self-reported neurological symptoms such as loss of smell or taste, headache, muscle weakness, and fever, did not correlate with altered NfL levels in patients who previously had a SARS-CoV-2 infection.
The results indicate neuroaxonal damage is not associated with SARS-CoV-2 infection.
Given the lack of association, the researchers predict that neuroaxonal damage in hospitalized patients with severe COVID-19 infection may likely come from an indirect viral neuroinvasion. While more research is needed to explore this hypothesis, neuronal injury may be coming from dyshomeostasis and hypercoagulation produced from systemic infection and inflammation.
The study had a small sample size of individuals with serologically confirmed SARS-CoV-2 infection. While the survey confirmed infection, it does not provide information on when the infection occurred and the severity of the illness, which may increase the possibility of neurological effects.
However, the researchers note that NfL has a long half-life of up to a few weeks and samples were collected at the start of the pandemic, making it unlikely they missed any COVID-19–induced increases in NfL levels.
"By implementing a serosurvey with a rigorous multi-tiered testing approach in an ongoing large prospective population-based cohort study, we were able to minimize the risk of false positives and take advantage of existing bio-samples collected before the start of the pandemic."
medRxiv publishes preliminary scientific reports that are not peer-reviewed and, therefore, should not be regarded as conclusive, guide clinical practice/health-related behavior, or treated as established information.
Be the first to rate this article
Posted in: Medical Science News | Medical Research News | Disease/Infection News
Tags: Antibodies, Antibody, Brain, Coronavirus, Coronavirus Disease COVID-19, Fever, Gustatory, Headache, Inflammation, Muscle, Pandemic, Research, Respiratory, SARS, SARS-CoV-2, Severe Acute Respiratory, Severe Acute Respiratory Syndrome, Syndrome, Virus
Jocelyn Solis-Moreira graduated with a Bachelor's in Integrative Neuroscience, where she then pursued graduate research looking at the long-term effects of adolescent binge drinking on the brain's neurochemistry in adulthood.
Please use one of the following formats to cite this article in your essay, paper or report:
Solis-Moreira, Jocelyn. (2021, September 08). German study finds lack of association between SARS-CoV-2 infection and neuroaxonal damage. News-Medical. Retrieved on September 08, 2021 from https://www.news-medical.net/news/20210908/German-study-finds-lack-of-association-between-SARS-CoV-2-infection-and-neuroaxonal-damage.aspx.
Solis-Moreira, Jocelyn. "German study finds lack of association between SARS-CoV-2 infection and neuroaxonal damage". News-Medical. 08 September 2021. <https://www.news-medical.net/news/20210908/German-study-finds-lack-of-association-between-SARS-CoV-2-infection-and-neuroaxonal-damage.aspx>.
Solis-Moreira, Jocelyn. "German study finds lack of association between SARS-CoV-2 infection and neuroaxonal damage". News-Medical. https://www.news-medical.net/news/20210908/German-study-finds-lack-of-association-between-SARS-CoV-2-infection-and-neuroaxonal-damage.aspx. (accessed September 08, 2021).
Solis-Moreira, Jocelyn. 2021. German study finds lack of association between SARS-CoV-2 infection and neuroaxonal damage. News-Medical, viewed 08 September 2021, https://www.news-medical.net/news/20210908/German-study-finds-lack-of-association-between-SARS-CoV-2-infection-and-neuroaxonal-damage.aspx.
In this interview, Professor John Rossen talks about next-generation sequencing and it's implications for the diagnosis of disease.
In this interview, News-Medical speaks to Professor Dana Crawford about her research efforts during the COVID-19 pandemic.
In this interview, News-Medical speaks to Dr. Neeraj Narula about ultra-processed food and how this can increase your risk of developing inflammatory bowel disease(IBD).
News-Medical.Net provides this medical information service in accordance with these terms and conditions. Please note that medical information found on this website is designed to support, not to replace the relationship between patient and physician/doctor and the medical advice they may provide.
Owned and operated by AZoNetwork, © 2000-2021
DW News 08 September, 2021 - 04:10pm
WCVB Channel 5 Boston 08 September, 2021 - 04:10pm
Arirang News 08 September, 2021 - 04:10pm
New York Post 08 September, 2021 - 10:36am
Some people have "superhuman immunity" to fight off COVID-19 if they've previously had the virus and received two vaccine doses, new studies shows.
Researchers say people who have had "hybrid" exposure to COVID-19 — including infection and then full vaccination — have mounted a powerful immune response to the virus and are likely able to fight off most of the variants.
A Rockefeller University study published last month found that antibodies in people who had hybrid exposure were very high and could neutralize six variants, including Delta.
"Those people have amazing responses to the vaccine," Rockefeller University virologist Theodora Hatziioannou, who helped lead the study, told NPR.
"After natural infections, the antibodies seem to evolve and become not only more potent but also broader. They become more resistant to mutations within the [virus]."
Hatziioannou said it wasn't clear if every person who had COVID-19 and was also vaccinated would have such a strong immune response.
The Rockefeller study included data on 14 patients.
"With every single one of the patients we studied, we saw the same thing," Hatziioannou said.
The virologist said it had yet to be determined if people who receive a booster COVID-19 shot could develop the same immune response as those with hybrid exposure.
"I'm pretty certain that a third shot will help a person's antibodies evolve even further, and perhaps they will acquire some breadth [or flexibility], but whether they will ever manage to get the breadth that you see following natural infection, that's unclear," she said.
University of Pennsylvania immunologist John Wherry told NPR that their own research, published online last month, has shown that people who have been fully vaccinated are also developing flexible antibodies.
"In our research, we already see some of this antibody evolution happening in people who are just vaccinated although it probably happens faster in people who have been infected," he said.
The Texas Tribune 08 September, 2021 - 04:00am
With coronavirus hospitalizations in Texas hovering just below the pandemic's winter peak, Texans are again grappling with how to deal with the virus in their day-to-day lives.
Last week, the Texas Education Agency announced that at least 45 small school districts shut down in-person classes due to high COVID-19 numbers. On top of that, major metropolitan hospitals are halting elective surgeries — as they did during prior surges when hospitals filled up with COVID patients.
Although vaccines have slightly changed the calculus on safety protocols, many of the same factors that drove the winter surge are also driving the current wave of cases.
The Texas Tribune spoke with Dr. James Cutrell, an associate professor at the University of Texas Southwestern Medical Center who specializes in COVID-19 treatment, to answer questions about masks, vaccinations and breakthrough cases. Cutrell completed a fellowship in infectious diseases in 2013 at UT Southwestern and now is the director of the adult fellowship program in infectious diseases.
Although the COVID-19 vaccines continue to provide very good protection, particularly against severe disease, hospitalization or death, there remains a risk of milder infection in those who are fully vaccinated.
Moreover, if infected, those who are fully vaccinated are able to transmit that infection to others, although their overall risk of transmission is lower than those who are unvaccinated. In order to reduce both the personal risk of infection and risk of spreading it to others, masking can be one effective strategy to protect yourself and others.
Therefore, the current CDC recommendations are that fully vaccinated individuals should continue to wear a mask when in public indoor spaces if they live in an area of substantial or high COVID-19 transmission. The definition of an area of substantial or high COVID-19 transmission is more than 50 cases per 100,000 people or a test positivity rate greater than 8%. This would currently include many areas of the country, including Texas.
Although early data from the end of April 2021 reported that breakthrough cases were very uncommon (about 0.01% among the first 100 million Americans vaccinated), breakthrough cases have become more common as community cases and transmission with the delta variant have risen across the country.
Precise estimates of the frequency of breakthrough cases are not known because since May 2021 the CDC has primarily been tracking breakthrough cases only in those who are hospitalized or die. There are some states that have continued to track the rates of breakthrough cases, but Texas is only tracking hospitalized or fatal cases due to COVID-19 breakthrough infections.
The CDC is conducting focused studies in 10 states through the Emerging Infections Program to determine better estimates of the overall rate of breakthrough cases during the current delta variant surge, including milder disease and infection.
Current clinical trials are ongoing, evaluating the safety and efficacy of the mRNA vaccines (Pfizer and Moderna) for children under 12.
We expect that the data in the group of children ages 5-11 will be submitted to the FDA at some point in the early to mid-fall for review. There is less certainty around how long the FDA review process will take.
The CDC recently strengthened their recommendation of the COVID-19 vaccines for those who are pregnant, breastfeeding or considering pregnancy. This is based on increasing data showing that the vaccines are safe in pregnancy, with no signals of increased risk of miscarriage, preterm birth or other adverse pregnancy outcomes.
Additionally, the vaccine has proven effective at reducing the risk of COVID-19 infection in pregnancy.
Finally, there is a growing body of evidence showing that pregnant women who develop COVID-19 have a higher risk of severe disease leading to hospitalization or death and also a higher risk of pregnancy complications due to the infection. For all of these reasons, the benefits of COVID-19 vaccination in pregnancy strongly outweighs potential risks or side effects.
Currently the additional third doses (boosters) are only being administered to those who are moderately to severely immunocompromised. Those who are close or household contacts of an immunocompromised individual are not yet recommended to receive a booster.
At this point, the most important things for those who are close contacts to an immunocompromised patient are to be sure they are fully vaccinated (with their first two vaccine doses) and to be sure that they are wearing masks and taking other precautions when in public settings to minimize their risk of developing COVID-19 and spreading it to their loved one.
The current boosters being administered and considered are the original mRNA vaccine, which was targeted for the original SARS-CoV-2 virus. These vaccines still show good efficacy against the delta variant, particularly in preventing more severe disease.
Clinical trials of updated mRNA vaccines, which are designed specifically to target the delta variant, began in August 2021, so in the future there will likely be boosters approved specifically for that variant.
Moderna completed its submission of data for full FDA approval in late August 2021. The FDA is reviewing under priority review so we expect that this fall it will be approved (for reference, it took 97 days from full submission of the Pfizer vaccine data to full approval). The Johnson & Johnson vaccine is expected to have its data submitted for full approval by the end of 2021.