Salim Nadim Valji
salimvalji
BREAKING - I can confirm that the Seattle Kraken have chosen Calgary Flames captain Mark Giordano as their pick at the Expansion Draft, to be announced this evening.
Elliotte Friedman
FriedgeHNIC
As we await what SEA decides with Carey Price, word is that the Kraken are closing in on FLA's Chris Driedger at 3x$3.5M. I dont believe that precludes them from selecting Price, but one goalie appears locked-in.

Frank Seravalli
frank_seravalli
Sounds like the three goaltenders selected by #SeaKraken will be Chris Driedger (FLA), Vitek Vanecek (WSH) and Joey Daccord (OTT). @DFOHockey

Frank Seravalli
frank_seravalli
#Canucks will lose forward prospect Kole Lind in the Expansion Draft to #SeaKraken. @DFOHockey
After this happened, NHL GMs said never again and basically balked at any compensation offers the Seattle Kraken were offering in order to take on talented players with big cap hits. As a result, the Kraken swung the other way from the Golden Knights and focused on bringing in a competent group of players to make the team respectable in their first season, but not splurging on any big cap hits, and especially shying away from term. No Vladimir Tarasenko, no James van Riemsdyk, no Mitch Marner (I kid).
Instead, the Kraken went after young, cheap, uninspiring players with possible upside, like Geekie, Appleton, Bastian, and the Fleury brothers. However, you can't convince me Gavin Bayreuther, John Quenneville, Colin Blackwell, and Carsen Twarynski are worthwhile names. I don't even know who most of those names are and I'm a hockey blogger who's addicted to CapFriendly.
Here is the current Seattle Kraken roster with GAR projections and uncertainty from @EvolvingHockey. Definitely some head scrathers (L.A, PHI, DET), but also a lot of solid picks (STL, DAL, TOR, NYI, T.B) pic.twitter.com/aXXnWN8in9
The choices Seattle made yesterday tell me two major things for how this team is going to move forward.
Point one is pretty self-explanatory, bad teams do it all the time when they can afford to take on dead money with all $28 million in cap space they still have. However part two is worth getting into for a bit.
The 2022 and 2023 NHL Drafts are insane. Headlined by Shane Wright in 2022, and followed by Connor Bedard and Matvei Michkov in 2023, this is a trio of hockey players akin to the Connor McDavid, Auston Matthews, Jack Eichel phenom class of 2015 and 2016. Going after one or more of these prospects was the only high-value move for the Kraken after realizing they weren't going to be competitive right away.
Coming back to 2021 for a second, the Kraken have the second overall pick on Friday and they're expected to take centre Matthew Beniers, who would be an excellent two-way, high octane, smart, reliable 2C on a good team, akin to Bo Horvat. He would sit really nicely behind Shane Wright.
I was disappointed the Kraken didn't acquire any picks on Wednesday because they really need to start working on that stockpile, but hopefully as the Draft approaches those moves will start to appear for them. Maybe they can get Filip Hallander from Pittsburgh for Matheson's contract and the Leafs can get him back for Kerfoot. That would be fun.
Seattle selects Jared McCann from the Toronto Maple Leafs in the Expansion Draft | by: Katya
Toronto's 2021 preseason is a North and Atlantic Division reunion | by: Katya
2021 NHL Draft Profiles: The Goalies | by: Brigstew
I can now exclusively reveal the three prospects Kyle Dubas and the Toronto Maple Leafs intend on drafting on Saturday. They are Jacob Holmes, Robert Calisti, and Marc Boudreau. Their Draft Profiles are already prepped and ready.
Ron Francis on selecting Jared McCann from the #leafs: "I'm a former Soo Greyhound, so that helped."
And lastly, the CHL has signed with TSN and CBC to broadcast games in a new multi-year contract. It's about time, Sportsnet wasn't doing jack with the rights they had.
Read full article at Pension Plan Puppets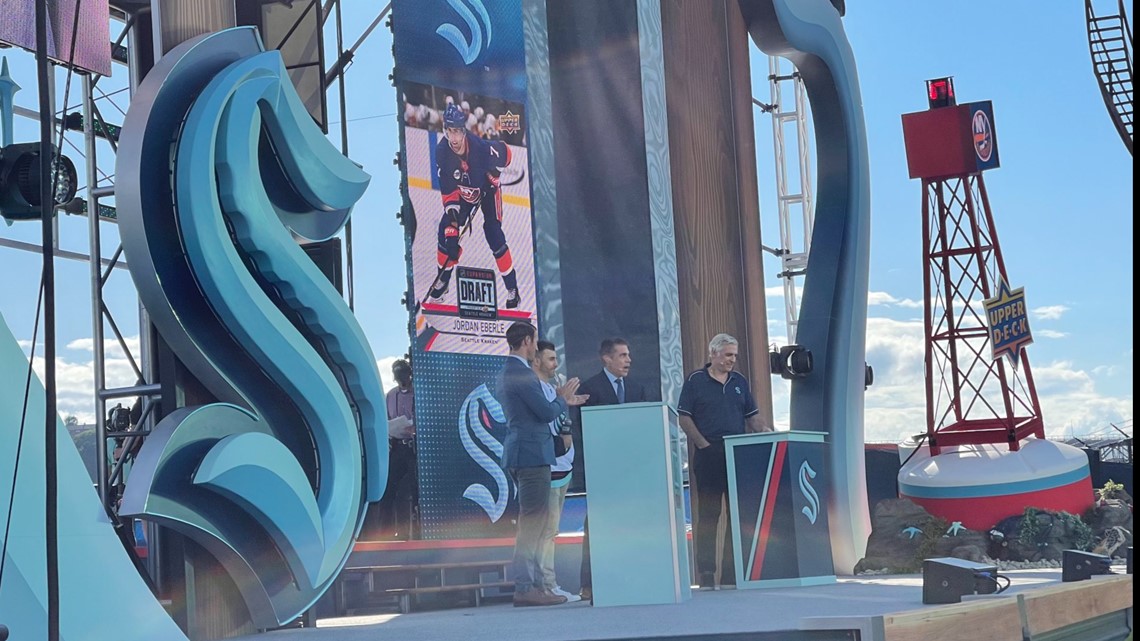 KING5.com 22 July, 2021 - 10:02am
SEATTLE — On Wednesday, the Seattle Kraken selected the National Hockey League players that will make up the team's inaugural roster.
Thousands of fans gathered at Gas Works Park in Seattle to watch the newest NHL team make history during a made-for-tv event.
Every NHL team, except for the Vegas Golden Knights, submitted a list of protected players the Kraken could not draft, along with a list of players available during the expansion draft.
Teams could protect a total of 11 players comprised of seven forwards, three defensemen and one goalie. Or, teams could select nine total players if they wanted to protect four or more defensemen.
The Kraken could also select from a pool of restricted and unrestricted free agents not protected in the draft. The team had an exclusive interview period to speak with the free agents between Sunday and Wednesday morning. If Seattle and a free agent came to a contract agreement during that time, that player will count as the Kraken's selection from the free agent's NHL team.
Players with two or fewer years of professional hockey experience were exempt from being selected during the expansion draft. Seattle was required to select at least 14 forwards, nine defensemen and three goalies.
Seattle Kraken General Manager Ron Francis and his staff had until Wednesday at 7 a.m. to submit the list of 30 players they wish to select for the team.
The Seattle Kraken provided a sneak peek at the team jerseys last year. Fans saw players wearing the official team jersey – both home and away -- on Wednesday.
But one question fans have asked is when will they be available for purchase -- we now have an answer.
Jerseys in all sizes will be available to the public starting September 15 at the Kraken Community Iceplex, Chandler's Cove, and Bellevue Square Mall.
Notifications can be turned off anytime in the browser settings.