When will Iphone 13 be announced?
Before 2020, Apple has often announced its new iPhones on either the first or second Tuesday of September. If that happens again in 2021, we'd expect the iPhone 13 range to be revealed on September 7 or September 14 and release 10 days later. TechRadariPhone 13 release date, leaks, price and news
Shortly after Kuo predicted that the iPhone 13 would support calls and text messaging through LEO satellite communication, another report corroborates those details, but with one difference. Though Apple is working to bring emergency satellite communication to iPhones, it is unlikely that these features will arrive this early.
These future iPhones will allow communication where there is no cellular coverage, according to a report from Bloomberg. Apple has previously been reported to be working on its own satellites, and at the time of writing, it could take the technology giant around half a decade to launch them, leading to data getting beamed directly to these iPhones from these satellites.
There are two emergency features that will rely on satellite communication but sadly, we do not expect them in 2021. The first one is emergency messaging, and the other one is reporting major emergencies. As far as messaging goes, it will allow users to text emergency services and contacts using a satellite network when there is no signal available, and it will be integrated into the Messages app as a third communications protocol alongside SMS and iMessage.
The length of the message that you can write will be limited, and it will be highlighted in gray message bubbles to help users distinguish between the three protocols to avoid confusion. Even if the recipient's phone is placed on the 'Do Not Disturb' setting, it will still be sent due to the nature of the text message. The second emergency feature is letting users report major emergencies like plane crashes and fires.
Keep in mind that both features will not be treated as an alternative to text messaging and calling but rather be used only during emergencies. Also, not every region will get these features as Apple will not launch satellite capabilities in every country. It should also be noted that where cellular connectivity is instantaneous, iPhone connecting to a satellite might take a little longer. Connecting to satellites will also require a special modem.
With Apple is in agreement to use Qualcomm's baseband chips for several years, it could take a while for the emergency features to be rolled out. Then again, the San Diego can work closely with Apple to design and mass produce a modem that allows emergency satellite communication, so it looks like we will have to wait a while for that development.
Keep in mind that no feature like this is arriving for iPhones this year, and if the results are not according to Apple's standards, these implementations might not make it to commercial products at all.
News Source: Bloomberg
For latest tech news in your inbox, once a day!
Read full article at Wccftech
The Verge 01 September, 2021 - 07:30am
The features may not launch this year
One feature, called Emergency Message via Satellite, will let you text emergency services and emergency contacts when you don't have a cell signal by harnessing a satellite network, according to Bloomberg. These messages will have a length limit and be represented as a grey bubble instead of the green used for SMS messages and the blue used for iMessages. And when you're sending one of these messages to an emergency contact, it will reportedly push through even if they have Do Not Disturb mode turned on, which could help ensure that your message is seen.
Another feature will let users report emergencies. "The phone will ask what kind of emergency is happening, such as whether it involves a car, boat, plane or fire," Bloomberg reports. You'll also be able to send information such as your location and your Medical ID (which you can set up in the Health app). You may also be able to notify emergency contacts at the same time you report an emergency.
Bloomberg reports that the next iPhone might have the required hardware to make satellite calls. But a source tells Bloomberg that the new features probably won't be ready before next year, throwing cold water on the idea that you might be able to use them as soon as you buy the next iPhone.
Apple didn't immediately reply to a request for comment.
The new satellite link features, if they are released, could help ease fears about being able to contact emergency services in a time of need or when you're away from a cellular network. There's also the possibility the features could provide another way to get in touch with emergency services in the event of 911 outages, which do happen occasionally.
Subscribe to get the best Verge-approved tech deals of the week.
Please confirm your subscription to Verge Deals via the verification email we just sent you.
Markets Insider 01 September, 2021 - 02:30am
Based on the iPhone 13 leaks so far, Apple needs to get aggressive with design
At a time where top-tier Android phones like the Galaxy S21 Ultra and OnePlus 9 Pro are all-screen beauties, the iPhone has fallen behind in terms of design. In fact, as of the iPhone 12, Apple's design language has grown incredibly stale.
The iPhone's notch housing Apple's Face ID tech, front-facing camera, and earpiece was unsightly when we first saw it on the iPhone X. In the years since, smartphone design has evolved with Apple largely failing to keep up. While the iPhone 12 is still a beautiful phone with its squared off edges, the notch detracts from that beauty.
I look at the leaked screen protectors and renders of the iPhone 13 and I'm not convinced that Apple is going to do enough to modernize the iPhone 13's design with its coming phone rollout. From all appearances, the smaller notch isn't all that noticeable. Just look at the image at the top of this article. It's definitely not as wide as the iPhone 12's notch, but it's still a far cry from making the iPhone 13 an all-screen experience.
I don't think Apple has done enough with the iPhone 13's seemingly smaller notch. When I pick up my OnePlus 9 Pro, Galaxy Z Flip 3, or even Pixel 5 after using the iPhone 12 Pro, I'm frequently amazed at the edge-to-edge displays. Granted, all of these phones rely on fingerprint sensors for biometric authentication, but Apple could have gone that route, too. Instead, rumors suggest that the company canned the return of Touch ID for the iPhone 13 (both in-display and in the power button), another huge mistake in my opinion.
Face ID is definitely a great advancement when it comes to unlocking your phone, but the pandemic has shown its severe limitations. I might forgive Apple's stubborn dedication to Face ID if the rumors of it figuring out how to work even with face masks on turn out to be true. Based on the facts we know now, however, Face ID has hit the wall in an age where we are still encouraged to wear masks in the wake of new COVID-19 variants. Therefore, the notch is more of a nuisance than a positive.
Barring any surprise reveals this month, it looks like we're stuck with the iPhone notch for now. And even though the notch looks like it'll be smaller for the first time since 2017, I don't think it's enough. I expect Apple to lead the charge on smartphone design, not fall so far behind.
Thank you for signing up to Tom's Guide. You will receive a verification email shortly.
There was a problem. Please refresh the page and try again.
© Future US, Inc. 11 West 42nd Street, 15th Floor, New York, NY 10036.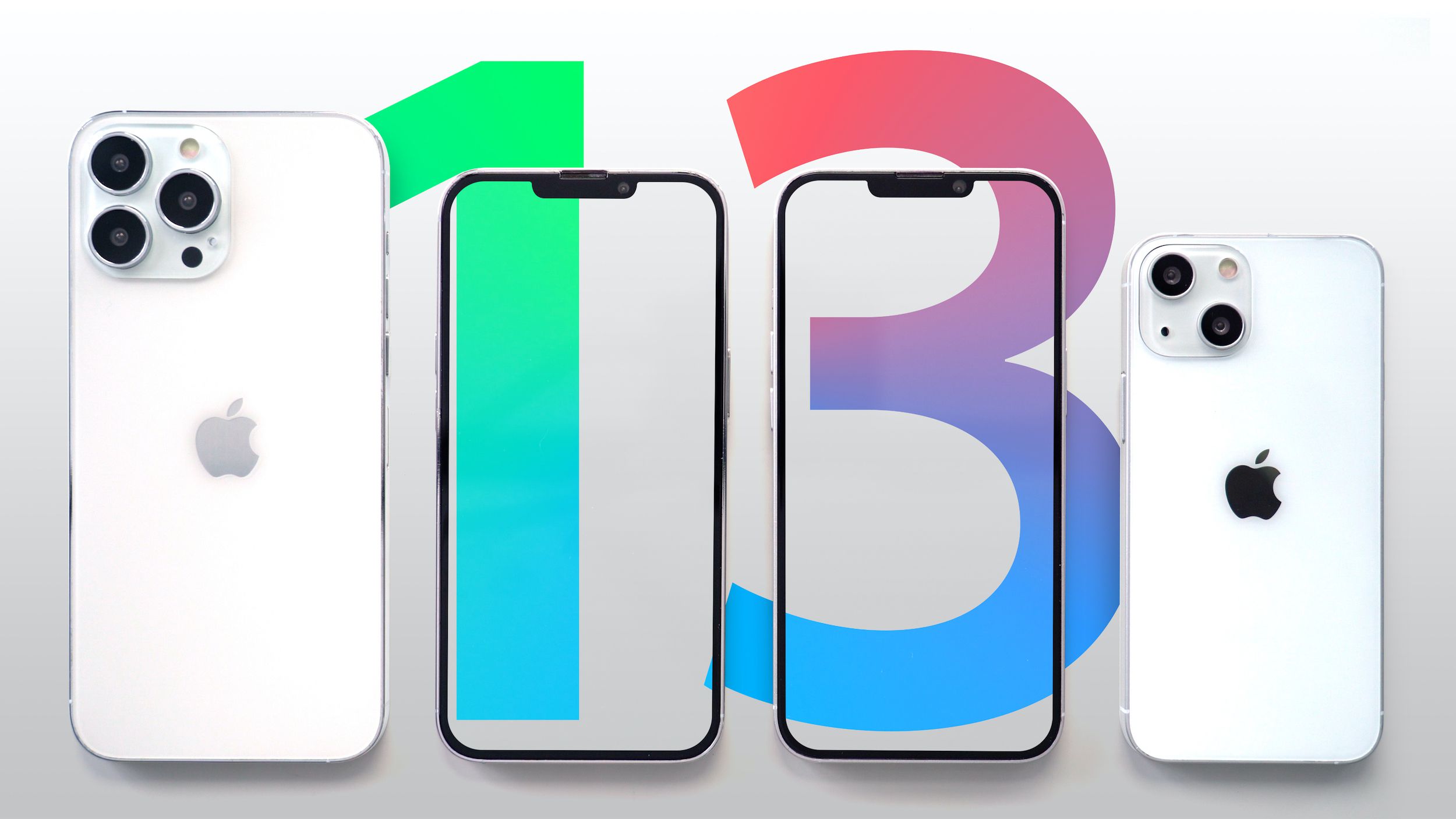 MacRumors 31 August, 2021 - 05:50am
If these features do come with the ‌iPhone 13‌ lineup, the 2021 models could shape up to be a significant upgrade for many users. Most indications seem to be pointing to Tuesday, September 14 as the most likely event date for the announcement of the ‌iPhone 13‌ models, and we could see event invites go out as soon as next week.
When Apple released iOS 14.5 in April, it introduced the ability to unlock your iPhone with Face ID while wearing a mask, as long as you are wearing an Apple Watch. Here are some troubleshooting tips.
iOS 15 is available as a public beta. Here's how to install it.
macOS Monterey is now in public beta. Here's how to install it.
MagSafe Battery Pack support, the ability to merge two existing Apple Card accounts, HomePod timer management in the Home app, and more.
New features for FaceTime calls, tools to reduce distractions, a new notifications experience, added privacy features, complete redesigns for Safari, Weather, and Maps, and more.
Updates for Safari, FaceTime, and many other apps, Universal Control to let a single mouse or trackpad control multiple devices, new Shortcuts app, machine-learning Live Text detection and Visual Lookup, and more.
Redesigned with flat edges, Apple silicon, more ports, improved display, no Touch Bar, and the return of MagSafe charging.
Rumored design changes include shorter stems like current AirPods Pro, but without advanced features like active noise cancellation.