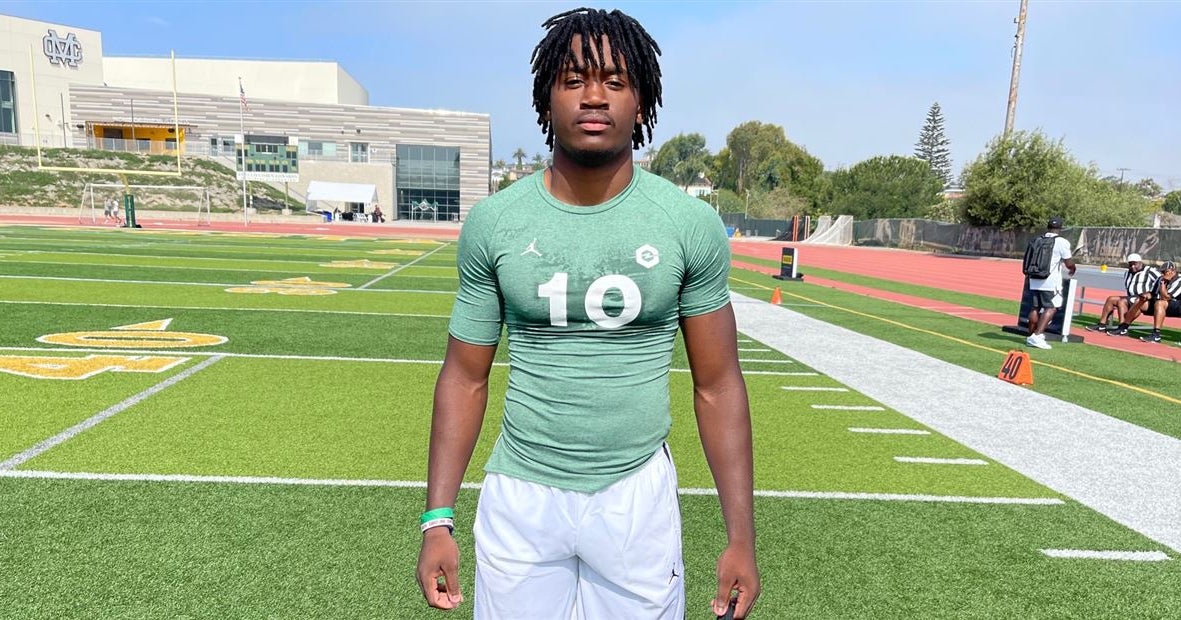 50% off Annual VIP Pass first year
Nelson, who plays at St. Joseph's Prep School in Philadelphia, accumulated more than 20 offers during the recruiting process, including Penn State. The 6-foot-1, 200-pound prospect is ranked No. 16 among all cornerbacks in the country, according to the 247Sports Composite.
South Carolina hosted Nelson for an official visit at the end of June, two weeks after his official visit with the Nittany Lions.
"Basically, they can utilize my body frame," Nelson told TheBigSpur, following his trip to see the Gamecocks.
"I can play corner, but I'm so versatile that I can play nickel and safety as well, which I don't mind. The sooner I can get on the field, the better for me. That's really what he was telling me. I'm versatile, have a nice body and can play anything."
Defensive backs coach Torrian Gray played a prominent role in recruiting him to South Carolina.
"Great person, always keeping in touch, always trying to make sure everybody is alright," Nelson said. "As a coach, he's going to make sure you're alright. He's got the background of recruiting and proof to show that he's one of the greatest coaches, so he's going to help you excel, to get to the next level. That's one thing about coach Gray that I like."
Special teams coordinator Pete Lembo is also involved in recruiting prospects from that part of the country for the Gamecocks. Four-star offensive tackle Ryan Brubaker, who attends Coalico High School in Denver, was the first 2022 prospect from Pennsylvania to commit to South Carolina.
"I like the way they play, how tight their defense is and how much you can trust the coaches," Nelson said, during a recent interview with 247Sports. "It's a new coaching staff but I like the way they coach and how confident they are. Coach Gray and Coach (Shane) Beamer come from great backgrounds."
Six defensive backs are committed to the 2022 recruiting class: Emory Floyd (Powder Springs, Ga.), Anthony Rose (Miami), JyVonte McClendon (Lakeland, Fla.), Kajuan Banks (Tallahassee, Fla.) and Peyton Williams (Rockwall, Tex.). All five of those guys are classified as safeties by 247Sports.
247Sports national recruiting analyst Brian Dohn on Nelson…
Great frame with length. Has ability to be dominant cornerback. Loose hips and changes direction with ease. Excellent timing and technique. Quick, smooth feet. Comfortable in backpedal and transitions well to turn and run with receiver. Stays tight on hip out of breaks. Can jam and re-route. Good ball skills. Does not panic. Excels against elite competition. Runs well and possesses closing speed. Can set edge in running game. Good tackler in space. Has to continue to develop strength. Must not get complacent. Multi-year starter at Top 10 program. Day 2 NFL draft potential.
50% off Annual VIP Pass first year
Read full article at 247Sports.com
Garnet and Cocky 20 July, 2021 - 06:16am
During the offseason, the USC coaching staff spoke to several MLB teams to stay "a step ahead, not a step behind, on what the latest ideas are," as baseball coach Mark Kingston put it. South Carolina Oklahoma State Ncaa Super Regional Baseball During the offseason, the USC coaching staff spoke to several MLB teams to stay a step ahead, not a step behind, on what the latest ideas are, as baseball coach Mark Kingston put it.
South Carolina baseball is fresh off of a successful season, winning 34 games in a very competitive SEC, hosting a regional, and coming a couple of hits short of advancing to the second round of the NCAA Tournament. With that success, unfortunately, comes attrition.
South Carolina's pitching coach, Skylar Meade, was poached last week by Troy, who hired the assistant away to take over in his first head coaching role. Meade made a huge impact on the Gamecocks' pitching staff this past season, having the unit ranked among the SEC's best in both ERA and strikeouts. He saw all three members of his starting rotation drafted in this month's MLB Draft.
Head coach Mark Kingston moved quickly to fill the opening, as it was reported by 24/7 Sports that Justin Parker is set to take over in Columbia as the pitching coach next season. Parker was at Indiana last year, leading the Hoosiers to a 26-win season.
Indiana's staff ranked third in the nation in ERA last season, second in hits allowed per game, and had three pitchers named to all-conference teams. Prior to joining the Hoosiers' program, he coached at UCF.
South Carolina also added a productive transfer from the portal this week in Virginia Tech infielder Kevin Madden. Madden his .313 with the Hokies last year, smacking four homers and knocking in 37 RBIs.
The Gamecocks were looking to fill the voids left by transfers Brennan Milone and Jeff Heinrich, and Madden seems to be a solid pickup. He should have a chance to immediately join the lineup and make a major impact at the top of the South Carolina order. The Gamecocks are looking to improve upon a tough season at the plate, where the team hit an SEC-low .228 against conference foes.
Build your custom FanSided Daily email newsletter with news and analysis on South Carolina Gamecocks and all your favorite sports teams, TV shows, and more.
Your favorite teams, topics, and players all on your favorite mobile devices.
Powered by Minute Media © 2021 All Rights Reserved.