Sign in to the XDA Developers Forums
Add swipe gestures to any Android, no root
Make your phone easier to use with one hand, no root
The best way to access XDA on your phone
A sweet, feature-filled launcher with a beautiful UX.
XDA's official marketplace for buying and selling tech
Genshin Impact is currently keeping its players engaged in the massive v2.0 update with the new Inazuma region, new bosses, new characters, new mechanics, cross-platform play and so much more. While players explore the new region, Mihoyo just dropped a surprise announcement. Genshin Impact's developer Mihoyo is collaborating with Horizon Zero Dawn's developer Guerrilla Games to offer Aloy, the main protagonist as an upcoming 5-star character to all Genshin Impact players on all platforms.
Aloy is coming to the world of Teyvat 🏹
Guerrilla and miHoYo are proud to announce that everyone's favourite machine hunter will join the Genshin Impact roster for a limited time. More info soon! https://t.co/f5uLbYx8xO pic.twitter.com/f9mb5exVOX
— PlayStation Europe (@PlayStationEU) July 22, 2021
Aloy is the main protagonist in Horizon Zero Dawn, a critically acclaimed game that can be played on the PlayStation 4 and 5 as well as on Windows. Genshin Impact on the other hand, is a free-to-play game available on Android, iOS, Windows, PlayStation 4 and PlayStation 5 with cross-platform play across the platforms. Genshin Impact features in our list of Top Android Games, and is also a good benchmark to judge the gaming prowess of smartphones thanks to demanding graphics.
With this collaboration, all Genshin Impact players above Adventure Rank 20 will get Aloy as a free 5-star character, delivered directly to them for simply logging in — no events needed (which otherwise is usually the theme with free characters, even 4-star ones). However, the small catch that is present is that players on PlayStation 4 and PlayStation 5 will receive the character for free with the v2.2 patch (scheduled for October 13), while players on other platforms will receive the character for free with the v2.3 patch (scheduled for November 24).
Note that cross-platform play is active, so you just need to link your PSN account with your Mihoyo account and log in once on the PlayStation to receive the character in the first wave — you can then continue playing on other platforms. Players will get the character in the second wave only if they haven't already received it.
Aloy is a 5-star character and a Cryo user with Bow as a weapon. Further details on her Genshin Impact gameplay have not yet been shared. However, one of Genshin Impact's strongest DPS characters is Ganyu, another 5-star Cryo Bow character. So it would definitely be interesting to see how this character would influence the meta of the game in the future.
PlayStation users will also get the Predator Bow as an exclusive weapon!
Want to obtain Aloy's Predator Bow? Travelers above Adventure Rank 20 will receive this for free via in-game mail.
And if you're playing on PS4 or PS5, you'll get exclusive access to Aloy as of Update 2.1! pic.twitter.com/RY6m8oqM6F
— PlayStation (@PlayStation) July 22, 2021
If you'd like to dive into the game, we have a Guide for Beginners, as well as Tips for Advanced Genshin Impact players.
Receive the freshest Android & development news right in your inbox!
XDA Developers was founded by developers, for developers. It is now a valuable resource for people who want to make the most of their mobile devices, from customizing the look and feel to adding new functionality.
Read full article at Forbes
IGN 23 July, 2021 - 05:00am
Announced on Twitter (below), we got a look at how Aloy will be translated into Genshin Impact's anime-inflected visual style, and learned that she will only be available in the game for "a limited time". She will be a five-star character, with unique combo skills, cryo elemental abilities, and animations.
In a press release, MiHoYo explained that all PlayStation players will unlock Aloy simply by logging into the PS4 or PS5 version of the game once the game's upcoming 2.1 version is unlocked. She will be availble to unlock from your in-game mailbox (and, once you've done so, she can be played in any version of the game thanks to cross-save). Players will also unlock a special 4-star bow for Aloy during this time, but no details have been added as to how.
When the game moves to version 2.2, all players above adventure rank 20 on any platform will be able to claim Aloy and the bow. While more details are yet to be revealed, it seems Aloy will only be available in Genshin Impact until version 2.2 comes to an end.
It's not the first time Aloy's made it into games other than her own – we also saw the character become a part of Monster Hunter World and its expansion, Iceborne, not to mention Fortnite.
Genshin Impact launched its huge 2.0 Inazuma update yesterday, adding a new city, cross-save, new PS5 features, and more.
Polygon 23 July, 2021 - 05:00am
Aloy is the protagonist of Horizon Zero Dawn and its upcoming sequel, Horizon Forbidden West. In Horizon Zero Dawn, she seeks answers from a lost civilization to save her own post-apocalyptic world. Now, she'll take her talents to Genshin and the land of Teyvat.
The "Savior From Another World" will free to Genshin Impact players, with exclusive early access for players on PlayStation. The collaboration between the two games will unroll as part of Version 2.1 and 2.2 updates of the game. MiHoYo did not announce a release date for Aloy, but said her appearance would be a limited-time offer.
In Genshin Impact, as is fitting for Aloy's previous heroics, she'll be a five-star character, the game's strongest rating. On the PlayStation 4 and PlayStation 5, she'll also come with a special bow. Developer miHoYo shared these details on how to get her in a news release:
During Version 2.1, players who have reached Adventure Rank 20 or above can receive Aloy via in-game mail after logging in to the game on PS5 or PS4. Meanwhile, other players can receive Aloy via in-game mail after logging in to the game on any available platform during Version 2.2.
A free four-star Bow that gives Aloy a special buff can also be obtained exclusively on PlayStation® during Version 2.1 and Version 2.2 for players who reached Adventure Rank 20 or above.
The announcement comes just after the release of Genshin Impact's much-anticipated 2.0 Inazuma update, which added a new region and will bring new characters to the game.
Aloy has traversed more than one world. In April, she joined Fortnite as a playable character. More details on her Genshin Impact crossover will be disclosed at a later date, according to miHoYo's news release.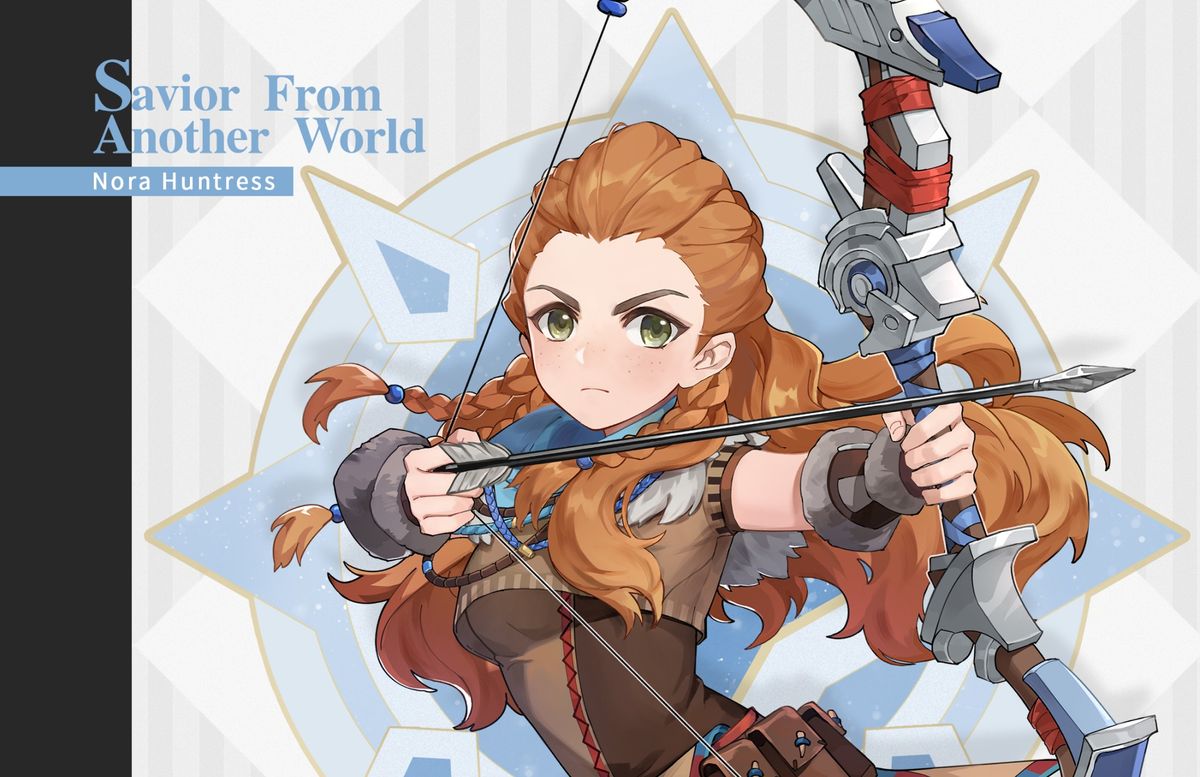 Gamesradar 23 July, 2021 - 05:00am
PlayStation users will get to use Aloy a month early
PlayStation and developer MiHoYo revealed the mind-boggling crossover earlier today. Aloy, the "Savior from Another World", will not only be Genshin's first major crossover character, but she will also be the first free five-star character in the game's history. While players could have got enough free Wishes for several five-stars, the game has never outright handed out a specific one before. Not only that, "a free four-star bow that gives Aloy a special buff" will be included too, but per a tweet from PlayStation Europe, it will only be usable on PS4 and PS5.
With Genshin Impact cross-save now available, it would be feasible for PC and mobile players to set up a PlayStation account and claim Aloy early. In an email to GamesRadar+, MiHoYo confirmed that this will work and "players can unlock Aloy on PlayStation first then later enjoy the character on PC or mobile platforms." We also asked if Aloy will receive her own event or story quest, but the studio is keeping details close to its chest for now.
Aloy will be available to all players who are Adventure Rank 20 or higher. You can hit AR20 in a matter of days if not hours, so even new players will be able to snag Aloy during the event periods. However, she won't be available on PlayStation after update 2.2 arrives, and likewise for PC and mobile players up until update 2.3, so be sure to claim her while you can.
We know that Aloy will be a cryo bow user, but we don't know much else about her abilities. The only other five-star cryo archer is Ganyu, who's widely regarded as the strongest damage-dealer in the game, so Aloy's got some big shoes to fill. In an email, MiHoYo said Aloy wields "unique combo skills" and "cryo elemental power skills," which isn't much to go on, but it does suggest she'll deal cryo damage with her normal and/or charged attacks, much like Ganyu and the upcoming archer Yoimiya.
Genshin Impact 2.0 | Genshin Impact Inazuma region | Genshin Impact tips | Genshin Impact Anemoculus | Genshin Impact wishes and codes | Best Genshin Impact characters | Genshin Impact Dragonspine Stone Tablets | Genshin Impact Frostbearing Tree and Crimson Agate | How to reroll in Genshin Impact | The best Genshin Impact Eula build | Where to find all Genshin Impact wood types | Genshin Impact Serenitea Pot blueprints | Genshin Impact Hangout Events | Genshin impact Dainsleif Bough Keeper answers
The best cheap gaming keyboard 2021 - membrane and mechanical decks for less
The best Xbox One headsets for 2021
Thank you for signing up to GamesRadar+. You will receive a verification email shortly.
There was a problem. Please refresh the page and try again.
GamesRadar+ is part of Future US Inc, an international media group and leading digital publisher. Visit our corporate site.
© Future US, Inc. 11 West 42nd Street, 15th Floor, New York, NY 10036.
TheGamer 23 July, 2021 - 05:00am
It's a huge move, one that establishes Genshin Impact as far more than just another one of the dozens of popular RPGs on mobile, expanding its reach to millions of players across console and PC in a way that nobody could have expected upon its release. On the surface, it plays as a fairly obvious Breath of the Wild clone, but Mihoyo has managed to fill its universe with locations, personalities, and an unfolding narrative that its audience cares about deeply. The introduction of Aloy is a definitive representation of how far the game has come, drawing the attention of a blockbuster property like Horizon Zero Dawn and its iconic protagonist in a way that subverts all expectations.
Coming as part of Update 2.1 and 2.2, Aloy will be known as a 'Saviour from Another World' when she's unleashed across all platforms as a free five-star character. PlayStation owners will be granted early access and an extra weapon, as you might expect, but otherwise she will be available to all users on all platforms with no restrictions. Given how Fortnite has seen the likes of Master Chief and Kratos occupy places beyond their legacy platforms, Aloy following suit in Genshin Impact isn't hugely surprising.
It remains unclear if Aloy will receive her own 'fish-out-of-water' questline in the land of Teyvat or will simply be dropped into proceedings with no questions asked, but the potential for character exploration here is so exciting. Her new look is also adorable, maintaining her sense of determination and drive while ensuring it matches the vibrant, saturated anime aesthetic of Genshin Impact perfectly. Her weeaboo makeover is amazing, and could be the start of a new road for Mihoyo to walk upon.
As far as debut crossover events go, this one is fairly unexpected. It draws inspiration from a Western game as opposed to one from Japan or China, leaning into Genshin's international audience with a free character that will undoubtedly draw in those who've never even heard of it before. I've already seen a few friends on social media staring in amazement at Aloy's new design, confused about why she's suddenly a Pokemon character and why there isn't a Forbidden West release date yet. I imagine this partnership between Mihoyo and Sony has been in the works for a long time, and given its apparent success, I wouldn't be surprised if other established IP such as Ghost of Tsushima, The Last of Us, or Ratchet & Clank also make their way over one of these days. Granted, Genshin Impact seems to restrict its character roster to cute girls and dreamy boys, so there might be a few prerequisites before signing up. Sorry Joel, you're not kawaii enough to make the cut.
I think the most fascinating thing about all this is how Genshin Impact has now become so much more unpredictable with the coming arrival of Aloy. Fortnite will give out to anyone, whether it be Luke Skywalker or Harry Kane, but Mihoyo will likely be more selective on who it brings into the fold by ensuring they belong in its fantastical universe. The worldbuilding in Genshin Impact is largely serious, as is the narrative, so having Travis Scott waltzing around Liyue might give off the wrong impression. Bring on Aloy, and let's get wild.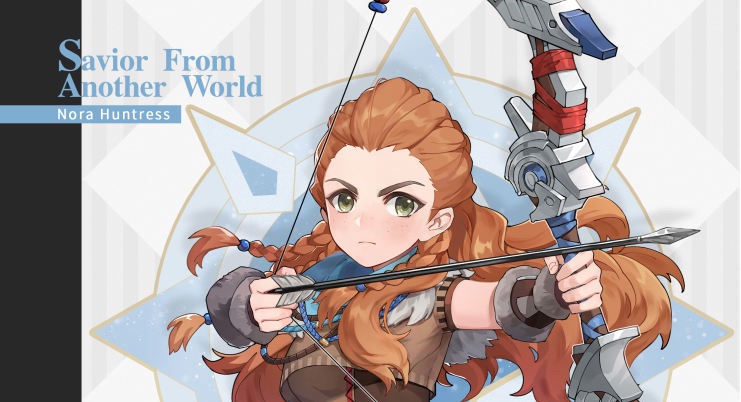 PlayStation Universe 23 July, 2021 - 05:00am
Genshin Impact has just launched its massive 2.00 update with a brand new location, but developer miHoYo isn't stopping there. Nope, the studio has confirmed that it's bringing over Aloy, the protagonist from Horizon Zero Dawn, into the game for a limited time.
Aloy isn't available in the game just yet, but more details will be released at a later date. Still, it's an impressive crossover and is sure to get PS5 and PS4 fans flocking back to the game if some of you have been taking a break lately.
Here's Aloy's official blurb to whet your appetite:
Eventually she learned that her origins and destiny were deeply tied to the fate of the world itself, and fought an epic battle to save it against the evil forces of an artificial intelligence from the ancient past.
She thought that this would be the end of her journey. But there is always more to an adventurer's tale. She has now come to Teyvat in search of a new challenges. In this brave new world, Aloy is ready for the hunt!
And here's some early details on how players will be able to unlock Aloy:
After the Version 2.1 Update – Start of Version 2.2 Update Maintenance (October 13, 2021 05:59 UTC+8)
During the event, all Travelers who log into Genshin Impact on the PlayStation®4 or PlayStation®5 system will be able to obtain Aloy directly through in-game mail.
Genshin Impact is now available for PS5, PS4, and PC. Give our review a read here.
Dragon Age 4 will be coming in 2023 according to a new report from journalist Jeff Grubb at Venture Beat, check out the full details here
Respawn Entertainment is developing a brand new single player game, news that was brought out by a hiring call for the new team.
Lost Judgment's localization director took to Twitter to warn fans of the games heavy themes and traumatic content, check out the details here.
Orcs Must Die! 3 (Google Stadia / Nintendo Switch / PC / PS4 / PS5 / Xbox One / Xbox Series S/X)
Splitgate (PC / PS4 / PS5 / Xbox One / Xbox Series S/X)
NEO: The World Ends With You (Nintendo Switch / PC / PS4)
The Great Ace Attorney Chronicles (Nintendo Switch / PC / PS4)
Tribes of Midgard (PC / PS4 / PS5)
Samurai Warriors 5 (Nintendo Switch / PC / PS4 / Xbox One)
Night Book (PC / PS4 / PS5 / Xbox One / Xbox Series X/S)
Wccftech 23 July, 2021 - 05:00am
The makers of Genshin Impact don't seen to have any problem coming up with new characters, but nevertheless, the game will soon be getting its first-ever guest character in Aloy from Horizon Zero Dawn and the upcoming Horizon Forbidden West. Aloy is being remade in Genshin's trademark anime-inspired style, which will no doubt be cause for much debate. You can get a fuller look at Genshin Aloy, below.
The Genshin Impact version of Aloy will wield her trademark bow and Cryo magic. Here's a very quick description...
"I'm not much for talking about myself. The mission is what's important." An agile hunter from the Nora tribe. With bow in hand, she's always ready to protect the innocent. Travelers, let's welcome Aloy – "Savior From Another World!"
Despite originating in a Sony-published game, Aloy will not be PlayStation exclusive. PlayStation owners will get a month of exclusive access, but then she'll be available on all platforms. Aloy will be a 5-star character, and unlike others, can be obtained free of charge by anyone with an Adventure Rank of 20 or more without having to engage with the game's gacha system. Here's when you'll be able to add Aloy to your party...
Genshin Impact is available now on PC, PS4, PS5, and mobile platforms. The game's big 2.0 update, which added the new Inazuma region, launched yesterday.
For latest tech news in your inbox, once a day!
GameSpot 22 July, 2021 - 10:02am
August's First PS Plus Game Confirmed As Hunter's Arena: Legends
Baldur's Gate 3 Patch 5 Coming July 13, And Here's What It Does
PlayStation users who have reached Adventure Rank 20 or above can receive Aloy via in-game mail after logging in and a free four-star bow that gives her a special buff from the version 2.1 update, while other platforms will have to wait until the version 2.2 update to add Aloy to their roster. You can get a look at the bow below.
Developer miHoYo added that Aloy has acquired a cryo vision in Genshin Impact and can wield unique elemental powers during combat and exploration.
Until Aloy arrives, there's plenty to do inside of Genshin Impact. The latest update has added in new characters, systems, and the Inazuma region, which so far includes three explorable regions in the form of Narukami Island, Kannazuka, and Yashiori Island.
As for Aloy, her story will continue in Horizon: Forbidden West on both PS4 and PS5. Developer Guerrilla Games showed off more than 10 minutes of new gameplay footage on PS5 recently, although the PS4 version is aiming to provide people with a "fantastic" cross-gen experience.
Twinfinite 22 July, 2021 - 08:36am
Today Genshin Impact developer MiHoYo announced the first guest character coming to the popular action-RPG.
Today Genshin Impact developer MiHoYo announced the first guest character coming to the popular action-RPG.
It's Aloy from Horizon Zero Dawn, a free five-star Cryo-based character that will be added to the game starting with version 2.1.
To be precise, players that have received adventurer rank 20 or above on PS4 and PS5 will receive Aloy for free in the in-game mail with version 2.1.
Players on other platforms will get her with version 2.2
If you're on PS4 and PS5, you'll also get an exclusive bow that grants Aloy a special buff.
You can check out her new and ultra-cute looks in the artwork below.
"An Outcast, Seeker, and proven huntress from the Nora Tribe who saves life on Earth in Horizon Zero Dawn, Aloy will not hesitate to fight for a cause during her adventures in the world of Teyvat. In addition to her extraordinary archery abilities, she also acquired a Cryo Vision in this world and can wield unique elemental power in combat and exploration. In Version 2.1, Aloy will be featured as a new five-star character "Savior From Another World" who joins the Traveler in unraveling the secrets of Teyvat."
If you want to see more of Genshin Impact, we recently interviewed MiHoYo about the game's platforms, inspiration, and more. You can also read our review and watch the trailers dedicated to Kamisato Ayaka.
On top of that, you can read more about update 2.0. The game is currently available for PS5, PS4, PC, iOS, and Android.