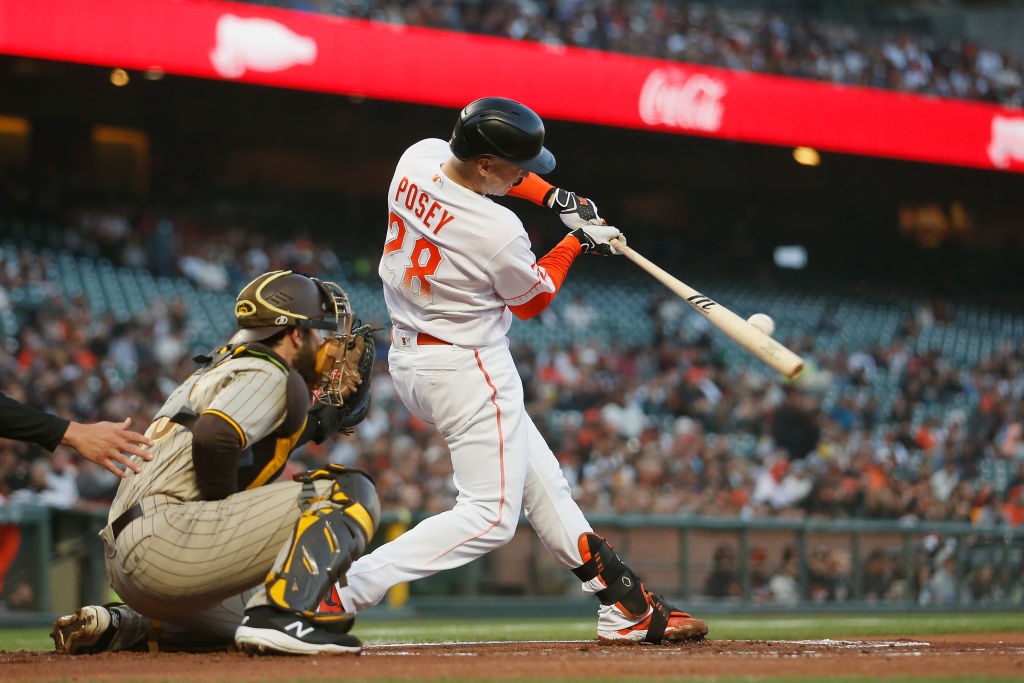 Not all home runs are created equal. Few are hit out of the park after an MLB pitcher delivers a floating fastball straight down the middle. But it's still notable — and wild to witness — when a slugger takes an absolutely unhittable pitch and smacks it into the stands.
That's what Buster Posey did Tuesday night.
In case you missed it, the San Francisco Giants are once again, as has been the case almost all season, on fire. They've won nine games in a row, in large part thanks to an offensive onslaught; San Francisco has scored no less than six runs in each of its nine most recent victories.
In the second game of the Giants' current series against the San Diego Padres, Posey got the home team on the board almost immediately. He took Jake Arrieta deep in the bottom of the first inning, and did so on a pitch that was very clearly high and inside.
Buster Posey - San Francisco Giants (18) pic.twitter.com/pfSjlc3lxf
If you're a Giants fan, it will probably not surprise you to learn that the only other player to remotely approach a homer on a pitch that far outside the strike zone was ... Pablo Sandoval. A true king.
Read full article at SF Gate
McCovey Chronicles 15 September, 2021 - 05:00pm
A solid start from DeSclafani is backed up by the offense, as Posey hits his 18th homer of the year and the Giants collect hits galore to beat the Padres.
The San Francisco Giants beat the San Diego Padres, 6-1. They've won nine straight. They clinched a postseason slot yesterday and didn't let their foot off the gas, despite fans' champagne-laden fears. And this game was a microcosm of so many of this season's storylines: a resurgent Core Three (Posey, Crawford, Belt), pickups with limited fanfare becoming key players, rookies earning their keep. And most importantly: a team of collected parts, superstars limited, racing to the finish line with the best record in baseball, the Dodgers in the rearview mirror — but not quite able to catch them. Not as of yet.
An example of a storyline: this game's first run. It was Buster Posey turning on an inside fastball, so inside it almost brushed his jersey. But he had the bat speed to spin on the ball and send it 400 feet into left field.
Buster's on the board pic.twitter.com/nKD48ZnRaL
In 2019, his last full season, Posey hit 7 home runs in 114 games. This home run marked his 18th this season in just 97 games. It's his highest home run total since 2015, when he hit 19. This is, quite simply, the Renaissance of Buster Posey, in about as obvious detail as you can get. The Giants led 1-0 after the first.
The Padres were, at the start, not to go quite as gentle tonight as they did last night. They tied the game in the third after Jurickson Profar doubled and then came around to score on a Trent Grisham groundout.
The Giants got the run back in the bottom of the inning, however, after consecutive singles left Posey at third and LaMonte Wade Jr. at first. An errant pickoff throw by Jake Arrieta that sailed well to the right of Hosmer allowed Posey to trot home, giving the Giants a 2-1 lead after three. Storyline there: Eduardo Nuñez turned into Shaun Anderson turned into LaMonte Wade Jr. who is now batting cleanup between Buster Posey and Brandon Crawford on a 95-win team and it all makes sense; Zaidi's brilliance continuing to shine.
The Giants got another run in the fourth. Mike Yastrzemski was hit by a pitch above his right elbow, and eventually came around to score on a Tommy La Stella single. (Anthony DeSclafani had a picture perfect bunt in the middle to advance Yaz to second base). The Giants led 3-1 after four innings.
Tommy La Singles pic.twitter.com/tuVEVmKQQa
Meanwhile, DeSclafani turned in another wonderful performance, going 6.2 innings allowing just the one run on three hits and one walk with three strikeouts. Disco, who pitched just 33 innings in 2020 with a 7.22 ERA, has cemented his place in the Giants' pitching staff as one of their key arms. He's gone 11-6 and pitched 146 innings with a 3.33 ERA. The redemption arc.
The Giants extended their lead in the bottom of the seventh. Brandon Crawford, having by far the best offensive season of his career, singled. He was then driven home all the way from first by a Darin Ruf double deep into Triples Alley. Storyline there? A 34-year old shortstop, famed far more for his glove than his offense, has a wRC+ of 136 through September. And this time two years ago, Darin Ruf was in the KBO, tearing up the pitching there with unknown dreams of ever making it back to MLB. Now, he possesses a 152 wRC+ with the Giants, has 15 home runs in 283 plate appearances, ranks ninth in the MLB in exit velocity (right behind Shohei Ohtani), and appears poised to continue to do extreme damage against right handers for as long as he possibly can. It was 4-1 Giants after seven.
Not done yet pic.twitter.com/nmjVyvthzF
Tyler Rogers pitched a perfect 8th inning, striking out Fernando Tatis Jr. to add an exclamation mark on top of his fantastic season. Rogers has the 7th-lowest K/9 of any qualified reliever in MLB, by far the lowest fastball velocity at an 82.9 mph average, but possesses the 6th-lowest ERA among qualified relievers as well. He's been a stalwart in the Giants bullpen since the beginning of the season.
In the bottom of the eighth, the Giants faced an old friend in Mark Melancon. Tommy La Stella worked a 7-pitch walk, then Gabe Kapler brought in Thairo Estrada as a pinch runner. This immediately paid dividends, as Brandon Belt scorched a 109mph double into the gap in left-center, probably rounding the bases with Walt Whitman's "O Captain! My Captain!" reverberating in his skull. (He made a little C against his chest in case any of us forgot his captain status).
Belt making sure everyone knows he's the captain pic.twitter.com/gRgIvfj5yJ
Posey then hit a ball sharply to Manny Machado, who was forced to hurry a throw to first base that sailed out of Hosmer's reach again and hit the netting near the Padres dugout. Shades of Posey's "I'm so fast" from earlier this year. Because the ball was out of play, and therefore a dead ball, Belt scored and Posey went to second, bringing the Giants lead to 6-1. As Andrew Baggarly noted on Twitter, the Giants have scored 6 runs in each of their last nine games, the longest streak of scoring at least 6 runs since 1929.
Doval pitched the ninth inning, striking out Machado and Hosmer on two nasty sliders that broke late and had them swinging out of their shoes. The young flamethrower has had an up and down season, but hasn't allowed an earned run since rejoining the Giants for this current stint.
Storylines! You couldn't write them better if you tried. Kris Bryant, the major trade deadline acquisition, hit his 200th career double today, a bullet that went 400 feet and measured at 109mph off the bat. Team-wise, it's the Giants' best record through 145 games since at least early 1910s New York. Their enchanting collection of wily veterans, waiver wire pickups, and young guys making impacts are still holding off the juggernaut Dodgers. Their work isn't done yet, but they're creating a story that even the most coldhearted of us can't help but love.
The San Diego Union-Tribune 15 September, 2021 - 05:00pm
KSBY News 15 September, 2021 - 05:00pm
The San Diego Union-Tribune 15 September, 2021 - 05:00pm
Left-hander Ross Detwiler was signed and added to the roster and was said to be available out of the bullpen for Tuesday's game against the Giants.
Detwiler, 35, had a 4.96 ERA and 1.24 WHIP in 46 games (45 1/3 innings) for the Miami Marlins before being designated for assignment on Sept. 7 and subsequently released Saturday. He has a 4.58 career ERA while pitching for eight teams.
Detwiler served as the opener in five games for the Marlins. He did not allow a run in three of those. He allowed five runs (all in the third inning) and eight (four in the first and four in the second inning) in the other two games.
The Padres bullpen had to cover 7 2/3 innings Sunday and four more Monday. Jake Arrieta, who has not gone more than five innings since May 14, started Tuesday's game. After Joe Musgrove starts Wednesday, there are likely two games in a row the Padres will be without a member of their starting rotation.
Chris Paddack, the Padres' scheduled starter on Thursday, was placed on the injured list Monday with elbow inflammation. The discomfort he has felt has been more in his lower triceps and is not expected to keep him out long, but his absence leaves a full game for the Padres to cover.
Blake Snell, who departed his start Sunday with adductor tightness, could also miss his scheduled start Friday in St. Louis.
James Norwood and Reiss Knehr have also joined the Padres in San Francisco as part of the taxi squad. Both have appeared in relief for the Padres this season and have been throwing in one- and two-inning stints in Triple-A.
Jake Cronenworth took batting practice Tuesday and could play by the end of the week.
"We're hopeful possibly for the Cardinals series," manager Jayce Tingler said.
Cronenworth suffered a fracture near the tip of his left ring finger when he was hit by a pitch Friday in Los Angeles.
"The strength in that finger is still pretty limited, but he's moving forward," Tingler said.
Cronenworth throws with his right hand, so the location of the injury was fortunate. However, he bats left-handed and the ring finger of that hand helps provide power in his grip.
Musgrove will wear No.21 on his jersey today as MLB celebrates Roberto Clemente Day.
"That will be an honor," Musgrove said.
Musgrove was among the players around the league given the option to wear Clemente's number because he is the team's nominee for the Roberto Clemente Award, which is given to the player "who best represents the game … through extraordinary character, community involvement, philanthropy and positive contributions, both on and off the field."
The league-wide winner will be announced next month.
Musgrove, who is playing his first season in his hometown after being acquired in a trade from the Pittsburgh Pirates, was chosen as the Padres' nominee in part for his philanthropic work, primarily with the Challenged Athletes Foundation.
"I think it's probably one of the highest honors I've gotten in my entire life," Musgrove said.
Get our free Padres Daily newsletter, free to your inbox every day of the season.
You may occasionally receive promotional content from the San Diego Union-Tribune.
Rounding up the action at the Padres' minor league affiliates
The Padres' have tied a season-high with four straight losses heading into Tuesday's game at the San Francisco Giants.
Joe Musgrove's charitable work with Padres includes contributions to the Challenged Athletes Foundation
Rounding up the action at the Padres' minor league affiliates
With Jake Cronenworth fracturing a finger, the Padres will give Adam Frazier his first start in the three-hole this year
Rounding up the action at the Padres' minor league affiliates
Subscribe to email newsletters from the Union-Tribune about news, sports, business, opinion and more. Also sign up for our community newspaper newsletters, and CaregiverSD.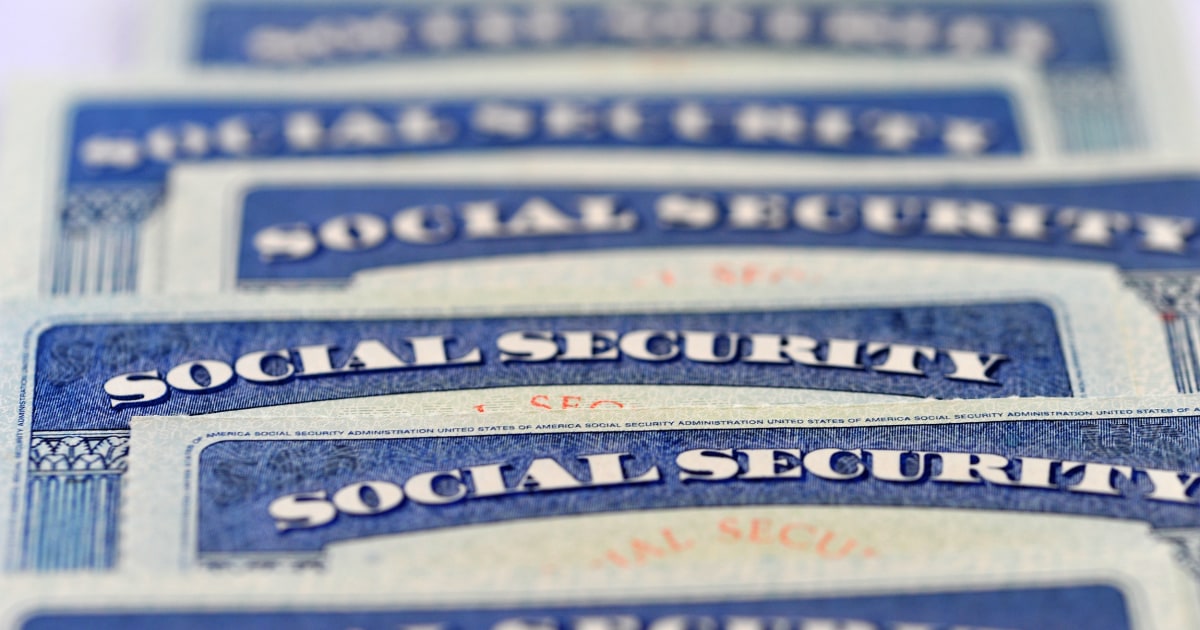 The San Diego Union-Tribune 15 September, 2021 - 03:11pm
Robert Lizarraga, 70, admitted to fraudulently collecting retirement benefits from a stolen identity, according to court documents from federal court in the District of Oregon. Prosecutors say Lizarraga stole the deceased child's identity in 1990 and began using it for his work history the next year.
Lizarraga, of Gresham, Oregon, cashed in $12,509.60 from retirement benefits from the Social Security Administration he was not entitled to. He also deposited a $1,200 check he falsely obtained from the Internal Revenue Service, court documents state. Those offenses occurred from August 2017 through June 2020, court records stated.
He used the identifying information of the dead child to fraudulently obtain a Social Security number in April 1990, and then used that identity as his own from then on.
"His work history was under his true name until 1991, after which his work history was under the false identity," according to a plea agreement filed on June 2.
Lizarraga also collected retirement benefits from his true identity, records said.
He was sentenced to two years of probation on Monday, even though he was facing up to 10 years imprisonment.
Court documents said prosecutors took into consideration Lizarraga's lack of recent criminal history, his health issues and how he eventually cooperated with authorities.
He paid back the Social Security Administration in full, and according to a court filing from Sept. 8, he told prosecutors he sent the IRS a check for the $1,200 he owed.
Lizarraga could not be reached Wednesday. A spokeswoman with the federal public defender's office declined comment.
Lizarraga told the judge he went to a courthouse and obtained the dead child's name and birthdate from court records, The Oregonian reported. It's unclear if he had known the child or what motived him to steal the identity.
Antonio Planas is a breaking news reporter for NBC News Digital.
USA TODAY Sportsbook Wire 15 September, 2021 - 10:00am
The San Francisco Giants (95-50) host the San Diego Padres (74-70) Wednesday for the third game of their four-game series at Oracle Park. First pitch is scheduled for 9:45 p.m. ET. Let's analyze the lines around the Padres vs. Giants odds with MLB picks and predictions.
San Francisco has steamrolled San Diego in the first two games of this series by a combined score of 15-2.
Also see: 2021 World Series odds for all teams
RHP Joe Musgrove is San Diego's projected starter. Musgrove is 10-9 with a 2.93 ERA (159 2/3 IP, 52 ER), 1.03 WHIP, 2.5 BB/9 and 10.1 K/9 across 27 starts and one relief appearance.
RHP Dominic Leone takes the ball as an opener for San Francisco's bullpen day. Leone is 3-3 with a 1.41 ERA (44 2/3 IP, 7 ER), 1.03 WHIP, 4.0 BB/9 and 8.3 K/9 in three starts and 43 relief appearances.
MLB odds provided by Tipico Sportsbook; access USA TODAY Sports for a full list. Odds last updated at 3 p.m. ET.
Slight "LEAN" to the GIANTS (-110) for a tiny wager because I have no choice but to bet baseball's best team if you're giving me a coin-flip price.
It's a bit "square" since we have a "pros vs. joes" situation in the betting market (more on that below), but oddsmakers are reacting to the public's action on San Francisco by making the Giants' money line more expensive.
Musgrove is less effective on the road; he's got a 4.25 road FIP (2.82 FIP at home), 16.8% K-BB (24.5% K-BB at home) and a lower home run per nine-inning rate in San Diego.
PASS as much as I'd love some insurance on our San Francisco money line play because the implied win probability of the Giants +1.5 (-190) is 65.52%, but their cover rate as a home underdog is only 58.8% (10-7 ATS).
Since I only "lean" toward San Francisco outright, I am also unwilling to lay it with Giants -1.5 (+180) on the alternate line.
Furthermore, the presumed "sharp" money is backing San Diego's money line whereas the public is betting San Francisco according to pregame.com, so laying it with the Giants on the alternate line is too risky of a proposition.
BET UNDER 8.5 (-122) for 1 unit since both sides of the market are betting the Under hence it being way more expensive than the Over.
San Diego's lineup has been awful lately and San Francisco's bullpen has been dialed in. Padres hitters rank dead-last in WAR, wRC+ and wOBA over the last two weeks, while the Giants' relievers are 6-1 with the best ERA over that span.
For more sports betting picks and tips, visit SportsbookWire.com. Please gamble responsibly.
Sign up for the USA TODAY Sportsbook Wire newsletter to get our top stories in your inbox every morning
Analyzing Wednesday's Tampa Bay Rays at Toronto Blue Jays odds and lines, with MLB picks and predictions.
Analyzing Wednesday's Cincinnati Reds at Pittsburgh Pirates odds and lines, with MLB expert picks and predictions.
Test your baseball knowledge and make your MLB picks with BaseballHQ's free-to-play Daily Ticket MLB Pick 8 pick'em contest for Wednesday, (...)
© Copyright USA TODAY Sportsbook Wire 2021
Start every day with our most popular content waiting in your inbox.
Please re-enter your email address.
You'll now receive the top USA TODAY Sportsbook Wire stories each day directly in your inbox.
Please enter an email address.
Please check your email for a confirmation.