Bob Duffy
BobDuffyROC
GM Recalls All-Electric Chevy Bolt for Second Time Due to Fire Risk - The Wall Street Journal ⁦@RochesterChambr⁩ apple.news/AygyyWUwjTAyrKoQBlBcmPA
Lora Kolodny
lorakolodny
GM issues second recall of 2017-2019 Chevy Bolt EVs (51k in US) after vehicles catch fire cnb.cx/2V4jSZ1 by @MikeWayland @CNBC

Phil LeBeau
Lebeaucarnews
GM issues a new recall for 68,667 Chevy Bolts ('17 - '19 model years) to correct defective battery cells that could spark fires. Until the cells are replaced, owners told to not charge above 90% or let drain below approx. 25% and charge after each drive. $GM

Lenise Ligon
LeniseLigon
GM issues new recall on Bolts after more battery fires www.detroitnews.com/story/business/autos/general-motors/2021/07/23/gm-issues-new-recall-bolts-after-more-battery-fires/8063960002/ via @detroitnews
DETROIT (AP) — General Motors is recalling some older Chevrolet Bolts for a second time to fix persistent battery problems that can set the electric cars ablaze.
Until repairs are done, GM says owners should park the cars outdoors, limit charging to 90% of battery capacity, and not deplete batteries below 70 miles of range. The company says the Bolts should not be charged overnight, and should be parked outside immediately after they are charged.
The recall is another bug in a growing global rollout of electric vehicles by all automakers to replace internal combustion vehicles to cut emissions and fight climate change. Ford, BMW and Hyundai all have recalled batteries recently. Also, the U.S. National Transportation Safety Board investigated a series of fires in Tesla vehicles and earlier this year said the high-voltage lithium-ion batteries pose safety risks to first responders after crashes.
Spokesman Dan Flores says engineers are still working around the clock on how to find the battery defect and what the repairs will be. He said GM doesn't know how long it will take to develop the fix. The number of Bolts with the defect is likely to be small, Flores said.
The previous recall announced in April didn't fully fix the problem. It was diagnostic software designed to look for battery anomalies. If one was found, GM said it would replace faulty parts.
Some 2019 Bolts and those from the 2020 and 2021 model years are not affected. Their batteries were made by LG in Holland, Michigan.
GM will handle customer complaints about the inconvenience and lower travel range on a case-by-case basis, he said.
The company says owners who haven't had the first recall repairs done should still take their cars to dealers to get the fixes.
The first recall came after the U.S. National Highway Traffic Safety Administration opened an investigation into the fires last year. The agency said in a statement Friday that it is evaluating GM's recall repairs and the fires.
Once the final recall repairs are made, the Bolts' full range will be restored. Older Bolts can go about 238 miles (383 kilometers) per charge.
Read full article at NPR
CNBC 23 July, 2021 - 03:03pm
General Motors has issued a second recall of its 2017-2019 Chevrolet Bolt EVs after at least two of the electric vehicles that were repaired for a previous problem erupted into flames.
The automaker said Friday that officials with GM and LG Energy Solution, which supplies the vehicle's battery cells, have identified a second "rare manufacturing defect" in the EVs that increases the risk of fire. The recall covers about 69,000 of the cars globally, including nearly 51,000 in the U.S.
To fix the problem, GM said it will replace defective battery modules in the vehicles, which can be costly but will be free to owners. The automaker says the repair is different than the previous fix, which largely relied on software and, in some cases, replacement modules. 
"We're working with our supplier and manufacturing teams to determine how to best expedite battery capacity for module replacement under the recall," GM spokesman Dan Flores said in an email.  "These teams are working around the clock on this issue."
The company "will notify customers when replacement parts are ready," Flores said.
In the meantime, GM is asking affected Bolt EV owners to set their vehicles to a 90% state of charge limitation using Hilltop Reserve mode (for 2017-2018 model years) or Target Charge Level (for 2019 model year) mode.
GM also is asking owners to avoid depleting their battery below approximately 70 miles of remaining range, and as advised last week, continue to not park their vehicles inside or charge them unattended overnight "out of an abundance of caution."
The fist recall of the Bolt EVs due to fires was announced in November by GM and the National Highway Traffic Safety Administration. The automaker rolled out what it believed was a permanent fix for the problem earlier this year.
One of the recent fires occurred while the vehicle was charging at the home of a Vermont state lawmaker earlier this month. GM said it has confirmed nine battery-related fires in Bolt EVs in the U.S.
The NHTSA last week said battery cell packs in the impacted vehicles have the potential to smoke and ignite internally, which could spread to the rest of the vehicle and cause a structure fire if the vehicle is parked inside a garage or near a house.
GM has bought back some of the recalled vehicles but has declined to say how many. Automakers often buy back recalled vehicles to appease unhappy customers and avoid triggering state lemon laws and litigation.
GM says owners with questions should visit www.chevy.com/boltevrecall or contact its Chevrolet EV help line at 1-833-EVCHEVY or contact their preferred Chevrolet EV dealer.
Got a confidential news tip? We want to hear from you.
Sign up for free newsletters and get more CNBC delivered to your inbox
Get this delivered to your inbox, and more info about our products and services. 
Data is a real-time snapshot *Data is delayed at least 15 minutes. Global Business and Financial News, Stock Quotes, and Market Data and Analysis.
CNBC Television 23 July, 2021 - 03:03pm
Yahoo Finance 23 July, 2021 - 03:03pm
The recall comes after GM and U.S. safety regulators last week urged those owners to park vehicles outside and away from homes after charging.
The largest U.S. automaker said "experts from GM and (battery maker) LG have identified the simultaneous presence of two rare manufacturing defects in the same battery cell as the root cause of battery fires in certain Chevrolet Bolt EVs."
GM said it will replace defective battery modules in the recall population but it is not clear how many are defective. The recall includes 50,925 U.S. vehicles.
Last week, the National Highway Traffic Safety Administration urged those 50,925 Bolt owners to park outside and away from homes and other structures after charging because of fire risks.
The Chevrolet Bolt vehicles being recalled again are from the 2017-2019 model years and were first recalled for the potential of an unattended fire in the high-voltage battery pack underneath the backseat's bottom cushion.
GM said Friday that all of the nearly 69,000 Bolt owners should return vehicles to a 90% state of charge limitation that the company first instructed owners to use in November before the recall fix had been completed.
The automaker also asked owners to charge their vehicle after each use and avoid depleting their battery below approximately 70 miles of remaining range, where possible, to reduce the risk of a fire.
GM said it was still recommending customers park vehicles outside immediately after charging and not leave their vehicles charging overnight - and to get the software update as part of the initial recall.
GM said earlier the high voltage batteries being recalled were produced at LG Chem Ltd's Ochang, South Korean facility.
Reporting by David Shepardson; Editing by Mark Potter
Our Standards: The Thomson Reuters Trust Principles.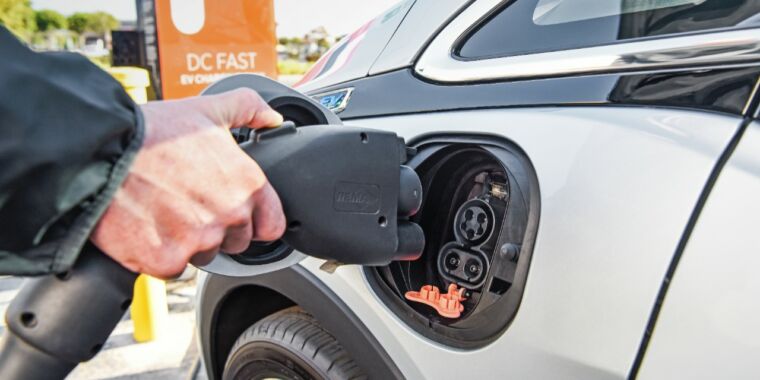 Ars Technica 23 July, 2021 - 03:03pm
Sign up or login to join the discussions!
In November 2020, General Motors issued a recall of the Chevrolet Bolt EV due to a potential fire risk. Unfortunately for Bolt EV owners, that fix—a software patch—did not work, and now their cars are subject to a second recall. General Motors will replace battery modules in the affected cars, which span model years 2017-2019.
The problem started making headlines in October 2020, when the National Highway Traffic Safety Administration began an investigation into the electric hatchback following a number of reports of vehicle fires. GM tried to fix the problem with software, at first temporarily limiting the Bolt EVs' batteries from charging past 90 percent.
A more permanent fix was made available in May 2021. During the course of GM's investigation together with LG Chem (which makes the lithium-ion battery cells), the companies discovered in some modules "a rare manufacturing defect" that could cause a short and thereby start a battery fire. The solution was to let diagnostic software monitor for this defect and alert the owner if detected.
However, on July 14, the NHTSA revealed that it knew of two more Bolt EV fires, both of which had received GM's fix. On Friday, GM reacted, issuing a second recall—which it says is actually for a second defect. In a statement, the automaker said that "experts from GM and LG have identified the simultaneous presence of two rare manufacturing defects in the same battery cell as the root cause of battery fires in certain Chevrolet Bolt EVs."
GM will contact owners of MY2017-2019 Bolt EVs when the replacement battery modules are ready to be installed. Until then, life with an affected car is going to be a lot less convenient than it used to be.
GM says that owners should once more use Hilltop Reserve mode (MY2017-2018) or Target Charge Level (MY2019) to prevent the battery from charging past 90 percent. Additionally, GM is asking owners to recharge their vehicles after each trip, although they are also asked not to leave their Bolt EVs charging overnight, and the cars should be unplugged immediately after charging and be parked outside. Finally, owners should try to leave at least 70 miles of range in the battery.
You must login or create an account to comment.
Join the Ars Orbital Transmission mailing list to get weekly updates delivered to your inbox.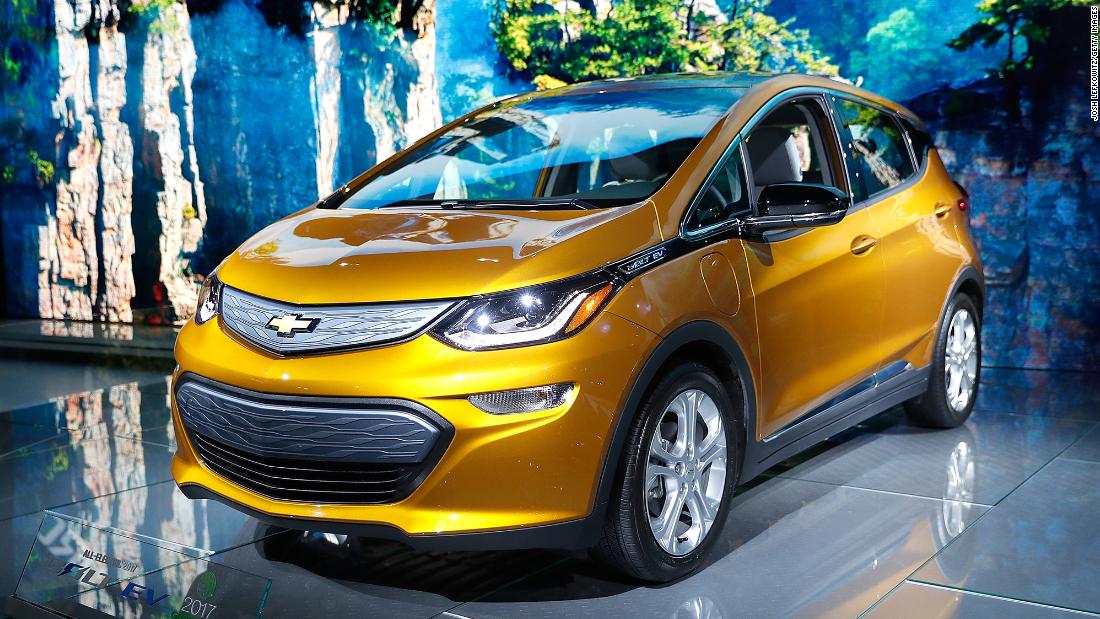 CNN 23 July, 2021 - 03:03pm
Updated 2:48 PM ET, Fri July 23, 2021
autoevolution 23 July, 2021 - 03:03pm
Motor Trend 23 July, 2021 - 01:49pm
Earlier this month, GM and the National Highway Traffic Safety Administration's (NHTSA) issued safety guidelines for 2017-2019 Chevrolet Bolt EVs: park outside and don't charge overnight. That's to help prevent battery pack fires that have plagued the Bolt and been the subject of previous recalls. As you might imagine, the latest guidance presaged a new recall, and it affects all 2017-2019 Bolt EVs, including ones that have had previous recall work done.
So, to be very clear: if you have a 2017-2019 Bolt, you will need to take action, period. Here's the latest from NHTSA; you should read that alert in its entirety and get ahold of your dealer to determine when the recall work can be scheduled.
In addition to the recall, and the recommendation to park outside and away from structures whenever possible, there are a few other things that GM recommends Bolt owners do:
© 2021 MotorTrend | MOTOR TREND GROUP, LLC.
The Verge 23 July, 2021 - 09:51am
The automaker says it finally figured out the cause
GM has also finally shed a little light on the source of the problem. The automaker says that, working with battery supplier LG Chem, it discovered that some of the cells that make up the Bolt's pack can have two simultaneous manufacturing defects. The company did not say specifically what these defects are, but when they are present they can cause a fire.
GM says it's still preparing the recall, and so it's telling owners to take a bunch of precautions in the meantime until they're able to check and attempt to fix every vehicle. The company says owners shouldn't charge the vehicle to more than 90 percent, or let it drop below 70 miles (which is roughly 27 percent). That means owners will only be able to use about 60 percent (around 155 miles) of their vehicle's capacity until GM is able to complete the new recall fix.
Owners should also charge their vehicle after each use, according to GM. Of course, GM is still warning owners not to park their vehicles inside or near their house, and says they shouldn't leave Bolts charging overnight. GM has more information, including customer support numbers, on its recall website.
Once GM is ready to perform the recall, technicians will inspect the battery packs for this particular defect and replace any modules that contain problematic cells. They were already supposed to be checking Bolt battery packs for defects like this during the prior recall, but GM tells The Verge that the new defects were only recently discovered.
About a dozen fires are thought to have occurred in these model year Bolts. The previous fix, which was shared in May — months after the recall was first announced — involved installing software on the affected Bolts that was supposed to "detect potential issues related to changes in battery module performance before problems can develop." This extra software wasn't enough to stop two more fires from happening, though.
LG Chem also supplies the cells for the Kona EV, which Hyundai recalled after reports of fires, and even discontinued altogether in South Korea. The battery supplier has run into all sorts of problems with other products, too. It has recalled some home battery systems, and one of its grid storage projects caught fire, as Electrek points out. Porsche recently recalled the LG Chem-powered Taycan over power loss problems.
While it takes some special care and instruction to know how to extinguish a fire in an electric vehicle, there isn't any data that shows they happen at any higher rate than fires in internal combustion engine cars. Occasional fires are bound to happen. But the situation that GM — and, really LG — has found itself in with these Bolts is much different. A few years ago the Bolt was one of the first legitimate long-range electric vehicles on the market. But now it's running the risk of taking on a much different mantle.
Subscribe to get the best Verge-approved tech deals of the week.
Check your inbox for a welcome email.
The New York Times 23 July, 2021 - 06:53am
As of
Data delayed at least 15 minutes
Wall Street notched a fresh record on Friday as a number of strong corporate earnings reports helped investors overcome worries about the rapidly spreading Delta variant of the coronavirus.
The S&P 500 and the tech-heavy Nasdaq Composite both crossed into record territory, with gains of 1 percent.
Tech stocks such as Facebook and Alphabet, the parent company of Google, led the gains, as investors took strong corporate profits from Twitter and Snap as a reason to expect similar results from other tech giants next week. Twitter rose 3.1 percent on Friday, and Snap gained 23.3 percent. Facebook climbed 5.3 percent, while Alphabet rose 3.6 percent.
The parade of second-quarter results, which began earlier this month, has been supportive for stocks for a simple reason: Companies are making more money than Wall Street analysts expected, even after accounting for the easy comparisons with last year, when earnings cratered during the worst of the Covid shutdowns.
So far, roughly 86 percent of the S&P 500 companies that have reported second-quarter results have beat the expectations of Wall Street analysts. (It's true that companies do often beat expectations, but during a typical quarter, the share of better-than-expected results is closer to 75 percent.)
Those profits — and the fact that many companies are raising the guidance they give analysts about what to expect for the remainder of the year — have helped stocks overcome their brief crisis of confidence earlier this week.
On Monday, the S&P 500 had its worst drop since May, on growing concerns about the Delta variant. But it has steadily climbed since and ended the week with a gain of 2 percent. The Nasdaq composite rose 2.8 percent for the week.
Stocks in Europe were also higher on Friday after a new survey showed the pace of expansion of business activity in the eurozone hit a 21-year high in July. The first reading of the Purchasing Managers' Index rose to 60.6, up from 59.5 the previous month.
Across the region, the services industry got a boost from looser pandemic restrictions and higher vaccination rates that have encouraged tourism.
Manufacturing is still being restrained by shortages of critical products, which is causing input prices to rise. Analysts at IHS Markit, which published the report, also noted that business confidence had slipped to its lowest level since February as the Delta variant continued to spread.
The Stoxx Europe 600 index jumped 1.1 percent, while the FTSE 100 rose 0.9 percent.
The recall covers Chevrolet Bolts from the 2017 to 2019 model years and comes after an earlier recall to add software designed to prevent the cars' batteries from overheating. Two fires have been reported since the initial recall, including one in a Bolt that had the updated software.
The recalled Bolts use battery packs made in South Korea by LG Chem, a close partner in G.M.'s electric vehicle strategy.
G.M. and LG Chem linked the fires to two manufacturing defects that on rare occasions can be present in cells in the Bolt's battery pack, the automaker said in a statement. G.M. plans to replace battery modules that have defective cells.
Until replacement modules are available, the company has advised owners to avoid parking the cars in garages or near buildings, and to avoid fully charging the battery packs.
"Experts from G.M. and LG have identified the simultaneous presence of two rare manufacturing defects in the same battery cell as the root cause of battery fires in certain Chevrolet Bolt E.V.s," the company said. "As part of this recall, G.M. will replace defective battery modules in the recall population. We will notify customers when replacement parts are ready."
G.M. is moving to ramp up production of electric vehicles. It plans to introduce more than two dozen models in the U.S. market over the next few years, and is building several battery plants in a joint venture with LG. G.M. has said it is hoping sales of electric vehicles will take off and surpass sales of gasoline-powered cars and light trucks within about a decade.
The company has set a goal of ending production of internal combustion vehicles by 2035.
The National Highway Traffic Safety Administration originally opened an investigation into fires involving the Bolt last fall and issued a new alert last week. The original recall was issued in November.
The investigation is a response to a petition filed by a group of employees in Amazon Web Services' Professional Services group, known as ProServ, which helps companies adopt cloud computing. In the petition, the employees alleged gender bias and bullying in the department. The Washington Post, which first reported the investigation, said more than 550 employees had signed the petition.
Adam Selipsky, the new chief executive of AWS, responded with the email, which was addressed to the leaders of the petition.
"We have retained an outside firm to investigate and understand any inappropriate conduct that you or others may have experienced or witnessed," he wrote. "This firm is experienced and objective, and I personally will review their independent findings, which will help guide any further actions."
Amazon has been hiring heavily in AWS, which is the largest provider of cloud computing. The industry has largely been dominated by men. About 23 percent of Amazon's senior leaders are female, company data show.
In May, five women, including one who worked in ProServ, sued the company, accusing it of various forms of racial and gender discrimination, claims the company has denied.
In a letter to Congress, Ms. Yellen said that the nation's debt will hit its statutory limit on Aug. 1 and that it is possible that soon after lawmakers return from their August recess the United States could face the dire prospect of defaulting on its obligations. Urging Congress to act, she recalled that in 2011 the threat of default caused nation's credit rating to be downgraded.
"Even the threat of failing to meet those obligations has caused detrimental impacts in the past, including the sole credit rating downgrade in the history of the nation in 2011," Ms. Yellen wrote. "This is why no president or Treasury secretary of either party has ever countenanced even the suggestion of a default on any obligation of the United States."
Ms. Yellen also warned that the pandemic had made it difficult for the Treasury to predict how long it could delay breaching the debt ceiling given uncertainty around the timing of government payments and tax receipts.
The Treasury often takes what it calls "extraordinary measures" to avoid breaching the debt limit, which is a cap on how much the government can borrow. Those measures include suspending investments of the Exchange Stabilization Fund and suspending the issuing of new securities for the Civil Service Retirement and Disability Fund and the Postal Service Retiree Health Benefits Fund.
The Congressional Budget Office estimated this week that the Treasury Department could run out of cash by October or November.
Ms. Yellen noted that the government was required to make a payment of $150 billion for a Department of Defense-related retirement and health care investment on Oct. 1, which will deplete its cash reserves.
Brinkmanship over the debt limit has become common in Washington. Republicans have traditionally resisted raising or suspending the debt limit when Democrats control the White House. They backed a two-year suspension of the debt limit in 2019 as part of a spending agreement with Democrats while President Donald J. Trump was in office.
Senator Mitch McConnell, the minority leader, suggested this week that Republican senators would not back a debt ceiling increase and that Democrats would have to deal with it on their own.
White House officials said they remained hopeful that lawmakers would work together to avert a debt limit crisis.
"We certainly expect Congress to act in a bipartisan manner as they did three times under the prior administration to raise the debt limit," Jen Psaki, White House press secretary, said on Friday.
Ms. Yellen said in her letter that suspending or increasing the debt limit did not authorize future spending but, in fact, allowed the Treasury Department to pay for expenses that Congress had already approved.
"The current level of debt reflects the cumulative effect of all prior spending and tax decisions, which have been made by administrations and Congresses of both parties over time," Ms. Yellen wrote.
Bond buyers, though, are still spooked. The yield on 10-year Treasuries has been dropping for months and remains at just under 1.3 percent, near the lowest it has been since February, when the prospects for the economy were much shakier.
The DealBook newsletter asks: Who to believe?
A drop in yields usually signals slower growth ahead, which seems at odds with what's happening. Yes, the Delta variant has delayed some reopening plans, but the economy generally appears to be expanding rather quickly. Most economists think 2021 growth will be the strongest since the mid-1980s.
That's led some Wall Street strategists to conclude that the bond market is broken:
Goldman Sachs said in a note to clients on Thursday that the monthslong drop in bond yields was a "conundrum," but meaningless. Rates would reverse soon.
The long-held belief that bonds are somehow better able to predict the economy than stocks doesn't make sense in our current situation, said Vincent Deluard, a global macrostrategist at the institutional brokerage firm StoneX. The Federal Reserve's pandemic stimulus included a heavy dose of bond buying, distorting the market. And the popularity of target date funds, which balance stocks and bonds based on investors' projected date of retirement, is also moving bonds for reasons unrelated to the economy. "I find it hard to take seriously that the bond market is saying that we are not going to have inflation and a hot economy," Mr. Deluard said.
There is another possibility: Economic rebounds have been getting successively slower, said Tom Atteberry, who runs the FPA New Income bond fund, one of the most conservative funds around. Growth peaked around 5 percent in the 1990s, 4 percent in the mid-2000s and 3 percent before the pandemic.
The big difference this time is that the government has spent trillions to pull the economy out of a deep recession. What if that masks something fundamentally awry? What if growth has already peaked? What if the new long-term ceiling is even lower than before? Mr. Atteberry considered this, "but then I come back to 'nah,'" he said. "Rates are going to rise and the economy is going to do a lot better than it is now."
Felicia Sonmez, a Washington Post reporter, filed a discrimination lawsuit against the newspaper and some of its top editors on Wednesday, claiming they had discriminated against her by barring her from covering stories related to sexual assault after she went public as a victim of assault. Ms. Sonmez said in the lawsuit that after she publicly stated in 2018 that she had been assaulted by a fellow journalist while living in Beijing, The Post had barred her from covering Christine Blasey Ford's sexual misconduct allegations against the Supreme Court nominee Brett Kavanaugh. After an article in Reason magazine on allegations against the journalist came out a year later, Ms. Sonmez said, The Post again subjected her to a coverage ban. She added that her editors had "disciplined" her for publicly requesting a correction to the article.
Demand for apartments and single-family rentals is rebounding — and even looking hot in some places, Coral Murphy Marcos, Jeanna Smialek and Jim Tankersley report for The New York Times.
If rents continue to take off, it could be bad news both for those seeking housing and for the nation's inflation outlook. Rental costs play an outsize role in the Consumer Price Index, so a meaningful rise in rent could help keep that closely watched government price gauge, which has picked up sharply, higher for longer.
Rents last month rose 7 percent nationally from a year earlier, Zillow data shows. That was measured against a weak June 2020, but the gain was also a robust 1.8 percent from May.
Measures of rent and "owners' equivalent rent" — which uses rental data to try to put a price on how much owners would pay for their housing if they hadn't bought a home — make up nearly one-third of the Consumer Price Index. Both tend to move slowly, but are defying expectations that they would take time to bounce back.
The rental experience diverges across markets. Rents have appreciated rapidly in places like Boise, Idaho; Spokane, Wash.; and Phoenix, while big cities on the coasts have lagged, based on Zillow data. Rents in New York and San Francisco are recovering quickly but remain cheaper than two years ago.
The mystery is how the company obtained the key. Kaseya said only that it had obtained the key from a "third party" on Wednesday and that it was "effective at unlocking victims."
The development is among the latest mysteries surrounding the Kaseya attack, in which a Russia-based ransomware group called REvil, short for Ransomware Evil, breached Kaseya and used it as a conduit to extort hundreds of Kaseya customers, including grocery and pharmacy chains in Sweden and two towns in Maryland, Leonardtown and North Beach.
The attack set off emergency meetings at the White House and prompted President Biden to call President Vladimir Putin of Russia and demand that he address the ransomware attacks stemming from inside his borders.
Within days of the call, REvil went dark. Gone was REvil's "Happy Blog," where it published emails and files stolen from REvil's ransomware victims. Gone was its payment platform. Its most notorious members suddenly disappeared from cybercrime forums.
It is unclear whether REvil took itself offline on its own volition or at the command of the Kremlin, or whether the Pentagon's hackers at Cyber Command had played any role. But it was a loss for Kaseya's victims, who were still in the process of negotiating to get data back when their extortionists suddenly vanished.
Kaseya's announcement that it had recovered the key was a welcome twist. Often when ransomware groups do turn over decryption tools to victims who have met their extortion demands, the tools are slow or ineffective. But in this case, Brett Callow, a threat researcher at EmsiSoft, a security firm that is working with Kaseya, confirmed the decryptor was "effective."