247Sports 19 July, 2021 - 06:01pm
Go VIP - One Month for Only $1
SEC football is back and the SEC Network is promoting a new song from Grammy-winning country artist Luke Combs to commemorate the occasion. 'South on Ya' mentions every SEC program in its full pageantry with a music video that will surely captivate football fans across the region.
The video features sights and sounds from every school and highlights from previous seasons. If there was ever a hype video designed to pull at the heart string of SEC fans laced with country vibes, this it it.
This is a big week for ESPN, which announced on Monday it had signed Paul Finebaum to a multi-year contract extension.
The deal extends his appearances across several of the media organization's network and his ever-popular, The Paul Finebaum Show. Finebaum returns to SEC Nation's college football pregame show after he did not appear on last year's version of the show.
Y'all ready?@LukeCombs #SouthOnYa pic.twitter.com/T0aT8lN5xR
SEC Media Days kicks off Monday in Hoover, Alabama at the Wynfrey Hotel, the site of the offseason's biggest event. All 14 of the league's head coaches will get their turn at the podium over the next four days to preach their message in front of the throng of media members.
Name, image and likeness, the NCAA transfer portal and playing football for the first time in two seasons without restrictions should be a few of the primary storylines. SEC Network will feature 46 hours of wall-to-wall coverage from Hoover including player interviews and exclusives with coaches.
Finebaum, who has covered SEC football for more than three decades, recently mapped out a way the league could put two teams in the College Football Playoff this fall. He believes this is Georgia's best shot to win a national championship since Kirby Smart's arrival.
Go VIP - One Month for Only $1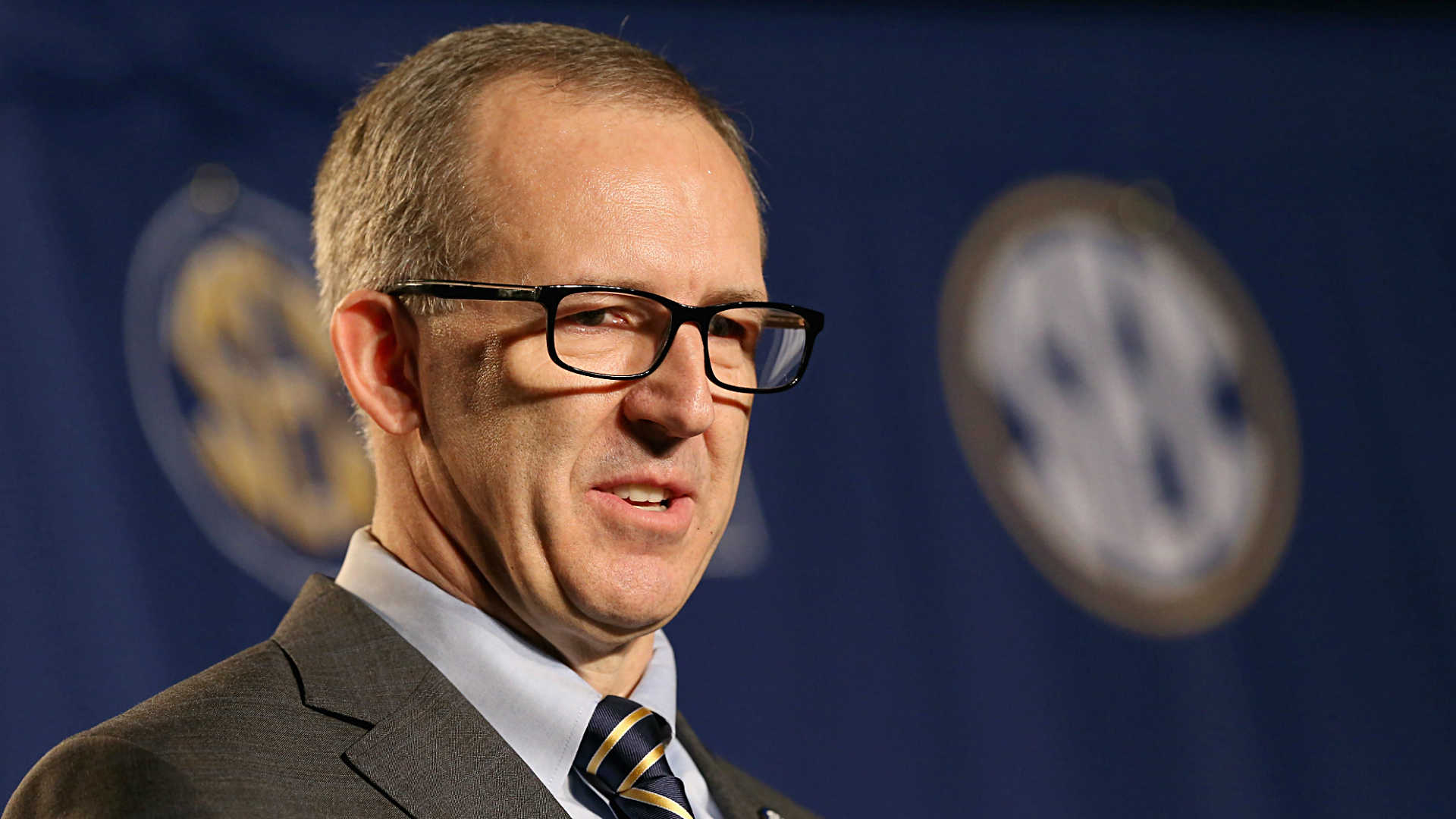 Sporting News 19 July, 2021 - 06:01pm
SEC commissioner Greg Sankey, however, reinforced a matter-of-fact-message for 2021. He even dropped an F-bomb  — "forfeit"  — to drive home that point.
"With six weeks to go before kickoff, now is the time to seek that full vaccination," Sankey said in his opening remarks. "We know nothing is perfect, but the efficacy of the COVID-19 vaccine is an important and incredible product of science. It's not a political football." 
It's a stong statement given it comes in a region where 10 of the 11 states in SEC Country voted Republican in the 2020 election. This isn't about politics or personal decisions. 
It's about football. Just how much more does it mean?  
Sankey proceeded to reel off statistics related to the COVID-19 vaccine and the SEC's member institutions. Six of the 14 schools in the conference have reached the 80 percent vaccination threshold. The next six weeks will determine how college football fits into the vaccination equation across the South.
Perhaps the purest pro-vaccine message should be, "It just takes one game."
Ask North Carolina State, which had to forfeit its spot in the College World Series. That is the same standard this football season will operate on in 2021, a message the Big 12 sent at its Media Days last week. 
"We still have roster minimums that exist, just like last year," Sankey said. "What I've identified for consideration among our membership is that we remove those roster minimums and you're expected to play as scheduled. That means your team must be healthy to compete, and if not that game won't be rescheduled. Thus, to dispose of the game, the forfeit word comes up at this point. That's not a policy. What you see are the bookends for decision-making." 
The forfeit isn't a sure thing, but Sankey offered it as a not-so veiled threat. What else can the conference do at that point? Imagine how a forfeit would be received in SEC Country. Keep in mind that last year the SEC had two games that were postponed just four weeks into the schedule. Imagine if Florida-LSU — one of the best games of the SEC season — was not rescheduled in 2020. 
The SEC could afford to build COVID-19 postponements into last year's schedule — a 10-game conference only schedule with enough built-in flexibility to get its conference champion in the College Football Playoff. Alabama, of course, won the national championship. Texas A&M nearly grabbed a playoff spot, too. 
The SEC had one of the best plans for arguably the most-hectic season in college football history. The only two games that weren't played in 2020  were Vanderbilt at Georgia and Ole Miss at Texas A&M. The difference this season is that flexibility isn't there. Texas A&M and Georgia, which finished No. 5 and No. 9 in the final College Football Playoff rankings last season, might need that last game a little more in 2021. The margin for error is less than 2020, even if the COVID-19 threat still exists.
"We've not built in the kind of time we did last year, particularly at the end of the season, to accommodate disruption," Sankey said. "Unless we're going to do that, our teams are going to have to be fully prepared to play their season as scheduled, which is why embedded in my remarks is the vaccination motivation." 
Will the other schools listen? Florida coach Dan Mullen did not share whether his team had met that 80 percent threshold. Every other coach in Hoover will be asked the same question, and the only voice that carries more weight than Sankey's is Alabama coach Nick Saban's. He had COVID-19 last season and has already appeared in a commercial encouraging fans who want full stadiums to get vaccinated. 
That should be all the motivation the players need, regardless of personal politics. All it takes is that one game, and it could keep one of those teams out of the College Football Playoff. For a conference that loves this stat — 13 national championships in football since the BCS started in 1998 — it should be an easy decision when it comes to reaching that 80 percent threshold. 
How much more information do you need?
TheBCS Eagle 19 July, 2021 - 06:01pm
Saturday Down South 19 July, 2021 - 12:19pm
As the SEC looks to open another football season, the question was raised to Greg Sankey about how the league will handle possible forfeits or no contests related to roster availability and positive tests.
The commissioner spoke at the SEC Media Days in Hoover, Alabama after the league moved several games, and had others postponed to later in the season. The Vanderbilt-Georgia game at the end of the season, for example, was called off.
"You hope not to have disruption, but hope is not a plan is the great cliche," Sankey said. "We still have roster minimums that exist, just like last year. What I've identified for consideration among our membership is we remove those roster minimums and you're expected to play as scheduled. That means your team needs to be healthy to compete, and if not, that game won't be rescheduled. Thus, to dispose of the game, the forfeit word comes up at this point. That's not a policy, and what you see now are the bookends about decision-making."
Sankey earlier said six of 14 SEC teams have reached the 80 percent vaccination threshold.
Earlier in his address, Sankey said COVID-19 vaccines are widely available, proven to be highly effective and, when people are fully vaccinated, we all have the ability to avoid serious health risks, reduce the virus' spread and maximize our chances to experience college sports—and life—like we are accustomed.
Just get the shot and play the games
The science and the data are clear: The young and healthy are in virtually ZERO danger from the Wuhan Virus (and aren't significant spreaders of it), thus they need this vaccine as much as they might need a flu vaccine. Forget "vaccination rates" and PLAY BALL!!!
I thought more than six teams would've reached 80% vax threshold at this point. I don't believe there will be COVID issues that mirror the extremes of last season. However, my gut says that a team or two will experience issues at some point that could impact the trajectory of the season. Example: Starting QB and star Safety are out for a key conference matchup.
JT, couldn't agree more. For the life of me I don't understand the hesitancy.
I'm amazed coaches haven't told their teams that all unvaccinated players will shift to the practice squad. I'm not basing my opinion on whether the virus is a serious health risk for the players, either. Even if a key player just has a few days of cold/flu symptoms — which could easily happen even with young people — it could be a crucial difference in a game if it happens at the wrong time.
Teams have nutrition programs, highly scientific strength training, etc. Leaving a significant player health risk unaddressed — and again, I'm talking about a player "just" being affected enough to lose the competitive edge — seems like lunacy.
247Sports 19 July, 2021 - 11:07am
50% off Annual VIP Pass first year
HOOVER, Ala. -- Alabama won't make the rounds at SEC Media Days until Wednesday, but there was still plenty said about the Crimson Tide on Day 1 of the annual media event.
Below is a roundup of what opposing coaches and players said about UA at SEC Media Days.
Q: Alabama will be visiting Gainesville for the first time given the quirks of the SEC schedule, first time in ten years. Just talk about the opportunity to play that game in sort of a non-neutral setting and have the home crowd for that game.
Mullen: "Yeah, I think it's really exciting. I don't want to get the commissioner in trouble here, but I'd love us to maybe do away with the permanent crossover team so you get these type of games more often. I think for the players, for the fan bases, I really think it's exciting to see some more of maybe mixing up the teams from the west and playing two different teams each year instead of a permanent crossover. I think that would be really exciting so you get this matchup.
"I think that's going to be an exciting day. It's going to be a great atmosphere. It's going to be a fun game to be a part of, and as you said, for ten years we haven't seen it. We'd love to see that more. There's ten teams that will visit -- there's non-conference teams that will visit The Swamp a lot more than conference teams. I think you'd love to see maybe a better rotation of those teams."
Q: When you look at Alabama's recruiting success in the state of Florida, I think they've pulled more five stars from that state than any other school, even the Florida schools. How do you go about battling that? Are you concerned about that? How do you go about changing the tide of that?
Mullen: "A couple things. They've built the program. Nick's been there a long time and has done a good job of building a consistent program and consistency within his program. I guess the short answer of that is -- I mean, there's -- nobody asked my opinion on ratings. So maybe I'd rate everybody differently on who we go after and who we want, that way.
"But for us, I think the facilities that we're getting caught up with, when you look at the University of Florida now and you look at the only school in America that is a top ten public university academically and really considered a top ten football program consistently over the last three years, you're looking at that change. You look at the facilities we have academically, the opportunity to play in The Swamp, the opportunity now with name, image, and likeness and what that means to kids in Florida and how they'll be able to brand themselves within their hometowns in Florida.
"Then you look at the Heavener Football Complex coming up, now to catch us up facility-wise with other teams in America, that's really, I think, how it's going to change where, if you look at it, that's a school of saying, hey, I don't know if there's a better place you can go in America than Florida. If you want the complete package, if you want every aspect of it with alumni connections, with the education, with the opportunity to play for championships and the facilities, I don't know if there's a better place than Florida."
Q: I'm sorry if you've already addressed this, but you chose to come back when you could have easily left. What went into that decision?
Carter: "I just felt like we really have some unfinished business, and I wanted to be a part of that. I remember after the SEC Championship game, I probably stayed on the field for about five minutes after, watching the confetti come down and all of that. I'll never forget that moment. I was like -- at that moment, I knew I was like we'll be back.
"I kind of made a promise to myself, I'm going to give everything I've got this year, and I'm going to try to help my team the best I can, help lead my team in some type of way."
Q: About that SEC title game last year, the emotions around that, the post-game and everything else, and what you're excited about for this year's matchup in Gainesville.
Miller: "Man, they've got to come to the swamp this year. It was a hard-fought game last year, and I'm pretty sure it's going to be the same this year. We're trying to come out on top this year."
Q: To piggyback off his question, last year was such a high-scoring game, right? Neither team could really stop the other, and yet this year both teams are going to look dramatically different on offense for both teams. What is the offense that you've played against this spring that gives you confidence this year might be a little bit different in the scoreboard?
Miller: "Definitely, the defense is coming along, I'd say. We're looking forward to having a great year this year. Definitely, the points are not going to be that high this year, so we plan on shutting people out this year. So that's the expectation for my defense this year."
Q: You've had some epic battles with DeVonta Smith. With a guy like that, are you happy that he's out of the league? Or do you kind of miss those battles now?"
Stingley: "Well, it isn't so much that I'm trying to avoid people. You go into every week and focus on one opponent, and you break them down and you get to the game and you see if that preparation is good enough. And if it wasn't, you've got to come back the next week even stronger."
Q: Has Alabama been your favorite rivalry? And as far as DeVonta Smith, I know he had some success against you, but how did you use that to kind of sharpen your toolbox? And what made DeVonta Smith good in your mind?
Stingley: "When we play Alabama, me personally, I look at every opponent as that opponent to focus on, so every week, the next week is our rivalry. But when I look at DeVonta, he's a great player, he taught me a lot and I'm looking forward to seeing what he does in the league."
Q: Your father was asked about and I was just curious if he ever -- obviously in his great career at Virginia Tech -- but did he ever consider the SEC, and particularly Alabama, at one time?
Beamer: "He did. Good question. No, he did. I can remember a couple times that the Alabama job coming open, Alabama reaching out to him at Virginia Tech, for sure. You talk about the SEC, my dad got his start at The Citadel down in Charleston, S.C., so he saw up close and personal what the potential of the South Carolina football program was -- and is.
"And I can remember all those years growing up, he always used to talk about South Carolina as a job that he thought had unlimited potential and had every resource you needed to be successful. I can remember Mike McGee, the previous athletic director at South Carolina, sitting in our living room in Blacksburg, Va., interviewing my dad when he hired Lou Holtz, and things worked out well for South Carolina, certainly things worked out well for Virginia Tech, because after that was when Michael Vick came to town, and we played for the national championship. But certainly, he considered this league and has great respect for it, like I do."
50% off Annual VIP Pass first year