Maria Bartiromo
MariaBartiromo
Sen. Rubio: Biden administration has an 'insane allergy to anything Trump' video.foxbusiness.com/v/6273862074001/?playlist_id=3166411554001 @MorningsMaria @FoxBusiness @marcorubio
Robert Costa
costareports
Biden, Trump headed to executive privilege showdown over Jan. 6 information… www.washingtonpost.com/politics/trump-executive-privilege-subpoenas/2021/09/23/1c163312-1ba7-11ec-8380-5fbadbc43ef8_story.html
Tulsi Gabbard 🌺
TulsiGabbard
The Biden/Harris open-door policy has been a disaster. It needs to end now. The main beneficiaries of open borders are the gangs, cartels, and human traffickers. The Trump policy of having people wait on the other side of the border worked and needs to be reinstated.

Maajid أبو عمّار
MaajidNawaz
My @LBC show 1pm UK. Free, live or on catch-up, globally via @GlobalPlayer 1) Scotland has highest Euro drug deaths. Now decriminalises Class A drugs 2) Trump now beating Biden in US polls. Do you regret supporting Biden? 3) iPhone plans to monitor your mental health. Creepy? pic.twitter.com/NJGZTZElri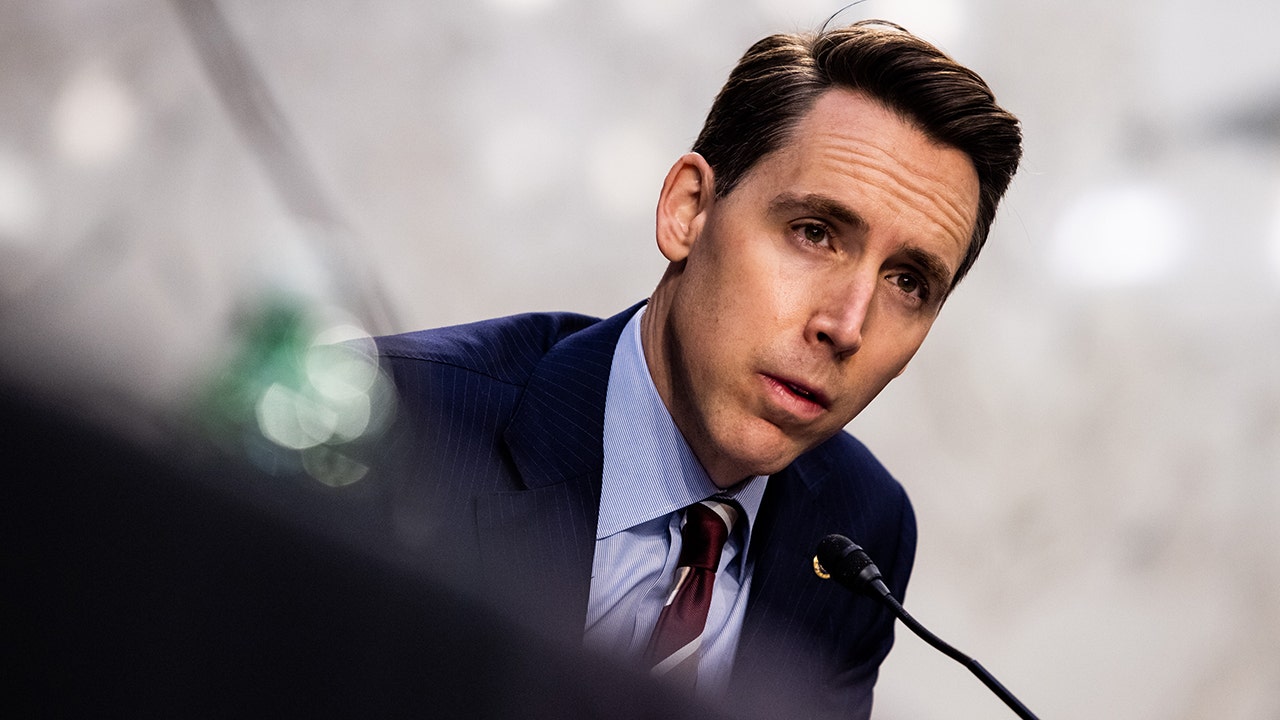 This material may not be published, broadcast, rewritten, or redistributed. ©2021 FOX News Network, LLC. All rights reserved. Quotes displayed in real-time or delayed by at least 15 minutes. Market data provided by Factset. Powered and implemented by FactSet Digital Solutions. Legal Statement. Mutual Fund and ETF data provided by Refinitiv Lipper.
Sen. Josh Hawley slams Biden over the crisis in Afghanistan on 'The Ingraham Angle'
EXCLUSIVE – Republican Sen. Josh Hawley will force a vote on President Biden's State Department nominees Thursday, blaming Biden for the planning and execution of the "disastrous" withdrawal of U.S. military assets from Afghanistan, while warning that his failure to accept responsibility is "dangerous," and demanding that his top national security and defense officials resign.
The Senate, this week, is voting on a number of State Department nominees, after Hawley, R-Mo., last week announced he placed a "hold" on them, forcing a vote on the Senate floor on nominees that otherwise would have easily been confirmed.
"There's gotta be accountability for what has happened in Afghanistan. It was a total debacle," Hawley said. "It is Joe Biden's fault. He planned it. He executed it. It was a disaster."
Hawley slammed the president, saying his "conduct" has been a "disgrace."
"It is not acceptable to abandon hundreds of American civilians to the enemy. It is not acceptable to see 13 American soldiers die and say it was an 'extraordinary success' – those are Joe Biden's words," Hawley told Fox News. "That is ridiculous. It is outrageous. It is offensive, and it is also not acceptable to say this is somebody else's problem, but not ours."
Hawley, slamming the Biden administration for failing to "take any responsibility" for the botched withdrawal, went on to demand that Biden's top national security officials resign.
"[Defense Secretary] Lloyd Austin ought to resign. [Secretary of State] Tony Blinken ought to resign. Jake Sullivan, the national security adviser, he ought to resign, at a minimum," Hawley said. "And so far, to my knowledge, Biden has fired nobody. He has not even admitted he has done anything wrong."
"I think he doesn't want to admit that there was any failure at all," Hawley continued. "This is the guy who still says this was a 'great success,' and if it was such a success, why would you fire anybody? He is totally, totally out of touch with reality and it is dangerous."
The Biden administration executed a full withdrawal of all U.S. military assets from Afghanistan on Aug. 31, after having a presence in the region for 20 years following the attacks on the World Trade Center on Sept. 11, 2001. The withdrawal of U.S. forces came after the Taliban took control of Afghanistan.
The Biden administration said its mission in the country shifted from a military mission, to a diplomatic one, with the State Department now working to evacuate the known remaining American citizens in Afghanistan, as well as Afghan allies. The Biden Administration said it successfully evacuated 124,000 individuals from Kabul – 6,000 of which were American citizens.
"There are hundreds of American civilians left behind enemy lines, and they are still there," Hawley said. "There are still Americans trapped there, left to ISIS, left to the Taliban. It is a disgrace."
Hawley added: "If Chuck Schumer tries to jam through Biden nominees in the State Department or the Department of Defense, I am going to make the Senate vote, I am going to go to the floor and I am going to talk about Afghanistan, I am going to talk about their failures, and I am going to push to hold them accountable."
Schumer, D-N.Y., late Tuesday, filed cloture on seven Biden nominations that, he said, have been "tied up by Republican obstructionists," saying he intends to "make sure" these "not controversial nominees" are confirmed. Schumer said these individuals had bipartisan support and "would normally be confirmed by this chamber without much fuss."
The nominees in question are Sarah Bianchi for Deputy United States Trade Representative; Daniel Kritenbrink for Assistant Secretary of State for East Asian and Pacific Affairs; Karen Donfield for Assistant Secretary of State for European and Eurasian Affairs; Monica Medina for Assistant Secretary of State for Oceans and International Environmental and Science Affairs; Mary Catherine Phee for Assistant Secretary of State for African Affairs; Todd Robinson for Assistant Secretary of State for International Narcotics and Law Enforcement Affairs; and Jessica Lewis for Assistant Secretary of State for Political-Military Affairs.
"They want to drag out what should be an easy process, wasting the chamber's time and energy and hindering the government's ability to protect American interests, deliberately making the American people less safe," Schumer said of Republicans, like Hawley, on the Senate floor Wednesday.
Hawley, though, fired back at Schumer.
"Schumer, on the floor of the Senate, said that it was a waste of the chamber's time and energy to have to talk about Afghanistan or to have to answer questions," Hawley said. "I don't know who he thinks he works for, but what he ought to remember is he works for the American people, and I have to answer to the people of Missouri."
"They deserve to know what happened here," Hawley continued. "And how and why Joe Biden failed."
He added: "And that's not a waste of the Senate's time. That is the Senate's job. And Democrat's don't want to do their job. They want to whitewash this. People died and there has to be accountability."
Meanwhile, Hawley told Fox News that there needs to be a "thorough investigation" into the Afghanistan withdrawal "done in public view."
"The public needs to be able to see people being questioned, they need to see members of Congress drilling down on the generals but especially on the political leadership—and saying why did you fail so badly in Afghanistan? Why did you leave civilians behind? Why did you put our soldiers in harms way unnecessarily?"
He added: "There needs to be a thorough investigation and there need to be resignations. The fact that Joe Biden hasn't fired any of the people in charge of this mission is just astounding."
Get all the stories you need-to-know from the most powerful name in news delivered first thing every morning to your inbox
You've successfully subscribed to this newsletter!
This material may not be published, broadcast, rewritten, or redistributed. ©2021 FOX News Network, LLC. All rights reserved. Quotes displayed in real-time or delayed by at least 15 minutes. Market data provided by Factset. Powered and implemented by FactSet Digital Solutions. Legal Statement. Mutual Fund and ETF data provided by Refinitiv Lipper.
Read full article at Fox News
New York Post 23 September, 2021 - 11:14am
Prince Harry impersonated the Queen in a cheeky moment on last night's BBC tribute documentary to the Duke of Edinburgh.
The Duke of Sussex, 37, showcased his best impression of his grandmother when appearing on Prince Philip: The Royal Family Remembers to discuss his grandfather's love of flying.
Taking part in his first 'family project' since quitting royal duties and moving to the US, Harry was seen looking through flight logs from qualified pilot Philip from a 1983 trip to Africa.
The duke said: 'He was doing all the flying himself, or certainly chunks of it. When you're flying, you don't get an easy pass just for being the Duke of Edinburgh. You very much have to put in the work and prove your skill.
'But also he had an amazing privilege to get behind the controls and fly aircraft all around the world.
'I can just imagine my grandmother sitting in the back of a plane having a cup of tea, going through turbulence and going "Oh Philip! What are you doing?"'
Harry also discussed how he missed his grandfather's sense of humour, but added: 'I miss him more for my grandmother because I know how incredibly strong she was with him there. I also know she will be OK without him.'
He added: 'The two of them together were just the most adorable couple. To me knowing the cheekiness of him and knowing that behind what the world sees you have two individuals who were very much in love and both, from a very young age, have dedicated their life to service... that is an incredible bond between two people.'
In the programme, William revealed how the Duke of Edinburgh would get his grandchildren to hold a tube of mustard in their hands and then take the lid off when they were BBQ-ing at Balmoral.
William laughingly recalled: 'He would squish your hands together to fire the mustard up into the ceiling.
John Boyega joins Viola Davis in The Woman King
Mick Jagger pays tribute to Charlie Watts during first Rolling Stones gig since drummer's death
Ryan Reynolds responds to Gerard Butler's shady comments about his movies
Jake Gyllenhaal insists he was 'being sarcastic' about bathing comments
Billie Eilish unveils vegan-friendly Air Jordan designs
Ben Affleck 'in awe' of girlfriend Jennifer Lopez
Britney Spears wishes 'extremely independent' sons a happy birthday
Ariana Grande requests restraining order against alleged stalker
Uma Thurman reveals she had an abortion as a teen
Cynthia Nixon and Kim Cattrall mourn co-star Willie Garson
Angelina Jolie team accuses Brad Pitt of seeking 'special treatment' in custody battle
'Pitch Perfect' is becoming a TV show
IN CASE YOU MISSED IT: Witnesses called by the defence as R. Kelly trial continues
IN CASE YOU MISSED IT: Seth Rogen calls out Emmys for ignoring covid safety
Daniel Craig doesn't believe a woman should play James Bond
'He used to get into a lot of trouble with my grandmother for covering most of the places where we had lunch with mustard on the ceiling.'
His cousin, Peter Phillips, added that the marks are still there.
The programme, which aired on BBC One last night, featured all of Prince Philip's children and adult grandchildren reminiscing about him.
Interviews began in early 2021 to celebrate Philip's 100th birthday in June, but the programme became a moving tribute to the Queen's husband after he slipped away peacefully on April 9, two months before his big day.
All of those interviewed admitted that Philip was a man of his generation and upbringing - and didn't suffer fools gladly.
Prince Charles described how his father would watching him play football as a child and shout from the sidelines: 'Stop scratching your backside and do something!'
But all agreed that he was a man like no other and one that has left a huge void in their lives.
William added: 'He's always been the heart of the family and he's always been a huge presence behind everything we have done, really.
'It was very much a man world's back then, so for a man to give up his career to support a woman, albeit the Queen, was still quite a big step.'
The documentary-makers went inside Buckingham Palace to meet the duke's long-serving staff and to capture his study, private office and library as they were during his seven decades of public service.
Like us on Facebook to see similar stories
Please give an overall site rating:
Newsweek 23 September, 2021 - 07:43am
There has been particular anger in Europe following the creation of the AUKUS defense pact between the U.S., U.K. and Australia, especially given Australia's cancellation of a $65 billion contract for French-made submarines.
However, other issues have also played a part in what EU Commissioner Thierry Breton described as trust in the U.S. becoming "eroded." The Biden administration's withdrawal of troops from Afghanistan and a recently lifted travel ban on fully vaccinated Europeans have also been points of contention.
Many critics charged that former President Trump had damaged relations with the EU by pursuing what he called an "America first" agenda.
Yet in his first eight months in office, Biden appears to have more seriously alienated key European allies and in particular France.
The French government recalled its ambassadors to the U.S. and Australia for consultation in the wake of the AUKUS deal—a relatively unusual move among the allies in modern times, while EU Commission President Ursula von der Leyen said France had been treated "in a way that is not acceptable, so we want to know what happened and why."
Ralph Schoellhammer, an assistant professor of international relations at Webster Vienna Private University in Vienna, told Newsweek that recalling the French ambassador to Washington "was never even considered during the Trump era."
"Although this might be an unpopular opinion on both sides of the Atlantic, I believe there is a case to be made that Donald Trump's foreign policy was not as disadvantageous for European interests as one might think, especially due to the sometimes-mocking rhetoric the former president used vis-à-vis the EU," Schoellhammer said.
"Some of the major foreign policy actions undertaken by the Trump administration including the final defeat of ISIS and the killing of Abu Bakr al-Baghdadi, increasing the pressure on Iran and countering Tehran clandestinely and openly - the assassination of Qasem Soleimani - as well as abandoning the Iran nuclear deal laid the groundwork for the Abraham Accords and a reordering of the Middle East that I believe could ultimately lead to more stability than the pre-Trump era status quo," he said.
"All these developments positively impacted overall European security, since any instability in the region directly affects migration movements and the threat of terrorism which remain two of the biggest concerns of internal EU politics.
"These developments came to an abrupt halt with the beginning of the Biden administration that came into office with the promise to revive transatlantic relations (or 'relentless diplomacy,' to quote from President Biden's UN speech) but in fact acted unilaterally on key issues, beginning with the execution of the complete withdrawal from Afghanistan that was not coordinated with any of the European partners," Schoellhammer went on.
"Donald Trump's demand for more military spending and building of capabilities of other NATO member states was sometimes interpreted as a threat to the alliance, but if one talks to EU bureaucrats today, it is Joe Biden's approach that has truly led to more and more calls by European policy makers to establish strategic and military autonomy from both NATO and the U.S."
Schoellhammer also said Biden's decision to waive U.S sanctions on the Nord Stream 2 pipeline will make Europe more dependent on Russia and "will have a negative impact on transatlantic relations" in the long run.
"This unilateral approach is now also apparent in the announcement of the AUKUS defense agreement. This is only on the surface about French submarines but is in fact an act of pushing Europe out of a new Indo-Pacific security architecture," he said.
"When Australia agreed to buy French submarine technology in 2016, this was viewed as a 'deal of the century' in Paris that marked its deepening of strategic relations with Australia and maintaining an important role in the Indo-Pacific, including an alliance between India, Australia, and France that [French President] Emmanuel Macron outlined as a possibility in 2018. And this deal of the century has now imploded without any consultation between France and the EU on one side and the U.S., UK., and Australia on the other side," Schoellhammer said.
"What was and is intended as a power balancing act aimed at containing and isolating China, has at this moment accomplished containing and isolating Europe," Schoellhammer said.
"It is important to understand that with Brexit and the German focus almost exclusively on domestic matters - there is a general election this coming Sunday, and foreign policy was barely mentioned during the entire campaign - French foreign policy is almost equivalent to EU foreign policy," he said.
"It is not a coincidence that over the last few days the EU came out forcefully in support of Paris, since it is clear to Brussels that any exclusion of France from the Indo-Pacific region is tantamount to an exclusion of the EU."
Thomas Gift, founding director of University College London's Centre on U.S. Politics, told Newsweek that Biden hadn't been afraid to come into conflict with allies.
"It's certainly reasonable to ask whether Biden's rhetorical commitments to multilateralism and sustained engagement with allies is matched by his actions. From alienating Boris Johnson over the Afghanistan withdrawal, to angering Emmanuel Macron over the U.S.-U.K.-Australia submarine deal, Biden hasn't shied away from dust-ups with some of America's closest allies," Gift said.
"Clearly, Biden's foreign policy hasn't come with the bluster of Trump or the bravado of his 'America First' sloganeering. Temperamentally, this is still the same Joe Biden who promised that 'America is back.' But Biden has, in his own way, proven that his decision-making will be animated by what he perceives to be in America's best interest," he said.
"For Biden, the real challenge will be in trying to move beyond recent impasses with European partners and identifying areas of shared policy priorities. Those include major global challenges, like tackling climate change, addressing COVID-19, and countering authoritarianism in places like Beijing and Moscow," Gift added.
Join half a million readers enjoying Newsweek's free newsletters