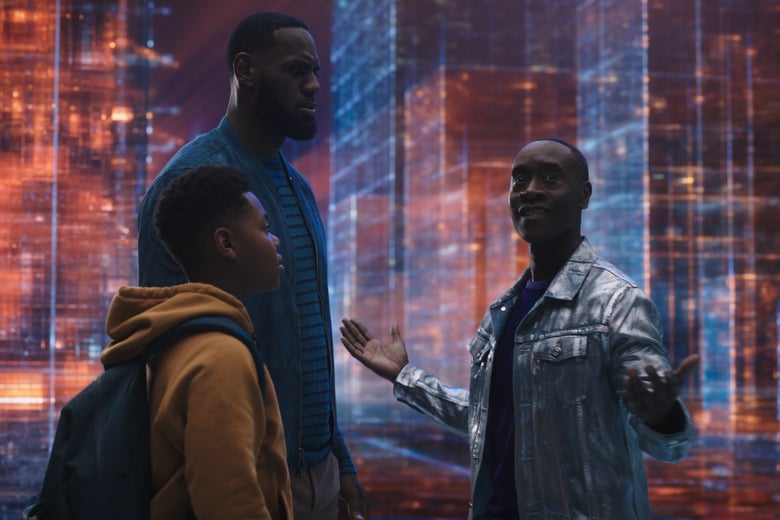 The men in cricket whites, bowlers, and codpieces in Space Jam: A New Legacy aren't just basketball superfans lucky enough to score courtside seats to the matchup between the Tune Squad and the Goon Squad—they're also members of a world-famous youth group from London, England! Their real names are Pete, Georgie, and Dim, Dim being really dim, and along with their "droog" Alex—"droog" is their cool way of saying "friend,"—they went on an amazing adventure together in the 1971 film A Clockwork Orange. Here's a taste of their antics:
If you'd like to learn more about Pete, Georgie, and Dim, A Clockwork Orange, director Stanley Kubrick's celebration of everything cool about being a kid, is streaming on HBO Max right now, and it's very unlikely your mom and dad have figured out how to set up parental controls. Here's a fun bonus fact: although the version of the film presented on HBO Max is rated "R," it's actually the original theatrical cut, which received an "X" rating back in 1971. That's "X" for "It's X-tremely important to watch this movie if you want to fully understand Space Jam: A New Legacy, plus also to find out why old people find you terrifying." Viddy well, Space Jam fans, viddy well!
The nun on the sidelines during the Serververse Classic has been misidentified in some places as Valak, the demonic antagonist of The Nun. Although it's true that if you're a kid who enjoyed Space Jam: A New Legacy, you'll also love the Conjuring franchise and should watch it as soon as possible, the nun cheering on the Goon Squad from the sidelines is not Valak. Just check out the "habits"—a habit is another word for the uniform worn by a nun—in this kid-friendly teaser trailer:
Can you spot all the differences between the nun in Space Jam: A New Legacy and the nun in The Nun? If you said "The nun in Space Jam: A New Legacy looks more like a stylized representation of Jeanne des Anges, the notorious Ursuline prioress who denounced Urbain Grandier during the Loudun possession witchcraft trial of 1633," you're right! Warner Bros. chronicled Jean des Anges' earlier adventures in The Devils, a prequel to Space Jam: A New Legacy that the Los Angeles Times called "a truly degenerate and despicable piece of art." Probably the most shocking exploration of sexual and religious hysteria of any film in the Space Jam saga, The Devils was banned in some countries, recut in others, and greeted with outrage everywhere it was shown. Here's the original U.K. trailer, which has a little less basketball than the trailer for Space Jam: A New Legacy, but a lot more nudity. Vanessa Redgrave, the voice of Mama Topolino from Cars 2, plays Sister Jeanne!
Unfortunately for Space Jam: A New Legacy fans, The Devils is one of the most difficult to see films in the entire Warner Bros. Serververse. It's streaming on Shudder, but only in a 109-minute version drawn from the heavily-censored U.S. theatrical release. Computer-savvy kids will want to seek out the BFI's 111-minute DVD release instead, although not even that version includes the infamous "Rape of Christ" sequence that many fans consider a highlight of the Space Jam franchise. Maybe if enough Space Jam fans send letters to Warner Bros., it will be included as an extra on the Space Jam: A New Legacy home video release!
Bette Davis and Joan Crawford were both under contract to Warner Bros. for many years, but neither Mildred Pierce nor Dark Victory are considered Space Jam canon yet. Fortunately, it turns out that "Baby Jane" Hudson, the aging child star Davis played in 1962's What Ever Happened to Baby Jane?, is apparently an enormous fan of the Goon Squad. One of the most disturbing characters in the Space Jam movies, Baby Jane's intense rivalry with her sister Blanche leads her to murder, mayhem, and, eventually, to attend the Serververse Classic as a guest of Al G. Rhythm. Here's the original trailer for the only Space Jam movie Joan Crawford and Bette Davis ever collaborated on:
What Ever Happened to Baby Jane? doesn't have quite as many NBA stars as later entries in the Space Jam series, but it does have a signature tune at least as catchy and wholesome as R. Kelly's "I Believe I Can Fly" from Space Jam: Music From and Inspired by the Motion Picture. Here's Space Jam: A New Legacy's "Baby Jane" Hudson, singing "I've Written a Letter to Daddy."
Now that's what I call cartoon basketball! It's clear that Space Jam: A New Legacy is your passport to some of the most exciting stories and characters in the entire Warner Bros. Serververse—just don't tell your parents what you're watching.
Matthew Dessem is Brow Beat's nights and weekends editor and the author of a biography of screenwriter and director Clyde Bruckman.
Slate is published by The Slate Group, a Graham Holdings Company.
All contents © 2021 The Slate Group LLC. All rights reserved.
Read full article at Slate
USA TODAY 19 July, 2021 - 07:01pm
These movie beats, for sure, are not based on James' real life. Even the bit where animated James turns into superhero Robin is fictional (James would so transform to Batman!).
But the movie's at-home elements, such as at James' rocking mansion with that blue basketball court and his loving onscreen family, seem as if they could be real. Here's what's true and what's not true about James' life in "Space Jam" (in theaters and HBO Max).
In the 1996 original "Space Jam," Michael Jordan was portrayed living in a neighborhood house on a tree-lined street, with his bulldog Charles love-attacking him as he walks up the front steps.
James' "New Legacy" mansion has been supersized, eye-popping from the outside, with sweeping views of the city and a stunning blue basketball court with cool gadgets.
But no, it's not even one of the Lakers star's several homes. James has two Brentwood, Los Angeles residences, purchased for $21 million and $23 million, according to the Los Angeles Times, who reported in 2020 that the NBA superstar also bought a nearby Mediterranean-style Beverly Hills compound for $36.75 million — with two guest houses and a screening room.
The movie's blue basketball court was built over a tennis court near Warner Bros. Studios in Burbank, California. It had the desired wow effect on Cedric Joe, who plays James' son Dom. "When I saw that court, I was speechless," says Joe.
"We felt it was a great nod to the lifestyle (LeBron James) has earned and achieved," says director Malcolm D. Lee.
And the basketball passing machine that responds to James' voice commands for speedy assists does not exist. Yet. "I'm sure when it is on the market, LeBron will be the first to get it," says Lee.
Jordan's family and real kids were not in the original, however their names (Jeffrey, Marcus, and Jasmine) were used. "New Legacy" features actors portraying James' family, with different names to highlight the fictional storyline.
The real "James Gang," as James affectionately calls them, includes daughter Zhuri Nova, 6, sons Bryce Maximus James, 14, and LeBron "Bronny" James Jr., 16, with wife Savannah James. James walked the carpet with Zhuri and Savannah at the Los Angeles "Space Jam" premiere earlier this month.
Onscreen, the family includes Ceyair J Wright as older brother Darius, Harper Leigh Alexander is daughter Xosha James and Sonequa Martin-Green as James' screen wife, Kamiyah.
There was never a discussion about using James' real family, even for smaller roles in the fictional story. "LeBron's playing a version of himself. It would have been tough for him to play that role (with his real family)," Lee says.
In his film debut playing James' youngest son Dom, 16-year-old Joe watched in awe as his screen dad effortlessly shot multiple takes of an alley-oop scene ("he was jumping so high each time like it was nothing. Mind-blowing") and bonded over occasional shoot-around. "I beat him in a free throw contest, my free throw game is really good," says Joe.
James never gave him advice about playing the fictional storyline of a son more interested in video game programming than basketball. Nor did 5-foot-8 Joe meet 6-foot-1 high school basketball star Bryce, James' younger son, before filming.
"I introduced myself and took some pictures," says Joe. " I realized that Bryce is a lot taller than I thought."
A pivotal "Space Jam" moment centers around James discussing how he inscribes his children's names on his shoes before a game. This is true. James has made the most out of packing hand-written messages on his size 16 basketball shoes, adding names, phrases and acronyms.
LeBron James brought his family to the red carpet premiere of "Space Jam: A New Legacy" while Mindy Kaling celebrated her Netflix series.
Shonda Rhimes just signed a Netflix deal that doubled her $150 million salary.
Nielsen said Thursday that Manifest on Netflix ran away as the most streamed program for the week of June 14-20 — the same week it was canceled by NBC after three seasons. The cult hit sci-fi drama drew almost 2.5 billion viewing minutes for the two seasons currently available on the streamer that week, swamping […]
After 25 years, 'Space Jam' is back with a 'New Legacy' and a slew of collectibles, from Funko Pops and pet toys to plushes and hoops!
In a recent interview with Kinda Funny, Xbox boss Phil Spencer spoke about game preservation, and how "I really wish as an industry we'd come together and help preserve the history of what gaming is about, so we don't lose the ability to go back."
When explaining how he was able to capture the spirit of Anthony Bourdain in his haunting new documentary, filmmaker Morgan Neville said he felt it was vital to have the whole film in the voice of the acclaimed chef, who died by suicide in 2018. To do so, the director and the crew for "Roadrunner: A Film About Anthony Bourdain" used artificial intelligence to create three sound bites with Bourdain's voice - a process, Neville said, that was approved by the late celebrity chef's widow and literar
Keldon Johnson officially made Team USA after Bradley Beal was ruled out Friday.
The director is currently prepping the final chapter of his Marvel trilogy.
Three of four people arrested at a Denver hotel ahead of the MLB All-Star game now face federal weapons charges, the Justice Department announced Friday.
"I think he's a perfect fit for Luka."
While various sanctioning bodies try to drag down the sport of boxing, Charlo has a title-unification fight that could propel him to stardom.
Ashley Graham and husband Justin Ervin already share 18-month-old son Isaac Menelik Giovanni
Tim Gunn penned a heartfelt letter to Heidi Klum on Friday, thanking her for transforming him "into a happier and more confident individual"
Plus, Cardi B's makeup artist shares the full breakdown of the products used for the rapper's makeup look on set.
Nomad's Pad, a funded Indiegogo project, plans to offer glampers luxurious amenities, a range of activities and sustainability cred.
The funny cameo comes at a crucial moment in LeBron James and the "Looney Tunes" cartoons' basketball game against the evil Al-G Rhythm.
Georgia Secretary of State Brad Raffensperger on Thursday called for the firing of two Fulton County election officials, citing "continued failures."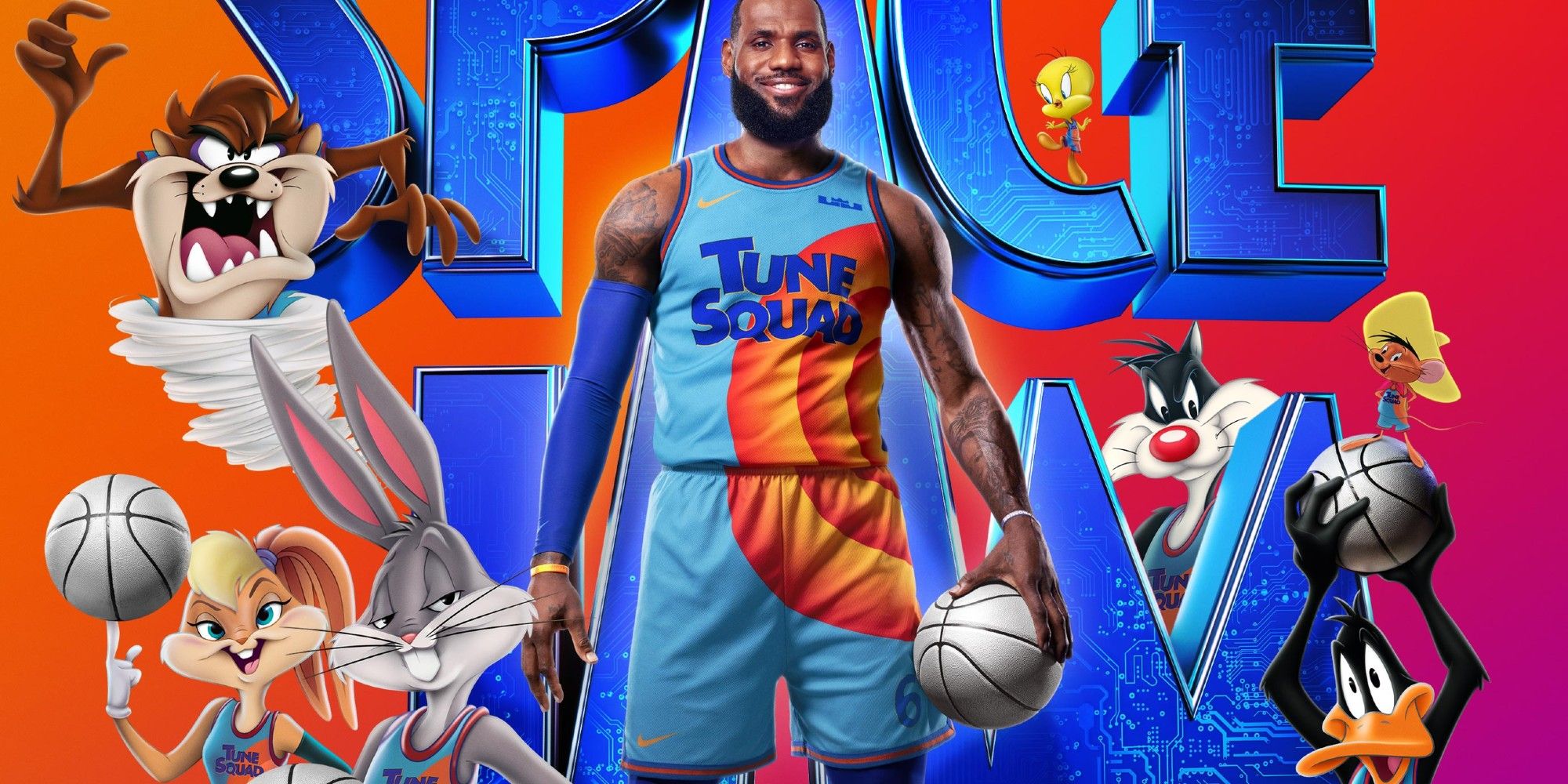 Screen Rant 19 July, 2021 - 07:01pm
In Space Jam: A New Legacy, a fictionalized version of James is struggling to connect with his youngest son Dom (Cedric Joe), who would rather design video games than play basketball. In an attempt to bond with Dom, LeBron brings him to a Warner Bros. pitch meeting for the Warner 3000. An idea conceived by WB's algorithm Al-G Rhythm (Don Cheadle), it would see LeBron become the star of any WB movie imaginable. LeBron rejects the concept, unknowingly angering Al-G. As LeBron and Dom attempt to leave the WB office, Al-G traps the two inside the Warner ServerVerse, challenging LeBron to a basketball game to decide their fate. LeBron has to work with Bugs Bunny and the Looney Tunes in order to save his son.
More mixed is the plethora of WB references peppered throughout Space Jam: A New Legacy. It can be fun to see director Malcolm D. Lee and his team cite everything from Casablanca to The Matrix, but they typically come across as nothing more than just simple nods to other titles in WB's library. Some of the references are far too obvious for adults to fully appreciate, and others won't land with younger viewers. That said, Lee does inject Space Jam: A New Legacy with plenty of visual flair, particularly the climactic basketball game. The third act is quite literally a video game come to life and really pops, even on TV screens for those watching on HBO Max. The villainous Goon Squad, Al-G's team, all have cool designs and different powers that are presented in unique ways. It helps set them apart from Space Jam's Monstars by being more than just big aliens.
Much like its 1990s predecessor, Space Jam: A New Legacy may not go down as one of the most acclaimed family movies ever made, but it still accomplishes its goals of being fun entertainment. Unsurprisingly, basketball fans will find a lot to enjoy (there are numerous jokes alluding to James' extensive NBA career), and those who have fond memories of the original will likely appreciate the hit of nostalgia. Whether Space Jam: A New Legacy is worth seeing in theaters or not is up to the viewer and how comfortable they feel, but those interested should at the very least give it a watch on HBO Max while it's available on the streaming service.
Space Jam: A New Legacy is now playing in U.S. theaters and is streaming on HBO Max. It is 115 minutes long and is rated PG for some cartoon violence and some language.
Let us know what you thought of the film in the comments!
cleveland.com 19 July, 2021 - 07:01pm
CLEVELAND, Ohio -- LeBron James' "Space Jam: A New Legacy" soared over the competition at the box office over the weekend. The reimagining of the 1996 film featuring the NBA superstar in his first starring role surpassed expectations, raking in $31.65 million. Prior to the release of the movie, which is also streaming on HBO Max, Variety predicted the film would open at about $20 million.
But "Space Jam: A New Legacy" easily beat that despite mostly bad reviews. Audiences, however, gave the film an 81% approval rating on Rotten Tomatoes.
James trolled critics by tweeting an article about the film's success and captioning it, "Hi Haters! 😁"
• LeBron James' 'Space Jam: A New Legacy' blows the layup
• 'Space Jam: A New Legacy' bobblehead set is released
• LeBron James hosts special screenings of 'Space Jam: A New Legacy' for I Promise School students and families
• How to watch LeBron James in 'Space Jam 2' - Online streaming, release date, tickets & more
The movie's strong debut came at the expense of last weekend's top movie, "Black Widow," which pulled in $26.25 million. That figure was good enough for second place, but it represented a whopping decline of 67% from the film's opening weekend-- the biggest drop ever for a Marvel film.
Theater owners described the film's second-week performance as a "stunning collapse" and blamed Disney for making the film available on Disney+ with Premier Access.
"Despite assertions that this pandemic-era improvised release strategy was a success for Disney and the simultaneous release model, it demonstrates that an exclusive theatrical release means more revenue for all stakeholders in every cycle of the movie's life," National Association of Theater Owners wrote in a statement to The Hollywood Reporter.
Note to readers: if you purchase something through one of our affiliate links we may earn a commission.
GiveMeSport 19 July, 2021 - 07:01pm
ABC10 19 July, 2021 - 07:01pm
Reuters 19 July, 2021 - 07:01pm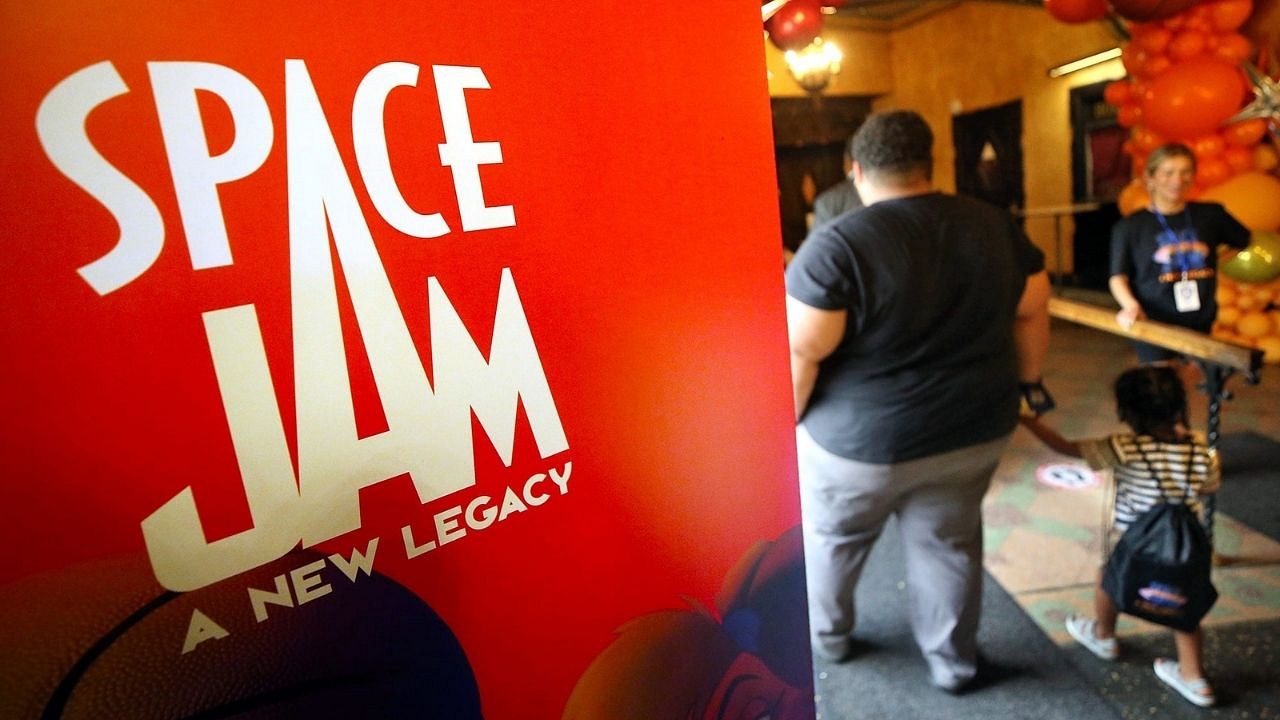 The Sportsrush 19 July, 2021 - 07:01pm
LeBron James's new movie 'Space Jam: A New Legacy', isn't exactly a cinematic masterpiece, and it was never meant to be that either. The movie's main audience is children. And, when you make a movie for children, you don't often think about character development, or any sophisticated plots or emotional storylines.
Still, like most of everything the King has done in his career, fans of older generations are quick to make the argument that Michael Jordan did it better. And yep, there are some that actually take this debate very seriously.
Watching genuine adults so seriously argue about which kid's movie is better is frankly a bit pitiful to see. And it seems that Sacramento Kings star Richaun Holmes feels the same way.
Also Read: Bradley Beal's honest opinion about question posed to Devin Booker and Chris Paul after NBA Finals Game 5
Whether you like it or not, the fact of the matter is, LeBron James's iteration of Space Jam did really well with kids. Most children coming out of the theater have exclaimed their love for the movie. But, of course, some fans of His Airness just can't bear to see the King get any credit if it's something even remotely similar to what their idol did.
Like many of us, Richaun Holmes couldn't stop cringing at what he was seeing. And recently, spoke out about it on Twitter.
Every KID that i heard said they loved space jam…u got 40 yr olds arguing who the better actor is 🤣🤣🤣🤣 wats going on man
— Richaun Holmes (@Rich_Holmes22) July 17, 2021
We all love a well-versed goat debate from time. But maybe, just maybe, arguing on who acted better in a kid's movie is taking it too far.
At the end of the day, it was the original Space Jam that inspired many of today's NBA stars. And given how well it has been received so far, perhaps LeBron James's iteration could have the same impact on the NBA's next generation.
Also Read: NBA Insider Fran Fraschilla issues a bold statement about the Rockets' probable no. 2 pick
I've always been someone surrounded by sports. At 15 though, Basketball was brought to my attention, and I absolutely fell in love with it. At 20 now, I look to share the joy I feel with the world through my articles.
Lionel Messi and Papu Gomez combined for an alley-oop slam reminiscent of Jrue Holiday and…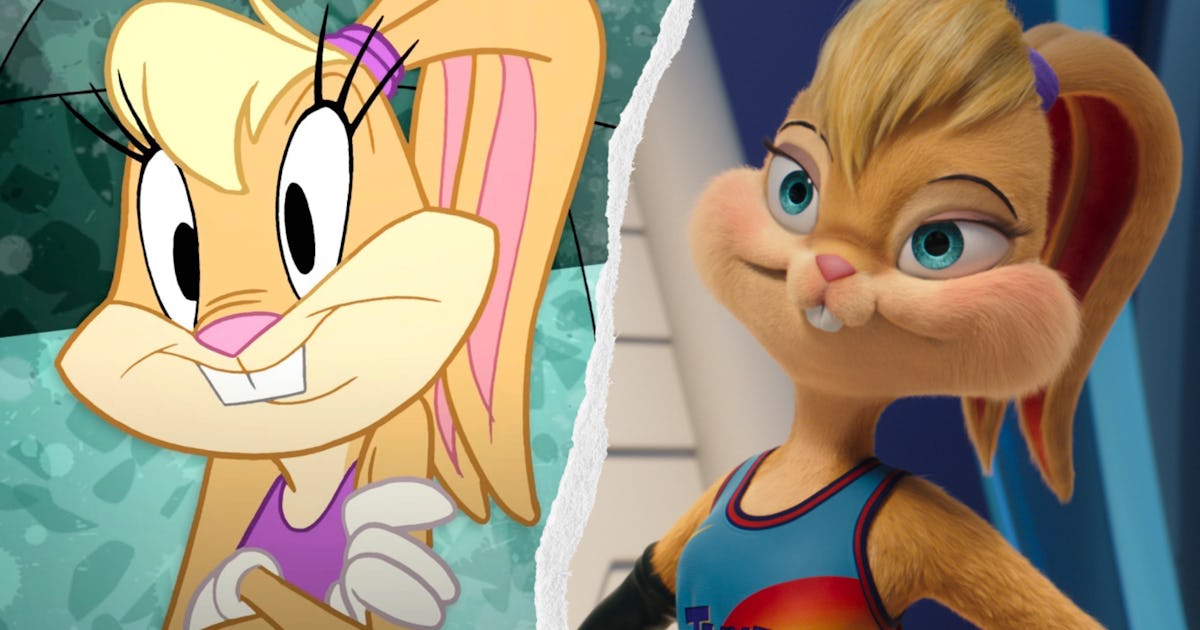 Bustle 19 July, 2021 - 07:01pm
Wiig's lesser-known take on the character is pitch perfect.
But the problem with the new Lola isn't her redesign. The real issue is that she's... boring. New Lola — voiced by Zendaya, who does an admirable job with what she's given — is a talented, Wonder Woman-trained athlete, who spends most of the movie in a supporting role to the other (mainly male) characters. But no one should lose sleep over this missed opportunity for our floppy-eared heroine: We've already gotten our perfect Lola Bunny, and she's voiced by Kristen Wiig. In the 2010s The Looney Tunes Show, Wiig played the girl bunny as the psychopathic sweetie with no sense and a big heart. She's magnificent. She's the Lola we deserve. And you probably don't remember her.
Lola's actually been through multiple redesigns over her animated life with Warner Bros. She was first introduced in the 1996 Space Jam movie as Bugs Bunny's "female merchandising counterpart" and romantic interest. As such, she was drawn much like Who Framed Roger Rabbit's Jessica Rabbit, but like, an actual rabbit. (Datingroo found that Space Jam's Lola was the animated character people were most sexually attracted to... which is a thing I wish I didn't know but now lives in my brain forever.) Still, lots of women, myself included, held her up as a paragon of sporty empowerment. We basically retconned Lola — a character with only a few lines, who ends up needing to be saved by a man — into our bunny hero.
The 2011 TV reboot The Looney Tunes Show seemed to understand this. The creators gave us a new, fully realized Lola, who bore no relation to her Space Jam counterpart (in a sign of things to come, some hated the adaptation and the lead character designer faced a wave of complaints). She was at home among The Looney Tunes Show's reimagined cartoons — voiced by the likes of Fred Armisen and Annie Mumolo, in addition to Wiig — who acted out silly sight gags for kids, while also throwing in jokes for adults.
In Wiig's award-winning performance, Lola is... kind of annoying, actually. She can never remember which allergy(ies) she has. She gets into an accident a minute. She always has to pee. She's obsessed with Bugs Bunny — Bugs has to take out a restraining order against her, and the song about it is super-catchy!
Even if she's not a femme fatale, this Lola keeps her spark. She doesn't lose her sex drive, either: Lola's horny for her boyfriend, and won't apologize about it. (And yes, she still has boobs, but it's not, like, the point of her character. Jesus.) Later in the series, Bugs totally falls in love with her despite — or maybe because of — her zaniness.
But fans don't change their minds about beloved characters easily. Despite decent ratings, The Looney Tunes Show was canceled after only two seasons — and in 2015, New Looney Tunes debuted with a distinctly vintage feel. The new show also brought back Lola's voice actor from the original Space Jam, Kath Soucie — meaning Wiig's little time capsule of perfection isn't as well-remembered as the "traditional" Lola, which is a shame. Say what you want about bubbly stalker Lola, but at least she wasn't boring.
Now that the Lola Bunny debate is raging once again, with fans arguing that character "should stay a sex symbol," or that "There's nothing wrong with having big boobs, anyways," or even "Zendaya's not the right fit for a cartoon bunny, somehow," I suggest we focus less on the Space Jam: A New Legacy version. Simply subtracting Lola Bunny's sexiness doesn't leave her with much — give her a kooky backstory and a personality for days, and no one will ever talk about her boobs again.
WJW FOX 8 News Cleveland 19 July, 2021 - 04:44am
(AP) – "Black Widow" ceded its No. 1 spot to an unlikely foe in its second week in theaters: The Tune Squad.
LeBron James, Bugs Bunny and the rest of the stars of Warner Bros.' "Space Jam: A New Legacy" defied expectations and won the box office this weekend. According to studio estimates Sunday, "Space Jam: A New Legacy" grossed $31.7 million in North America, while "Black Widow" took in $26.3 million.
Not many expected "Space Jam: A New Legacy" to pull off this win. The poorly reviewed film was pegged for an opening in the $20 million range. But a sizable number of families and millennials who grew up with the original "Space Jam" left the house and went to a theater to see it, even though it's currently streaming on HBO Max free for subscribers. Not only that, but audiences also gave the film a promising A- CinemaScore, suggesting word of mouth could be strong.
"Space Jam: A New Legacy" is the largest pandemic opening for Warner Bros., which is significant since the studio in 2021 is releasing all its films simultaneously in theaters and on HBO Max.
It's also the largest domestic opening for a family film since the beginning of the pandemic. Warner Bros. said 32% of the audience was under 18, which is larger than usual. Most of the major family films that have come out during the pandemic — from "The Boss Baby: Family Business" to "Raya and the Last Dragon" — have opened well under $20 million. But audiences of all ages turned out for the new "Space Jam."
"It shows that families have waited for a movie that everyone can go to and that's this movie," said Jeff Goldstein, Warner Bros.' head of domestic distribution. "It's just a fun movie for the family."
"Black Widow," meanwhile fell 67% in its second weekend, which, although steep, is also fairly normal for superhero films, which tend to have frontloaded audiences. Internationally, the Scarlett Johansson-led film picked up another $29.9 million, bringing its global grosses to $264 million.
Last weekend, "Black Widow" became the highest grossing film of the pandemic. Disney also surprised many in the industry by revealing its first weekend profits from the movie's streaming rentals. Rental grosses were not provided this week, however.
This weekend also saw the launch of "Escape Room: Tournament of Champions," a sequel to the high-concept 2019 film. Sony is projecting that the film will gross $8.8 million over the weekend, which is actually better than the first film's debut and in line with studio expectations.
"F9" took fourth place with $7.6 million. The "Fast & Furious" film has made $591.2 million globally to date. The fifth and sixth place spots also went to Universal films: "The Boss Baby: Family Business" with $4.7 million and "The Forever Purge," with $4.1 million.
"A Quiet Place Part II," which recently became available on Paramount+, is still doing good numbers into its eighth week in theaters. It added another $2.3 million, bringing its domestic total to $155 million.
The Anthony Bourdain documentary "Roadrunner" also did well this weekend, grossing around $1.9 million from 925 theaters, making it the top grossing specialty debut of the year.
Estimated ticket sales for Friday through Sunday at U.S. and Canadian theaters, according to Comscore. Final domestic figures will be released Monday.
1. "Space Jam: A New Legacy," $31.7 million.
3. "Escape Room: Tournaments of Champions," $8.8 million.
5. "The Boss Baby: The Family Business," $4.7 million.
6. "The Forever Purge," $4.2 million.
7. "A Quiet Place Part II," $2.3 million.
8. "Roadrunner: A Film About Anthony Bourdain," $1.9 million.
Copyright 2021 Nexstar Media Inc. All rights reserved. This material may not be published, broadcast, rewritten, or redistributed.
Trademark and Copyright 2021 The Associated Press. All rights reserved.
(NEXSTAR) – After several months of work, President Joe Biden's animatronic likeness is nearly ready for The Hall of Presidents display at Disney World.
The nation's 46th president will take center stage in a dark suit and red-and-blue striped tie when the show debuts in August.
In a YouTube video, Gordon also says classes will be in-person 5 days a week, with virtual courses still available for families who want that enrollment option instead.
The Memorial column at Perry's Victory and International Peace Memorial will reopen to the public on Thursday, July 22 at 10 a.m. after it's been closed since 2019.