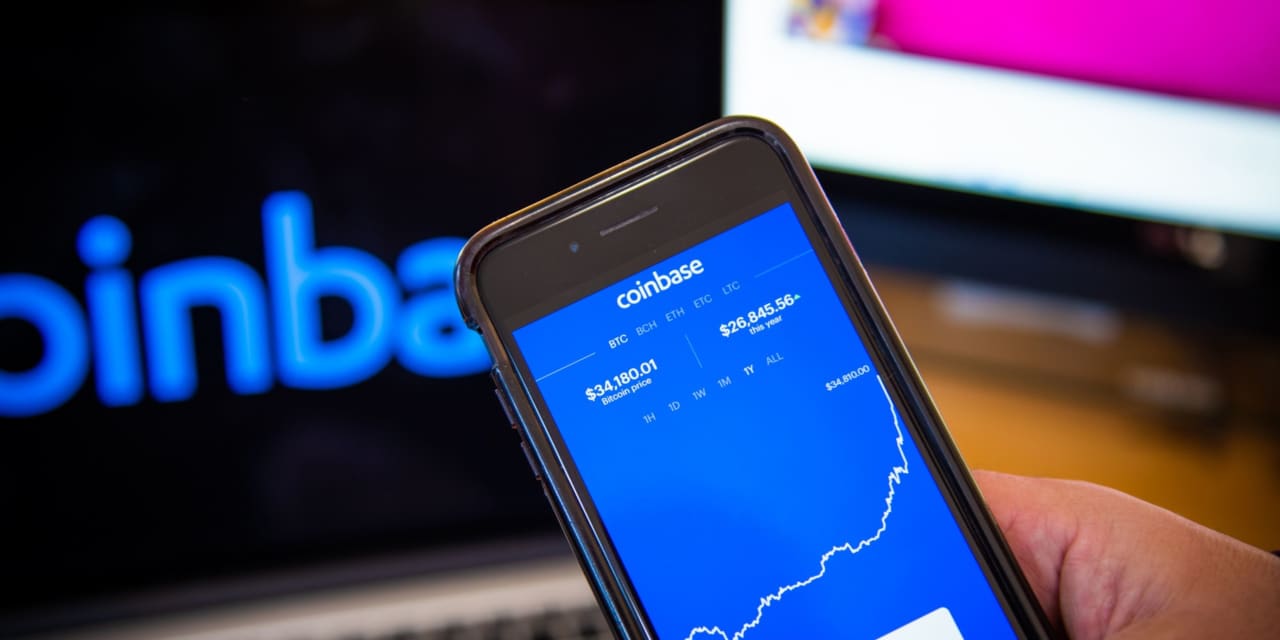 Crypto experts and financial specialists explained to MarketWatch that the legal dispute could be one that establishes clearer rules for the burgeoning segment of the digital-asset market known as decentralized finance, or DeFi, where investors lend out digital coins to earn additional fee income.
Also read: What is decentralized finance? An expert on bitcoins and blockchains explains the risks and rewards of DeFi
Similar to the stock market, the coins that are lent out by customers can facilitate speculation via crypto derivatives and other products.
In the eyes of the SEC, however, the lending program securitizes the crypto, with the interest passed on to the customer, similar to how a bond pays interest to a holder or how a stock pays dividends.
Armstrong, in a series of tweets, made the case that the SEC, run by Gary Gensler, who took the reins of the regulatory body in the middle of April, hasn't made clear its position on what is and isn't a security.
However, at least one former regulator said that the SEC has been crystal clear on its stance on the matter.
"When does a crypto asset become a security? When you start lending it out," Amy Lynch, a former SEC regulator and president of FrontLine Compliance, told MarketWatch in a phone interview Wednesday afternoon.
Coinbase had planned to eventually expand its crypto lending program to other assets outside of USD Coin.
Lynch said she advises that companies that offer crypto lending services register with the SEC or go through a broker/dealer to comply with regulatory rules.
For example, Gemini partners with crypto lender Genesis, a subsidiary of Digital Currency Group. In that case, Gemini, owned by twins Cameron and Tyler Winklevoss, collects part of the spread between interest paid on the crypto and interest Genesis charges on its loans to institutions.
Lynch said Coinbase may not be eager to establish such an arrangement because it would mean sharing fees.
"If the SEC decided that this is an area of concern, they are going to start looking more closely at the firms that do this," she said.
Indeed, The Wall Street Journal recently reported that the SEC sent letters to companies seeking information about crypto lending platforms. MarketWatch's sister publication reported that the regulator sought information, including on whether digital assets being offered are securities that should be registered.
R.A. Farrokhnia, a professor at Columbia Business School, said Coinbase represents financial innovation and that regulation should not stifle the "new new thing."
"What you are witnessing is the evolution of crypto, and specifically the next phase is decentralized finance," Farrokhnia said.
"Regrettably, despite crypto being in our financial ecosystem for the past several years, there hasn't been a clear-cut regulatory framework…indicating what's allowed and what isn't allowed," he said.
"So, this lack of regulatory clarity on what exactly is considered a security under the existing framework…[without the] creation of brand-new regulation, custom-made for our new reality, is causing all sorts of confusion," Farrokhnia said, explaining that he believes the SEC should express greater willingness to collaborate with the nascent crypto industry.
Gensler, who has trained the SEC's focus on investor protections — perhaps more than any other regulator to date — has openly said that he also aims to upgrade crypto rules.
"To the extent that something is a security, the SEC has a lot of authority. And a lot of crypto tokens — I won't call them cryptocurrencies for this moment — are indeed securities," Gensler told CNBC during an interview back in May.
"We need to update and freshen our rules to ensure that, while retail investors and any individual has First Amendment rights to speak and so forth, that they're not misleading the public, they're not manipulating the public, manipulating the markets," he said.
Lynch said the SEC's stance on Coinbase's lending may be influenced by a recent lawsuit against BitConnect, which offered its own digital security in 2016 in exchange for bitcoin and created an automated program that made money by trading the contributed bitcoin. Investors thought profits were being shared but the SEC alleges that the program was an elaborate Ponzi scheme.
The Chinese electric-vehicle company is selling stock to raise money, tapping the U.S. market despite recent volatility for Chinese stocks listed here.
Mark DeCambre is MarketWatch's markets editor. He is based in New York. Follow him on Twitter @mdecambre.
Read full article at MarketWatch
CNBC Television 08 September, 2021 - 09:30pm
CNBC 08 September, 2021 - 09:30pm
Coinbase has received notice of a possible enforcement action from the Securities and Exchange Commission related to its interest-earning product, which the company had planned to launch in the coming weeks.
The cryptocurrency exchange and services firm received a Wells notice from the SEC last Wednesday saying the regulator intends to sue Coinbase over the product, called Coinbase Lend, the company disclosed in a Tuesday night blog post. The SEC didn't immediately return a call for comment.
Shares of Coinbase fell 3.2% on Wednesday.
The company's chief legal officer, Paul Grewal, indicated in the post that the company was caught off guard by the threat considering its efforts to engage with the regulatory agency for the last six months. CEO Brian Armstrong said in a series of tweets that when he traveled to Washington, D.C. in May, the SEC "refused" to meet with him.
That visit took place shortly after Coinbase became the first publicly traded crypto exchange and about a month after Gary Gensler had been confirmed as chairman of the SEC.
"We're committed to following the law. Sometimes the law is unclear. So if the SEC wants to publish guidance, we are also happy to follow that," Armstrong said in the tweets.
The product in question is billed as allowing users to earn a 4% annual percentage yield on a so-called stablecoin (USD Coin) by allowing Coinbase to lend those funds to verified borrowers. Coinbase backs USD Coin and guarantees that it can always be redeemed for $1. High interest accounts have become popular among crypto users, with companies like BlockFi and Gemini similarly offering a high yield on stablecoin and other cryptocurrency balances.
Armstrong said when the company initially reached out to the SEC for a briefing ahead of the launch, the regulator responded by saying the Lend feature is a security. When the company asked the SEC to help it understand their view, the agency responded with a number of demands, with which Coinbase complied, according to Armstrong.
The product's launch has been delayed until at least October.
Got a confidential news tip? We want to hear from you.
Sign up for free newsletters and get more CNBC delivered to your inbox
Get this delivered to your inbox, and more info about our products and services.
Data is a real-time snapshot *Data is delayed at least 15 minutes. Global Business and Financial News, Stock Quotes, and Market Data and Analysis.
Yahoo Finance 08 September, 2021 - 09:30pm
Bloomberg 08 September, 2021 - 09:30pm
Yahoo Finance 08 September, 2021 - 09:30pm
Bloomberg Markets and Finance 08 September, 2021 - 09:30pm
Thanks to an off-the-cuff comment by a McDonald's manager, we may finally have an answer as to the nature of this amorphous creature, though it might not be the one you'd expect.
In an interview with the CBC, McDonald's manager Brian Bates of Windsor, Ontario, Canada, asserted that the mascot is—a taste bud.
"He is an enormous taste bud, but a taste bud nonetheless," Bates said, adding that Grimace's objective is to demonstrate that McDonald's food tastes good.
Bates was discussing his Outstanding Manager of the Year award, with the Grimace nugget cast as an aside. There's not yet been any official response from McDonald's on Bates's revelation, though the company has made ambiguous reference as to the nature of Grimace in the past. A 2012 tweet from the company's official Twitter account stated Grimace "is the embodiment of a milkshake, though others still insist he's a taste bud." They repeated that narrative in a 2014 tweet.
Grimace, who was first introduced in 1971, was originally depicted as a four-armed villain who stole milkshakes before evolving into a more genteel character who often began sentences with "duh." He was part of the McDonaldland advertising effort, which also introduced Officer Big Mac and Mayor McCheese.