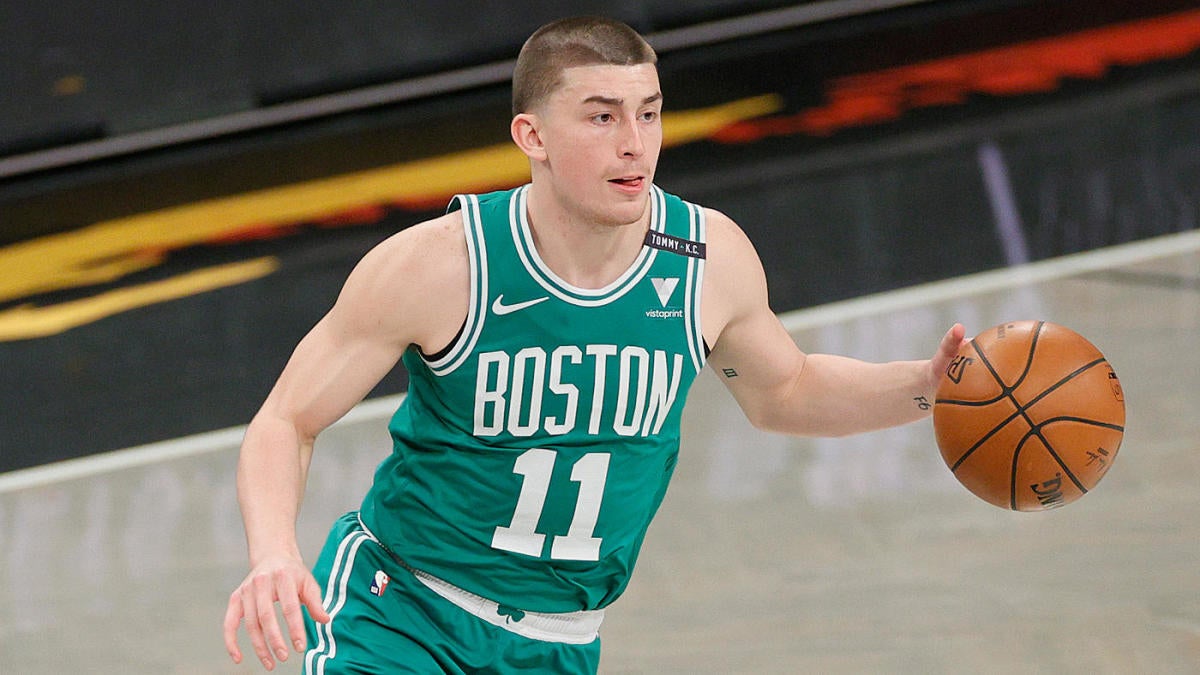 CBS Sports 21 July, 2021 - 12:11am
Boston Celtics rookie guard Payton Pritchard played himself into a significant role in his first year in the league. He appeared in 66 games during the 2020-21 regular season, while averaging 7.7 points, 2.4 rebounds and two assists in 19 minutes a game. He also averaged over 13 minutes in all five of Boston's playoff games in the first round against the Brooklyn Nets. Although he missed the All-Rookie team this season, that says more about the depth of talent in the 2020 draft class, and Pritchard still received 20 votes.
He may not be regarded as one of the top young players from his draft class, but Pritchard is used to betting on himself and proving people wrong, something he reflected upon on CBS Sports' "Draft Day Memories: Presented By Jeep." 
"Whenever the right opportunity was to go to the pros I was going to go, and I had the opportunity to go after my junior year," Pritchard said. "I had a couple deals on the table, but ultimately knowing that I could come back and up my stock and get picked higher, so I came back, bet on myself and it worked out."
After a senior year at the University of Oregon where he posted 20.5 points, 5.5 assists, 4.3 rebounds and shot 41.5 percent from deep, Pritchard finally heard his name called when the Celtics took him with the 26th pick in the first round.
"The draft process -- we're in the living room and everything was set up with the cameras and you start to get a little nervous because each pick keeps going and you're like, 'oh boy,'" Pritchard said. "I actually had to go upstairs because I couldn't be around everybody. My agent called me and he was like 'you're gonna be a Celtic.' I just remember going downstairs and looked at my dad and was like, 'it's happening.'"
Pritchard was thrown immediately into the fire in a sense, as Boston's All-Star point guard Kemba Walker was sidelined to start the season. In his eighth game of the season, Pritchard recorded his first 20-point game when he totaled 23 points, on top of eight assists and two boards. That early-season success earned him a regular spot in the rotation, and even got to start a few games when Boston needed him. 
But while Pritchard looked like a seasoned veteran from the start of the season, he was still awestruck by playing against some of his childhood idols.
"Matching up with a lot of players that I looked up to like Chris Paul, Kyle Lowry -- guys you can just say something to real quick and learn something new -- it's just crazy that you go from looking up to them your whole life then you're out there playing against them," Pritchard said.
Now that the former Oregon product has made it to the league, something he credits to his dad for pushing him toward while growing up, he's not satisfied just yet. 
"Once I felt that success, I wanted more of it," Pritchard said. "So now, I'm not OK with just being in the league. I want to become somebody, a champion. I just want more."
© 2004-2021 CBS Interactive. All Rights Reserved.
CBS Sports is a registered trademark of CBS Broadcasting Inc. Commissioner.com is a registered trademark of CBS Interactive Inc.
Images by Getty Images and US Presswire
Yahoo Sports 20 July, 2021 - 06:03pm
Dan Wetzel, Pat Forde, Pete Thamel
A total of five players are reportedly expected to head to Sin City this summer to take part in the annual tire-kicking and skill-polishing fiesta fans love to over-react to each year (save last, of course) according to Celtics Wire alumnus and Athletic NBA insider Jared Weiss. A sixth player may also make the trip, but his participation has yet to be decided, as it may well relate to how he is seen by new head coach Ime Udoka, and whoever Boston drafts at No. 45 this year should also make the trip.
We're getting a bit ahead of ourselves however, so let's take a look at the likely suspects (and before you ask, we aren't certain regarding big man Moses Brown's status).
By now it is anything but a secret that the much-anticipated arrival of Boston's stashed 2020 draft prospect will be making his stateside debut with the Celtics for summer league. He'll be playing for a chance to make the regular-season roster, but will need to impress given he'll require a buyout from his current team to make the leap to the NBA this season.
Carsen Edwards - guard - two seasons' experience
Edwards is likely fighting for his roster spot with the Celtics as well, but as an established player who hasn't quite shown enough to stick on a competitive NBA roster to date. That said, he may well draw enough attention with solid play to convince a team with more time for a player in need of reps to develop that the 2019 No. 33 pick is worth picking up.
Romeo Langford - wing - two seasons' experience
Like Edwards, Langford has had a paucity of opportunity at the NBA level, but most of that has been due to bad luck on the injury front. Unlike Edwards, the Indiana native has also shown flashes of high-level defense and hinted at a perimeter game in the 2021 series against the Brooklyn Nets. For the former Hoosier, this trip to Vegas is as much about getting the often-mothballed wing some playing time as anything.
Payton Pritchard - guard - one season's experience
Pritchard may need the reps less than anyone else participating, but if the Oregon product is going to try and find new ways to contribute to his team's offense, exploring his capabilities off-ball is a potentially fruitful are for him to experiment. Getting some chemistry going with his second unit teammates certainly won't be a negative either.
Aaron Nesmith - forward - one seasons' experience
Nesmith took a while to find his groove in his inaugural season in the NBA but found ways to contribute at a high level before his shot fell, and once that came around as well looked to be the player Boston hoped to draft. More opportunity to garner high-level play can only help his development, with the South Carolinian showing he might even be a more complete prospect than the 3-and-D sharpshooter the Celtics were after.
Tacko Fall - center - two seasons' experience (contingent on remaining with the team)
Fall's participation likely depends on the perception of his future with the team, as it'd be better for the UCF product to have time to latch onto a good situation with a team that can continue to develop him if it is not in the cards with the Celtics. The Senegalese center has shown steady growth and a sterling work ethic, so there are convincing arguments pro and con to retaining Fall on a frontcourt-heavy roster. This post originally appeared on Celtics Wire. Follow us on Facebook! [lawrence-related id=54305,54283,54254,54249] [listicle id=54279]
Whether a trade happens this offseason is largely in the hands of Lillard.
On this episode of the Lab, we talk the 2021 drafts' potential second-round sleepers for the Celtics, the Olympics and more with USA TODAY SMG's Bryan Kalbrosky.
U.S. Defense Secretary Lloyd Austin will visit Southeast Asia later this month, the Pentagon said, a trip that will include stops in the Philippines, Singapore and Vietnam, according to the U.S. embassy in Hanoi. "Secretary Austin's visit will demonstrate the importance the Biden-Harris Administration places on Southeast Asia and on ASEAN as an essential part of the Indo-Pacific's architecture," Pentagon spokesman John Kirby said, referring to the Association of Southeast Asian Nations bloc.
Boston Red Sox ace Chris Sale took the mound for a rehab start with Double-A Portland on Tuesday night. Here's how it went.
Texas Republicans targeted parts of the curriculum teaching about civil rights as part of their campaign against "critical race theory."
Remember what happened the last time the Suns were in a Game 6 of the NBA Finals?
The Suns had taken 2-0 series lead, but the Bucks roared back with four straight wins.
Michael Felger and Cedric Maxwell discuss which star players around the league would make sense for the Celtics to trade Jaylen Brown for.
Long-time NFL assistant coach and current New York Jets passing game specialist Greg Knapp is in the hospital in critical condition due to injuries sustained in a bicycle accident this weekend, according to Mike Klis of 9NEWS. Knapp's agent, Jeff Sperbeck, confirmed to Klis that Knapp was injured when his bicycle was struck by a [more]
Despite being sued by Jay-Z and despite a court order placing limits on what he's allowed to sell, Damon Dash did what he said he was going to do during an interview with Variety: He's officially started an auction for his third of Roc-A-Fella Inc. — and its sole asset, Jay-Z's "Reasonable Doubt" album — […]
On Monday, Raiders owner Mark Davis abruptly announced that team president Marc Badain had resigned. The news shocked many outside the organization. It shocked many inside the organization, too. Via Paul Gutierrez of ESPN.com, the "move was met with shock in the organization." Badain addressed the move in a text message to Gutierrez. "The successful construction and [more]
Some interesting context for the Bengals vs. the rest of the NFL.
The Pelicans are expected to hire Suns assistant Willie Green as head coach.
The Jets signed offensive lineman Alijah Vera-Tucker to his rookie deal Tuesday, the team announced. Vera-Tucker was the second of the team's two first-round choices, going 14th overall. Of the Jets' 10 draft choices, only first-rounder Zach Wilson and second-rounder Elijah Moore remain unsigned. Vera-Tucker played 975 total snaps in pass protection and allowed only [more]
It's getting real weird out there on the eve of the NHL expansion draft as Seattle's pick from the Leafs was "leaked" on Tuesday, or was it?
The Mitchells vs. The Machines, featuring the voices of Danny McBride and Olivia Colman, has become Netflix's biggest animated film to date. The streamer said that the sci-fi comedy, which comes from Sony Pictures Animation, director Mike Rianda and Lord and Miller, was watched by 53M member households in its first 28 days. This is […]
Pencil in these dates and times to catch Boston's Jayson Tatum in action with Team USA in their quest for Gold in the Tokyo Olympics.
As part of Peacock's "Superfan Episodes," the Season 2 table-read of the world's worst action script now gets an upgrade.
Celtics Blog 20 July, 2021 - 03:24pm
All the Celtics news you need in one convenient place.
The Athletic 20 July, 2021 - 11:05am
Smart backup plan: Five point guards the Celtics could target this summer by BOARD$
Hardwood Houdini 20 July, 2021 - 10:00am
May 12, 2021; Cleveland, Ohio, USA; Boston Celtics guard Tremont Waters (51) runs the offense in the second quarter against the Cleveland Cavaliers at Rocket Mortgage FieldHouse. Mandatory Credit: David Richard-USA TODAY Sports
The Boston Celtics are in the midst of an offseason that should have them looking completely different come the tip-off to the 2021-22 campaign.
Kicking off the summer with the front office shakeup that saw Danny Ainge stepping down from his duties with the franchise and Brad Stevens moving on up the totem pole to replace him as President of Basketball Operations, the Cs have since gone on to trade away their starting point guard, Kemba Walker, and bring on Ime Udoka to serve as their next head coach.
Now, with just about three months to go till next year's campaign roles around, many are curious to know what other changes will transpire in Beantown and, perhaps more specifically, which players will wind up staying and which will wind up leaving.
Perhaps the most recent name to make their way onto the likely departures list is soon to be third-year point guard, Tremont Waters, who, according to NBC Sports Boston, is 'looking for more of an opportunity' elsewhere.
This past season, the youngster managed to log action in 26 outings, seeing averages of 3.8 points and 2.4 assists on nearly 40 percent shooting from deep.
Though he's seen minimal action during his two-year stint with the Boston Celtics, he has become somewhat of a fan favorite for the team's faithful followers.
Should these rumblings prove to be true, and the guard opts to jump ship in free agency, we at the Houdini would hate to see him go, but would love to see him get an opportunity to flourish.
When it comes to where such a desire may be fulfilled, we believe there are 2 teams, in specific, that could prove to be ideal fits for Waters:
Build your custom FanSided Daily email newsletter with news and analysis on Boston Celtics and all your favorite sports teams, TV shows, and more.
Your favorite teams, topics, and players all on your favorite mobile devices.
Powered by Minute Media © 2021 All Rights Reserved.
Hardwood Houdini 20 July, 2021 - 03:00am
Boston Celtics (Photo by Adam Glanzman/Getty Images)
Boston Celtics fans everywhere know what Smart brings to the table. We are now entering year 8 of the Marcus-Smart-experience, and the fanbase is as split as ever.
After new President of Basketball Ops. Brad Stevens made his first move—Kemba Walker to OKC for Al Horford—the team was left without a clear cut starting point.
Many will tell you that move was far from the last Stevens will make before the offseason comes to an end, and that is probably a fair assumption.
However, what if I told you the answer at point is already on the roster?
Marcus Smart has been the best playmaker on Boston these past two seasons and he's only improving. Smart just averaged a career high 5.7 assists-per-game, with just 2 turnovers-per-game. This in fact is the 39th best assist-to-turnover ratio in the NBA, ahead of elite playmakers such as Nikola Jokic, James Harden, Ben Simmons and Damian Lillard.
The Celtics have always been a better team when Smart is passing and not overstepping his role. He should know that his best utilization is as a creator for others, with his great court vision and pass-timing.
By no surprise, the Celtics had a 10-2 record when Smart recorded at least eight assists in the 2020-21 season. Over the last two seasons, the Cs have a staggering 16-2 record when Smart has more assists than field goal attempts. If that isn't a sign of what could be, what is?
According to NBA tracking statistics, Smart created the best shots for the rest of the Celtics. On passes from Smart, the Boston Celtics shot 49.1% from the field, the best of any rotation player by nearly 4%. On three-point attempts from Smart passes, the Cs shot 44.1%, which is also the best of any rotation player.
The two-time All-Defensive First Team guard seemingly has eyes in the back of his head, accounting for many of the "How in the world did he just make that pass" passes, I mean just check out this compilation.
He can do it all in terms of playmaking, he's a good enough shooter to attract attention on the perimeter to free up other shooters. He's an aggressive driver with pinpoint accuracy that he uses to find open shooters.
Let's come back down to Earth for a second and acknowledge what we are all thinking, because saying is always easier than doing. Yes, Boston is 16-2 over the last two seasons when Smart has more assists than field goal attempts, however what about the 90 other games in that span? Why can't he just continue to do what works?
It is quite infuriating to think about what this team could be with a playmaker that accepts the role of a playmaker and nothing more.
Maybe if the Boston Celtics can attain a competent bench, and have the Jays be healthy for a whole season, Smart will accept the role we all want him to have. However, for now we will just have to wait and see.
Stevens may have no plans on trading Smart, so we are all in for the long haul, for better or worse.
Build your custom FanSided Daily email newsletter with news and analysis on Boston Celtics and all your favorite sports teams, TV shows, and more.
Your favorite teams, topics, and players all on your favorite mobile devices.
Powered by Minute Media © 2021 All Rights Reserved.