The first public beta of iOS 15 and iPadOS 15 is here. This is the software that will run on millions of iPhones and iPads when Apple releases the final version this fall. But you don't have to wait that long to sign up for the iOS 15 beta and install it. Yes, that will give you an early look at new features like Live Text, FaceTime on Android and new privacy features. But if you're on the fence, let me offer you some advice: Wait.
Yes, the installation process only takes a few taps on your iPhone's screen. And, yes, you can go back to iOS 14 at any time, but before you jump on the iOS 15 beta train, there are some important things to know -- especially if you have "only" one iPhone or iPad.
Here's what gives me pause: Bugs. Poor battery life. Potentially broken apps. You're going to experience one or more of those factors while the beta program runs its course.  If you're determined to install iOS 15 on your primary Apple device, here's what you absolutely need to know.
Bugs and issues just like that will surely crop up in iOS 15 and iPadOS 15. And even if they don't completely stop you from using your iPhone or iPad, the bugs will still be annoying and could mean the difference between getting work done and reliably sending messages, and having a paperweight. 
Any new developer preview comes with some bugs before it's ready for prime time.
Whenever Apple makes major changes to the operating system and the underlying APIs that developers use to build new features and services, it typically means that older developer tools are removed or how it works gets changed. Even a slight change can cause an app to no longer work, at all. 
A couple of years ago, I was testing an iOS beta and I couldn't use my bank's app. It would open and then immediately force quit. Thankfully, the developers were able to release an update that took care of the issue, but that's not always the case. 
And just because during beta 1 all of your apps work fine, that doesn't mean that beta 3 won't break them. If there are apps you rely on daily, it's better to wait until closer to the official release before joining the beta. 
How healthy is your iPhone's battery? 
Even if you're fortunate enough to not have any apps that won't run on the beta or missed out on a show-stopping error like the iOS 14.7 SIM bug, almost no one is immune from the hit that battery life takes during the iOS beta season. 
One of the last things Apple does during beta programs is optimize the apps, features and services for battery efficiency. Or at least that's how it feels. In previous beta programs, I've often found myself looking for a charger halfway through the day, even with minimal use. And the same has been true with the first couple of iOS 15 betas. I've had to leave my phone on a charger whenever I'm at my desk in order to get through the evening. Battery life always suffers. 
Thankfully in the past Apple has released a battery case for its current-generation iPhones that have helped, but this year the company has yet to release anything for the iPhone 12 lineup. 
If you do install the iOS 15 beta, be ready to carry around a wall adapter and cable. You're going to need it. 
My advice? Wait until August, when we're typically about a month away from the official release of iOS 15 and iPadOS 15. By that time, the developer beta and the public beta will have been out for a couple of months and a lot of the bugs and issues will be resolved. And that's usually when you start to see battery life slowly improve. 
If you decide you're going to give iOS 15 a try, here's what you need to know about installing it. Joining the beta isn't a permanent decision. You can go back, but it'll take some work. Make sure to check out our WWDC roundup for an easy way to find everything else Apple announced at WWDC 21.
Read full article at CNET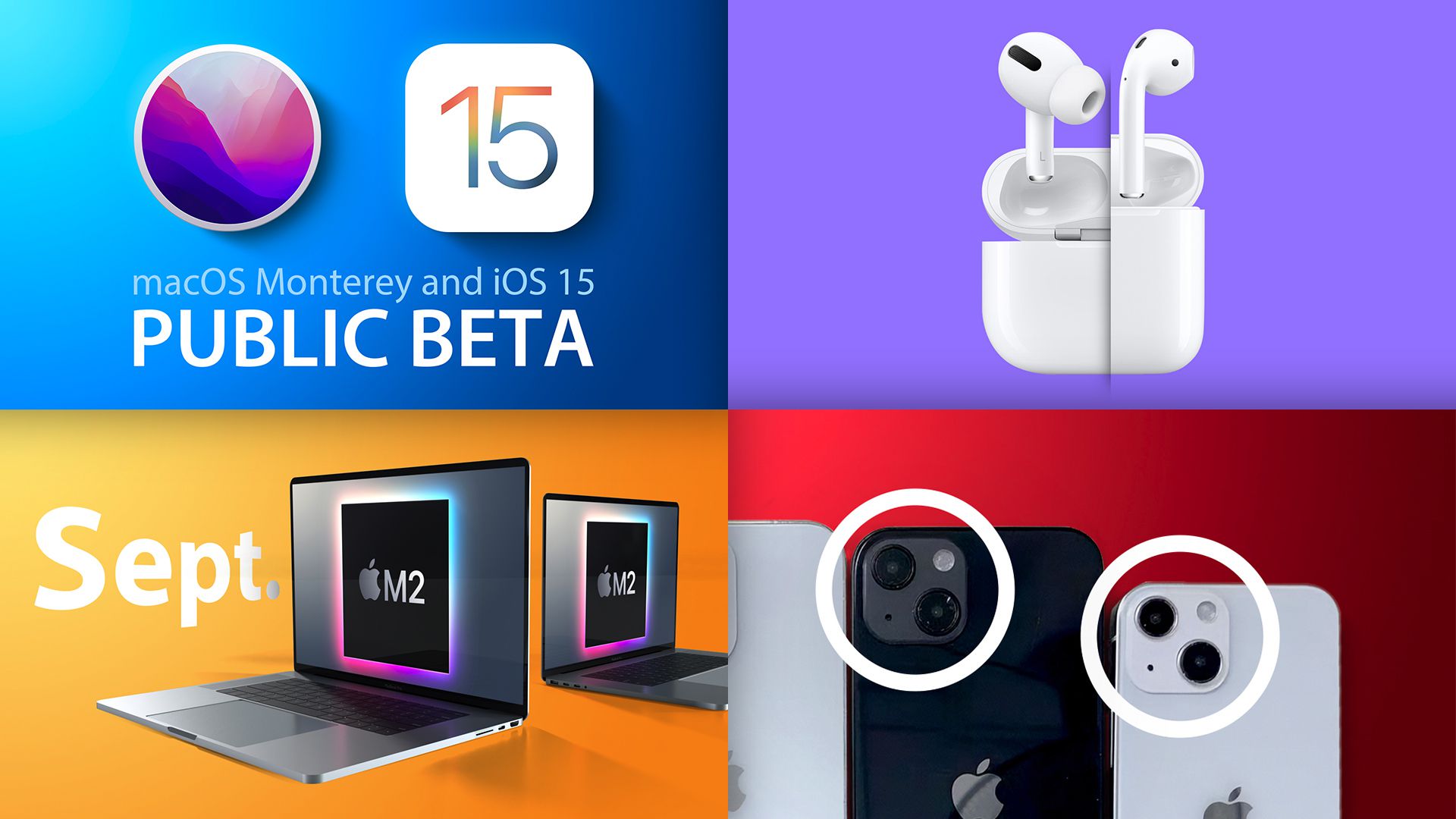 MacRumors 05 July, 2021 - 10:04pm
Apple has released public beta versions of iOS and iPadOS 15, macOS Monterey, watchOS 8, and tvOS 15, giving all users the option to test out Apple's upcoming operating system updates.
It's a rite of passage as we get closer to the introduction of new iPhone models: We've moved beyond the leaks and design drawings to full-fledged dummy units that show off what we expect to see from the iPhone 13.
Many Apple fans were disappointed at the lack of an announcement about redesigned MacBook Pro models at WWDC last month, but we won't have too much longer to wait if a new report is accurate.
We've been hearing rumors about updated AirPods models for some time, and the most recent claims are continuing to hint at timing for these releases.
Since the launch of MagSafe alongside the iPhone 12 last year, some health experts have been warning about the potential risks of bringing products containing magnets close to pacemakers and other medical devices.
The Apple Watch Series 7 coming later this year is expected to feature a redesign with flat edges and display improvements, but one thing that's been up in the air is whether we'll see any new health-related sensors.
Each week, we publish an email newsletter like this highlighting the top Apple stories, making it a great way to get a bite-sized recap of the week hitting all of the major topics we've covered and tying together related stories for a big-picture view.
So if you want to have top stories like the above recap delivered to your email inbox each week, subscribe to our newsletter!
Apple Card Family, podcast subscriptions, and upcoming Apple Music support for Spatial Audio and Lossless.
Learn all about Apple's new location trackers.
Everything to know about the Apple Silicon M1 Chip
New features for FaceTime calls, tools to reduce distractions, a new notifications experience, added privacy features, complete redesigns for Safari, Weather, and Maps, and more.
Updates for Safari, FaceTime, and many other apps, Universal Control to let a single mouse or trackpad control multiple devices, new Shortcuts app, machine-learning Live Text detection and Visual Lookup, and more.
Redesigned with flat edges, Apple silicon, more ports, improved display, no Touch Bar, and the return of MagSafe charging.
Rumored design changes include shorter stems like current AirPods Pro, but without advanced features like active noise cancellation.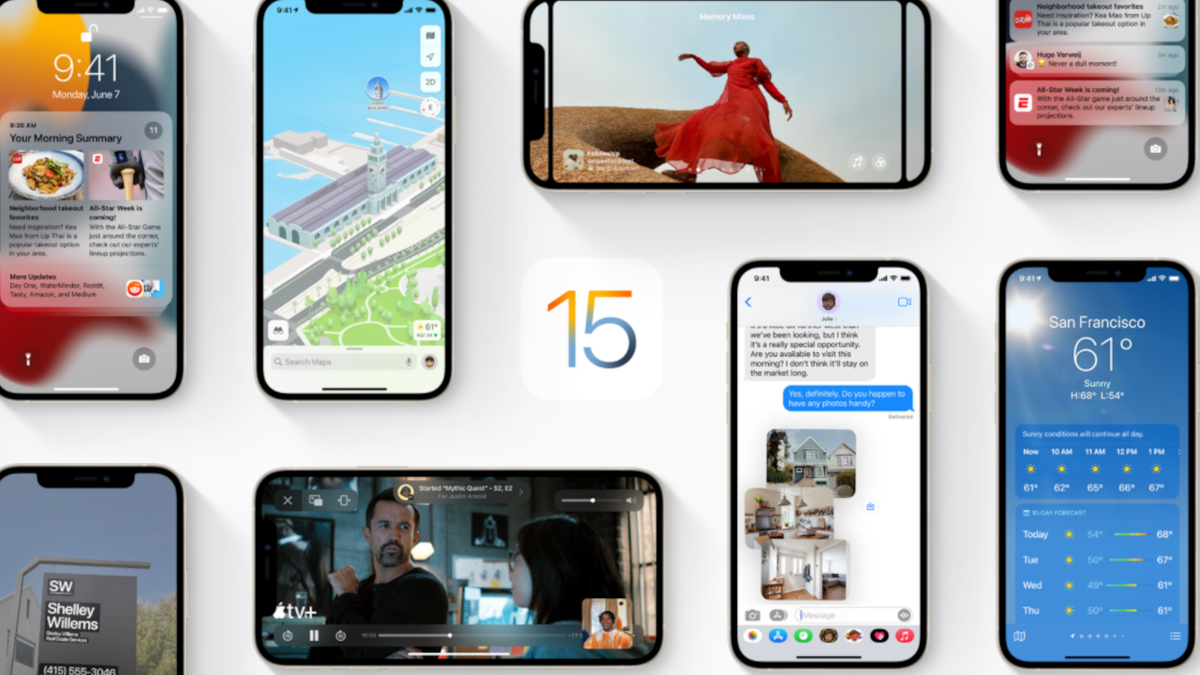 T3 05 July, 2021 - 10:04pm
Apple's public betas of iOS 15 and iPadOS 15 have dropped, and there are tons of useful new features. You'll be able to FaceTime with people who don't have Apple kit, you'll be able to have movie nights with people you aren't physically near, you'll get a much improved iMessage, and the iPad interface gets some much-needed improvements. But my favourite features are the ones that'll make certain people go absolutely purple with rage.
Those people are the aggressive advertisers, the unethical marketers, the notifications abusers and all the other people that will be first against the wall when the revolution comes. They've gone too far and Apple's reining them in. And I think it's worth serious consideration if you're wondering which of the best phones to buy this year.
There are several key features in iOS 15 that'll crack down on mental space invaders. The new Focus feature will enable you to limit specific app notifications and contacts so that the local pizza joint can no longer disturb you with special offers on a Saturday morning, and your meme-messaging pals won't break your concentration at work. I'm very much looking forward to Focus, but while that looks great there are some other features I think will make a bigger difference to my privacy.
The first is App Privacy, which enables you to see not just what permissions an app has but how often it uses them – so if your social media app keeps accessing your microphone or an app keeps sending data to a server for no clear reason, you'll know exactly how much it's happening. This is going to embarrass a few app makers, I'm sure.
The third is Mail Privacy, which does to email trackers what Safari does to web trackers. No more invisible pixels that tell the sender not just that you've opened their mail, but what your IP address is. That's alongside the improved Intelligent Tracking Protection that Safari will now also use to hide your IP address as well as block trackers, making it much harder for advertisers to build profiles.
Last but definitely not least there's Private Relay. It's a web proxy for Safari that effectively acts as a VPN for your web browsing, making it exceptionally difficult for sites to track you across the web to see what other web sites you visit (which is extremely common now).
This is important when you're thinking about a new phone, especially if you weren't thinking about the iPhone 13. With iOS 15, Apple is making life very difficult for the people who think they have a right to follow you everywhere you go and develop ever more sophisticated models of who you are, what you like and what your marketing weak points are. With iOS 15, Apple makes it clear that you should be just a customer, not a profile to be built and sold.
Writer, musician and broadcaster Carrie Marshall has been covering technology since 1998 and is particularly interested in how tech can help us live our best lives. Her CV is a who's who of magazines, newspapers, websites and radio programmes ranging from T3, Techradar and MacFormat to the BBC, Sunday Post and People's Friend. Carrie has written thirteen books, ghost-wrote two more and co-wrote another seven books and a Radio 2 documentary series. When she's not scribbling, she's the singer in Glaswegian rock band HAVR (havrmusic.com).
The OnePlus Nord N10 5G is mostly a hit, with some misses
Updated for 2021: The iPhone XR gives you a big-screen iPhone with strong battery life for less
The Samsung Galaxy S21 5G is still a winner more than six months on from its launch
The Indian Express 04 July, 2021 - 09:37pm
For years, the iPad has served me well as my work machine. In all those years, Apple too has improved iPad software to make it adapt better to the work needs of users like me. But the thing is the iPad isn't Mac and the iPadOS isn't macOS. And that could be the gap Apple is trying to plug with iPadOS 15, the latest version of its tablet software that brings improved multitasking features to the iPad.
The iPadOS 15 isn't a massive update, but it does show a clear direction where the device is increasingly becoming a laptop replacement for many, especially in the current remote work environment. Even though Apple will officially release iPadOS 15 in the fall, we tried the public beta version of the new OS update. Here are our first impressions.
I use both the iPad and Mac for work, and the latter is a clear winner when it comes to multitasking. With iPadOS 15, Apple is taking a small step at refining the multitasking experience on the iPad. So now Apple is adding a multitasking menu at the top of the screen with three buttons — a full-screen button, a Split View button, and a Slide Over button. The Split View slides your existing app to the left and lets you choose the second app from your home screen.
For me, though, the new multitasking button works better than the iPadOS 14's gestures that let you put two apps side-by-side. I think this approach is a better way to find the app you wish to open, though I did initially struggle to get used to this new arrangement. Then there is a "shelf" feature that is useful for managing multiple windows of the same app. While I don't expect a more Mac-like multitasking experience on the iPad anytime soon, for now, Apple seems to be focusing on smaller updates.
One of my favourite features in iPadOS 15 is Quick Note, and I'll tell you why. There are times when I am reading News or going through my Twitter timeline, and suddenly I spot something interesting that I would like to highlight and save for future reference. It happens to me all the time. Now with Quick Note, if I highlight a text on a page in Safari, it can be clipped to my note and that text stays highlighted as a tiny square in the bottom-right corner, even if I open that page three months later.
The best part is all Quick Notes you create are automatically saved to the Notes app. It's a useful feature for people like me who spend a lot of time researching a subject. All you need to do is swipe up from a corner and start writing a quick note, either with a keyboard or Apple Pencil.
I always find widgets useful for some reason because they make the Home Screen more effective. You can edit them, move them, and stack them the way you want. Android has had these for about a decade, and last year Apple allowed you to add and resize widgets on the home screen of the iPhone. Now it's the iPad's turn. Widgets on the iPad are no different on the iPhone except for their size because of the larger display.
I can place these widgets anywhere on the iPad home screen and Apple has even added bigger-sized widgets keeping the iPad's screen real estate in mind. Widgets, in my opinion, make more sense on the iPad than on the iPhone. The App Library too is coming on the iPad. You can hide and reorder app pages too, just like on the iPhone. Both Widgets and App Library are part of home screen improvements.
While the iPadOS 15 is in the right direction, it still hasn't solved the core issues many pro users have with the software like the use of an app dock to access multitasking and the ability to open more than two apps side-by-side. With the iPad's screen size continues to increase and the tablet getting more powerful with the M1 chip, it's time for Apple to elevate the iPadOS experience.
Maybe the future versions of iPadOS might bring a more Mac-like multitasking experience for users who really want it, this year's update focuses on smaller but useful functions. In fact, there are a lot of new features in iPadOS 15 I haven't discussed in my first impressions. FaceTime changes, Focus mode, the all-new Safari, an iMessage redesign, and a new version of the Translate app will also be included in iOS 15. I won't say I am blown away with iPadOS 15 but sometimes the smallest step in the right direction ends up being the biggest step.
For all the latest Technology News, download Indian Express App.
PiunikaWeb 03 July, 2021 - 06:00am
After a long wait, iPhone users unlocked their phones to receive the iOS 14.5 update pop-up. The tech giant finally brings all iPhones under the umbrella.
The iOS 14.5 update has been a subject of discussion that put many on the edge of their seats, which is surprising for an update that is barely a major jump.
But then the update does justice to the long wait as a plethora of changes have arrived with this iteration.
Along with a bunch of good and exciting changes, the update came with an annoying bug as well.
An issue of the Podcast app going haywire is being reported by the users who have upgraded to iOS 14.5.
Going by the reports, it appears that even though Apple has made positive changes to the Apple Podcasts, it didn't turn out to be as expected.
Here's what the changelog of iOS 14.5 says about the changes done to Apple Podcasts.
Apple Podcasts gets redesigned show pages to make it easier to start listening, as well as an option to save and download episodes so they are automatically added to Library for quick access. Top Charts, categories, and curated collections on the Search tab help listeners discover new shows.
Users report that the Podcasts app brought podcasts from the past that users chose to skip or didn't listen to back then.
iOS 14.5 Podcast app brought all old episodes that I did not listen to, either deliberately or because of timing, back to the feed. So annoying 🤦🏻‍♂️ ugh. (Source)
(Source)
And what's more annoying is the fact that Apple has done away with the deleting option on the app. This leaves users with a bunch of podcasts lying in their list with no way of deleting them.
I'll pay you a thousand dollars if you can tell me how to delete a podcast episodes with the new iOS 14.5 update. Sweet merciful lord of christ. (Source)
Well, one can still get rid of those redundant podcasts by marking them as "played" but that is a task as it requires you to go through each one of them.
This is coupled with an issue of sorting on the Apple Podcast app where it sorts podcasts in a different fashion.
ios 14.5 updated the podcast app again and it's fucking terrible. sorts library by when you subscribed to the podcast now instead of the most recent episode. who the fuck thought this was good (Source)
The long-standing issue of the podcasts where it won't sync on other Apple devices continues even after the iOS 14.5 update.
This issue has consistently affected Apple users and there's no fix even this time around. We hope Apple quickly takes note of this and patches things up here.
But nevertheless, iOS 14.5 still offers great value and it would be interesting to watch the changes iOS 15 brings, track the developments here.
For those of you who are not liking the recent changes in the Podcast app (following iOS 14.5), the least you can do is head here and share your feedback with the developers. That's the only way to get to them and convey what you feel about the changes.
There appear to more underlying issues than what was initially reported.
In addition to the issue where users could no longer remove podcasts individually, it now appears that individual podcasts can not be added to the list either.
In order to remove the ones in the list, toggling "Hide Played Episodes" will help get rid of the redundancy.
The "recently updated" option has also gone missing from the Podcasts app and also it isn't possible to keep track of how many unplayed episodes per show are on the list.
Some users are also facing issues related to their custom Podcast Stations that are no longer functioning. Stations fail to gather data of selected episodes in the right way.
There's also a significant chunk who are affected by the missing unplayed episodes and the ones that are present throw loading errors.
A highlighted by a recent report, users should opt for the Limit downloads feature in the Apple Podcasts app to prevent the app from burning through their data by downloading months' worth of podcasts.
To do this go to the Library section in the Podcasts app > tap on the three dots > select Settings > then tap on Downloads. From here, choose the number of episodes you want the app to download automatically.
Taking things a step further, you can even toggle off the automatic downloads option. Although, this means you would have to have access to the internet at all times to listen to podcasts.
In case the podcasts have already been installed on your Apple device. Here's what you can do to get rid of the redundant podcasts all at once.
Go to Settings > General > Touch Storage > Podcasts > swipe left to delete all shows from the show
This should help in case you already became the victim of the bug with hundreds of podcasts lying in your library.
Some of the alternatives for the Podcast app that you may try are – Spotify, Overcast, Castro, Podbean, Downcast, Stitcher Radio, iCatcher etc.
While updates are expected to make things better, looks like iOS 14.6 update didn't make things any better for the Podcast app users, as they continue complaining. Following are some of the reports:
The company however said iOS 14.6 brings in some optimizations to the Podcast app, and will continue to add more Library enhancements in the coming time:
We've also heard from listeners and made adjustments based on their feedback with iOS 14.6, which was released on Monday. We will introduce additional enhancements to Library in the coming weeks.
Adding to the Podcast mess, in case you missed, the app has also been blamed for draining the battery as well as causing excessive device heating following the iOS 14.6 update.
ICYMI, the delays in the availability of new episodes is currently a known issue with the Apple Podcast app, so the problem with the feed that users are experiencing is meant to be. Hopefully, Apple will address this delay issue in the upcoming updates.
One of the users at Apple community has listed the issues being encountered in the app after iOS 14/5 and 14.6 (some of these are already highlighted in the article).
On the Apple Podcasts app side:
• the app gets stuck in loading mode with some users when first opened,
• Episodes sometimes mark themselves as played after just a few seconds,
• some Shows do not list the most recent unplayed episodes even when the Show settings are chosen to do so.
• Station lists sometimes do not list unplayed episodes available in Show lists, even though the Station settings do not limit episodes,
• some episodes download once in Show lists, others simply do not, even the toggle for Automatic Downloads in Show settings is On,
• the app causes a heating problem and excessive battery draining, particularly when select other apps are open in the background or foreground,
• a change in key default settings in the iOS 14.5 Podcasts app upgrade caused numerous unwanted automatic downloads in Shows with tens or hundreds of episodes.
Let us know by dropping a comment below, which ones among the listed issues are you also facing.
In case your feel your iOS device is draining battery due to the Podcast app after iOS 14.6 update, Apple support suggests you to run the Low Power Mode with the Podcasts app to analyze better.
Some of the affected users have shared a few workarounds that may help. So you may give it a try:
If you don't Follow too many Shows, the easiest solution might be:
1) turn Off the toggle for Sync podcasts in iPhone Settings>Podcasts,
2) fully exit the Podcasts app,
4) delete the Shows in iPhone Settings>General>iPhone Storage>Podcasts,
6) open the Podcast app and see if it loads,
7) quickly insure the settings for each Show are appropriate,
8) see if the newest episodes Appear in the show list.
I just deleted the Podcast app. Shut down the iPhone and restarted reloaded the Podcast = all podcasts still there and working normally now \. Ta-Da.
The iOS 14.7 update will reportedly bring more changes to the Library tab in the Podcast app which should help fix some of the problems users are facing.
Apart from that, Apple has rolled out its new podcast subscription and channels initiative that aims to allow creators to offer special content for their premium subscribers without ads, in exchange for a monthly subscription.
An individual who installed the iOS 14.7 beta has now confirmed that the Podcast app is still a mess. Hence, users shouldn't have high hopes for the upcoming iOS 14.7 stable update.
Just an FYI when I was on the 14.7 beta (prior to the iOS 15 beta) the podcast app was still just as bad. (Source)
In case you're looking to switch podcast apps due to the bugs and issues plaguing Apple's podcast app, you can export your playlist as an OPML file that can be used on other apps like Overcast as mentioned by an individual. Here's how to do so:
In iTunes, start by viewing your Library, then select Podcasts from the top-left dropdown menu [Music / Movies / TV Shows / Podcasts / Audiobooks]. Then select File -> Library -> Export Playlist. That will let you save the OPML file, then, just click the OPML file in the Files app and it will automatically open in Overcast and import your subscriptions. (Source)
Incoming is yet another user-shared workaround that may help those facing battery drain and device heating due to the Podcast app after the recent update. Here's what the user has shared:
Here's another faster solution —
Turn off: Cellular Data (unless you have unlimited cellular plan)
Turn on: Block Downloads over cellular
Turn off: Continuous playback (until iOS update improves podcast app functionality)
Turn off: Automatic Downloads – Enable When Following
This is just an experimental work-around to address the heating up and draining of your battery and the damage that's already shortened your battery's life and length of operation between charges.
Apparently, the iOS 15 beta 2 update has improved the user experience with the Podcasts application according to an individual on the company's community forums.
If it helps, the podcasts app has gotten better with yesterday's update. There's still some drain caused by the podcasts app, but not nearly as bad and my phone no longer melts when playing episodes. (Source)
This should bring some hope that the mess that the Podcasts app is will soon be fixed via upcoming updates.
Pocket Casts is yet another popular alternative that you can try hands-on while Apple addresses the ongoing issues on the Podcast app.
Apple support responded to a user's complaint regarding the Podcasts app by claiming that they're still investigating the issue but and there's no ETA for a resolution.
So it appears that users will have to deal with the broken Podcasts app for longer.
(Source)
Apparently, Apple's official feedback form doesn't allow users to select iOS 14.6 or the recent app version to report about problems with the Podcasts application, as pointed out by an individual.
(Source)
Castbox is another great podcasts application that you might want to check out in case you're facing issues with Apple's official app. Like most apps in the space, it too is free to download and use.
Note: We have more such stories in our dedicated Apple Section so be sure to follow them as well.
Having a fervour for technology, Ashutosh keeps himself surrounded with modern tech. His ideology exhibits a blend of hard work, with fun. Not to mention, his altruistic endeavours related to social work.
The Sun 01 July, 2021 - 06:24am
News Corp is a network of leading companies in the worlds of diversified media, news, education, and information services.
APPLE has released the public beta of iOS 15, the latest version of the operating system that powers the iPhone.
It means fans can try out all of the new features months before they roll out to Apple mobiles worldwide this summer.
Apple unveiled a handful of the headline features coming to iOS 15 during a presentation at its WWDC 2021 conference last month.
The update will introduce a redesigned home screen and some big changes to Apple's messaging app, iMessage.
It will also include an updated Lock Screen and a suite of new privacy and notification features.
The public beta launched Wednesday and to try it out for yourself you'll need to sign up to Apple's beta software programme.
Apple releases a new version of iOS – the software that powers the iPhone – ever year.
iOS 15 is 2021's offering, and will likely come out in September alongside the latest iPhones.
Apple has a beta programme that lets fans download versions of iOS early.
This helps Apple as users can report problems and bugs that the firm can fix before wider release.
The beta version of iOS 15 is already available for paying Apple developers but as of June 30 is also available to the the public for free.
If you want to try iOS 15 beta then you can sign up on the Apple Beta page and register with your Apple ID.
Then you'll need to log in to the Beta Software Program and click on "Enrol" to sign up your iOS device.
Then you need to download and install the configuration profile.
The beta version of iOS will then be available in"Settings", under "General" and then "Software Update".
The official iOS 15 update should be available for everyone in September and it is likely to launch alongside or just after the new 2021 iPhones.
Don't expect your phone to work perfectly with the beta version of any software as there will still be glitches that need to be resolved before the software is available to everyone.
Apple revealed some of the features coming to iOS 15 during the keynote presentation of its WWDC 2021 conference on June 8.
According to the Cupertino firm, one new tool called Focus will let users set different notification preferences depending on what they're doing.
For instance, you will have the option to select if the phone makes a sound or not, or whether it vibrates, depending on your current status.
You'll be able to use a new menu to select if you're driving, working, sleeping or a custom status of your choosing.
The menu will be shown on the updated lock screen and in Control Centre, the iPhone and iPad's menu for quickly getting to settings.
Focus will even notify your iMessage contacts of your status to let them know why you're not responding to their texts.
Apple is also working on major updates to iMessage that will make it more like a social media platform, like WhatsApp.
One way it's doing this is by making it easier to manage and engage with the photos and news articles that your friends share through the app.
The Apple Photos and Apple news apps will have new areas that only store the content shared by your friends.
A number of the company's other apps, such as Wallet, Safari, Apple Maps and Health, are also getting minor improvements.
FaceTime, for instance, will let you blur the background of your videos.
It'll give your video feed a similar effect to the Portrait mode available on the cameras of recent iPhones.
You'll also be able to upload your passport or drivers license to Apple Wallet, letting you check in at, for instance, airports using your phone.
Another new feature unveiled by Apple is designed to make it easier to show your friends what you're listening to or watching.
Called "Share Play", it allows you to listen to music or watch a streaming app with members of a call, with the video synced up for all users.
Notifications are getting a new look, and will now be grouped into a helpful collection called Notification Summary.
Apple will use AI to figure out which notifications are most important to you. You can set which time of day you'd like to be reminded to read them.
Apple periodically releases software updates for iOS, the operating system that powers the iPhone.
As well as bug fixes and the patching of security holes, the downloads add new features that Apple's engineers have been working on.
It's unclear precisely when Apple plans to release the update to general users, though it's heavily rumoured to be rolling out in September.
Looking for tips and hacks for your phone? Want to find those secret features within social media apps? We have you covered...
Facebook is trialling a video call speed dating app called Sparked.
And, Google is bringing out a feature to help Android users avoid collisions while texting and walking.
Are you excited for iOS 15? Let us know in the comments!
Our journalists strive for accuracy but on occasion we make mistakes. For further details of our complaints policy and to make a complaint please click this link: thesun.co.uk/editorial-complaints/