'Rick and Morty' Scored A Surprise Cameo in 'Space Jam: A New Legacy'
'Arthur' at 40: A Heavy Pour of Warmth Makes This Film Addictive
Stream It Or Skip It: 'The Guide to the Perfect Family' On Netflix, Where A Family Feels The Pressure To Look Good On Social Media
When Will 'After We Fell' Be on Netflix?
7 Shows Like 'Breaking Bad'
Emmy Nominations 2021: See the Full List of Nominees for the 73rd Emmy Awards
Two New Ted Bundy Films Spark Backlash on Twitter: "Manipulative and Gross"
Stream It Or Skip It: 'Private Network: Who Killed Manuel Buendia?' on Netflix, A True Crime Doc With Questions About Cover-Ups, Cartels and the Cold War
Stream It Or Skip It: 'Naomi Osaka' On Netflix, An Intimate Portrait Of The Tennis Champ As She Navigates Sudden Fame
Anthony Bourdain's "Ghoulish" Deepfaked Voice in 'Roadrunner' Receives Backlash: "Wildly Unethical"
Stream It Or Skip It: 'Wonder Boy' on Netflix, a Heavily Posed, But Heavily Personal Profile of Fashion Icon Olivier Rousteing
Stream It Or Skip It: 'Gunpowder Milkshake' on Netflix, an Overstylized Action-Comedy That Wields Irony Like a Cudgel
Will There Be a 'Gunpowder Milkshake 2'? What We Know About A Sequel to Karen Gillan's Netflix Thriller
'Loki' Season Finale Explained: Episode 6, "For All Time. Always."
Stream It Or Skip It: 'The Hunt' on HBO Max, a Violent Mess of a Free-For-All Political Satire
Stream It Or Skip It: 'McCartney 3, 2, 1' on Hulu, Where Macca And Rick Rubin Join The Chat
'This Is Pop: Hail Britpop' Revisits The Golden Age of Oasis, Blur, And Cool Britannia
Why Is 'In the Heights' Not On HBO Max?
Olivia Rodrigo's 'Sour Prom' Finds Pop's New It Girl Performing Her Hits And Having Fun
Stream It Or Skip It: 'The Empty Man' On HBO Max, A Supernatural, Slow-Burn Horror Movie Laced With Occult Weirdness
Stream It Or Skip It: 'Fear Street Part 3' on Netflix, the Grand Finale of the Pastiche-y Slasher Saga
New Movies On Demand: 'A Quiet Place Part II,' 'The Sleepless Unrest,' 'Separation' + More
'Fear Street Part 3: 1666' Review: A Satisfying Ending to Netflix's Fun, Fresh Horror Trilogy
Stream It Or Skip It: 'Space Jam 2' on HBO Max, in Which LeBron James is Buried in References to a Particular Movie Studio's Many Properties
Will There Be Another 'Space Jam' Movie After 'A New Legacy'?
No, That's Not LeBron James's Family in 'Space Jam 2'
Michael Jordan's "Cameo" In 'Space Jam: A New Legacy' Is a Hilarious Let Down
How to Watch 'Rick and Morty' Season 5, Episode 5
'Rick and Morty' Is Too Immature to Talk About Sex
'Rick and Morty' Scored A Surprise Cameo in 'Space Jam: A New Legacy'
When Will 'Rick and Morty' Season 5 Be on HBO Max and Hulu?
'Loki' Changed the Marvel Cinematic Universe Forever
Here's How 'Loki' Sets Up the Next Disney+ Marvel Show
When Is 'Loki' Season 2 Coming Out?
'Loki' Season Finale Explained: Episode 6, "For All Time. Always."
'Below Deck Med': David Pascoe Talks Malia, Maureen The Magical Unicorn, and That Major Fart
'Below Deck Med' Recap: Did Chef Tom Cheat on Malia?
'Below Deck Med': Courtney Veale Talks Twerking, Tequila, and That Lazy Susan
'Below Deck Med': Watch Chef Mathew Completely Lose His Cool With Lexi
'Evil' Paramount Plus Episode 4 Recap: "E Is For Elevator"
'Evil' Season 2 Episode 3 Recap: "F Is For Fire"
New On Paramount+ July 2021
'Evil' Season 2 Episode 2 Recap: "A Is For Angel"
Best TV Shows Of June 2021
Best TV Shows of 2021... So Far
'Mythic Quest's Megan Ganz and Danny Pudi Break Down That Shocking Season 2 Finale
'Mythic Quest' Delivered One of The Funniest TV Moments of 2021
'Fear the Walking Dead' Bosses Break Down the Explosive Season 6 Finale
'Fear the Walking Dead': Lennie James Teases Morgan's Season Finale Fate
The 10 Best TV Shows of May 2021
'Fear the Walking Dead': Alycia Debnam-Carey Teases The "Epic" Conclusion of Season 6
But you can only be ready for that aforementioned chaos if you know how to stream these new episodes. That's where we come in. Here's everything you need to know about how to watch Rick and Morty Season 5, Episode 5.
We've officially hit the halfway point. Today, Sunday, July 18, is the premiere of Rick and Morty Season 5, Episode 5. "What's this new episode about?" you may be asking yourself. Titled "Amortycan Grickfitti", the logline reads, "Adults r gone tonight, broh. Grab the keys." Looks like we may be in for another Summer rager.
By now you know the drill. New episodes of Rick and Morty premiere on Sundays at 11/10c p.m. Be sure to keep your TV tuned to Adult Swim. After Rick and Morty ends it's time for Tuca & Bertie to shine at 11:30/10:30c p.m.
Though the first episode of this season is available to watch for free online, you're going to need Adult Swim for the rest. Right about now is when that cable subscription comes in handy. If you have one, simply turn your TV to Cartoon Network before 11 p.m. ET. Then you're all set to watch. But what if you're going to be away from your living room and your all-important TV? Not a problem. As long as you have a cable username and password you can watch Rick and Morty live from anywhere.
Do you have a live TV skinny bundle? Then you're looking at the second way you can watch this cartoon live. Most live TV skinny bundles, including YouTube TV, Hulu + Live TV, and Sling TV, come with Cartoon Network, which means they have Adult Swim.
If none of those options apply to you, we're sorry. Streaming (legally) becomes a lot more difficult. Sometimes Adult Swim will post episodes of its originals for free on its website. That's the case with "Mort Dinner Rick Andre", which is on AdultSwim.com and YouTube. Unfortunately that doesn't apply to Episodes 2 through 4, which are all under cable lockdown. You can always hope that "Amortycan Grickfitti" will premiere during Adult Swim's Rick and Morty 24/7 live stream.
Yes, but not the episodes you want. Seasons 1 through 4 are currently on Hulu. But when it comes to Season 5, new episodes are only available through Hulu's live TV skinny bundle, Hulu + Live TV. Eventually Rick and Morty Season 5 is expected to go Hulu's basic plans, but it will likely take several months.
There are 10 episodes in this new season of the show. That's pretty typical when it comes to animated series. Season 1 has been the only installment to date with 11 episodes.
Same as this week's episode count: five down, likely five more to go. In 2018 Adult Swim announced that Dan Harmon and Justin Roiland's show had been renewed for an additional 70 episodes. Since each season is typically composed of 10 episodes, that means we have five more seasons to look forward to after Season 5 concludes. That's at minimum, by the way. Adult Swim could always order more episodes.
Read full article at Decider
ComicBook.com 18 July, 2021 - 10:25pm
Rick and Morty just killed Galactus in Season 5 and the Internet is reeling. The Transformers also made a huge appearance during the first half of the episodes. So, the fans are going bananas about the reveal. Rick and Jerry are out to mess with some Cenobites from Hellraiser. But, that leaves Summer, Morty, and new kid in school Bruce Chutback out to cause some problems in the universe. It's been hysterical to watch the season veer wildly across the episodes so far. But, having Summer driving Rick's ship and then dragging a sun behind them takes the cake. It wouldn't be a Rick and Morty episode without someone biting the dust though. Galactus comes and eats the solar system that the ship was dragging. However, The Eater of Worlds' reign was never meant to last as the kids dispatched him. As far as sight gags go, this has been the strangest episode of Season 5 yet.
Fans still wonder about some of the mysteries behind the series. Showrunner Scott Marder talked to Monsters and Critics about how this family actually ages.
"Age all that stuff comes up [in the writer's room] all the time because sometimes people are like 'Oh it can be such and such's birthday,' and we're like 'We don't do them on this show,'" Marder said. "We'll do a thousand Christmases, but we're never going to show a birthday…It's kind of fun in cartoons to keep everyone the same age as it is…so that sort of stuff we play with." But when asked about what age Rick could feasibly be, Marder believes Rick's current body is in its seventies.
"I feel like, given all the tech and all the stuff he has in his body, his body is in its seventies," Marder added. "I'm not sure how old Rick himself is because if you look closely at the show, no one really has birthdays, so they are in a weird time hole [or] time loop to some degree. But whatever he does is maintaining himself in his seventies." So while fans might never know how old Rick really is, we do have a general ballpark of how old he might generally be at this point.
Did you love that Galactus shout-out? Or were you more excited about the Transformers? Let us know down in the comments!
Copyright 2020 ComicBook.com. All rights reserved.
ComicBook.com 17 July, 2021 - 08:07pm
The third episode introduced Morty to a new love interest, Planetina, who was an amalgam of elements (and notably a parody of Captain Planet and the Planeteers voiced by Community star Alison Brie) a few decades older than Morty, and the two of them quickly fell into a deep and intense relationship. Through the episode they found they were not right for one another, and Morty ended their relationship as the episode came to an end. All of these factors made Planetina a huge fan favorite, and now she's been brought to life with some awesome cosplay from @natylikespizza on Instagram! Check it out below:
Planetina is only one of the wild new characters that we have been introduced to in the fifth season so far, but fans are already counting down the days until her potential return. The way she and Morty's relationship came to an end might make that difficult, but there would likely be a lot of comedy one could mine from how awkward a reunion between these two could be. There are still several episodes left in the season, so who knows what could happen.
Rick and Morty is now airing new episodes for Season 5 on Adult Swim, Sunday evenings at 11:00PM EST. You can catch up with what's premiered so far with the first episode now streaming completely for free on YouTube, and the follow up episodes streaming with Adult Swim as long as you have a cable subscription. If you wanted to check out the previous four seasons, you can now find them on HBO Max.
What did you think of Planetina's debut in Rick and Morty's fifth season? Would you want to see her make a return in a future episode? Let us know all of your thoughts on Planetina and everything Rick and Morty in the comments!
Copyright 2020 ComicBook.com. All rights reserved.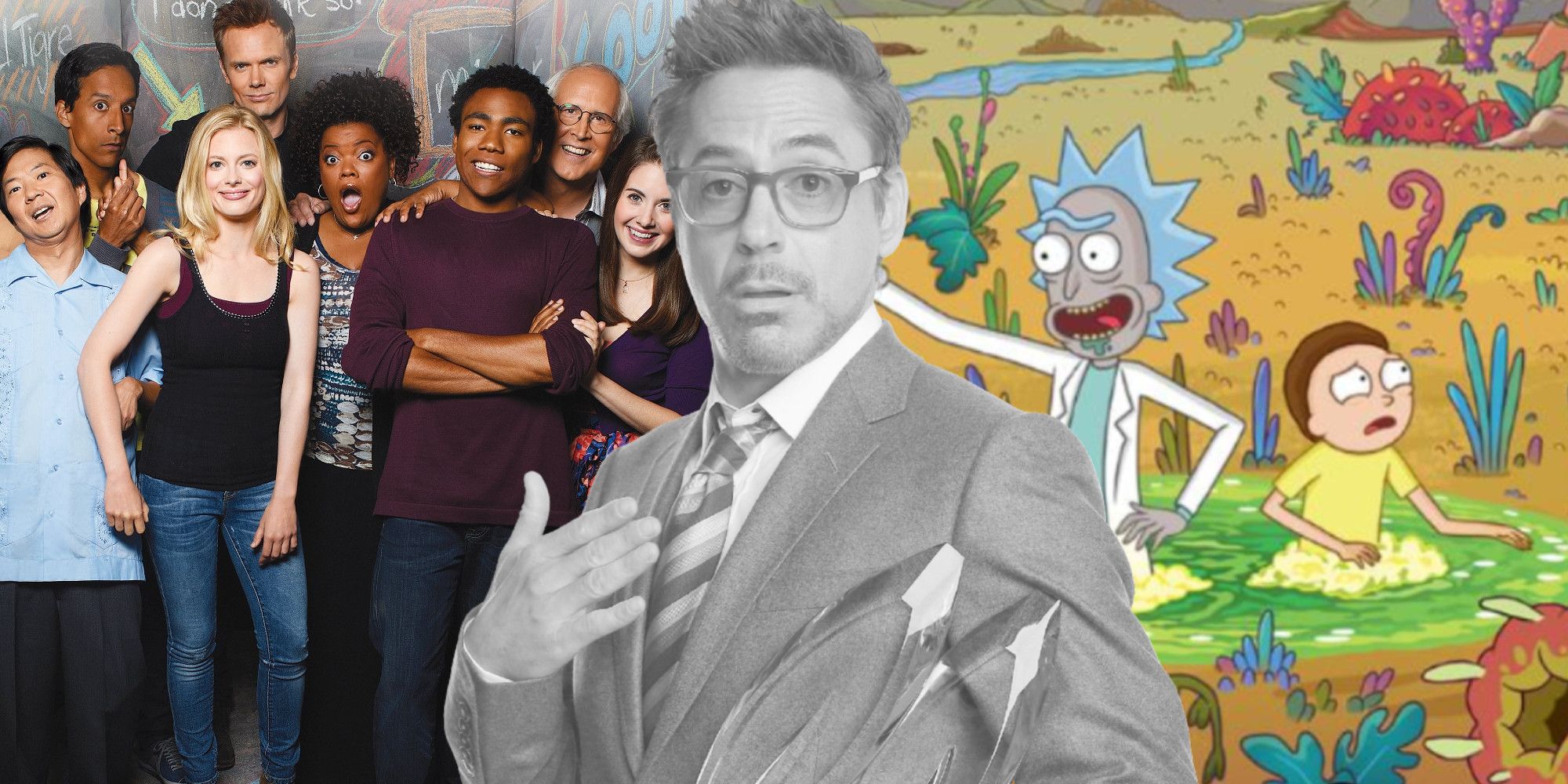 Screen Rant 17 July, 2021 - 05:41pm
When the truth of Morty's culpability was exposed, he was understandably berated by everybody involved. During one particular reproach from Rick, Morty sullenly snapped, "I can't change my nature." Rick immediately scoffed at that notion, declaring that the ability to change was what defined the human race. To emphasize his argument, Rick cited Robert Downey Jr. as an example. "Look at Iron Man. That actor was an animal in the '90s, literally waking up in bushes. His agent had to catch him with a butterfly net." Rick and Morty were then silenced by the horror movie-referencing CHUDs but the point hilariously remained.
It actually wasn't the first Dan Harmon-related show to make both that exact reference and point, however. Instead, that honor went to Community. In season 6, newcomer Frankie Dart (Paget Brewster) led the charge on trying to improve Greendale. During the paintballing antics of Community season 6, episode 11, "Modern Espionage," though, The Dean (Jim Rash) doubted the capacity for a better Greendale, likening the school to tobacco. Jeff Winger (Joel McHale) similarly rebuked the idea. "No, we are not tobacco. We are Robert Downey Jr. He was so high, he was crawling into people's windows. Now he's Iron Man!" Jeff then went on to further illustrate how growth was possible — albeit with a lot of commitment and dedication to actually doing the work.
The reference was also one that poignantly tied into Rick and Morty season 5's larger themes. Multiple episodes have seen Rick reckon with parts of himself. He reconnected with his capacity to love and commit to somebody - first with the alien Daphne (Jennifer Coolidge) and Princess Ponietta (Christina Ricci). A version of him actually recognized and apologized for his faults. The episode in question even saw Rick admit he had a substance abuse problem — an important first step in recovery. As such, it added to the idea that Rick might not always be the villain of his own story. Plus, it lent credence to Rick and Morty season 5, episode 4, "Rickdependence Spray" being secretly a smart episode within the show's overall run.