Tom Fitzgerald
FitzFox5DC
Why did the CDC Director overrule a CDC panel on Covid vaccine booster shots? Dr. Jeffrey Gold of the University of Nebraska Medical Center joins @Fox5DC's #OnTheHill to discuss that; who needs a booster now, and who needs them later. fox5dc.com/video/982632 pic.twitter.com/a3zSbpE3RD

Justin McFarland
ThisJustinTv
Thursday is the last day for Vanderbilt Medical Center employees to get vaccined against Covid-19 or risk losing their jobs. "This is an absolute condition for continued employment at VUMC and there can be no exceptions." Dr. Jeff Balser, Vanderbilt Medical Center CEO. pic.twitter.com/S1njdtuTF1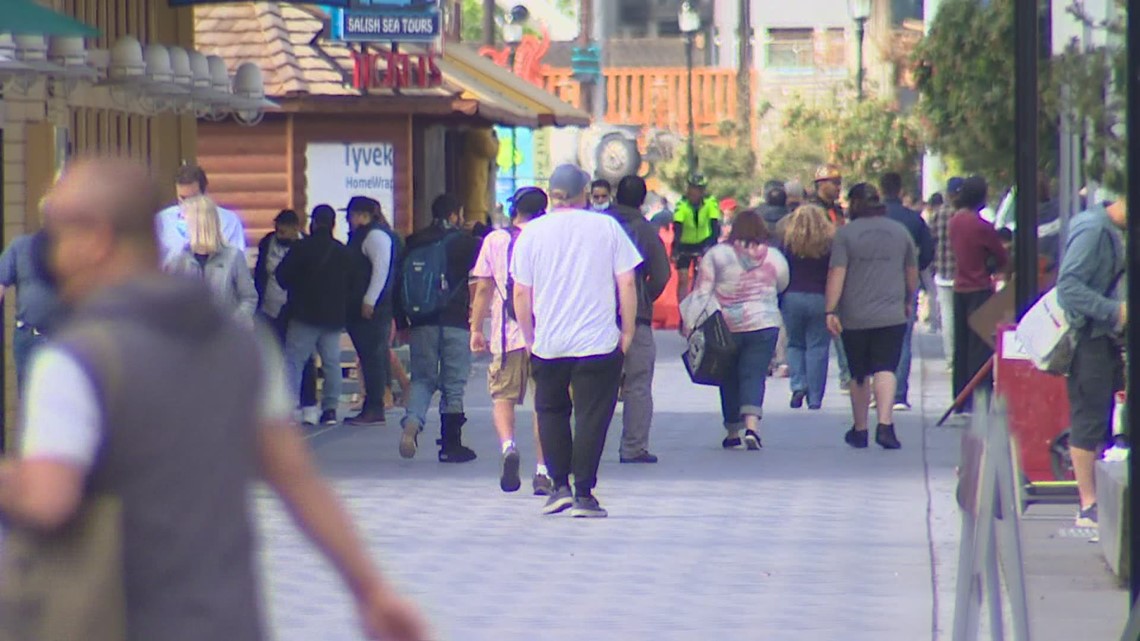 For full feature support, please upgrade to a modern browser such as Microsoft Edge.
VERIFY helps distinguish between true and false information by answering questions directly from you. Looking for 'Connect' content? Check out the site's footer.
Browse hyperlocal photos and videos from people just like you. You can even submit your own!
SEATTLE — Dr. Jeff Duchin, the health officer of Public Health - Seattle & King County, delivered an update on the COVID-19 pandemic in King County Friday as well as his outlook for what the fall and winter hold.
The briefing comes as the county, along with the entire state, continues to push through the worst wave in the ongoing COVID-19 crisis yet, which appears to be waning.
The past eight weeks or so have seen a record number of COVID-19 hospitalizations and a surge in ICU patients that continue to put the state's health care system in jeopardy.
As cases and hospitalizations continue a recent gradual decrease, Duchin said that he remains cautiously optimistic.
"COVID-19 remains unpredictable," he said, "I expect future waves, and I expect a winter surge. Although given our vaccination rates, the size and impact of future surges should be lower than in the past."
Still, Duchin said that about 250,000 eligible adults remain unvaccinated throughout the county, along with more than 300,000 ineligible children.
"That's enough dry wood, so to speak, to sustain a serious surge," he said.
According to the King County COVID-19 dashboard, there is an average of 120 new positive cases a day, with 107 new cases being reported on Thursday alone.
However, despite a return to in-person learning, Duchin said there has not been a spike in COVID-19 cases among the youth, but the general decrease in cases seen since Aug. 31 has gone at a slower rate for those ages 17 and below.
Duchin said that case rates have decreased in adults at a rate of about 32% from Aug. 31 to Oct. 1. During that same time span, cases decreased by about 16% in those ages 17 and below.
"We don't know whether these differences might be related to an increase in protection from vaccine in older children and adults, or the role of prior infection in some age groups, or from changing behaviors, or differences in transmission risk related to in-person learning and activities among youth," Duchin said.
The latest data shows that roughly 70% of King County residents ages 12 to 17 are fully vaccinated.
Hospitalizations are declining, but the latest seven-day average is still 12 daily COVID-19 admissions, which is almost four times higher than it was in early July. Plus, while the case and hospitalization rates appear to be declining, the death rate has steadied after seeing a big increase through August and September. The latest data shows the county is seeing an average of three deaths a day.
Key unknowns moving forward include how the virus will evolve and how the county will do with in-person learning moving into the colder months, Duchin said, adding, "But the bottom line for me is that the big picture COVID-19 pandemic forecast is improving, primarily thanks to the vaccines."
Duchin, along with the entire state health care system, has continued to urge eligible residents to get the vaccine.
Age-adjusted data on the Public Health - Seattle & King County website shows people who are not vaccinated are 8.1 times more likely to catch COVID-19 than those who are fully vaccinated. Additionally, unvaccinated residents are 78 times more likely to die from COVID-19 than those who are fully vaccinated.
The risks of going unvaccinated motivated King County to begin requiring proof of COVID-19 vaccination for public indoor dining, gyms and events beginning Oct. 25.
Duchin said that he thinks the county is transitioning away from large surges and toward a point where waves can be more manageable with vaccines and preventative measures.
"I think the next few months will provide a better indicator of our trajectory," he said.
Notifications can be turned off anytime in the browser settings.
Read full article at KING5.com