A title match against WWE champion Bobby Lashley looks to be next for the returning Goldberg.
The 54-year-old Goldberg returned to WWE programming on Monday Night Raw, appearing for the first time since this January's Royal Rumble. After Lashley defeated Keith Lee on Raw, Goldberg came out to the ring and had a stare down with Lashley. Goldberg laughed at Lashley and declared that "I'm next."
The confrontation appears to set the stage for a WWE championship match between Lashley and Goldberg at next month's SummerSlam pay-per-view. SummerSlam is taking place at Allegiant Stadium in Las Vegas on Saturday, Aug. 21.
After more than 12 years away from the ring, Goldberg returned to WWE in 2016. He became one of professional wrestling's biggest stars after debuting for WCW in the late 1990s and was previously with WWE from 2003-2004.
Goldberg has had nine matches and two universal championship reigns since his 2016 return. His most recent match was a loss against Drew McIntyre at January's Royal Rumble.
Goldberg was inducted into the WWE Hall of Fame in 2018.
Lashley has been WWE champion since winning the title from The Miz this March. Lashley's persona on WWE programming has recently taken a more focused and intense turn, including retaining the WWE championship against Kofi Kingston in convincing fashion at Sunday's Money in the Bank PPV.
With WWE returning to touring and live crowds coming back, Goldberg was WWE's second big return. John Cena made his return to WWE at Money in the Bank and kicked off the build to a match against universal champion Roman Reigns at SummerSlam.
• Nikki A.S.H. Cashes In To Win WWE Raw Women's Title
• Return of Live Fans Gives Big Boost to WWE Smackdown Ratings
• Frankie Kazarian vs. Doc Gallows Set For AEW Fyter Fest Night Two 
Like us on Facebook to see similar stories
Please give an overall site rating:
Read full article at Sports Illustrated
Fightful 31 December, 1969 - 06:00pm
We would like to send you notifications for the latest news and updates.
Bullet Club gained a member at Monday's IMPACT Wrestling tapings.
If you want to know the newest addition to Bullet Club, read below for the spoiler.
Chris Bey is the newest member of the Bullet Club, accepting an offer from Jay White at the July 19 IMPACT Wrestling tapings in Nashville, Tennessee at Skyway Studios.
Bey took on Juice Robinson at the tapings. After the match, White came out and offered Bey a Bullet Club shirt. Bey accepted, throwing up the "Too Sweet" to signify his new allegiance.
On Monday afternoon, IMPACT Wrestling tweeted an exclusive video from Slammiversary that showed Bey finding a Bullet Club shirt in his locker room. Bey competed in the six-man Ultimate X match at Slammiversary, but was thwarted by Josh Alexander in his effort to capture the X-Division Champion.
EXCLUSIVE: @DashingChrisBey and @HakimZane's plans didn't play out well at #Slammiversary but Bey has found a very intriguing shirt... pic.twitter.com/3VTPc46bqz
When one door closes… #IMPACTonAXSTV https://t.co/vvBXTS4LAV
It is unknown when the episode feature Bey joining Bullet Club will air.
Jay White made a surprise appearance at the end of IMPACT Slammiversary, squaring off with Kenny Omega and The Good Brothers to close the show.
Fightful Select has more on Bey's inclusion into Bullet Club.
If you missed anything from IMPACT Slammiversary check out Fightful's full report on the show by clicking here.
Fightful will have full spoilers from the July 19 IMPACT tapings when they are made available. You can find spoilers from night one by clicking here.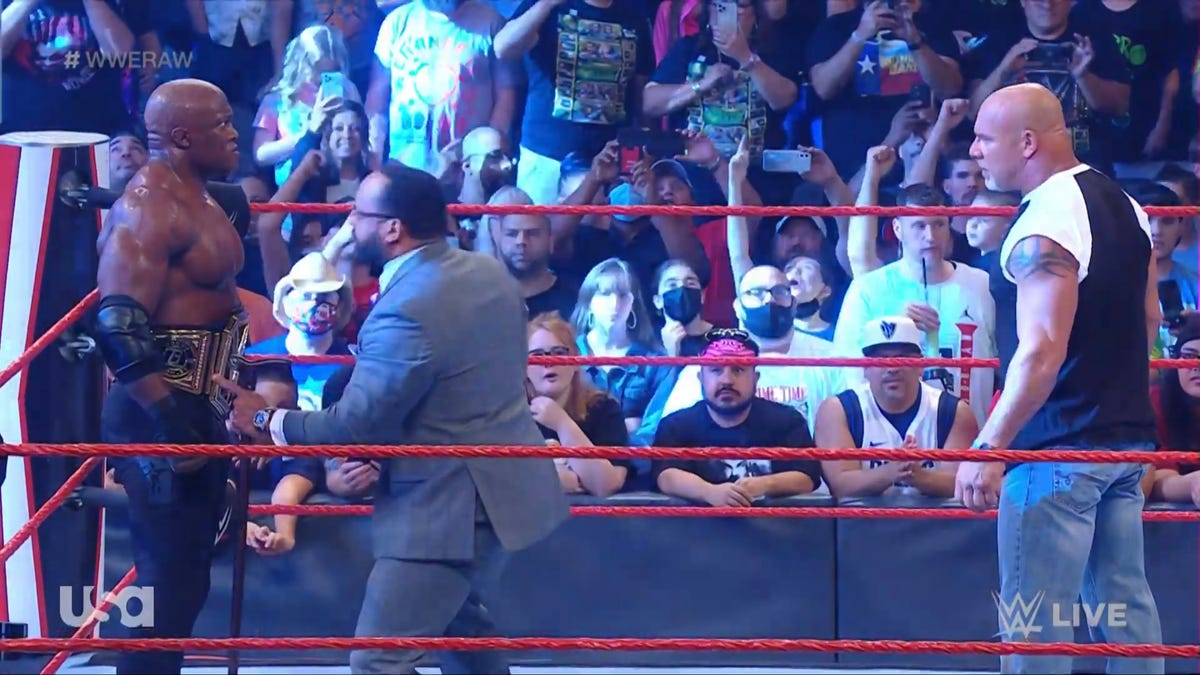 Deadspin 20 July, 2021 - 11:37am
Still, the hope was that the holding pattern/purgatory/dumpster that Monday Night Raw has been for months would at least be temporarily alleviated by actually having to be in front of people, and having their reactions on television. It's been clear for some time that Raw is now the B-show, with SmackDown on network television, netting the company more money and attention. But still, even with that status it doesn't mean Raw has to mail it in. And with the show's three-hour length, mailing it in simply becomes a torturous experience. Surely for this first one back in front of fans, WWE would try to make something of it this time.
Here's the list of matches we got last night on Raw's big return to live crowds:
WWE had some "surprises." Those consisted of John Cena opening the show being very John Cena and hugging Riddle.
Then it looked like they might actually try something new and different, located the key to whatever closet they had locked Keith Lee in, and brought him out to face Bobby Lashley. This should have been a match that had people talking the next day. Lashley had been reheated thanks to his squash of Kofi Kingston the night before, had been on a tear, and Lee is just about the most unique performer they have in that he can go with anyone, from hulking monsters like Lashley to high-flyers like Ricochet. He's that versatile. He's an untapped treasure by WWE.
Lee's match lasted all of seven minutes that basically showcased him eating offense from Lashley before he could cede the stage to motherfucking Goldberg. Goldberg. The guy who nearly killed Undertaker because he can't move or do anything anymore, and that's before he concusses himself on a goddamn door. Watching Goldberg hump around a ring these days is the best advertisement for knee, hip, and shoulder replacements the pharmaceutical industry could have ever hoped for. Even Lashley knows:
(The only salvation we will find is if this is some end around for Big E to cash in his Money In the Bank briefcase on Goldberg after he beats Lashley, thus bringing closure to this, the greatest video of all time. Also, it is my personal quest to find out what the real joke is here between the members of New Day, because there's definitely something under the surface going on)
Then they pulled out Karrion Kross from NXT to make his main roster debut. Now, I'm not the biggest Kross fan. In fact, I think he's just about as boring as watching someone else take an eye test. But he is the NXT champion, and he seems to fit the main roster even better, and that status would make anyone think that the company thinks pretty highly of him.
He then walked out and lost to Jeff Hardy. You couldn't define the term "nerf" better than this.
The final "surprise" was the Charlotte-Ripley match ending in a DQ, which provided the platform for Nikki A.S.H. to cash in the briefcase she won Sunday night to become Raw Women's champion. And Nikki Cross is awesome and great and maybe they could actually use the title to build her character into something, a maneuver they haven't tried since... fuck, I don't even know when. 1994? But Nikki's new gimmick has only been around a couple weeks, so the audience hasn't had enough time to get really attached and feel the seismic shift of her taking the title off Charlotte (also, we've seen Charlotte get cashed in on three times in five years). It was just a thing that happened, and most everyone who didn't at least know and love the Nikki Cross character, which was mostly in NXT and away from the main roster, just kind of had a, "uh, ok" reaction. And then they immediately went off the air. It was like it was jammed in at the end like they were trying to avoid having to check a bag.
This has been the complaint about Raw certainly since SmackDown went to Fox, and off and on for years. There are just large swaths of time when they're not even trying. It just splats onto the screen like phlegm, with about as much care. There's been talk that USA Network has been unhappy with the dismal ratings drawn by Raw of late, but it doesn't seem that urgency has gotten to WWE offices. With three hours, there's so much they could do, and so many performers to showcase. Instead, we get Goldberg and barf. I'll let you decide which is worse.
Cageside Seats 19 July, 2021 - 09:15pm
"I'M NEXT!"@Goldberg sends a message LOUD and CLEAR to #WWEChampion @fightbobby! #WWERaw pic.twitter.com/SM4b3Wfy0y
He kept it short and sweet, as he is wont to do, getting in Lashley's face and screaming "I'M NEXT." MVP instantly got in the way, ushering the champion off because this won't be happening on Raw tonight. When asked backstage to respond to the challenge, they refused to do so but it's clear the rumors and reports have been proven correct and these two will be squaring up with each other at the upcoming SummerSlam pay-per-view scheduled for Sun., Aug. 21, 2021, at Allegiant Stadium in Las Vegas, Nevada.
The last time we saw Goldberg, he was losing to Drew McIntyre in a WWE championship match at Royal Rumble back in January. It sure is nice that he can just show up and say he's next and it's granted, huh?!?
Cageside Seats 19 July, 2021 - 09:06pm
Instead, we got another face we haven't seen in some time, who has been quiet about exactly what led to his extended absence: Keith Lee!
KEITH LEE IS BACK!#WWERaw pic.twitter.com/lNti1nNzXS
Lee disappeared from television back in January and it was never quite clear exactly why. There were rumors and reports that it was health related, then then it was about creative having nothing for him, then a potential issue with WWE over clearing him for a return. Lee himself sent out multiple tweets that were all vague or cryptic and led to more and more confusion. He did promise to eventually tell everyone what was going on.
There must be some kind of story, because his fiancée tweeted the following:
You guys… this is huge. Tears of joy. So happy and proud. Nothing keeps him down. #BaskInMyGlory @RealKeithLee #WWERAW
Either way, Lee would wrestle a fairly standard match against Lashley but would ultimately lose via pinfall.
Get complete Raw results and coverage of this week's episode right here.