Paul R. La Monica
LaMonicaBuzz
Economy and earnings! I'll be talking about the CPI/inflation report and results from $GS $JPM a little after 9am ET with @jchatterleyCNN on @cnni @firstmove.
Joni Ernst
SenJoniErnst
❌ Ballooning inflation ❌ Skyrocketing consumer prices @POTUS' economic policies are failing the American people. www.foxbusiness.com/economy/americans-inflation-fears-consumer-prices-surge

Frank Lucas
RepFrankLucas
"Tuesday's report from the Labor Department showed that consumer prices in June rose 0.9% from May and 5.4% over the past year — the sharpest 12-month inflation spike since August 2008." Pres. Biden's runaway inflation is crippling our economic recovery. apnews.com/article/business-prices-consumer-prices-7c0dceffdbd50a8b1b888af5d3b922ed?utm_source=Twitter&utm_campaign=SocialFlow&utm_medium=AP
Rick Anderson 🇨🇦
RickAnderson
"The breakneck pace of US consumer price increases seen since the start of the year accelerated in June, challenging the Federal Reserve's case that the burst of inflationary pressures accompanying the economic reopening will prove temporary." #cdnpoli on.ft.com/3kkp6u6
U.S. inflation continued to accelerate in June at the fastest pace in 13 years as the recovery from the pandemic gained steam and consumer demand drove up prices for autos, airline fares and other items.
The Labor Department said last month's consumer-price index increased 5.4% from a year ago, the highest 12-month rate since August 2008. The so-called core price index, which excludes the often volatile categories of food and energy, rose 4.5% from a year before.
The index measures what consumers pay for goods and services, including clothes, groceries, restaurant meals, recreational activities and vehicles. It increased a seasonally adjusted 0.9% in June from May, the largest one-month change since June 2008.
Prices for used cars and trucks leapt 10.5% from the previous month, driving one-third of the rise in the overall index, the department said, marking the third straight month of big price increases amid a supply shortage of vehicles. The indexes for airline fares and apparel also rose sharply in June.
Consumers are seeing prices rise for numerous reasons, as the U.S. economic recovery picks up. Richard F. Moody, chief economist at Regions Financial Corp., said the main driver of June inflation was booming demand that outpaced the ability of businesses to keep up. Another factor, he said, was the recovery in prices for air travel, hotels, rental cars, entertainment and recreation—all services hit hard by the Covid-19 pandemic.
"Demand is coming back very rapidly, and businesses are normalizing prices in the sense that they are making up for declines" earlier in the pandemic, he said.
Supply shortages and higher shipping costs also continue to drive rapid increases in goods inflation. Prices of goods, excluding food and energy, saw the two biggest monthly increases on record in April and May, Mr. Moody said.
Rising prices reflect robust consumer demand boosted by widespread vaccinations, the ending of many business restrictions, trillions of dollars in federal pandemic relief and ample household savings. Stronger demand also has pushed employers to seek more workers and pay higher wages, as they struggle to hire.
U.S. gross domestic product rose 6.4% at a seasonally adjusted annual rate in the first quarter. Economists surveyed by The Wall Street Journal in July expect the Commerce Department to report that the economy grew at a 9.1% annual rate in the second quarter—poised for the GDP's best year since the early 1980s.
Annual inflation measurements are being amplified by comparisons with figures from last year during Covid-19 lockdowns, when prices plummeted because of collapsing demand for many goods and services. This so-called base effect is expected to push up inflation readings in June, dwindling into the fall.
Compared with two years ago, overall prices rose 3% in June. Overall prices jumped at a 9.7% annualized rate in the three months ended in June, on a seasonally adjusted basis, faster than the 8.4% pace in May.
Ransomware websites operated by REvil are down: Sources
French government tightens rules to access public spaces in a bid to encourage Covid vaccinations
U.S. and Europe remain in a 'sweet spot' of growth, says Goldman Sachs
MAI's Grisanti says wage inflation will be an '800-pound gorilla'
VW CEO says the automaker is in 'good shape' to capitalize on shift to EVs
Elon Musk's second day in court — What to watch for
June's Consumer Price Index comes in at 0.9% vs. 0.5% estimate
States bringing up the rear in 'Top States for Business'
Virginia is CNBC's top state for business — Here's how other states did
Former Carlyle Group co-CEO Glenn Youngkin on his run for Virginia governor
Why Virginia is CNBC's Top State for Business in 2021
Governor Ralph Northam on Virginia being named America's Top State for Business in 2019
Virginia Governor Northam on winning CNBC's Top State for Business
Mastercard and Verizon partner on contactless payments
The Pre-Markets Rundown: July 13, 2021
Much of the increase in June was driven by factors that are likely to subside in coming months, including the semiconductor chip shortage that is reducing the supply of autos and the post-reopening surge in consumer demand. Accelerating prices for new and used cars and gains in prices for lodging and transportation services, which includes car and truck rentals, contributed the vast majority of the core CPI increase.
But prices of goods and services less directly influenced by these trends are picking up too. For example, rents are now rising at a pace slightly faster than before the pandemic. Stripping out those more temporary contributions, the core index nonetheless rose at a pace that would normally be considered relatively healthy though not enough to signal a worrisome pickup in inflation, said Alex Lin, U.S. economist at BofA Global Research.
More companies are passing on higher labor and materials costs to consumers. Many also are raising prices for the first time in years, as demand surges following pandemic-related business restrictions.
Ryan L. Sumner and Michelle Fox of Fenix Fotography LLC in Charlotte have been operating at maximum capacity for several months shooting photographic portraits for people looking for new jobs, working remotely and starting new businesses. Mr. Sumner said they raised prices in February by about 20% and last week by nearly 17%, the first price increases in about 15 years.
The first increase didn't put a dent in their business or alleviate burnout that the couple was experiencing because of unrelenting demand. They are interviewing to add a second photographer. "One of the things we're looking at is limiting availability…because it's been a lot for a small firm to handle. Where we're at is, we either have to raise prices or add staff—or both," Mr. Sumner said.
Policy makers are watching June's reading to gauge the magnitude of what many expect to be several months of robust inflation after a year of anemic price pressures during the peak of the pandemic. Whether the inflation surge is temporary is a key question for the U.S. economy and financial markets—and the Federal Reserve's easy-money policies aimed at helping the economy through the pandemic.
Another factor is consumer expectations for higher inflation, which can affect economic decisions in households, as consumers are more willing to accept higher prices because they expect them to rise. The rate of inflation the median consumer expects five to 10 years from now hit 2.8% in June, up slightly from last year but in line with the average for the last 20 years, according to the University of Michigan Survey of Consumers.
Jay Bodenstein, 73, of The Villages, Fla., has been conscious of rising prices for food, rent, gasoline, auto insurance, healthcare and travel. He said that he and his wife, Sandy, have been going out to dinner less in part because of higher prices and because they are increasingly anxious about the Delta variant of the coronavirus.
The Fed, in a report released Friday, reiterated its view that inflation has risen because of bottlenecks, hiring difficulties and other largely transitory factors related to the economy's rebound from the pandemic. Most officials, in projections released last month, believe inflation will decline to around 2% over the next two years. Still, a sustained, large increase in inflation could compel the Fed to tighten its policies earlier than planned—or to react more aggressively later—to achieve its 2% average inflation goal.
Many economists now expect higher inflation to stick around while slowly easing. Those surveyed by the Journal in July estimate on average that annual inflation, measured by the CPI, will ease to 4.1% in December. Annual inflation for 2019—ahead of the pandemic's start in March 2020—was 1.8%, on average.
The distortions from the semiconductor shortage and post-reopening disruptions, though ultimately temporary, may persist throughout the rest of the year, said Rubeela Farooqi, chief U.S. economist at High Frequency Economics. That could make it harder for the Fed to hold fast to its commitment to keep monetary policy loose.
"The longer these effects last, the more challenging it will be to stick with a transient view, even though...ultimately price pressures are likely to be temporary," she said.
Some 47% of small businesses indicated that they raised average selling prices in June, the highest share since 1981, according to a survey conducted by the National Federation of Independent Business, a trade association.
Many consumers are willing to pay higher prices than they might normally be after spending more than a year cooped up at home, said Ms. Farooqi.
"Right now what you have, especially among people who didn't lose their jobs and get to go on vacation, is, 'My tolerance is a little higher right now,'" she said.
Corrections & Amplifications The consumer-price index increased a seasonally adjusted 0.9% in June from May, the largest one-month change since June 2008. An earlier version of this article incorrectly said the index rose a seasonally adjusted 1%. (Corrected on July 13, 2021)
Write to Gwynn Guilford at gwynn.guilford@wsj.com
Like us on Facebook to see similar stories
Please give an overall site rating:
Read full article at msnNOW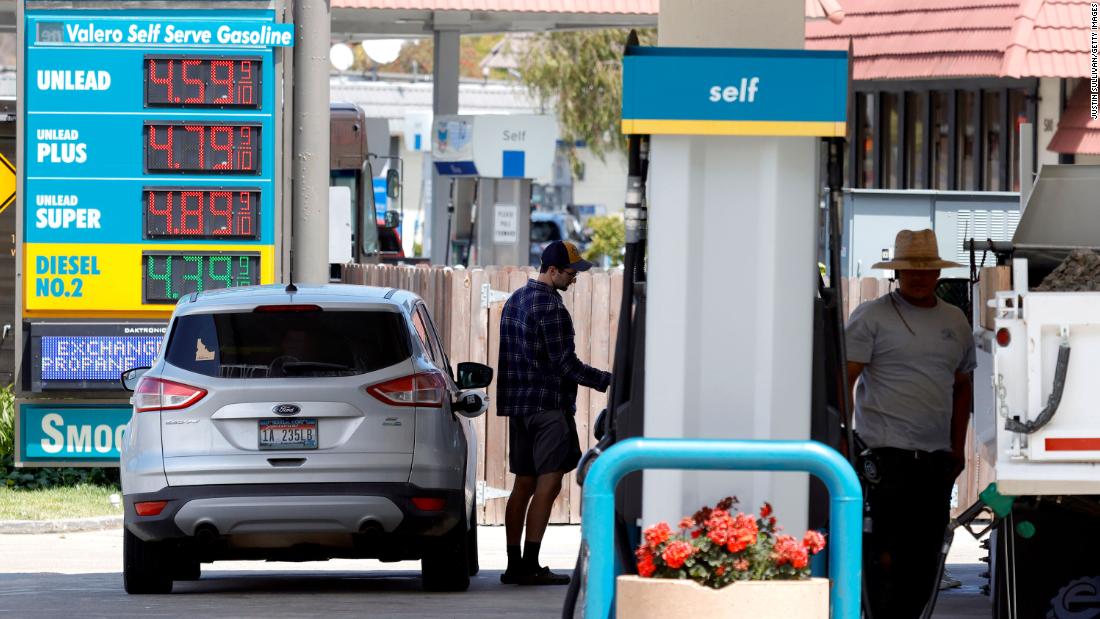 CNN 13 July, 2021 - 07:16pm
Updated 11:26 AM ET, Tue July 13, 2021
ABC News 13 July, 2021 - 07:16pm
Markets Insider 13 July, 2021 - 02:57pm
© 2021 Insider Inc. and finanzen.net GmbH (Imprint). All rights reserved.
Registration on or use of this site constitutes acceptance of our Terms of Service and Privacy Policy.
Daily Mail 13 July, 2021 - 07:42am
By Emily Crane For Dailymail.com and Reuters
US consumer prices continued to climb even higher in June to a 13-year high with the cost of gas skyrocketing 45 percent and everyday items like bacon, milk and oranges increasing 8 percent. 
The consumer price index has risen 5.4 percent in the 12 months through June, the Labor Department said on Tuesday - extending a run of higher inflation and fueling concerns the rapidly rebounding economy under the Biden administration is making goods and services increasingly expensive. 
June's CPI gain was the largest since August 2008 and followed a 5 percent increase in the 12 months through May. The CPI increased 0.9 percent last month after advancing 0.6 percent in May. 
Excluding the volatile food and energy components, the so-called core CPI surged 4.5 percent on a year-on-year basis, the largest increase since November 1991, after rising 3.8 percent in May. 
The consumer price index has risen 5.4 percent in the 12 months through June, the Labor Department said on Tuesday, which is the highest since August 2008
Prices are rising likely because of pent-up demand from people who are emerging from COVID-19 pandemic lockdowns and are flush with cash from stimulus payments. 
There's also a crimped supply of goods as supply chains have gotten gummed up - with some countries still in the throes of fighting the virus and not producing the amount of particular goods they normally would. 
The pickup in inflation has heightened concerns that the Federal Reserve might feel compelled to begin withdrawing its low-interest rate policies earlier than expected. If so, that would risk weakening the economy and potentially derailing the recovery. 
Fed officials and the Biden administration have repeatedly said, though, that they regard the surge in inflation as a temporary response to supply shortages and other short-term disruptions as the economy quickly bounces back. 
The Biden administration did not appear to be expecting the surge in June, an official told the New York Times. They repeated the line that the inflation surge would be temporary and not like the ongoing hikes seen in the 1970s.  
In the late 1970s and early 1980s in the US, inflation was so out of control at an annual rate of 14.8 percent that the Federal Reserve, which was chaired at the time by Paul Volcker, had to step in and raise the country's key interest rate sharply.
The so-called 'Fed Funds' rate is essentially the rate at which banks can borrow from each other - and it affects everything from car loans to home mortgages. 
Fed officials and the Biden administration have repeatedly said, though, that they regard the surge in inflation as a temporary response to supply shortages and other short-term disruptions as the economy quickly bounces back
The CPI increased 0.9 percent last month after advancing 0.6 percent in May, according to the Labor Department
Excluding the volatile food and energy components, the so-called core CPI surged 4.5 percent on a year-on-year basis, the largest increase since November 1991, after rising 3.8 percent in May
Have you ever been shopping and noticed that the prices of things you typically buy have gone up? If the items in your shopping basket cost $100 last year and now they cost $105, at a very basic level, that's inflation. 
Prices are changing all the time but we don't say there is inflation every time we see a price increase. 
Instead, we say there is inflation when the prices of many of the things we buy rise at the same time and then continue to rise.  
So how can we tell when inflation is happening and by how much? We do so by looking at the prices of many items over time. Government statistical agencies regularly gather information about the prices of thousands of goods and services. They then organize the prices into categories such as 'transportation' and 'apparel,' they combine the prices in each category, and they report the results in various price indexes.
Price indexes are just collections of prices. For example, some indexes contain the prices of items that consumers buy, and others contain the prices of items that businesses buy. Others contain prices only for goods, while others contain prices only for services, and so on. If the level of an index is higher now than it was a month or year ago, it tells us that the prices contained in that index are higher on average, which tells us there is inflation.
Source: Federal Reserve Bank of Cleveland
The jump in prices stems in many cases from a shortage of components and goods throughout the economy, from semiconductors to used cars, as well as surging demand from consumers who are increasingly traveling, shopping and eating out - and too few workers to serve them. 
Wages have increased sharply as a result, along with restaurant meals, airline fares and hotel rates.
Last month alone, average used car prices soared 10.5 percent - the largest such monthly increase since record-keeping began in January 1953. That spike accounted for about one-third of the monthly increase for the third straight month.
Hotel room prices soared 7 percent in June and the cost of new cars leapt 2 percent, the biggest monthly increase since May 1981. Auto prices have soared because the shortage of semiconductors has forced car makers to scale back production.
Restaurant prices rose 0.7 percent in June and 4.2 percent in the past year, a sign that many companies are raising prices to offset higher labor costs.
So far, investors have largely accepted the Fed's belief that higher inflation will be short-lived, with bond yields signaling that inflation concerns on Wall Street are fading. 
Bond investors now expect inflation to average 2.4 percent over the next five years, down from 2.7 percent in mid-May. 
COVID-19 vaccinations, low interest rates and nearly $6 trillion in government relief since the pandemic started in the United States in March 2020 are fueling demand, straining the supply chain and raising prices across the economy.
A global semiconductor shortage has undercut motor vehicle production, pushing up prices of used cars and trucks - the major driver of inflation in recent months.
With nearly 160 million Americans immunized, demand for airline travel, hotel and motel accommodation is picking up, also fanning price pressures. 
Some parts of the United States with low vaccination rates are, however, experiencing a surge in infections from the Delta coronavirus variant, which could slow economic activity. 
Though inflation has likely peaked, it is expected to remain elevated through part of 2022, as prices for many travel-related services are still below pre-pandemic levels.
'The pace of economic recovery may slow a little in the months ahead and inflation may ease from recently very elevated levels,' said David Kelly, chief global strategist at JPMorgan Funds in New York. 
'However, the economy still looks set to achieve very complete recovery in the months ahead, with plenty of excess demand to sustain stronger inflation.'
The comments below have not been moderated.
The views expressed in the contents above are those of our users and do not necessarily reflect the views of MailOnline.
By posting your comment you agree to our house rules.
Do you want to automatically post your MailOnline comments to your Facebook Timeline?
Your comment will be posted to MailOnline as usual.
Do you want to automatically post your MailOnline comments to your Facebook Timeline?
Your comment will be posted to MailOnline as usual
We will automatically post your comment and a link to the news story to your Facebook timeline at the same time it is posted on MailOnline. To do this we will link your MailOnline account with your Facebook account. We'll ask you to confirm this for your first post to Facebook.
You can choose on each post whether you would like it to be posted to Facebook. Your details from Facebook will be used to provide you with tailored content, marketing and ads in line with our Privacy Policy.
Part of the Daily Mail, The Mail on Sunday & Metro Media Group