Jim Banks
RepJimBanks
My statement on being appointed by @GOPLeader to serve as the Republican ranking member on the Select Committee to investigate Jan. 6: pic.twitter.com/dSJNF56EA9

Kevin McCarthy
GOPLeader
Unless Speaker Pelosi reverses course and seats all five Republican nominees, Republicans will not be party to their sham process and will instead pursue our own investigation of the facts. My full statement: bit.ly/3kF1XTB

Newsmax
newsmax
.@Jim_Jordan on being appointed to the Jan. 6th Select Committee: "We know what this is. This is impeachment Round 3... What are they going to do? The same old thing, go after President Trump." @stinchfield1776 pic.twitter.com/WPvm6EOktB

Kevin McCarthy
GOPLeader
Announcing the appointments of Republicans who will serve on House Select Committees: bit.ly/2UZk8Zr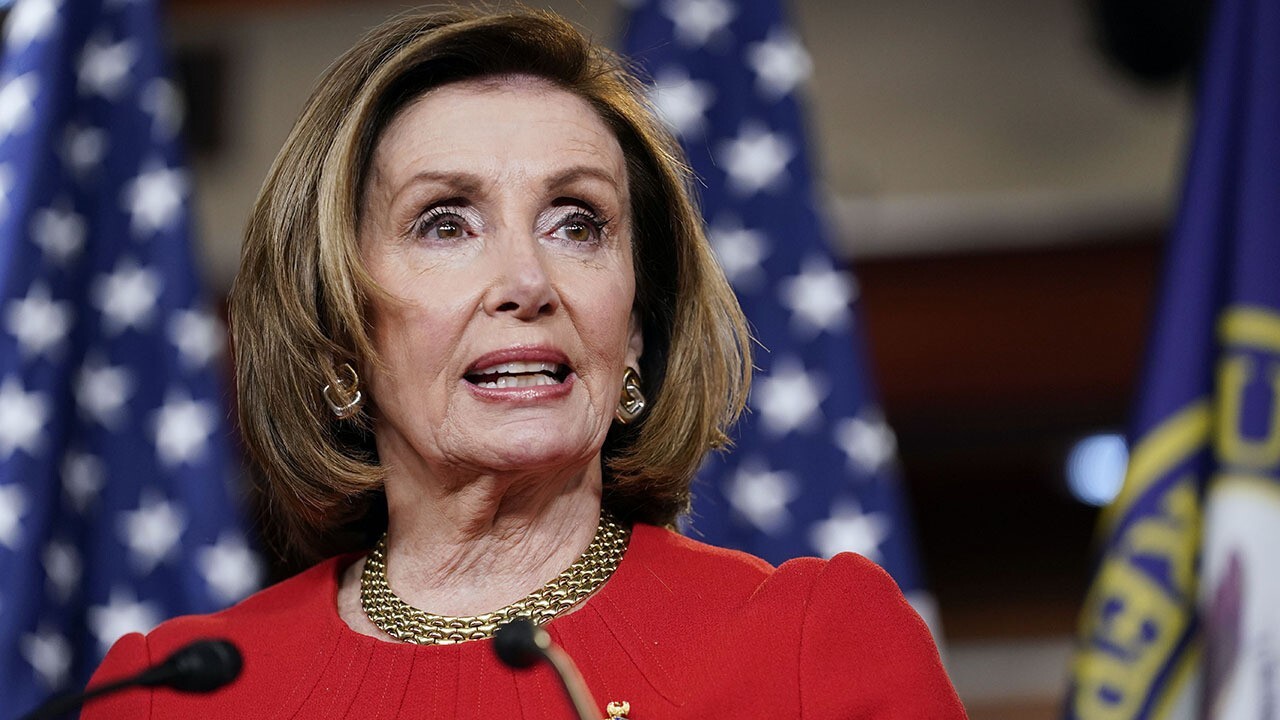 This material may not be published, broadcast, rewritten, or redistributed. ©2021 FOX News Network, LLC. All rights reserved. Quotes displayed in real-time or delayed by at least 15 minutes. Market data provided by Factset. Powered and implemented by FactSet Digital Solutions. Legal Statement. Mutual Fund and ETF data provided by Refinitiv Lipper.
'The Ingraham Angle' host examines the House Speaker's decision to veto Republican committee members
Fox News host Laura Ingraham slammed House Speaker Nancy Pelosi's decision to exclude House Minority Leader Kevin McCarthy's Republican choices for the Jan. 6 commission Wednesday on "The Ingraham Angle."
"She pledged bipartisanship, but of course, it was all a lie," Ingraham said.
The House Speaker rejected Republican Reps. Jim Jordan of Ohio and Jim Banks of Indiana in a statement released by her office Wednesday.
"Because Pelosi wants total control over the proceedings, she vetoed the two most effective Republicans," said Ingraham.
Ingraham also pointed out that Speaker Pelosi said "no" to "an investigation into COVID origins, but yes to a committee to investigate January 6th."
House Minority Leader Kevin McCarthy responded to Pelosi's rejections by pulling out all 5 GOP members from the committee. Wyoming Rep. Liz Cheney is the only Republican appointed to the panel by Pelosi.
During a news conference Wednesday, McCarthy said that the GOP "will run our own investigation."
Ingraham argued that "Republicans have to keep showing that Democrats have a radical agenda to change this country forever."
"For the past year, Democrats have done everything in their power to keep the country locked down for as long as possible. They'd like to do it again if they could, but now they want to lock us into the January 6th narrative for as long as possible, like nothing else is happening in the world"
The Fox News host further suggested that the Democratic Party has no interest in bipartisanship. "They're following Nancy Pelosi and her efforts to poison the well, to accuse Republicans of fascism and otherwise drive their opponents from public life."
Get all the stories you need-to-know from the most powerful name in news delivered first thing every morning to your inbox
You've successfully subscribed to this newsletter!
This material may not be published, broadcast, rewritten, or redistributed. ©2021 FOX News Network, LLC. All rights reserved. Quotes displayed in real-time or delayed by at least 15 minutes. Market data provided by Factset. Powered and implemented by FactSet Digital Solutions. Legal Statement. Mutual Fund and ETF data provided by Refinitiv Lipper.
Read full article at Fox News
The Washington Post 22 July, 2021 - 06:00am
This is thrust upon us by the news of House Minority Leader Kevin McCarthy's (R-Calif.) choices for the committee to investigate the insurrection. One is Rep. Jim Banks (R-Ind.), who has already signaled his intent to sabotage the proceedings.
Banks released this extraordinary statement:
Oozing with phony victimization, Banks added that House Speaker Nancy Pelosi (D-Calif.) created the committee "solely to malign conservatives."
Once you're done weeping for the plight of these "maligned" conservatives, please note this: The select committee comes after an extensive effort by Democrats to create a bipartisan commission with a process that was extraordinarily fair to Republicans.
Guess what: Banks voted against the bipartisan commission. So did three of McCarthy's other picks for the new committee: Reps. Jim Jordan (R-Ohio), Kelly Armstrong (R-N.D.), and Troy E. Nehls (R-Tex.).
Only one of McCarthy's new picks — Rep. Rodney Davis (R-Ill.) — voted for the bipartisan panel. And three — Banks, Jordan and Nehls — voted to object to the certification of Joe Biden's electoral votes on the day of the riot.
Banks appears to be McCarthy's most important choice. As Politico reports, McCarthy sees this as a way to elevate Banks up the leadership ladder.
It is remarkable and telling that someone being groomed for higher GOP glory has unabashedly declared that the insurrection should not be the primary focus of the committee's investigation. Remember, Rep. Elise Stefanik (R-N.Y.) was elevated in large part due to her public role in elevating the very lies about Donald Trump's 2020 loss that inspired Jan. 6.
Banks's declaration that the panel should look at leftist violence — which he casts as a more serious threat than what we saw on Jan. 6 — is just a continuation of the game Republicans have played for six months now.
Republicans have insisted any accounting must be broadened this way to obscure public understanding of some large and lethal truths: Right-wing radicalization is far and away the primary threat to democratic stability in this country, and Republicans themselves have actively fed and exploited that radicalization, heavily implicating them in what happened.
McCarthy's choice of Davis and Armstrong suggests how he could have handled this. All five picks could have been relatively public-spirited, as those two Republicans are, at least in the context of today's GOP.
But the appointment of two people whose obvious role is sabotage — like Banks, Jordan played a big role in sowing doubts about 2020 — shows that McCarthy must do all he can to muddy up a full accounting.
Historian Kevin Kruse draws a comparison with the Kerner Commission, which was created by President Lyndon B. Johnson to study the urban riots of the 1960s. Republicans who served on it, Kruse told me, "were ones who believed in its mission, who sincerely wanted to get to the root causes of urban unrest."
The commission, Kruse continued, did not include Republicans who saw the urban unrest as a tool to continue inciting "white backlash" rather than finding "solutions" that would address the problems underlying the unrest and, in so doing, potentially unite the country.
Appointing people such as Banks and Jordan to the Jan. 6 committee, Kruse told me, is akin to "appointing Strom Thurmond to the Kerner Commission."
Thurmond, a segregationist Dixiecrat, had by then switched to the GOP. Just as segregationists disdained the Kerner Commission's fundamental goals, Kruse said, so do Banks and Jordan "have contempt for the Jan. 6 inquiry."
At bottom, Republicans cannot allow Jan. 6 to become anchored in our collective understanding as a uniquely revelatory event that is worthy of an exceptional level of serious examination precisely because the stability of the country demands it.
They cannot allow Jan. 6 to be understood for what it truly revealed: the ongoing presence of a broader movement, one aligned with Trump and a non-trivial faction of the GOP, one that's anti-democratic to its core. It's a movement that is only metastasizing and is even benefiting from a cadre of intellectuals who are developing an ugly and disconcerting ideological foundation for it, as Laura Field details.
It's a movement that sees despised electoral outcomes as subject to nullification through highly dubious and potentially illegal means, including mob intimidation and violence.
But this level of bad faith about a matter involving nothing less than the durability of our political order requires a response: Democrats must say no to it. And the media has a role here, too. As Brian Beutler notes, this sort of GOP "bad acting" can no longer be covered as a "given."
Instead, the basic facts of the situation — like McCarthy's choice of Banks and Jordan — should be unflinchingly rendered as what they truly are: central to a broader campaign to cover up an effort to overturn our political order, a coverup saturated in a level of venality, bad faith and contempt for the public interest that has no place in a functioning democracy.
Read more:
CBS News 22 July, 2021 - 06:00am
NBC News 22 July, 2021 - 06:00am
USA TODAY 22 July, 2021 - 03:51am
Yahoo News 21 July, 2021 - 08:27pm
"I don't care if you think I'm Satan reincarnated," Biden said in response to a question from Don Lemon about House Minority Leader Kevin McCarthy's decision to remove all Republicans from the House's January 6 riot panel. "The fact is, you can't look at that television and say, 'Nothing happened on the 6th.' You can't listen to people who say this was a peaceful march. No, I'm serious."
The president additionally criticized rhetoric coming from "way off on the other side."
"QAnon, the idea that the Democrats, that Biden is hiding people and sucking the blood of children, and I'm serious," he said. "Now, you may not like me, and that's your right. Look, it's as simple as that. Usually, you can walk out and say, 'I just don't like the way that guy wears his tie. I'm voting against.' And you have a right to do that."
"But the kinds of things that are being said of late — and I think you're beginning to see some of that from Democrats as well, sort of the venom that leaks out of a lot of it — we've got to get beyond this," he continued.
"Unless Speaker Pelosi reverses course and seats all five Republican nominees, Republicans will not be party to their sham process and will instead pursue our own investigation of the facts," McCarthy told reporters Wednesday afternoon. "Denying the voices of members who have served in the military and law enforcement, as well as leaders of standing committees, has made it undeniable that this panel has lost all legitimacy and credibility and shows the Speaker is more interested in playing politics than seeking the truth."
You can watch the entire town hall on CNN.
Tags: News, Joe Biden, January 6, White House, Nancy Pelosi, Kevin McCarthy, U.S. Capitol Building, White House, CNN
Original Author: Christian Datoc
Original Location: Biden: 'You can't look at that television and say nothing happened on the 6th'
Biden says even people who think he's 'Satan reincarnate' have to know something happened on Jan. 6
The US president made the comment in response to a question as to whether he had confidence Congress could effectively investigate the Jan. 6 Capitol riot.
WASHINGTON (Reuters) -The top Republican in the U.S. House of Representatives on Wednesday withdrew his five nominees to serve on the special committee probing the deadly Jan. 6 attack on the Capitol after Democratic House Speaker Nancy Pelosi rejected two of them. Pelosi had earlier rejected Representatives Jim Jordan and Jim Banks, staunch defenders of former President Donald Trump, from serving on the panel investigating the Trump supporters who assaulted Congress in an attempt to stop it from certifying President Joe Biden's election.
What is a COVID-19 vaccine "breakthrough" case? COVID-19 vaccines work by teaching the body to recognize the virus. In studies, the two-dose COVID-19 vaccines by Pfizer and Moderna were around 95% effective at preventing illness, while the one-shot Johnson & Johnson shot was 72% effective, though direct comparisons are difficult.
Norfolk's Margaret Seaman spent up to 15 hours per day for two years working on the project — which even impressed the Queen Elizabeth herself — as a fundraising effort amid the coronavirus pandemic
Silver received support near $24.70 and is trying to settle above $25.00.
The group will investigate Trump's call with McCarthy on the day of the Capitol riot. "Nothing is off limits," Rep. Bennie Thompson told the Guardian.
An effort by liberal Democrats to lower the Medicare eligibility age by five years could add billions more to the $3.5 trillion infrastructure and social welfare package the party is aiming to pass without GOP votes.
Dax Shepard revealed on his Armchair Expert podcast that he's gained 24 lbs. of muscle during quarantine using "heavy testosterone injections."
The luminaries reiterated support for the largest digital token in an online talk Wednesday, sparking a rally in cryptos.
Hannity's pro-vaccine speech is welcome. But he's not the Fox News voice that matters most.
One real estate firm looking to buy 1,400 units has found its next property near Cotswold to preserve affordable housing.
A Massachusetts couple subjected to threats and other bizarre harassment from former eBay Inc. employees filed a civil lawsuit against the Silicon Valley giant on Wednesday. David and Ina Steiner say in their lawsuit filed in Boston federal court that the company engaged in a conspiracy to "intimidate, threaten to kill, torture, terrorize, stalk and silence them" in order to "stifle their reporting on eBay." The Natick residents, who run EcommerceBytes, an online newsletter focused on the e-commerce industry, say they were subjected to cyberstalking, death threats, bizarre deliveries, and in-person surveillance from company workers.
Tarrant, Alabama, city councilmen Tommy Bryant faces calls for his resignation after using the N-word during a council meeting Monday.
The Houston Rockets could have a tough decision to make with the No. 2 pick. Will they go with Gonzaga's Jalen Suggs or the G-League's Jalen Green?