Reno Omokri
renoomokri
Those complaining that @JeffBezos took only white people on his trip to space should first donate just $100 to a Black person in need before condemning Bezos. The man returned to Earth and donated $100 million to one Black man, @VanJones. That is better than space! #RenosNuggets pic.twitter.com/UqcZz87QfN
Jen Perelman
JENFL23
How long before Van Jones says the rich already pay enough in taxes? #TaxTheRich #VanJones #Bezos
Morgan J. Freeman
mjfree
Huh? Van Jones and chef Jose Andres Bezos to receive $100 million each from Jeff Bezos - CNN www.cnn.com/2021/07/20/media/van-jones-bezos-100-million/index.html

Mark Knoller
markknoller
Maybe @VanJones68 can use his $100-million Bezos prize money to reconcile @RandPaul and Dr Fauci, but might not be enough.
"No Rules Rules: Netflix and the Culture of Reinvention"
Get it now on Libro.fm using the button below.
How he got to his lofty perch is a combination of natural ability and extreme focus and discipline, said those who know him best. Professors described him as both intelligent and prepared, while fraternity brothers remember a driven friend who wouldn't let anything get in the way of his ultimate goals.
Schonfeld has grown into one of the industry's more prominent multi-managers thanks to years of solid performance, fundraising, and aggressive hiring. The firm's flagship fund, which runs more than $4 billion in capital, has an average annual return of more than 14% in the five full years it has been open to outside capital, an investor letter showed.
Tolkin is known for being plugged-in but not overbearing — someone portfolio managers and analysts can approach without feeling intimidated.
Now, after being appointed CEO at the beginning of the year and launching a new macro division more recently, Tolkin is riding as high as ever.
And Tolkin isn't shy about his drive. In 2018, the Duke grad told Insider that his goal for the firm was "to be the premier equities hedge fund globally."
Most people "would certainly" describe him as ambitious, he recently told Insider.
"Part of being ambitious is learning — learning from the best and what they've done, both their failures and their successes," he said.
Tolkin's first full-time job out of college was at Goldman Sachs, but he said, "Schonfeld was the first real job I ever had."
The billionaire Steven Schonfeld, who made his fortune leading an army of traders for decades, had his family office headquartered in the Long Island hamlet of Jericho, near where Tolkin grew up. His father, Bradley Tolkin, has run the travel agency World Travel Holdings for decades, which is how Schonfeld initially met the Tolkin family.
Ryan Tolkin described himself as a kid who was interested in math and finance, and he said his first exposure to investing was a stock-picking game put on by Newsday.
"I was the person growing up who knew, for all my favorite sports teams, the ERAs of all the pitchers and all the stats," he said, referring to the figure used to measure how many runs a pitcher would give up in a nine-inning game.
As part of a work-study program toward the end of high school, Tolkin interned at Schonfeld's multibillion-dollar family office, even taking a Series 7 — a licensing exam necessary to buy and sell a number of securities — so he could trade money for the firm as a teenager.
"I think he saw in me someone very similar to him," he said about Schonfeld, adding that the billionaire wanted Tolkin to return to the family office after college.
The big-name connection didn't go to Tolkin's head when he moved from Long Island, New York, to Duke University in Durham, North Carolina.
"One of the smartest students I ever taught, but he also prioritized coursework," said Emma Rasiel, a professor at Duke who was Tolkin's advisor for his thesis.
His hard work on his thesis even got the attention of a Duke alum from Lazard Asset Management, Rasiel said. Tolkin and Michael Sloyer, who went on to be a managing director for Goldman Sachs in Japan, coauthored a thesis on the VIX as a portfolio diversifier, something Lazard was thinking about at the time, Rasiel said.
She invited the alum to listen to Tolkin and Sloyer present their work, and the conversation continued into a long dinner, she said.
"It was never enough to just have the right answer. He wanted to know how he got the right answer and in what circumstances would it not be the right answer," Rasiel said.
While his college roommate Phil Haus described the pair's fraternity, Sigma Nu, as "work hard, play hard," he said "Ryan always was laser-focused on what he wanted to do" and didn't take anything for granted.
"He literally said on several occasions that he was going to be running a hedge fund in his early 30s, and wanted to work to get there," Haus said.
Though Schonfeld hoped Tolkin would return to his firm after graduating, Tolkin chose to join Goldman Sachs in a capital-structure-arbitrage role in hopes of expanding his markets knowledge and network.
But he joined in the summer of 2008, and he was soon moved to the credit-trading team as the firm navigated the financial crisis that bankrupted peers such as Lehman Brothers.
The housing and banking crisis of 2008 was the introduction to finance for many current leaders, shaping a generation of investors and executives. For Tolkin, the consequences of poor risk management were no longer theoretical.
"One of the things that we've done best is that we have evolved as the markets have," he said. One of his many responsibilities in his dual CEO-CIO role at Schonfeld is running a quantitative risk overlay book with a 10-person team that can quickly take advantage of market events such as the trading around GameStop and the Archegos meltdown.
He added: "It's not a 'best ideas' portfolio like you'd see at other multi-managers. I share a lot of vision, input, and ideas with the team" — who are mainly quants and who research the different theses.
His ideas come from reading everything — from news reports to novels — and from his conversations with the more than 90 portfolio managers he's working with. Examples of questions include "What do flows look like? Where are the crowded areas in the market?" he said.
"It's a book we use to manage risk across the portfolio," Tolkin said.
When the pandemic shut down the global economy last spring, Schonfeld, like many equity-focused funds, took a hit. But the firm rallied, finishing the year up 9.9% in its flagship fund. This year, through June, the flagship was up 8.8%, a source close to the firm said.
"We have a saying we like to use here: Prior planning prevents poor performance," Tolkin said.
"The goal at Schonfeld is always self-improvement," he added.
In 2013, Tolkin returned to Schonfeld after five years at Goldman. He was the 37th employee at the billionaire's family office. Tolkin came in as the CIO, a lofty title for someone who was still years away from celebrating his 30th birthday.
And he didn't come to idly protect his boss' immense wealth. He saw an opportunity to grow into a serious player in finance, and he took it.
"Steven's level of trust to really transform the firm was huge," said Phil Han, a Goldman Sachs partner who works closely with Tolkin in his role as a prime broker to the fund.
Tolkin, along with Schonfeld and Andrew Fishman, the firm's president, decided to open the firm up to outside capital in 2015.
"I thought about where I wanted, with the backing of Steven, to take the business," Tolkin said.
"If we were going to fulfill our vision of building a robust and competitive business, we were going to need some supplemental capital at some point in time," he continued.
They built out an internal long-short platform, and then international teams, partially through the 2018 acquisition of Folger Hill, which gave Schonfeld a strong presence in Asia. They added to their existing quant abilities throughout.
Now, the manager that didn't have any support staff in 2013 to help the new CIO set up his computer boasts more than 600 employees. A recent presentation on its portfolio managers showed offices across the US, Europe, and Asia.
"We say constantly that our talent is our strategy, and it was our strategy back then, too. The notion that I needed to surround myself with the right talent is the DNA of Schonfeld," Tolkin said. These investors come from big-name shops such as Citadel, Millennium, and Point72.
The most recent expansion is a foray into the macro and fixed-income space for the first time. Schonfeld persuaded Colin Lancaster, a former Citadel and Balyasny executive, to lead the space, and he has plans to hire people in the US and London to build out his team.
"I was incredibly impressed by his energy and his vision," Lancaster said of Tolkin.
"You have this leader who is deeply invested in and knowledgeable about all parts of the business. I think that is differentiated from what others have to offer," he added.
Han said Tolkin was easily one of the youngest people in his role at a major platform hedge fund, which "brings a different perspective to things. It's refreshing."
The firm is also taking steps to keep the talent pipeline flowing. Last September, it launched its Sapphire training program for analysts looking to move up the ladder.
Tolkin's achievements thus far have been impressive and led to some big-time personal purchases, including the $14 million, seven-bedroom Miami Beach mansion that he and his wife, Jefferies managing director Ariella Tolkin, bought earlier this year. (The 7,700-square-foot house on Biscayne Bay pales in comparison to the $111 million Palm Beach estate that Schonfeld himself bought in 2019.)
But business success isn't the be-all and end-all for Tolkin, the oldest of three brothers. Haus, his college roommate, called him the "quintessential big brother — the serious archetype."
"I think he got a lot of that from his dad," Haus said. He added that one of Tolkin's younger brothers, Sean, basically lived on their couch during junior year. At one point, all three Tolkin brothers — Ryan, Sean, and Conor — were at Duke. Sean is now a director at their father's travel agency, while Conor — who married Kara Dimon, a daughter of JPMorgan CEO Jamie Dimon — was poached by Wells Fargo last year from BNY Mellon.
"Family is so important to all of them," Haus said.
Lancaster, the new macro head, said Ryan Tolkin has embodied the supportive culture of Schonfeld that the firm preaches. After a vacation in early July, Tolkin sent around an email to senior staff thanking them for letting him take time off and encouraging them to take time to be with their families as well. Included in the email was a picture of his family, Lancaster said.
"In this business, you're always wary of a surprise, of a firm overpromising," Lancaster said. "I was really impressed with the lack of surprises here."
Lancaster's own due diligence uncovered the low turnover rate among portfolio managers at the firm. He said, "I hand that to Ryan, because I think all culture things are ultimately linked to the top." Since Tolkin started, only two portfolio managers have left the firm of their own accord, a source familiar with the firm said.
Goldman's Han has watched the firm grow from accepting outside capital to the $8.8 billion firm it is now, and he's impressed with how consistent the culture and communication have been. Tolkin himself is still often involved with day-to-day discussions with Goldman — anything from capital raising to a complex, new structuring for a particular portfolio.
"It draws you in. You feel more connected to them, like you have a stake in the business they are building," Han said.
And Tolkin plans to keep building, though the next step will be a group effort, he said.
"We are always opportunistic and open-minded to exploring new, orthogonal opportunities," he said.
Tolkin added, "I'm open-minded and encourage the team to bring me new ideas."
Read full article at Business Insider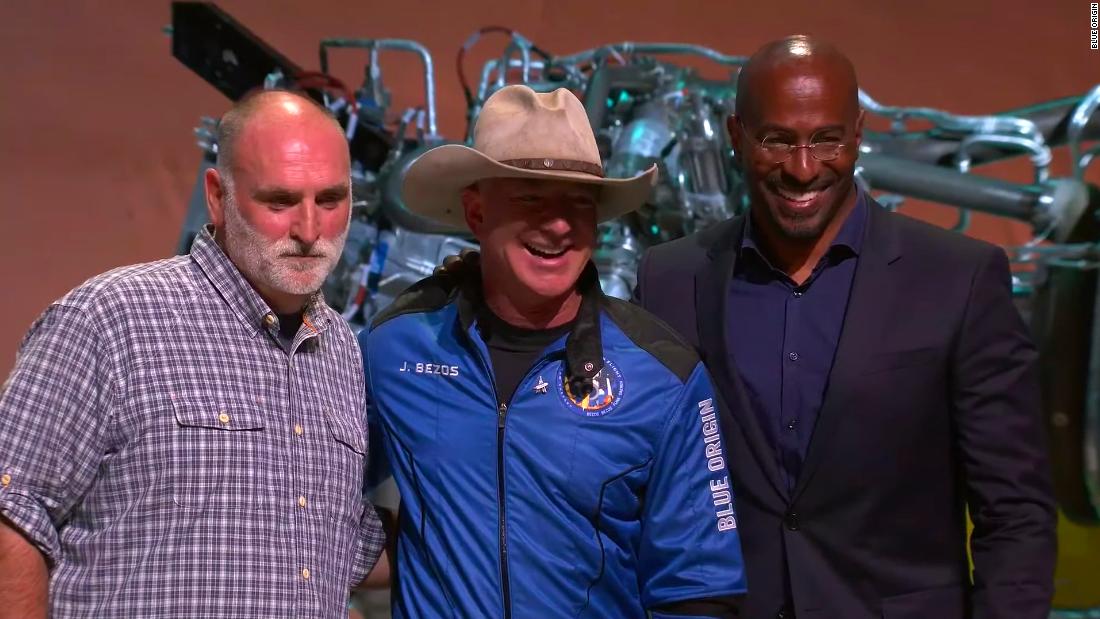 CNN 21 July, 2021 - 02:01pm
Updated 2:53 PM ET, Tue July 20, 2021
Fox Business 21 July, 2021 - 02:01pm
Quotes displayed in real-time or delayed by at least 15 minutes. Market data provided by Factset. Powered and implemented by FactSet Digital Solutions.  Legal Statement. Mutual Fund and ETF data provided by Refinitiv Lipper.
This material may not be published, broadcast, rewritten, or redistributed. ©2021 FOX News Network, LLC. All rights reserved. FAQ - New Privacy Policy
Jeff Bezos and his Blue Origin crew hold post-mission press conference.
Billionaire Jeff Bezos announced Tuesday he's shelling out a massive amount of his own cash to two men: the controversial CNN contributor Van Jones and celebrity chef José Andrés, each of them getting $100 million to direct to the charities of their choice.
In a surprise at the end of a media conference following his successful trip to sub-orbital space, the Amazon and Blue Origin founder unveiled his new "Courage and Civility Award," which he said "recognizes leaders who aim high and who pursue solutions with courage and who always do so with civility." Recipients receive $100 million to give away to charities or non-profits of their choice, and Bezos said awardees may direct all the funds to their own non-profits or "spread the wealth" to other organizations.
The move came minutes after his backlash-drawing comments that he wanted "to thank every Amazon employee and every Amazon customer because you guys paid for all this. So seriously, for every Amazon customer out there, and every Amazon employee, thank you from the bottom of my heart, very much." Some hit back at him on Twitter, demanding a "refund."
Jones has been an especially divisive public figure. The left-wing CNN commentator once dubbed himself a "communist" and previously called former President Donald Trump's election a "'White-lash.' This was a 'White-lash' against a changing country. It was a 'White-lash' against a Black president, in part." In another segment, he took aim at the National Rifle Association, essentially linking it to the Ku Klux Klan: "You have a whole generation of young people who essentially see the NRA as their enemy. To them, the NRA is like the KKK."
At his announcement, Bezos called Jones on stage, honoring the criminal justice reform advocate and Dream Corps founder as the first awardee.
"Sometimes dreams come true," Jones said as he addressed the crowd in an emotional acceptance speech.
He added, "If this small group of people can make miracles happen in outer space, a bigger group of people can make miracles happen down here, and we're going to do it."
"I know that Van Jones is going to do something amazing with that $100 million," Bezos said. "I don't know what yet, he doesn't know what yet, but it's in your hands."
The second awardee was celebrity chef José Andrés, who founded World Central Kitchen, a non-profit that provides food to victims in the wake of natural disasters. Andrés made headlines in 2020 for his charity's initiatives feeding hungry people in need in several places in the U.S. as the pandemic raged. 
"A plate of food is a plate of hope," Andrés said in his acceptance speech after expressing his gratitude to Bezos. "It is the fastest way to rebuild life and communities, and this award itself cannot feed the world on its own."
"But," he added, "this is the start of a new chapter for us, and allows us to think beyond the next hurricane to the bigger challenges we face."
This material may not be published, broadcast, rewritten, or redistributed. ©2021 FOX News Network, LLC. All rights reserved. FAQ - New Privacy Policy
CNN 21 July, 2021 - 02:01pm
NewsWest 9 21 July, 2021 - 02:01pm
BethesdaMagazine.com 21 July, 2021 - 11:15am
Chef José Andrés, who lives in Bethesda, and Van Jones, founder of Dream Corps and a CNN political contributor, will each receive a $100 million gift from Amazon founder Jeff Bezos to be shared with charities of their choice.
For Andrés, the money will go to World Central Kitchen, which has been addressing food insecurity needs around the world, particularly in the aftermath of disasters. [WTOP]
Mike Tyson's former Bethesda estate has sold, setting a record for its neighborhood, per the listing agent.
The nearly 19,000-square-foot mansion on Persimmon Tree Road sold Tuesday for $4.575 million, according to various listing sites. [Washington Business Journal]
The Gaithersburg City Council voted 3-2 on Monday in support of a $1.4 million contract to bulldoze the woods beginning late summer.
Council Members Robert Wu and Laurie-Anne Sayles opposed, requesting further studying of the proposed project. [WUSA]
Sunny, with a high around 89 and a low around 64
HollywoodLife 20 July, 2021 - 01:02pm
Following his trip to the edge of space on Tuesday (July 20), Jeff Bezos announced a new philanthropic venture at a press conference following the Blue Origin spaceflight: The Courage & Civility Award, a $100 million grant that the recipient can donate to the charities or nonprofits of their choice. The first two to be given such honor were newsman Van Jones and chef/humanitarian José Andrés, founder of World Central Kitchen. "I'm so honored. I'm really grateful for this award and the incredible support from you, Jeff, and the entire Bezos family," said José during the event.
Jeff Bezos presents World Central Kitchen founder @chefjoseandres with the new $100 million Courage and Civility Award.
"Let's feed the world," Andrés says. https://t.co/9rdIXTfMeg pic.twitter.com/xI62ZPrnlS
— Cheddar News 🧀 (@cheddar) July 20, 2021
"World Central Kitchen was born the simple idea that food has the power to create a better world," said José. "A plate of food is a plate of hope," he said, adding that food is the "fastest way to rebuild lives and rebuild communities. This award itself cannot feed the world on its own, but this is a start of a new chapter for us." He noted that the COVID-19 pandemic drove "tens of millions into hunger and starvation" and that the climate crisis also contributed to world hunger. "We cand and we must respond together: governments, businesses, nonprofits, every single citizen." At the end of the speech, José urged the world to think big, to work to end global hunger. "Let's feed the world."
As José plans the next course with this new grant, here's what you need to know.
José Ramón Andrés Puerta was born in July 1969 in Mieres, Asturias, Spain. While growing up outside Barcelona, José enrolled in cooking school at the age of 15. He attended the School of Restaurants and Hotels of Barcelona, according to PBS, and trained in "Michelin-starred restaurants including El Bulli with world-renowned Master Chef and friend Ferran Adrià." He found his way to the United States, working with Rob Wilder and Roberto Alvarez's Proximo restaurants. José, while heading the kitchen at Jaleo, helped create one of the first critically and commercially successful tapas restaurants in the United States and is credited with introducing Americans to avant-garde and traditional Spanish cooking.
"In 2010, my wife Patricia and I had a big dream to start World Central Kitchen," writes josé on the World Central Kitchen's mission page. "We envisioned an organization that would use food to empower communities and strengthen economies, and for many years we saw an amazing impact through our clean cookstoves initiative, culinary training programs, and social enterprise ventures. But we had no idea we would one day be answering calls in Puerto Rico and around the world to serve meals in the aftermath of disaster – and we quickly learned that food is a powerful tool to heal communities in times of crisis and beyond."
World Central Kitchen was fundamental in aiding Puerto Rico when it was devastated by Hurricane Maria in 2017, per the Washingtonian, and José transformed into the nation's "humanitarian in chief" during that crisis. Whenever a hurricane made landfall, World Central Kitchen was there, offering help. It continued to help with the COVID-19 pandemic when America's foodbanks were projecting a $1.4-billion shortfall.
In 2010, José taught a course in culinary physics at Harvard, per The Washington Post. In 2012, he was named Dean of Spanish Studies at The International Culinary Center. Later that year, he taught at George Washington University.
When the COVID-19 pandemic hit, José suggested that President Joe Biden use the Federal Emergency Management Agency (FEMA) to help those driven into hunger due to the global crisis. "This is very simple. This is the biggest emergency as a country we face in the last 100 years. …We have hunger crisis, we have people who're really suffering through this pandemic," he said, per The Hill. Ann Coulter, a conservative commentator, tweeted, "Some nut foreigner was just on MSNBC demanding that Biden appoint a 'Food Czar' to solve the 'national hunger crisis.' A dozen federal food programs is not enough!"
I'm so proud you called me a Nut. Nuts are fruits where the ovary walls become hard so I can be Protector of my people and everyone else. Nuts like me? energy-dense,nutrient-rich, what we need to feed USA. Nuts?You right girl, "foreigners" like almonds+pistachios!Happy holidays! https://t.co/W1rLCdeLIe
— José Andrés (@chefjoseandres) December 16, 2020
"I'm so proud you called me a Nut," José tweeted in response. " Nuts are fruits where the ovary walls become hard so I can be Protector of my people and everyone else. Nuts like me? energy-dense, nutrient-rich, what we need to feed the USA. Nuts? You right, girl, "foreigners" like almonds + pistachios! Happy holidays!"
In 2016, José had planned to open a restaurant named Topo Atrio in the newly renovated Old Post Office Pavilion on Pennsylvania Avenue in Washington. But, after Donald Trump announced his presidential candidacy by despairing undocumented Mexican immigrants, José withdrew the contract. Trump sued José, and the chef fired back with a counter-lawsuit, per the Washington Post. Though Trump boasted that he never settles lawsuits (even though he does so repeatedly, as the Washington Post noted), he and José settled in 2017. The terms were not disclosed, and José continued to be an outspoken critic of Trump.
Yahoo Finance UK 20 July, 2021 - 12:28pm
The prizes were announced at the end of a press conference to commemorate Blue Origin's trip to space, which carried Mr Bezos and three fellow passengers on the company's first ever crewed flight.
The first two prizes will be given to activist and TV personality Van Jones, and chef and humanitarian José Andrés. Mr Bezos suggested that further awards could be given away in the future.
Mr Bezos said that both of the recipients were not clear yet how the money would be spent. It could be given away to non-profits, either in one major sum or split between multiple ones, he said.
The Amazon founder has faced sustained criticism over his trip to space, and suggestions that he could better spend the money to fix problems on Earth. He has said such critics are "largely right", but denied that space travel and improvements at home are in conflict.
The new award seemed aimed at addressing some of that criticism, however, with Mr Bezos giving away a small part of his vast fortune with a view to creating new solutions.
Mr Bezos said that the prize was a new "philanthropic initiative". It came out of a belief that people are too quick to question people's "character or motives" rather than their "ideas".
He made the announcements as the press conference following the flight came to an end. During the discussion, he said that he had gained new perspective from the journey and that it had exceeded his expectations – before announcing the surprise award.
Mr Bezos did not give any indication of when or how often he would be giving away the "Courage and Civility" award. He said only that it aimed to recognise "leaders who aim high, pursue solutions with courage, and always do so with civility".
The TV commentator, author and activist Van Jones said after his award was announced that he would be spending the money to connect "grassroots" organisations with "the geniuses who have disrupted" a variety of industries – so that they could look to "disrupt poverty" and the other problems facing the world.
José Andrés, the Spanish Chef who founded the non-profit World Central Kitchen, seemed to be on the edge of tears as he received his award. He said he was "honoured" and "really grateful".
EXCLUSIVE: Janel Parrish (Pretty Little Liars) and Jonathan Bennett (Mean Girls) have signed on to star in Myles Clohessy's indie horror film, The Bog. They join previously announced cast members Mark Ryder (Borgia), Timothy Murphy (Westworld) and Robert Clohessy (Blue Bloods) in the film, which goes into production in Ireland and Scotland in October. Inspired by haunting […]
United Airlines Holdings (NASDAQ: UAL) sees post-pandemic demand returning ahead of schedule, and the forecast is causing the entire airline industry to take flight. Shares of United traded up as much as 5.7% on Wednesday, while shares of American Airlines Group (NASDAQ: AAL), JetBlue Airways (NASDAQ: JBLU), and Spirit Airlines (NYSE: SAVE) are each up 5%. It has been a choppy week for airline stocks, with sector investors torn between hope that the post-pandemic recovery can continue and fear that new variants could lead to a new wave of travel restrictions and lockdowns.
Pay freeze for England's teachers a 'slap in the face', say unionsSchool leaders hit back saying once inflation was taken into account, the government's freeze amounts to a pay cut Unions said teachers and other education staff are key workers and have contributed to the UK's pandemic response. Photograph: Anthony Harvey/Rex/Shutterstock
LIVERMORE, Calif., July 21, 2021--Class Of Your Own (COYO), a social enterprise dedicated to helping the construction industry engage with schools and educators to develop the skills of young people, has debuted a new online learning portal. "DEC SCHOOL," kickstarted by the sponsorship of Topcon Positioning Systems — makes COYO's award-winning "Design Engineer Construct!" learning program available anywhere in the world, enabling children and young people to quickly and easily gain an introducti
"We want to fight all forms of discrimination and as a group of women we wanted to kneel against it," Great Britain team captain Steph Houghton said on Wednesday
FORT WORTH, Texas, July 21, 2021--GENERAL MOTORS FINANCIAL COMPANY, INC. ("GM Financial" or the "Company") will release its second quarter 2021 operating results on Wednesday, August 4, 2021.
Unsurprisingly, though, many travelers are favoring private vacation homes over hotels. Not only do these properties offer more space and privacy, but for families with unvaccinated children, they can also be a safer prospect. During 2021's first quarter, Airbnb saw bookings increase a whopping 52% year over year (YOY).
Marlo Kelly (Dare Me) is set for a key role opposite Kate McKinnon and John Cameron Mitchell in Joe Exotic (working title), Peacock's limited series based on the Wondery podcast. Joe Exotic (wt) centers on Carole Baskin (McKinnon), a big cat enthusiast, who learns that fellow exotic animal lover Joe "Exotic" Schreibvogel (Mitchell) is breeding […]
Public Storage (NYSE: PSA) has been red-hot over the past year. The self-storage REIT (real estate investment trust) has rallied nearly 60%, pushing its stock price above $300 a share. While that price point makes it seem expensive, a closer look suggests Public Storage's stock is cheaper than it appears.
(Bloomberg) -- Stocks climbed as a slew of solid corporate profits took the focus off concerns about the economic impact of coronavirus flareups around the globe. The dollar fell, while Bitcoin surged.After a bruising selloff driven by worries over a peak in earnings and a slowdown in growth momentum, the S&P 500 marched toward its biggest back-to-back rally in two months. Once again, the advance was led by companies that stand to benefit the most from a reopening of the economy, such as commodi
Eritrean footballers on the run face anxious wait in push for safe haven . Four players hiding in Uganda since December 2019 are waiting for a resolution and wondering what might have been
LOUISVILLE, Ky ., July 21, 2021--Republic Bancorp, Inc. Declares Common Stock Dividends
MERRILL, Wis., July 21, 2021--As America's pandemic recovery efforts progress and more organizations open their doors, safety remains paramount for houses of worship and their members. According to data from Church Mutual Insurance Company, S.I. (a stock insurer)1, worshippers' top safety concern beyond COVID-19 exposure (63%), is the threat of armed intruders/physical violence (17%). This is followed closely by natural disasters/acts of nature (16%), cybersecurity/data breach (14%) and sexual m
Amsterdam, 21 July 2021 --- AMG Advanced Metallurgical Group N.V. ("AMG", EURONEXT AMSTERDAM: "AMG") will release its second quarter 2021 financial results on Wednesday, July 28, 2021 at approximately 17:30 CEST. AMG will host a conference call to discuss its financial results for the second quarter 2021 on the same day at 18:30 CEST (17:30 BST / 12:30PM EDT). Please connect approximately 10 minutes prior to the beginning of the call to ensure participation. The call-in information is as follows
Brian Hickerson says Hayden Panettiere is allowing him to make "amends" for past abuse.