Eric Feigl-Ding
DrEricDing
📍Daunting—German analysis finds, with #DeltaVariant being more contagious, population needs much higher vaccination rate: >=85% of population must be fully immunized in order to contain #Delta, & 90% age 60+. We need masks/ventilation until then. #COVID19 www.spiegel.de/wissenschaft/medizin/coronavirus-rki-haelt-impfquote-von-mindestens-85-prozent-fuer-notwendig-a-8f377c54-7de1-43ea-b0d7-4b90bef3ce9b
Gavan Reilly
gavreilly
Updated modelling going to Cabinet today it seems… Delta variant: Fears grow within Government of 1,000 Covid-19 cases a day by July 19th (via @IrishTimes) www.irishtimes.com/news/politics/delta-variant-fears-grow-within-government-of-1-000-covid-19-cases-a-day-by-july-19th-1.4612471

Carl Bildt
carlbildt
The Delta variant of COVID-19 has now been confirmed in 96 countries, and the virus continues to evolve. In 20 countries around the world there is now exponential increase of infections, and the overall global situation is starting to see an increase. @ACTAccelerator

Leana Wen, M.D.
DrLeanaWen
Speaking with @JohnBerman @AC360: Given Israeli course change, CDC needs to provide guidance ASAP on the Delta variant, such as: -Rate of vaccinated people who still get #covid19 -Likelihood of the vaccinated transmitting to others (including young kids) www.ft.com/content/0b3da41e-6390-4f4b-866c-da5c6aec7f5e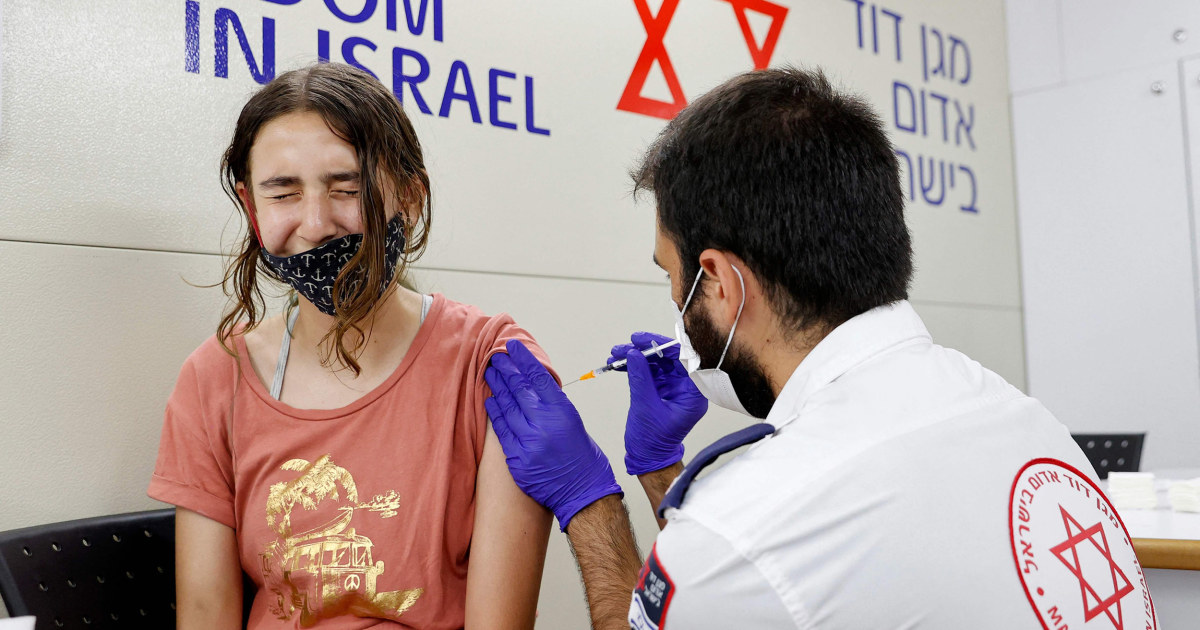 The decline coincided with the spread of the delta variant and the end of social distancing restrictions in Israel.
Vaccine effectiveness in preventing both infection and symptomatic disease fell to 64 percent since June 6, the Health Ministry said. At the same time the vaccine was 93 percent effective in preventing hospitalizations and serious illness from the coronavirus.
The ministry in its statement did not say what the previous level was or provide any further details. However ministry officials published a report in May that two doses of Pfizer's vaccine provided more than 95 percent protection against infection, hospitalization and severe illness.
A Pfizer spokesperson declined to comment on the data from Israel, but cited other research showing that antibodies elicited by the vaccine were still able to neutralize all tested variants, including delta, albeit at reduced strength.
About 60 percent of Israel's 9.3 million population have received at least one shot of Pfizer's vaccine in a campaign that saw daily cases drop from more than 10,000 in January to single digits last month.
This spurred Israel to drop nearly all social distancing as well as the requirement to wear masks, though the latter was partially reimposed in recent days. At the same time delta, which has become a globally dominant variant of the coronavirus, began to spread.
Since then daily cases have gradually risen, reaching 343 on Sunday. The number of seriously ill rose to 35 from 21.
Data scientist Eran Segal of Israel's Weizmann Institute of Science said the country was unlikely to experience the high levels of hospitalizations seen earlier in the year since there were much fewer critically ill.
He said it was fine to "continue with life back to normal and without restrictions" while stepping up measures like vaccination outreach and ensuring testing for Israelis returning home from abroad.
Read full article at NBC News
WTVR CBS 6 06 July, 2021 - 07:04am
Eyewitness News 06 July, 2021 - 07:04am
Last month, the Indian government detected a new mutation in the Delta coronavirus variant, prompting it to classify it as a variant of concern.
The Indian health ministry classifies a variant as one of concern as soon as there's evidence for increased transmission.
The new variant, known as "Delta plus", AY.1 or B.1.617.2.1, has an extra mutation in the spike protein of the SARS-CoV-2 virus, the virus that causes COVID-19.
This mutation was found in samples from 48 people infected with the Delta variant in India, out of more than 45,000 samples.
So how is this variant different, and can it escape vaccine protection?
The more infectious Delta variant of the coronavirus has spread across the globe and is on track to become the world's dominant strain, according to the World Health Organization.
The variant has been the dominant strain that led to the crippling second wave in India.
90% of new coronavirus cases in Russia are caused by the Delta variant, according to state media. Russia is also reporting the first confirmed case of Delta Plus
Studies have found it can replicate faster, spread more easily, and bind more strongly to lung cell receptors.
Also, in a pre-print study yet to be peer-reviewed, Delhi researchers found the variant caused three-quarters of "breakthrough infections" in the city. These are infections in people who've been vaccinated. Around 8% of these breakthrough infections had the Kappa variant, and 76% had the Delta variant.
The new mutation in the Delta variant was first detected in Europe in March.
In June, COVID patients in India were also found to have the mutant virus. These developments have raised concerns.
Some scientists in India fear the mutation may fuel another wave of infections in the country.
All you need to know about the Delta Plus Variant of Covid-19 (1/2) pic.twitter.com/BEpIxlLtMO
The mutation in the spike protein of the virus, however, is not new. Known as "K417N", it has been previously reported in the Beta variant first found in South Africa. The Beta variant with this mutation has shown an ability to escape the antibodies conferred by COVID vaccination, at least to some extent. In other words, there's the possibility COVID vaccines will not protect against this mutation so effectively.
According to the Indian health ministry, Delta plus could have a similar ability to evade immunity and an ability to reduce the effect of monoclonal antibody therapies used to treat COVID.
The mutation is worrying because it's located on a key portion of the virus, the spike protein, used to penetrate human cells.
Previous mutations have been on the "receptor binding domain" of the spike protein that allows the virus to attach to the receptors in our cells.
The unique mutations in the Delta variant mean the virus can escape the immune system to some extent. Indeed, Delta has shown to reduce efficacy of vaccines somewhat. This means a single dose of vaccine may offer reduced protection.
However, a second dose has been shown to produce enough antibodies against symptomatic infection and severe disease. It's important to remember most COVID vaccines don't provide absolute sterilising immunity, but work to reduce the severity of disease.
UK researchers found the Pfizer vaccine had an efficacy of 33% against Delta after a single shot, and 88% after both doses. In the case of the AstraZeneca vaccine, the efficacy was just 33% after the first dose but went up to 60% after the second dose.
The Delta plus variant might have a similar degree of reduction in efficacy against the vaccines currently in use. Though we're yet see good data on whether this is the case.
Studies are under way in India to assess the effectiveness of vaccines against Delta plus.
It's important to note Delta plus hasn't yet taken off substantially, and the World Health Organization hasn't yet classified it as a variant of concern.
Variants with increased transmissibility and the potential to escape antibodies pose a threat to efforts to control and mitigate the pandemic. And countries with low vaccination rates may see new outbreaks.
How should our response change? Despite the mutations, no extra special measures need to be taken. We must continue to get maximum numbers of people vaccinated, increase genomic surveillance to track the evolution of the virus, and follow COVID-appropriate behaviour.
New Scientist News 06 July, 2021 - 07:04am
Zero-covid countries: Countries that have successfully kept covid-19 at bay through elimination strategies are losing control through a combination of new variants, a lapse in vigilance and low vaccine uptake.
Oxford vaccine: The Oxford/AstraZeneca vaccine has saved 27,000 deaths in England since the beginning of the year. We spoke to some of its creators – Sarah Gilbert, Catherine Green and Theresa Lambe – about the rollercoaster of events that led to this historic achievement.
Lockdown boredom: Many people are experiencing boredom during lockdown. Book Out of My Skull brings together decades of research on this familiar yet elusive feeling, writes Elle Hunt.
New Scientist Weekly features updates and analysis on the latest developments in the covid-19 pandemic. Our podcast sees expert journalists from the magazine discuss the biggest science stories to hit the headlines each week – from technology and space, to health and the environment.
The Jump is a BBC radio 4 series exploring how viruses can cross from animals into humans to cause pandemics. The first episode examines the origins of the covid-19 pandemic.
Why Is Covid Killing People of Colour? is a BBC documentary, which investigates what the high covid-19 death rates in ethnic minority patients reveal about health inequality in the UK.
Panorama: The Race for a Vaccine is a BBC documentary about the inside story of the development of the Oxford/AstraZeneca vaccine against covid-19.
Race Against the Virus: Hunt for a Vaccine is a Channel 4 documentary which tells the story of the coronavirus pandemic through the eyes of the scientists on the frontline.
The New York Times is assessing the progress in development of potential drug treatments for covid-19, and ranking them for effectiveness and safety.
Humans of COVID-19 is a project highlighting the experiences of key workers on the frontline in the fight against coronavirus in the UK, through social media.
Belly Mujinga: Searching for the Truth is a BBC Panorama investigation of the death of transport worker Belly Mujinga from covid-19, following reports she had been coughed and spat on by a customer at London's Victoria Station.
Coronavirus, Explained on Netflix is a short documentary series examining the coronavirus pandemic, the efforts to fight it and ways to manage its mental health toll.
COVID-19: The Pandemic that Never Should Have Happened, and How to Stop the Next One by Debora Mackenzie is about how the pandemic happened and why it will happen again if we don't do things differently in future.
The Rules of Contagion is about the new science of contagion and the surprising ways it shapes our lives and behaviour. The author, Adam Kucharski, is an epidemiologist at the London School of Hygiene and Tropical Medicine, UK, and in the book he examines how diseases spread and why they stop.
Post-pandemic society: As well-vaccinated countries see a path back to normality from the coronavirus, the greener lifestyles we adopted and hoped to make permanent seem to be slipping away, says Graham Lawton.
Vuk Valcic/SOPA Images/LightRocket via Getty Images
Brain changes: Studies show the impact of covid-19 on the brain, with the virus affecting consciousness, cognition and possibly even risk of dementia in later life.
Booster vaccines: A third shot of coronavirus vaccine boosts the immune system, while "mix and match" jabs also work well, new data shows.
Dinendra Haria/SOPA Images/LightRocket via Getty Images
Period changes: Thousands of people have reported altered periods after receiving a covid-19 vaccine, but it is still unclear whether this is a coincidence or could be explained by other causes, such as stress. 
Long covid: Millions of people worldwide are experiencing lasting symptoms from covid-19. Here is everything we know so far about this new and complex disease. 
Inside the long covid clinic: New Scientist meets the patients and doctors at the UK's first long covid clinic, discovering what treatments are making the biggest difference to people with long-term symptoms of the disease.
Long covid: Millions of people worldwide are experiencing lasting symptoms from covid-19. Here is everything we know so far about this new and complex disease. 
Inside the long covid clinic: New Scientist meets the patients and doctors at the UK's first long covid clinic, discovering what treatments are making the biggest difference to people with long-term symptoms of the disease.
More than four in five adults across the UK have received a first dose of a covid-19 vaccine as of 21 June, and 59.5 per cent have received two vaccine doses. The World Health Organization (WHO) has previously advised that wealthy countries, such as the UK, should donate spare covid-19 vaccine doses to poorer nations before arranging to give third doses to fully vaccinated people. "Top-ups and other extra things and extra protection for people in the wealthy countries [...] should come a bit later," David Nabarro, WHO special envoy on covid-19, told the BBC in May.
Covid-19 risk: The chance of getting covid-19 after being vaccinated drops sharply 21 days following a first dose, new analysis suggests. 
Infection risk: Several studies suggest that reinfection with SARS-CoV-2 is fairly rare in Europe and the US and when it does happen, symptoms are less severe second time round.
Antiviral hope: In patients with severe covid-19 who had no natural antibody response, a therapy containing two antibodies reduced mortality by a fifth.
Delta variant: Models predicting a possible huge third wave of covid-19 cases and evidence that the delta variant of coronavirus increases hospitalisation risk are behind the decision to delay easing of lockdown in England.
The US has bought 500 million doses of Pfizer/BioNTech covid-19 vaccines to donate to other countries through the COVAX vaccine sharing initiative. The doses will go to 92 low- and lower-income countries.
Vaccine clots: The Oxford/AstraZeneca coronavirus vaccine may be associated with a slightly increased risk of some bleeding disorders, according to new data, but such cases are very rare and the vaccine's benefits continue to outweigh the risks, say researchers.
Hancock also said he has asked the Joint Committee on Vaccination and Immunisation (JCVI) to advise on whether the vaccination programme should be extended to children, following the decision by the medicines regulator to approve the Pfizer/BioNTech jab for children aged 12 to 15.
Vaccines for children: The UK medicines regulator has approved the Pfizer/BioNTech coronavirus vaccine for use in children aged 12 to 15, but the independent vaccination committee has not yet decided whether to extend the roll-out.
Future pandemics: Could we make vaccines for future pandemics within 100 days? That is the aim of a new global plan by governments and life science industry leaders.
Long-lasting symptoms: Neurological and psychiatric symptoms such as anosmia and depression are common among people with covid-19 and may be just as likely in people with mild cases, new research suggests.
Vaccine hesitancy: People who obtain information from social media sites such as YouTube are less willing to be vaccinated than others, findings from a UK study show.
Delta variant: The highly transmissible coronavirus variant formerly known as B.1.617.2 has already become the dominant one in the UK, France, Japan and elsewhere.
Naming variants: Remembering which coronavirus variant is which just became simpler – the World Health Organization has announced a scheme for naming variants based on the Greek alphabet.
Rising infections: Experts have warned that the UK government may have to reconsider plans to lift restrictions in England on 21 June with infection numbers rising.
Five key charts: Hannah Ritchie from Our World In Data picks her top five charts that show how the coronavirus pandemic has played out across the world.
Covid-19 origins: The debate over covid-19's origins rumbles on. What is the evidence for and against a lab leak? And what evidence will finally prove it one way or another?
Our World In Data: As head of research at Our World in Data, Hannah Ritchie has played a central role in making covid-19 data easily accessible around the world. She spoke to New Scientist about her view of the pandemic and what might happen next.
Johnson & Johnson vaccine: The coronavirus vaccine developed by Johnson & Johnson's pharmaceutical arm Janssen, which is a single-dose vaccine, has now been approved by the UK medicines regulator.
Animal coronaviruses: Cats, dogs and farm animals host coronaviruses that have been studied for decades. That research could provide valuable insights in the fight against covid-19, including whether our vaccines can end the pandemic.
The Guardian reported that figures supplied by NHS trusts in England show that 32,307 people in the country "probably or definitely" contracted covid-19 while in hospital for another medical problem between March 2020 and March 2021, and 8747 of them died from the disease.
Vaccination race: The director-general of the World Health Organization has called for a massive drive to vaccinate at least 10 per cent of every country in the world by September, and 30 per cent by the end of the year.
See previous updates from May 2021, April-March 2021, February 2021, January 2021, November/December 2020, and March to November 2020.