IOC MEDIA
iocmedia
The IOC and Tokyo 2020 have spoken to Krystsina Tsymanouskaya directly tonight. She is with the authorities at Haneda airport and is currently accompanied by a staff member of Tokyo 2020. She has told us that she feels safe. /1
Sviatlana Tsikhanouskaya
Tsihanouskaya
Grateful to #IOC for the quick reaction to the situation with the Belarusian athlete Krystsina Tsymanouskaya. She has a right to international protection & to continue participation in the @Olympics. It is also crucial to investigate Belarus' NOC violations of athletes' rights. pic.twitter.com/QQHuhgcYqs
Marcin Przydacz
marcin_przydacz
Poland 🇵🇱 is ready to help Kryscina Tsimanouskaya a Belarusian athlete ordered by the Lukashenka regime to return form Olympic Games to Minsk. She was offered a humanitarian visa and is free to pursue her sporting career in Poland if she so chooses.
Sviatlana Tsikhanouskaya
Tsihanouskaya
Belarusian athlete Krystsina Tsymanouskaya was forced by the regime to leave the @Olympics in Tokyo & fly to Belarus after criticizing Belarus' management of the national team during the games. She's afraid to come back to Minsk. No athlete should be forced this way. pic.twitter.com/1Ros5scrJG
The sprinter, Krystsina Tsimanouskaya, sought the protection of Japanese police at Haneda Airport on Sunday after she refused to board a flight to Minsk, the International Olympic Committee and Japanese authorities confirmed.
"They are trying to get me out of the country without my permission," Tsimanouskaya, 24, said in a videotape posted online by the Belarusian Sport Solidarity Foundation, or BSSF, a dissident athletic organization.
The IOC confirmed in a tweet Sunday that Tsimanouskaya "is with the authorities at Haneda airport."
"She has told us she feels safe," it said.
The IOC and Tokyo 2020 have spoken to Krystsina Tsymanouskaya directly tonight. She is with the authorities at Haneda airport and is currently accompanied by a staff member of Tokyo 2020. She has told us that she feels safe. /1
The Polish government was the first to offer Tsimanouskaya a safe haven.
"She was offered a humanitarian visa and is free to pursue her sporting career in Poland if she so chooses," Deputy Foreign Affairs Minister Marcin Przydacz said on Twitter.
The Czechs also offered to take in Tsimanouskaya, and the BSSF said she may seek asylum in Germany or Austria.
Tsimanouskaya's escape, which was first reported by Reuters, came as Belarusian President Alexander Lukashenko has been widely criticized for his brutal crackdown on political opponents trying to remove him from an office he has held since 1994.
The president of Belarus' Olympic committee is Lukashenko's son Victor.
The National Olympic Committee of the Republic of Belarus and the Belarusian Consulate in Tokyo did not immediately respond to requests for comment.
Exiled Belarusian opposition leader Sviatlana Tsikhanouskaya called on the IOC to protect the sprinter and accused the Lukashenko regime of trying to "kidnap" her, likening the airport incident to the forced landing in May of a Ryanair jet in Minsk to arrest the dissident journalist Roman Protashevich and his girlfriend, Sofia Sapega.
Tsimanouskaya, who ran in the women's 100-meter heats Friday, was supposed to run in the 200-meter heats Monday and the 4x400-meter relay Thursday. She said she got in trouble with her coaches after she complained on Instagram that she was being to made to run the relay after other members of the team were deemed ineligible to compete at the Olympics because they not undergone all the doping tests.
"Some of our girls did not fly here to compete in the 4x400-meter relay because they didn't have enough doping tests," Tsimanouskaya told Reuters at the airport. "And the coach added me to the relay without my knowledge. I spoke about this publicly. The head coach came over to me and said there had been an order from above to remove me."
The Belarusian contingent has been visible outside the Olympic village, mostly men traveling in pairs with their country's name emblazoned on the backs of their workout jackets or polo shirts. On Sunday, two Belarusian photographers were doing a photo shoot at the Tokyo Big Sight elevated train station with a young woman. It was not clear whether she was an athlete or a model.
Read full article at NBC News
Kyodo News Plus 02 August, 2021 - 03:02pm
A Belarusian sprinter who refused to board a flight home after saying her team forced her out of the Tokyo Olympics is "safe and secure" in Japan, the International Olympic Committee said Monday.
"I've been put under pressure, and they are trying to take me out of the country without my consent," Krystsina Tsimanouskaya had said in a video posted on social media the previous day.
The IOC is seeking clarification on the incident from the Belarusian National Olympic Committee, spokesman Mark Adams told a press briefing.
Separately, Japan's top government spokesman Katsunobu Kato said the sprinter, who sought protection from police at Tokyo's Haneda airport, is in a "safe situation with the cooperation of related organizations," and they are working to confirm her intentions.
Tsimanouskaya had complained via social media that her coach entered her in the 4x400 relay despite not training for the event. The 24-year-old ran in the 100 meters and was listed for the 200-meter heats on Monday but did not compete.
The Belarusian National Olympic Committee is headed by Viktor Lukashenko, son of the country's president Alexander Lukashenko.
Both have been banned from attending the Tokyo Olympics amid allegations that the national committee discriminated against athletes who took part in protests against the president's controversial re-election.
"I'm afraid that in Belarus I may be imprisoned. I'm not afraid of being fired or kicked out of the national team. I worry about my safety," the Belarusian Sport Solidarity Foundation, a group that supports athletes persecuted for their political views, quoted Tsimanouskaya as saying.
She plans to seek asylum in Europe, the group said.
Adams said Tsimanouskaya spent the night at a hotel near the airport and was in touch with local police as well as the Office of the U.N. High Commissioner for Refugees.
"The IOC and Tokyo 2020 will continue to have conversations with her and the Japanese authorities to determine the next step in the upcoming days," Adams said.
"We're talking again to her this morning to understand what those next steps could be, what she wants to pursue, and we will give her support in that decision," he said.
Several European countries offered to assist Tsimanouskaya, with Slovenian Prime Minister Janez Jansa tweeting that she is "welcome" in his country.
"The Czech Republic is ready to help," Foreign Minister Jakub Kulhanek said on Twitter, calling the incident "scandalous" and offering to issue her a visa and provide help through the Czech Embassy in Tokyo.
Polish Foreign Ministry official Marcin Przydacz also tweeted that his country is prepared to give her a visa, saying she is "free to pursue her sporting career in Poland if she so chooses."
1 hour ago | KYODO NEWS
Jul 12, 2021 | KYODO NEWS
Jul 8, 2021 | KYODO NEWS
Jul 8, 2021 | KYODO NEWS
Jul 10, 2021 | KYODO NEWS
Jul 9, 2021 | KYODO NEWS
1 hour ago | KYODO NEWS
2 hours ago | KYODO NEWS
2 hours ago | KYODO NEWS
Aug 1, 2021 | KYODO NEWS
Aug 1, 2021 | KYODO NEWS
Aug 1, 2021 | KYODO NEWS
Aug 1, 2021 | KYODO NEWS
Aug 1, 2021 | KYODO NEWS
To have the latest news and stories delivered to your inbox, subscribe here. Simply enter your email address below and an email will be sent through which to complete your subscription.
Please check your inbox for a confirmation email.
If you wish to change your message, press 'Cancel' to go back and edit.
HuffPost 02 August, 2021 - 01:30am
No teams in your favorites yet.
SAN DIEGO -- Season-ending shoulder surgery for San Diego Padres star shortstop Fernando Tatis Jr. is "on the table" if his condition does not improve enough over the next 10 days, according manager Jayce Tingler.
The Padres placed Tatis on the 10-day injured list Saturday, a day after he partially dislocated his left shoulder for the third time this season.
The Padres announced the move prior to their 5-3 loss to the Colorado Rockies. Tingler said after the game that Tatis would be evaluated in 10 days.
San Diego also placed right-hander Chris Paddack on the IL with an oblique injury.
Tatis, the National League's starting shortstop in the All-Star Game, was injured Friday night while sliding awkwardly into third base in the first inning against the Rockies. He was in pain as he was led off the field by Tingler and a trainer.
Tingler said Tatis was "a little bit more sore than maybe some of them we've had in the past."
The Padres, who are in third place in the NL West and in control of the second wild-card spot, are keeping their fingers crossed that the electrifying 22-year-old Tatis will return in 10 days.
Tatis leads the NL with 31 home runs. He's hitting .292 with 70 RBIs.
BBC News 02 August, 2021 - 01:30am
Krystsina Tsimanouskaya says she was forced to pack before being taken to the airport in Tokyo against her will.
The 24-year-old says she sought police protection at the terminal so she would not have to board the flight.
"I think I am safe. I am with the police," she was heard saying, as she was pictured surrounded by officers.
The sprinter, who was due to compete in the women's 200m event on Monday, had complained on social media about being entered into another race at short notice.
She says she was "put under pressure" by team officials to return home and asked the International Olympic Committee (IOC) for help.
"They are trying to get me out of the country without my permission," she said in a video posted on the Telegram channel of the Belarusian Sport Solidarity Foundation (BSSF), a group that supports athletes jailed or sidelined for their political views.
The IOC said it was seeking clarification from Belarussian officials - who earlier said she was taken off the team because of her "emotional and psychological condition".
In a later message, the IOC said it had spoken to Ms Tsimanouskaya. "She has told us she feels safe," it said.
The flight took off without Ms Tsimanouskaya on board. She is now "safe" and in police protection, the BSSF's Anatol Kotau told the BBC.
Earlier Ms Tsimanouskaya told radio station European Radio for Belarus (ERB) she was afraid to return to her country.
She had previously alleged in a video posted online that she was entered into this Thursday's 400m relay event at short notice by Belarusian officials, after some teammates were found to be ineligible to compete.
State media criticised her after she posted the video, with one television channel saying she lacked "team spirit".
On Sunday, she claims officials came to her room and gave her an hour to pack her bags before being escorted to Tokyo's Haneda airport.
She said she had been removed from the team due "to the fact that I spoke on my Instagram about the negligence of our coaches".
The BSSF was set up in August 2020 to support athletes during protests against President Alexander Lukashenko, re-elected last year in a disputed presidential vote.
Government forces brutally cracked down after hundreds of thousands protested about the election. Some of those who took part were also national-level athletes, who were stripped of funding, cut from national teams and detained for demonstrating.
Ms Tsimanouskaya is now said to be considering seeking asylum in Europe.
Several countries, including the Czech Republic and Poland, have said they are ready to offer her a visa and protection.
But the sprinter remains "frightened" about her family's safety, Mr Kotau of the BSSF told the BBC.
"She's afraid of repression on her family in Belarus - this is the main concern for her right now," he said.
The UK accuses Tehran of violating international law, while Iran calls the accusations "baseless".
15 sayings from around the world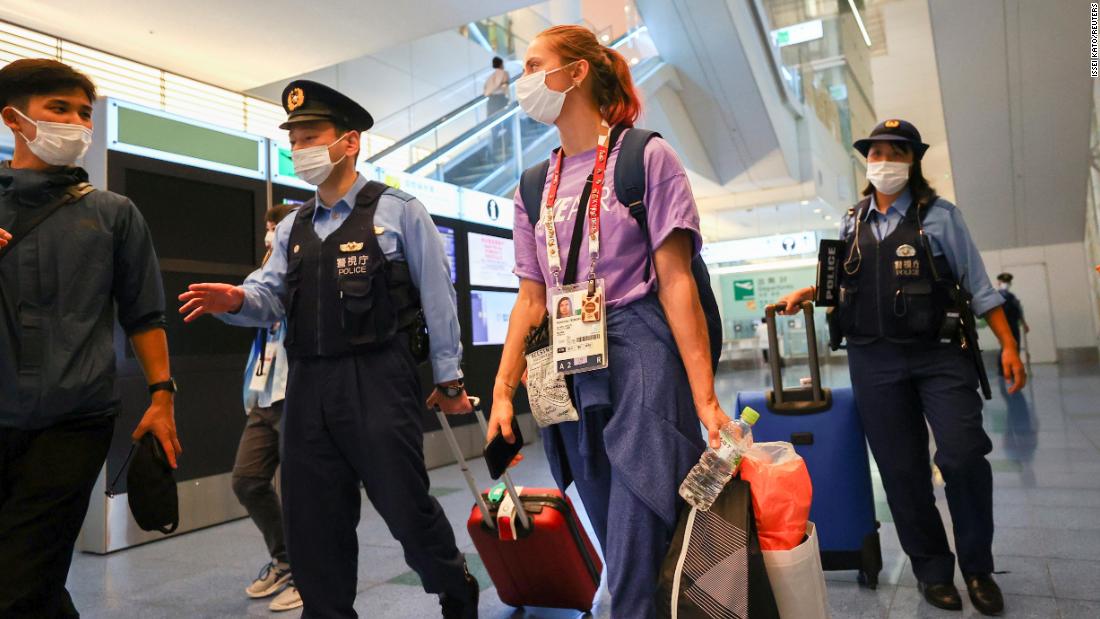 CNN 02 August, 2021 - 01:30am
Updated 4:48 PM ET, Sun August 1, 2021
CNN's Olga Pavlova contributed to this report
You can set your browser to block or alert you about these cookies, but some parts of the site will not work.
Sky News 02 August, 2021 - 01:30am