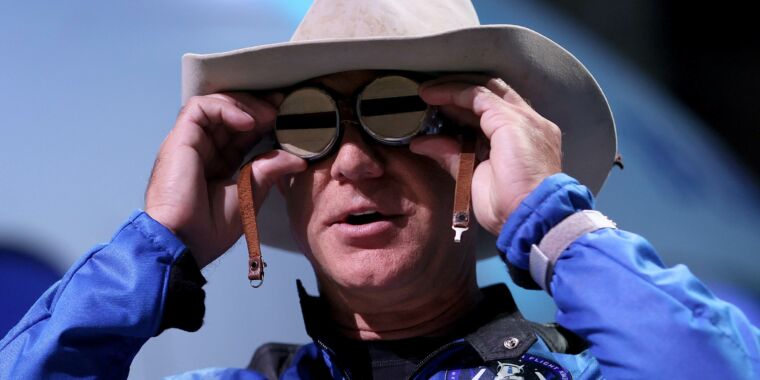 Sign up or login to join the discussions!
Blue Origin has chosen to continue fighting NASA's selection of SpaceX to build a Human Landing System as part of the Artemis Moon Program.
The company filed suit in the US Court of Federal Claims on Friday and received a protective order to seal the documents on Monday. The lawsuit follows a decision in late July by the US Government Accountability Office that rejected a protest by Blue Origin and Dynetics over NASA's $2.9 billion award to SpaceX to further development of its Starship program.
The new lawsuit escalates Blue Origin's feud with NASA. As recently as last week, senior leaders at NASA and Blue Origin were in talks to forestall such a lawsuit. NASA would still like to include Blue Origin in its Artemis Program, a source familiar with those talks said. However, the space agency does not appear to have come to an agreement with the company .
"We firmly believe that the issues identified in this procurement and its outcomes must be addressed to restore fairness, create competition, and ensure a safe return to the Moon for America," Blue Origin said in a statement about its latest protest filing.
NASA said it was aware of the lawsuit and that the space agency was reviewing its details. In a statement, the agency said:
NASA is committed to the Artemis program and the nation's global leadership in space exploration. With our partners, we will go to the Moon and stay to enable science investigations, develop new technology, and create high paying jobs for the greater good and in preparation to send astronauts to Mars. As soon as possible, the agency will provide an update on the way forward for returning to the Moon as quickly and as safely as possible under Artemis.
Blue Origin's actions in court—in addition to its ham-handed release of infographics that seek to denigrate SpaceX but have been widely mocked within the space community—are having a negative effect on both the company's relationships with the US government and its own employees.
"They will never get a real government contract after this," one NASA source predicted, following the lawsuit filing. The sentiment may be similar at the US Space Force, which is frustrated by delays in the delivery of BE-4 rocket engines for United Launch Alliance's Vulcan rocket.
These tactics have also alienated some of Blue Origin's work force. Several employees have told Ars that they are appalled by their corporate leadership's decision to attack both NASA and SpaceX in the wake of the lunar lander contract decision.
One user who identified as a Blue Origin employee took to reddit on Monday to express the frustrations of some, if not a majority, of people working at the Washington state-based company. "I personally believe that the vast majority of the company's employees do NOT agree with the infographics and other PR stunts that the company's leadership has been pushing," the employee wrote. "I have not met a single one that does feel this way. In fact, most of us are rather disgusted and embarrassed to be represented in this manner."
There are concerns that Blue Origin's aggressive attitude toward the Human Landing System contract will drive key employees away as morale drops. On Monday, for example, a senior engineer on Blue Origin's Human Landing System project, Nitin Arora, announced on LinkedIn that he is leaving the company to work at SpaceX. "Next stop, SpaceX! I am incredibly excited and looking forward to it," he wrote.
So what is Blue Origin's motivation behind the latest lawsuit?
Internally, the company has not shared much information with its employees. However, to the extent it has offered a justification, Blue Origin contends that NASA made an unfair decision. The company told its employees that its primary objection stems from that fact that NASA said at the outset of the lunar lander bidding process that price was not the most important consideration. To the contrary, Blue Origin believes that the space agency selected only SpaceX, rather than multiple bidders, because SpaceX offered the lowest bid.
The US Government Accountability Office soundly rejected this argument, however. The GAO's decision document says NASA was entirely justified in selecting a single winner for the lunar lander bid because Congress appropriated only about one-quarter of the funds sought by the space agency. NASA, the document states, "expressly put all offerors on notice that the number of awards was subject to available funding, and the agency could make multiple contract awards, a single award, or no award at all."
SpaceX's bid was substantially lower than that of Blue Origin, about 50 percent less, because SpaceX offered to fund the majority of Starship's development. By contrast, Blue Origin only offered to put $2 billion of its own funding into its Human Landing System project months after NASA made its final selection.
Blue Origin founder Jeff Bezos also feels like his company deserves an award, one source said, for long-time lobbying in support of a human return to the Moon. Bezos believes that his advocacy for a lunar lander to the Trump administration, in 2017, eventually led NASA toward initiating the program. "He feels like, without Blue Origin, there would be no HLS program," the source said.
The irony is that Bezos knows exactly what impact this is having on NASA's plan to return to the Moon in a timely manner. During a talk on the 50th anniversary of the Apollo 11 Moon landing in 2019, Bezos spoke about lunar lander contracting at the JFK Library during the JFK Space Summit. At the time, he must have been confident that Blue Origin would win one of NASA's lunar lander awards.
"Today there would be, you know, three protests and the losers would sue the federal government because they didn't win," Bezos said. "And so it's very interesting. The thing that slows things down is procurement. It's become the bigger bottleneck than the technology."
You must login or create an account to comment.
To find cancer before it strikes, look for the molecular clues
Join the Ars Orbital Transmission mailing list to get weekly updates delivered to your inbox.
Read full article at Observer
Yahoo! Voices 17 August, 2021 - 06:19am
Nitin Arora was working on Blue Origin's moon lander.
It comes after NASA picked SpaceX, and not Blue Origin, for a major moon-landing contract.
See more stories on Insider's business page.
A lead engineer on Blue Origin's moon lander project is leaving to join SpaceX.
It follows Blue Origin, Jeff Bezos' space company, losing out to Elon Musk's SpaceX on a $2.9 billion NASA contract to take humans to the moon.
Nitin Arora on Monday announced in a LinkedIn post that he was leaving Blue Origin after nearly three years at the company.
Arora was working on Blue Origin's lunar lander, designed to carry different payloads to the moon's surface.
"Friday (August 13th) was my last day at Blue Origin," Arora wrote in the post. "It was one hell of a ride working on the lunar program. Really honored that I got a chance to work with and lead incredibly smart, passionate people over last three years ... Next stop, SpaceX!"
Blue Origin put forward its lunar lander for a NASA contract to take humans back to the moon by 2024. The agency initially said it would choose two winners out of SpaceX, Blue Origin, and Dynetics - but instead it only selected SpaceX.
On Monday, Blue Origin sued NASA over its decision. A Blue Origin spokesperson said in a statement to Insider that the company wanted to "remedy the flaws in the acquisition process found in NASA's Human Landing System."
Before taking NASA to court, Blue Origin filed a protest in April, offered to cover up to $2 billion for the first two years of production of a moon lander, and infographics on its website describing SpaceX's Starship as "immensely complex and high risk." The graphics appeared to cherry-pick details, Insider's Morgan McFall-Johnsen reported.
Elon Musk's company is set to use Starship to fly astronauts to the moon under NASA's contract.
It was unclear from Arora's post whether he'll be working on Starship. Insider asked Arora for comment, but did not immediately receive a response.
Read the original article on Business Insider
Following a $2 billion Hail Mary, Jeff Bezos' Blue Origin has filed a complaint with the US Court of Federal Claims over NASA's handling of the Human Landing System program.
Tesla CEO and dogecoin fan Elon Musk said he agreed with Mark Cuban that dogecoin is a strong medium of exchange.
A provision in the $1 trillion infrastructure bill spurred a showdown and paved the way for crypto investors to take a more active role in politics.
Blue Origin, the space company helmed by billionaire Jeff Bezos, is taking NASA to court. The company filed a complaint with a federal claims court on Monday over the agency's decision to award a lunar lander contract solely to rival company SpaceX. The complaint, which Blue Origin successfully petitioned to have sealed, says NASA's evaluation of proposals for the the Human Landing System was "unlawful and improper."
The late Chadwick Boseman's final acting appearance begins airing this week, as T'Challa enters the new Marvel series What If...? The animated multiverse series has been able to answer all the hypothetical questions concerning the vast Marvel Cinematic Universe, like in the first episode, "What If... Captain Carter Was The First Avenger?" Now, the first of many episodes featuring Boseman tackles another big question: "What if T'Challa Was Star-Lord?"
An officer relaxing at an internet cafe recognized a top-ranked 'League of Legends' player as a suspected wanted for civil assault.
The employee denied it, telling NBC he'd "waved" the rag in the customer's face, and that she'd started a fight. Starbucks has fired the employee.
Firefighters at the Tesla Model X vehicle blaze in Austin said lithium battery cells make it difficult to control fires after crashes.
Black Widow herself, Scarlett Johansson, joins the cast of Wes Anderson's next untitled and still mostly under wraps film project. She adds to the continuously growing, star-studded cast which includes: Tom Hanks, Bill Murray, Tilda Swinton, Adrien Brody, Rupert Friend, Jason Schwartzman, and Margot Robbie. Good on him for finally casting a woman of color in one of his films.
The Taliban accumulated an enormous amount of U.S.-supplied guns, ammunition, helicopters, combat aircraft and more after Afghan security forces collapsed this weekend, AP reports. Why it matters: The U.S. spent billions of dollars over two decades to train and support the Afghan security forces, but the Taliban was the ultimate beneficiary of the decades-long investments.Stay on top of the latest market trends and economic insights with Axios Markets. Subscribe for freeAsked Monday if the U.S.
CNN anchor Chris Cuomo is finally speaking out in the wake of his brother Andrew Cuomo's resignation as New York governor. Chris Cuomo addressed the elephant in the room on Monday's edition of his CNN show Cuomo Prime Time, admitting that "this situation is unlike anything I could have imagined." He went on to say […]
The experimental plane rolled and crashed into the ground, exploding on impact. There were no survivors.
An Insider reporter rented the pool and backyard for three hours for $271 using Swimply, an Airbnb for swimming pools.
The supermodel took to social media to clarify comments made about her past relationship.
Bob Chapek called the theatrical release strategy an "interesting experiment." Later, star Simu Liu tweeted: "we are not an experiment."
Chinese media outlets carried threats to Taiwan and criticisms of the U.S. during the chaotic American withdrawal from Kabul.
Insider chatted with "Jungle Cruise" underwater cinematographer Ian Seabrook about what Dwayne Johnson and Emily Blunt went through.
Researchers capture some of the most detailed images ever seen of galaxies in deep space.
Spirit says its operational meltdown cost around $50 million - the airline is predicting future losses of up to $100 million in the third quarter.