Blue Origin
blueorigin
Welcome to the crew, Oliver! We're grateful to have you as our first customer to mark the beginning of commercial operations. #NSFirstHumanFlight bit.ly/3B3Bepr pic.twitter.com/SuOwxe2353

Blue Origin
blueorigin
From the beginning, New Shepard was designed to fly above the Kármán line so none of our astronauts have an asterisk next to their name. For 96% of the world's population, space begins 100 km up at the internationally recognized Kármán line. pic.twitter.com/QRoufBIrUJ
Michael Sheetz
thesheetztweetz
Oliver Daemen: "I am super excited to be going to space and joining" Jeff Bezos, Mark Bezos, and Wally Funk on the first Blue Origin crewed flight. www.cnbc.com/2021/07/15/blue-origin-reveals-oliver-daemen-flying-to-space-with-jeff-bezos.html video via @bright pic.twitter.com/BwOj2EmfXX
David Gura
davidgura
"The winner of Blue Origin's auction, who has asked to remain anonymous at this time, has chosen to fly on a future New Shepard mission due to scheduling conflicts." Oh. bit.ly/3rdFvlJ
Yahoo Tech 15 July, 2021 - 10:11am
The flight is still scheduled for July 20th. The auction winner still wants to remain anonymous, but will take a later Blue Origin trip due to "scheduling conflicts."
It's not clear how much Daemen paid for the trip, but it's likely no small amount. Oliver's father is Joes Daemen, the CEO of hedge fund Somerset Capital Partners. While he probably didn't have to pay the $28 million from the auction, the final price was likely enough to keep other wealthy customers at bay.
This launch won't have as much impact as intended given Virgin Galactic's fully crewed spaceflight. Nonetheless, it's still historic beyond the ages of some of its passengers. This trip will include an honest-to-goodness paying customer. It might also be the first flight of its kind to technically enter space. While Virgin's altitude was short of the Kármán line (62 miles) that officially delineates space, Blue Origin is keen to point out that it should cross that symbolic barrier. Think of the July 20th flight as escalating a private space race that's unlikely to end any time soon.
The person who paid $28 million to go to space with Jeff Bezos can't make it next week
Billionaire Jeff Bezos's rocket company, Blue Origin, selected an 18-year-old to go on its first mission to space.
Does flying 50 miles above the Earth's surface make you an astronaut? Depends on which aviation agency you ask.
An 18-year-old is about to become the youngest person in space, rocketing away with an aviation pioneer who will become the oldest at age 82. Blue Origin announced Thursday that instead of an auction winner launching with founder Jeff Bezos on Tuesday, Oliver Daemen will be on board. Also soaring on Blue Origin's first launch with passengers: Bezos' brother and Wally Funk, one of 13 female pilots who went through the same studies in the early 1960s as NASA's Mercury 7 astronauts did, but were rejected for being women.
Reservations open on Friday for Valve's answer to the Nintendo Switch.
Once the Unicode Consortium decides on a final candidate list in September, the finalists will make their way to your devices starting in late 2021 and throughout 2022.
The 'finale' of Loki affects the entire Marvel Cinematic Universe while still doing its own thing.
The director of 'Roadrunner: A Film About Anthony Bourdain' used AI to recreate words Anthony Bourdain never spoke.
TikTok's latest debate? How to squeeze a lemon.
The new space race might be a battle between billionaires, but the technologies they develop will benefit the rest of us, too.
Aston Martin has introduced the Valhalla, a plug-in hybrid supercar that can reach 62MPH in 2.5 seconds but still make short trips in EV mode.
Instagram is running a new test to tell users about another app they might want to check out: Facebook.
Columbus Blue Jackets player Matiss Kivlenieks died on July 4 when he was struck by a firework
Twenty years after being unceremoniously dumped from Microsoft Office, Clippy is ready to make a triumphant return.
Facebook reckons emoji with sound is something people want. 🙄
ST. PETERSBURG — The Dolphin Queen set sail from the municipal marina Wednesday after a solemn promise from captain Christian Obenshain: The 10 slightly-sunburned, gift-shop-outfitted souls aboard would spy a bottlenose dolphin in the next 90 minutes or their next trip was free. The trip had the elements of a classic dolphin tour, a tourism staple of the local waterways. Jimmy Buffet's Son of ...
Lockheed Martin sets up high-tech assembly center to speed processing of Orion deep space capsules.
Billionaire and adventurer Sir Richard Branson flew to space aboard one of his own ships on July 11, an achievement that brings space tourism closer to reality
Former Weekend Update anchors Seth Meyers and Amy Poehler reunited Tuesday to roast billionaires Richard Branson and Jeff Bezos for using their unprecedented fortunes to "drag-race to outer space." Reviving their signature bit "Really!?!," the onetime Saturday Night Live costars quickly got to the root of Branson's historic July 11 space jaunt, and Bezos' determination […]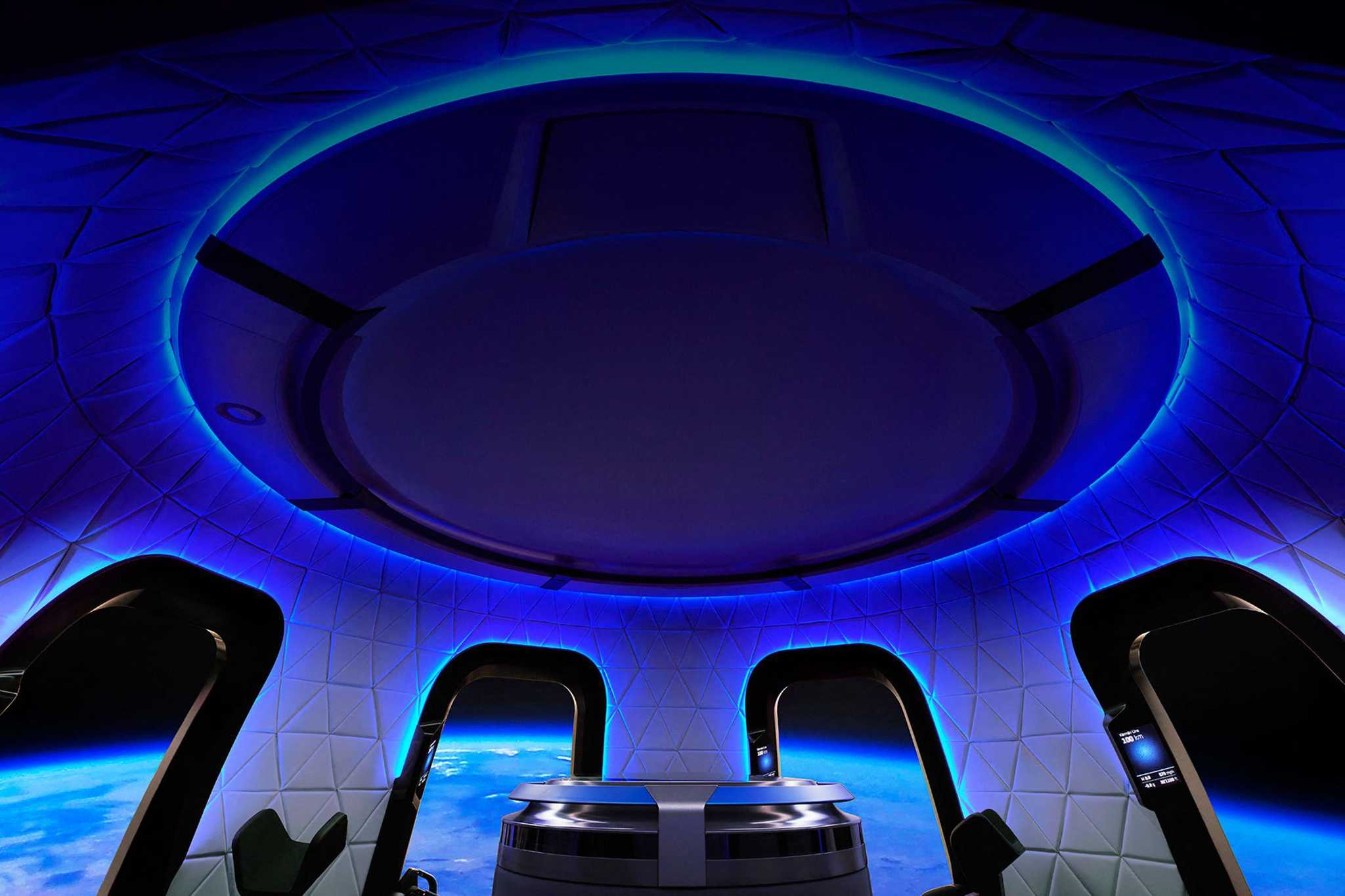 Houston Chronicle 15 July, 2021 - 10:10am
Blue Origin has completed the roster for next week's first crewed flight, which will simultaneously set records for the youngest, oldest and richest person in space.
The company announced Thursday that 18-year-old Oliver Daemen will be the fourth passenger on its launch Tuesday from West Texas. Daemen is the son of Joes Daemen, CEO and founder of Somerset Capital Partners investment firm in the Netherlands.
Related: Elon Musk and Jeff Bezos' space race is heating up, and Texas gets a front-row seat
"I have been dreaming about this all my life," Daemen said in a video posted on Twitter by Bright, which is part of RTL Netherlands media group. "I am super excited to experience zero-g and see the world from above."
The flight's other occupants are Blue Origin founder Jeff Bezos, who is the world's richest man, his brother Mark and 82-year-old female aerospace pioneer Wally Funk.
Funk will become the oldest person to launch into space. Sixty years ago, Funk volunteered for a privately funded program that tested women for astronaut fitness. She was one of 13 women, called the Mercury 13, who successfully underwent the same physical and mental tests as the seven male astronauts that NASA selected for its first human spaceflight program. The Mercury 13 never went into space. One of the original Mercury seven men, John Glenn, the first American to orbit the Earth, also holds the current record for oldest person in space. The astronaut-turned-senator flew on the space shuttle in 1998 when he was 77 years old.
Daemen's seat was initially reserved for the winner of a live auction Blue Origin held on June 12. However, the person who bid $28 million is now slated to fly on a subsequent New Shepard mission "due to scheduling conflicts." Blue Origin did not identify the auction winner.
Joes Daemen was a participant in the auction and had secured a seat for his son on the second flight. Oliver Daemen got moved to the first flight when the seat became available.
Oliver Daemen graduated from high school in 2020 and took a gap year before continuing his studies to obtain his private pilot's license. In September, he will attend the University of Utrecht to study physics and innovation management, according to a Blue Origin news release.
These four individuals will take an 11-minute ride to space and back on New Shepard. The 63-foot-tall suborbital rocket system consists of a reusable rocket booster and crew capsule. It has flown 15 times without people.
The booster and capsule launch together. After the booster's engine shuts off, the capsule will separate and coast above the Kármán line 62 miles above the Earth. The booster returns for a controlled, rocket-powered vertical landing. In the spacecraft, which descends more slowly, occupants will have several minutes of weightlessness and see the curvature of the Earth. Parachutes slow it down and then, right before landing, a retro-thrust system creates an air cushion for the capsule.
The $28 million from Blue Origin's live auction is being donated to Club for the Future, the company's foundation focused on STEM education. It announced Wednesday that Club for the Future would offer $1 million grants to 19 space-based nonprofits. These include Space Center Houston, the visitor center for NASA's Johnson Space Center, and SciArt Exchange, a Houston organization that offers contests and events to bring together art, technology and science.
"We thank the auction winner for their generous support of Club for the Future and are honored to welcome Oliver to fly with us on New Shepard," Bob Smith, CEO of Blue Origin, said in the news release.
Andrea writes about NASA and the commercial space sector, where her coverage spans human spaceflight, robotic exploration and operations in low-Earth orbit. For six months of the year, she keeps an eye on the Atlantic hurricane season. Andrea graduated from the University of Florida in 2012 and has lived in Houston since 2014. She enjoys traveling, eating her way across Houston and walking her dog Lizzy.
There is currently no first-class cultural arts institution to support the vibrant art produces by Latino artists. A new initiative aims to change that.
Yahoo Finance UK 15 July, 2021 - 10:00am
Instead, the first ever paying customer of Jeff Bezos's Blue Origin rocket firm will be 18-year-old Oliver Daemen, it said. As well as being Mr Bezos's first paying customer, he will also be the youngest person on space.
He will join Wally Funk, who is aged 82 and will become the oldest ever person in space. Mr Bezos and his brother Mark will make up the rest of the passengers on the New Shepard rocket.
Blue Origin announced more than a month ago that the auction for a seat on the trip had finished at $28 million. But it has refused to say who the winner was, even as the time of launch approached.
That person will "remain anonymous at this time", Blue Origin said in its new announcement.
And they have "chosen to fly on a future New Shepard mission due to scheduling conflicts", the company also said.
It did not say how it had chosen Mr Daeman instead. It also refused to reveal how much he had paid for his ticket.
But it said that the trip would "fulfill a lifelong dream for Oliver", who is currently on a gap year obtaining his private license before starting studied at the University of Utrecht this September.
Blue Origin also announced that Club for the Future – its non-profit, which is tasked with distributing the money from the auction – has given $1 million each to 19 different organisations, which it said were working on projects "to support the future of living and working in space".
"We thank the auction winner for their generous support of Club for the Future and are honored to welcome Oliver to fly with us on New Shepard," said Bob Smith, CEO of Blue Origin. "This marks the beginning of commercial operations for New Shepard, and Oliver represents a new generation of people who will help us build a road to space."
The four will take off on 20 July, taking a short flight up to space before coming back down to the ground. Blue Origin has argued that it will be the first commercial spaceflight of this kind, because Richard Branson's trip last week does not truly count – and has also criticised Virgin Galactic for its "smaller windows".
Young shared a less-than-subtle social media message about his omission from the Team USA roster.
(Bloomberg) -- New Zealand inflation surged in the second quarter, breaching the central bank's target range for the first time in 10 years and reinforcing bets it will start raising interest rates as soon as next month.The annual inflation rate jumped to 3.3%, more than double its first-quarter reading of 1.5% and the fastest pace since 2011, Statistics New Zealand said Friday in Wellington. Economists expected 2.7%. Consumer prices advanced 1.3% from three months earlier, exceeding the 0.7% me
Peter R. de Vries, a renowned Dutch journalist who fearlessly reported on the violent underworld of the Netherlands and campaigned to breathe new life into cold cases, has died at age 64 after being shot in a brazen attack last week, his family said Thursday. Peter fought to the end, but was unable to win the battle," the family said in a statement sent to Dutch media.While the motive for de Vries' shooting remains unknown, the July 6 attack on an Amsterdam street had the hallmarks of the gangla
Biden and Merkel vow to defend against Russian aggression in White House meetingThe US president praises the German leader but reiterates his concerns about the pipeline that will run from Russia to Germany Joe Biden and Angela Merkel hold a joint press conference in the East Room of the White House on 15 July. Photograph: Saul Loeb/AFP/Getty Images
California registrations for the Model Y, Tesla's electric crossover utility vehicle, jumped more than sevenfold to 13,581, Cross-Sell data showed on Thursday. The focus is now on the company's second-quarter earnings report due on July 26, with investors waiting to gauge if bitcoin's recent fall would hit Tesla's bottom line, due to its exposure to the cryptocurrency's volatility. Total second-quarter vehicle registrations in the 23 states where data was collected stood at 46,926, with Model Y accounting for more than half of the registrations.
Sir Ian is 82 while the titular prince is thought to have been about 30 in the original text.
Officials are seeking to maximise protection before restrictions are lifted on Monday.
April was a mix of sunshine and cold, with a record number of frosts, while May was the wettest for 50 years.
– EMA commences review of surufatinib for the treatment of advanced neuroendocrine tumors – – Expands potential global reach of surufatinib, in addition to China where it is already launched, and in the U.S. where it is under review for marketing approval – HONG KONG, SHANGHAI, China and FLORHAM PARK, N.J., July 15, 2021 (GLOBE NEWSWIRE) -- HUTCHMED (China) Limited ("HUTCHMED") (Nasdaq/AIM: HCM; HKEX: 13) today announces that the European Medicines Agency ("EMA") has validated and accepted its m
FRIEDBERG, Germany, July 16, 2021--voxeljet AG (WKN: A2QBGM / ISIN: US92912L2060) (NASDAQ: VJET) (the "Company", or "voxeljet"), a leading provider of high-speed, large-format 3D printers and on-demand parts services to industrial and commercial customers, today announced that it has entered into definitive agreements with institutional investors for the purchase and sale of 1,126,127 Ordinary Shares at a purchase price of EUR 7.52 per share (this equals $8.88 per Ordinary Share based on the exc
The 14-piece set is only $37.
New mum Gigi Hadid has replaced Chrissy Teigen as a narrator on the second season of hit Netflix show Never Have I Ever. The model and new mum will step into her first ever voiceover role for the second season of the Netflix show, Never Have I Ever, replacing Chrissy Teigen. The social media savant was billed to voice an episode of the series based on the character Paxton, but she stepped down last month amid a controversy surrounding bullying tweets she once sent to celebrity Courtney Stodden w
Latest Qld Covid-19 exposure sites: full list of Queensland coronavirus hotspots and case location alerts. Here are the current coronavirus hotspots and Covid-19 public exposure sites in Queensland and what to do if you've visited them.
EXCLUSIVE: Tamera Kissen has signed on for New Line's reimagining of House Party. She joins previously announced cast members Jorge Lendeborg Jr., Tosin Cole, Karen Obilom, DC Young Fly, Shakira Ja'nai Paye, Andrew Santino and Bill Bellamy in the film, which The SpringHill Company is producing for HBO Max. The original 1990 comedy watched as high schooler Christopher […]
New Qld Covid restrictions: update to Brisbane and regional Qld coronavirus rules explained. Queensland premier Annastacia Palaszczuk has announced changes to restrictions in Brisbane, Townsville and several south-east Qld local government areas. Here's the full list of what you can and can't do
The 33-year-old singer is having the last laugh.
On Wednesday, a federal judge approved a 30-day delay in the start of Gina Chiles' prison sentence for wire fraud, because 20-year-old Jordan will be competing in the Summer Games
High temperatures exacerbate existing disparities for low-income workers, including people who work indoors
The Bank of England has become "addicted" to quantitative easing and must spell out the risks of its bond-buying programme and plans to wean itself off it, a Lords committee has warned. A report by the Economic Affairs Committee calls on the Bank to become more transparent over its use of quantitative easing (QE), as it warns the £895 billion programme may be sending inflation spiralling and become a "serious danger" to public finances. It warned the Bank's independence is being called into question as its money-printing programme is increasingly being viewed as a tool to finance the Government's coronavirus spending.
Kaitlyn Bristowe and Jason Tartick announced their engagement in May
CNBC 15 July, 2021 - 09:24am
Jeff Bezos' space venture Blue Origin on Thursday revealed that 18-year-old Oliver Daemen will fly in place of the still-anonymous $28 million winning bidder of last month's public auction.
Daemen will fly to the edge of space with the Amazon founder, his brother Mark Bezos, and legendary aerospace pioneer Wally Funk on Blue Origin's New Shepard rocket scheduled to launch on July 20.
The young physics student takes the place of the auction winner, who Blue Origin said could not fly on the mission "due to scheduling conflicts." Blue Origin said the auction winner "has chosen to fly on a future New Shepard mission."
Blue Origin described Daemen as the "first paying customer" flying on New Shepard, with a spokesperson telling CNBC that "he was a participant in the auction and had secured a seat on the second flight."
"We moved him up when this seat on the first flight became available," Blue Origin said.
The company confirmed that Daemen is the son of Somerset Capital Partners CEO Joes Daemen, who paid for the seat and chose to fly Oliver instead. Somerset is a Dutch private equity firm based in Oisterwijk, Netherlands, that Joes Daemen founded.
At 18, Daemen would be the youngest person to fly to space, with Funk, 82, also set to become the oldest person to become an astronaut.
New Shepard, a rocket that carries a capsule to an altitude of more than 340,000 feet, has flown more than a dozen successful test flights without passengers, including one in April at the company's facility in the Texas desert. It's designed to carry up to six people and flies autonomously — without needing a pilot. The capsule has massive windows to give passengers a view of the earth below during about three minutes in zero gravity, before returning to Earth.
Blue Origin's system launches vertically, and both the rocket and capsule are reusable. The boosters land on a concrete pad at the company's facility in Van Horn, Texas, while the capsules land using a set of parachutes.
Bezos founded Blue Origin in 2000 and owns the company, funding it through share sales of his Amazon stock.
July 20 is notable because it also marks the 52nd anniversary of the Apollo 11 moon landing.
Got a confidential news tip? We want to hear from you.
Sign up for free newsletters and get more CNBC delivered to your inbox
Get this delivered to your inbox, and more info about our products and services. 
Data is a real-time snapshot *Data is delayed at least 15 minutes. Global Business and Financial News, Stock Quotes, and Market Data and Analysis.