Kara Swisher
karaswisher
Ya gotta give it up for ⁦@itsjojosiwa⁩ who is making history as the first same sex couple on DWTS in the most glittery way possible. But it's still a step or, in this case, a quick step. youtu.be/hPPpEALxZBQ
Nicole Polizzi
snooki
Anyone else smile and happy cry watching @itsjojosiwa on #dwts orrrrr just me?

Desiree Murphy
desireemurphy_
.@JennaJohnson is already referring to @itsjojosiwa as her "little baby sister" 🥺 love this partnership & can't wait to see what these two do next #DWTS #TeamJoJo pagesix.com/2021/09/22/jenna-johnson-talks-dwts-injury-and-jojo-siwa-partnership/ @DancingABC pic.twitter.com/czmtDchsML
Rich Greenfield, LightShed
RichLightShed
So awesome to see @itsjojosiwa on @DancingABC #DWTS pic.twitter.com/sgLYfsQv6Z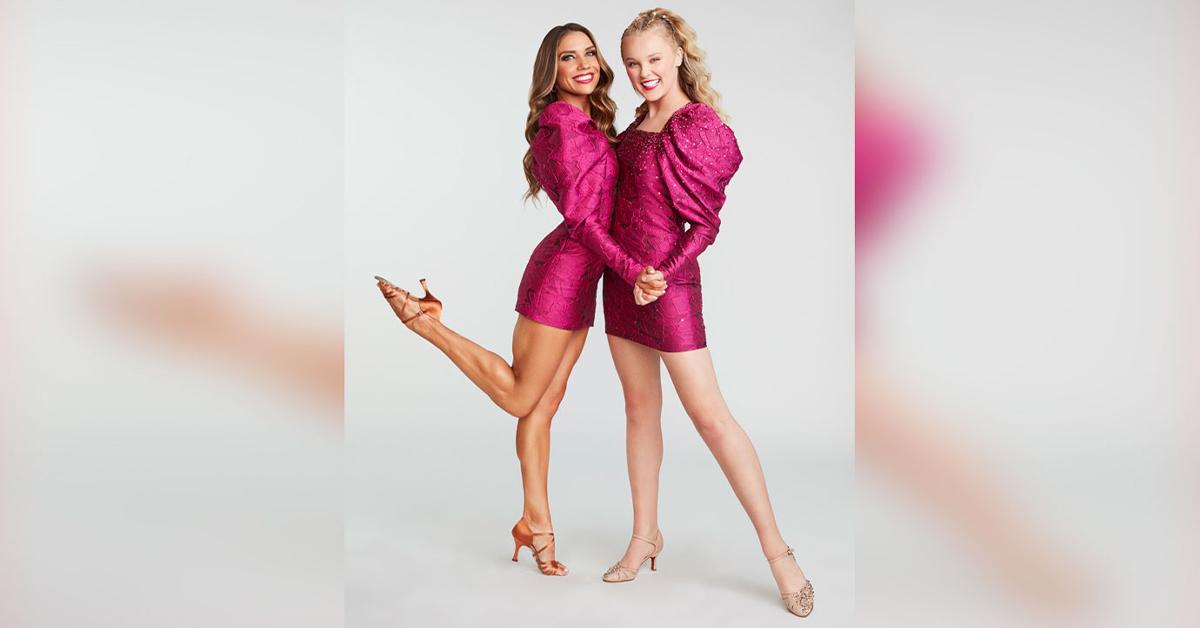 Radar Online 22 September, 2021 - 02:06pm
Sep. 22 2021, Published 3:06 p.m. ET
Jojo Siwa's partner on Dancing With The Stars, Jenna Johnson, injured herself during the first live performance of the show.
The dancer had to take a day off from rehearsals to give herself some time to heal and claimed Jojo has been "the sweetest human in the world."
Jenna opened up about the incident, saying, "no one had ever done this before." She also blamed herself, stating she should have been more careful to avoid the mishap.
"I should have known that there was going to be a flaw in the system, but no one had ever done this before," Jenna commented. "I slipped on Jojo's dress, and both my feet actually came out from under me."
She continued detailing the injury she suffered from the occurrence.
"While I was in that process of trying to squeeze and not fall... my knee kind of tweaked, kind of slipped out of place, came back in," she claimed. "Very unfortunate, but there's no way that I would miss out on week two!"
As to what she's been doing to recover from the unexpected event, Jenna said, "They made me take a day off to just rest. So, icing the knee, but I feel fine. I did some therapy last night."
Jenna also revealed that Jojo had been such a "star student" and a "great partner" despite the setback. She said Jojo has FaceTimed her multiple times to check in, also making sure she's practicing her dance moves correctly.
"She is the sweetest human in the world," Johnson confessed. "She's just like, star student, already practicing at home."
Although, Jenna also expressed her disappointment regarding the incident, claiming that she felt like she had taken "away from Jojo's moments" on the show.
"Obviously, I'm so disappointed because I feel like I took away from Jojo's moments, because this was such an epic night for us, for Dancing With The Stars, for her," she added. "But I think that even with this stupid little slip-up, [JoJo] did incredible. Even with that fall, I think it highlighted her, because it showed what a great partner she is."
This year, Jojo and Jenna made history as the first same-sex partner to ever compete on the long-running dance show. When Jojo, who recently had come out as an LGBTQ member, first found about the news, she expressed her excitement to be on the show and meet her dance partner. "To be dancing with a girl, I think it's cool," she said. "I can't wait to meet my partner!"
© Copyright 2021 Radar Media Group LLC. Radar and RadarOnline are registered trademarks. All Rights Reserved. People may receive compensation for some links to products and services on this website. Offers may be subject to change without notice.
ABC Action News 21 September, 2021 - 11:00pm
"Mayday" Episode 1001 -- Pictured: Jesse Spencer as Matthew Casey -- (Photo by: Adrian S. Burrows Sr./NBC)
It's premiere week for the majority of networks. Is NBC one of those networks bringing shows back? Is Chicago Fire season 10 on tonight, Wednesday, Sept. 22?
Most fall TV shows are premiering this week, but not all of them. A few are being left for next week, and then there are some that are being left until October. Of course, there's only one firefighter drama you want to know about right now.
It's all about Chicago Fire season 10. We have a lot of questions after the way season 9 ended. How long are we waiting for the new season to premiere?
There is some excellent news. Chicago Fire season 10 does premiere tonight, Wednesday, Sept. 22.
What can we expect from the premiere? Of course, it's going to pick up where season 9 left us. We have a lot of questions surrounding Squad 3, and the photos from the episode don't give anything away.
There's nothing that shows any Squad 3 member after the capsized boat callout. The poster shows us Severide and Cruz, but after Otis in Chicago Fire season 8, are we really going to fall for that?
Watch One Chicago on fuboTV: Watch over 67 live sports and entertainment channels with a 7-day FREE trial!
After that, there's a lot of other characters to focus on. One of them is Boden, who was offered a promotion at the end of season 9. There's a good chance that he'll take it, leading to a shift in positions at Firehouse 51. This could mean Kidd gets a promotion to lieutenant within the firehouse instead of having to relocate.
Meanwhile, Ritter, Gallo, and Violet want to start a side gig. What will that side gig be? Will this be a serious adventure or just another one of those humorous moments for an episode? There's hope that this is on the serious side as Gallo and Ritter have had some of these more serious side storylines throughout the ninth season.
For the latest Chicago Fire season 10 spoilers and news, plus more on the entire series, follow the Chicago Fire category at One Chicago Center.
Build your custom FanSided TV email newsletter with news and analysis on Chicago TV and all your favorite sports teams, TV shows, and more.
Your favorite teams, topics, and players all on your favorite mobile devices.
Powered by Minute Media © 2021 All Rights Reserved.