One judge scored it 114-114, while another scored it 114-113 for Castano; a third judge turned in a head-scratching 117-111 tally in favor of Charlo.
Charlo, who is from Houston, was cheered vociferously throughout the 12-round fight, but it was Castano who was applauded in the end.
"I won the fight definitely," Castano said through a translator. Then he laid out what he wants in plain English: "I hope there's a rematch. He's a great fighter. I want the rematch."
Charlo, of course, disagreed. He appeared to be conceding rounds to the hard-charging Castano before he landed a fight-altering shot in Round 10 that sent the Argentine reeling for the remainder of the frame.
The three-belt champion swept the final three rounds on all three scorecards to pull out the draw and retain his status as unified champion. Castano remains a 154-pound titleholder as well.
"The draw wasn't what I wanted to hear," Charlo said. "I thought I won this fight. ... Brian Castano is a tough warrior."
The 25-year-old Romero floored Yigit with a three-punch combination in Round 7 and then finished off Yigit moments later with a right cross followed by a smashing left hook. Referee Rafael Ramos waved it off without a count at 1:54.
Romero is quickly growing into his role as a heel -- and embracing it with his rough-and-tumble style and penchant for trash talking, which elicited boos from the crowd as he leaped onto the turnbuckle to celebrate the victory. It was his 12th knockout in 14 fights (all wins).
"I want Gervonta Davis ... I'm ready for him," said Romero, who, like Davis, is promoted by Floyd Mayweather. "I'm trying to stop him and knock him out. ... I know what I can do."
Romero, a Las Vegas native, appears to be on the cusp of a meaningful fight in the star-studded 135-pound division, whether it materializes against Davis or someone else.
He was deducted one point toward the end of Round 5 for hitting on the break, then immediately rendered that penalty moot by scoring a knockdown of Yigit.
Yigit, who hails from Sweden, accepted the fight on short notice after Austin Dulay withdrew. A former title challenger at 140 pounds, Yigit weighed 140.2 at Friday's weigh-in and was ineligible to win the 135-pound belt.
Vidal (13-0, 11 KOs), of Montevideo, Uruguay, won over the judges with his superior body punching, particularly a left hook with which the 25-year-old hammered Aleem of Richmond, Virginia, repeatedly to set up his chopping right hand over the top.
The middleweights stood toe-to-toe and traded haymakers, round after round, in an attempt, seemingly, to outwill one another. They threw a combined 1,218 punches, per CompuBox, and connected on 351 power shots.
One judge scored it even, 95-95, overruled by tallies of 97-93 and 97-93, which handed Vidal the majority decision victory.
"In 12 fights that he had, he didn't learn what he learned in 10 rounds tonight," said Vidal's manager, Sampson Lewkowicz, who also hails from Uruguay. "I would love an undefeated guy [for his next opponent]. He's ready for a contender."
Vidal, who suffered a cut under his left eye, will likely return in October or November, per Lewkowicz.
If Bakhram Murtazaliev was looking to impress ahead of a potential title shot against Jermell Charlo, he failed. What he did accomplish was far more important: maintaining his status as Charlo's mandatory challenger.
The 28-year-old outpointed Khiary Gray (16-6, 12 KOs) over eight rounds to earn a unanimous decision, via scores of 79-73, 78-74 and 79-73.
This was Murtazaliev's second consecutive fight on Charlo's undercard, and for the second time, Murtazaliev was hurt in the bout.
Worcester, Massachusetts' Gray, who otherwise sustained a beating, stunned Murtazaliev in Round 3, before Murtazaliev landed a low blow that bought him some time to recover. Both fighters competed with bloody faces, but Gray, 28, endured the worse of it, with blood spewing from his nose and mouth.
Kathy Duva promotes the Russian fighter Murtazaliev, who currently fights out of Oxnard, California, and Duva worked out a step-aside deal with Premier Boxing Champions to allow Charlo to unify with Castano and delay the mandatory defense, the Main Events CEO told ESPN.
The agreement included another appearance on a Charlo undercard after Murtazaliev (19-0, 14 KOs) competed underneath Charlo-Jeison Rosario in September. Duva said a deal is in place for Murtazaliev to fight Charlo, but there's no time frame for the bout.
Charlo, of course, holds three 154-pound titles; there's a rotation in place between the organizations to determine which mandatory defense is next. Duva claims the IBF, where her fight is rated No. 1, is next in line.
"He wants to fight Charlo, of course he does," Duva said of Murtazaliev. "I think tonight he's frustrated; he wanted to knock the guy out, and he got too anxious. He took too many shots. Hopefully, this is a good learning experience. You sure can't take shots like that in a more competitive fight. But in a more competitive fight, he'd be a lot more careful."
Murtazaliev is managed by Egis Klimas, who also has Vasiliy Lomachenko and Oleksandr Usyk in his stable. Murtazaliev is trained by Virgil Hunter, best known for his work with Boxing Hall of Famer Andre Ward.
Pablo Rubio Jr. pounded out a six-round unanimous decision over Eric Manriquez, scoring two knockdowns in the final round to close out strong in their junior lightweight fight.
Rubio (13-0, 4 KOs) boxed and moved for the majority of the bout, before stunning Manriquez -- who hails from Bryan Texas -- at the end of the fifth. Rubio, who is managed by Sampson Lewkowicz, hails from Los Angeles.
Amed Medina of Los Angeles improved to 3-0 with three knockouts, earning a first-round TKO of Reginald Hinson. The 18-year-old Medina was making his U.S. debut after two fights in Mexico.
Medina, a featherweight, floored Hinson, who's from Rock Hill, South Carolina, with a left hook that Hinson never recovered from. Hinson (1-1, 0 KOs) made it back to his feet but was in no shape to continue, and the referee waved it off at 2:03 of the opening round.
Robert Zavala Jr., a heavyweight fighting out of Del Rio, Texas, remained unbeaten with a third-round KO of Levi West.
Zavala (2-0, 2 KOs) dropped West in Round 2 and then finished him off in Round 3 by sending him through the ropes. Zavala enjoyed a 55-pound weight advantage, tipping the scales at 254, while West came in as a cruiserweight at 199.2 pounds.
West, who is from San Antonio, twice spit out his mouthpiece to buy time.
The fight was called off at 1:49 of Round 3.
Junior lightweight Xavier Nunez kicked off the untelevised portion of Saturday's Charlo-Castano card with a fourth-round stoppage of David Alfaro in a battle of Texans.
Nunez laid a beating on Alfaro, bloodying his nose, and improved to 2-0 with 2 KOs in the 130-pound bout.
Alfaro falls to 1-5 with no knockouts.
Read full article at ESPN
FightHype.com 18 July, 2021 - 12:01am
Fight Hub TV 18 July, 2021 - 12:01am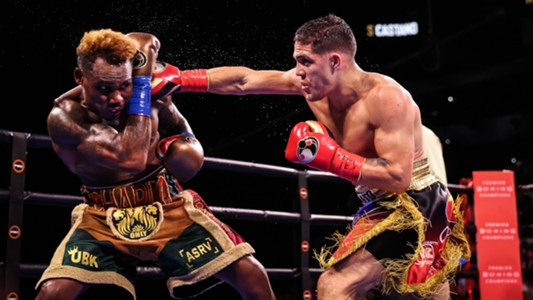 DAZN News US 18 July, 2021 - 12:00am
It was supposed to coronate boxing's first undisputed king at junior middleweight during the modern four-belt era.
Instead, the major fight ended in neither Jermell Charlo nor Brian Castano reaching boxing's hallowed ground as they fought to a controversial split-decision draw at the AT&T Center in San Antonio, Tex. on Saturday night. Judges had it 114-113 for Castano, an inexplicable 117-111 for Charlo and 114-114. DAZN News scored it 114-114.
And it's a split decision draw… how about round 13? #CharloCastano pic.twitter.com/i4w8eJtfGQ
Charlo clipped Castano with a counter left hook in the second and wobbled the Argentinian with an offensive burst in the 10th round for his strongest frames of the fight. But there's no denying Castano's pressure for a majority of the bout as he brought the fight to the unified world champion. 
Castano clipped Charlo with a left hook in the third round and consistently closed the gap thereafter, getting inside of Charlo's power jab whenever he bit down and committed to doing so.
DAZN News had Castano up 87-84 entering the 10th round. Despite Charlo winning the 10th and arguably the 11th and 12th rounds, the 117-111 scorecard in his favor was definitely a head-scratcher.
So, despite looking to become just the sixth man to be crowned undisputed champion during the four-belt era in boxing history, Charlo retains his WBA (Super), WBC, and IBF titles, while Castano holds onto his WBO championship with the taste of unfinished business in their mouths.
Both Charlo and Castano felt like they did enough to win the fight.
"The draw wasn't what I wanted to hear," Charlo told Jim Gray on Showtime. "If anything, I won this fight. I hurt him way more than he did."
Charlo added: "This is my first time experiencing something like this."
"I hurt him way more" - @TwinCharlo #CharloCastano pic.twitter.com/E7GXRqvXeR
Castano countered that by offering Gray: "Basically, I won the fight. There are some rounds that he hit me hard but I won the fight."
Though a rematch is desired by both Charlo and Castano, each champion's upcoming mandatory bouts might have a say in that matter.
Here's how the entire Charlo vs. Castano main card went.
Castano adds: "I need a rematch."
Clearly disappointed about not being crowned undisputed champion in his home state of Texas, Charlo makes it known that he feels like he won this fight.
"I hurt him more than he did," Charlo told Jim Gray on Showtime. "My power is something serious at this weight division."
He added: "This is my first time experiencing something like this."
Charlo still wants the undisputed crown.
After 12 rounds of action, judges score it 114-113 for Castano, 117-111 for Charlo and 114-114 for a split decision draw. The 117-111 for Charlo was definitely wide.
And it's a split decision draw… how about round 13? #CharloCastano pic.twitter.com/i4w8eJtfGQ
Charlo letting go his hands a bit more and he needs to do just that. Left hook lands for Castano but Charlo counters with a big right. He's now giving chase to Castano and lands a piercing left hook. Another big right hook from Charlo, who has Castano on his bike all around the ring. A right from Charlo bounces Castano off the ropes. now a left hook lands for Charlo. Right hand and another from Charlo. Left-right combo from Charlo lands. Castano bites down and returns fire. Charlo's best round of the fight — no doubt. (10-9 Charlo, 96-94 Castano)
Big round 10 for @TwinCharlo #CharloCastano pic.twitter.com/JgNWVa9vCh
Crisp left jab landing for Charlo as Castano tries to invest to the body with right hands. Castano is going to need to get inside of Charlo's jab or he's going to struggle. Right hand splits Castano's guard. Castano clips Charlo with a left hook. Oh my! Charlo did not see that punch coming at all. He blasts him again — this time with an uppercut — and steals the round. (10-9 Castano, 29-28 Charlo)
.@BrianBoxii tags @TwinCharlo on the ropes end of R3 #CharloCastano pic.twitter.com/WDZ517Uk7j
Charlo opens with a couple of combinations. He splits Castano's guard with a straight right. Castano presses forward but Charlo clips him with a counter left hook.
Oh we got a fight #CharloCastano pic.twitter.com/UM401Q0o5A
He then tees off with a right hand. Castano cannot afford to come in so wildly again. Charlo just sent him a stern warning of what could happen. Charlo hurt Castano with that left hook. (10-9 Charlo, 20-18 Charlo)
The unified world junior middleweight champ makes his walk to the ring with identical twin Jermall holding one of his three titles as Jermell looks to grab the fourth tonight.
.@TwinCharlo makes the walk #CharloCastano pic.twitter.com/OjaKyCu0Ao
Castano, the WBO titleholder, jumps up and embraces extended hands from fans as he makes a spirited walk to the ring.
.@BrianBoxii heads to the ring #CharloCastano pic.twitter.com/WwsC8K7lPi
"I think he'll definitely retire after this fight," Spence tells Showtime.
Spence adds that he's got Charlo outboxing Castano tonight.
"I fought a 140-pounder and f—ing stopped him."
Romero calls out Gervonta Davis saying, "I'm gonna knock him out." 
Rolly vs Tank. Who wants it? https://t.co/Ptwrs7PUUO
DAZN uses cookies to help us deliver our services and improve your user experience. Click "Agree" to accept our use of cookies or you can choose to opt out of our use of cookies by following the instructions in our Privacy Policy and Cookie Notice.