Yahoo Entertainment 20 July, 2021 - 11:00pm
John Cena caused a commotion on Sunday night when he made a surprise appearance on WWE to announce his imminent return to the ring.
The 16-time WWE Champion, 44, came out at the end of the Money in the Bank pay-per-view event on Sunday, cutting off Roman Reigns as he was celebrating his win against Edge to keep his Universal Championship title.
As his theme music played, Cena stormed the ring and got in Reigns' face, doing his signature "you can't see me" hand motion.
The Money in the Bank show was then cut off the air before viewers at home could figure out why the F9 star was back after announcing his retirement in April 2020.
Cena's surprise entrance suggested he plans to be a contender in the upcoming SummerSlam.
RELATED: John Cena Says He's 'Definitely' Returning to the WWE: 'I Haven't Had My Last Match'
After the show, Cena told the audience, "Tonight I just wanted to come out here and let Roman Reigns know that I was back. And I certainly wanted to come out here to let all you know that I'm back!"
"I promise you this is not a one night only," the Suicide Squad star said, adding that it's the "first night."
The veteran wrestler added, "I missed you guys. I really, really missed you guys."
On Monday, WWE shared a video of Cena announcing that he will appear on Monday Night Raw.
"So many in the WWE Universe have a litany of questions: Who? What? When? Where? Why? amongst others," Cena began. "Well, I'm not gonna make you wait for answers."
He then announced, "I am kicking off Monday Night Raw to tell you my motivation, and you're not gonna want to miss it!"
It's unclear if the veteran will go up against Reigns, his former rival and fellow Fast and Furious franchise star.
The actor, who made his WWE debut in 1999, confirmed in June that he would be returning to the WWE.
"Those rumors are true," Cena said during an appearance on The Tonight Show Starring Jimmy Fallon. "I'll definitely be back to the WWE, I just don't know when."
In May, the former wrestler posted a photo on Instagram of the WWE logo without adding a caption, sparking questions among fans about what it meant.
"I was feeling rather nostalgic about the WWE and I just wanted to post the logo and some people took it as I was returning immediately, which that's not the case," Cena later explained to Fallon. "But I haven't had my last match and I can't wait to have my next one."
Cena's return comes more than a year after he stepped away from the WWE at WrestleMania 36 last April after losing to Bray Wyatt.
John Cena hasn't wrestled in a major WWE match since 2018 due to his rapidly growing career in Hollywood.
Look, there's no shortage of great trailers for bad movies—or, at the very least, misleading trailers for pretty good movies, like the one for Predators, which promised all those Predator crosshairs and didn't deliver. But until we're told otherwise or see it for ourselves, Snake Eyes: G.I. Joe: Origins still looks kind of sick.
The longest-tenured cast member in 'Saturday Night Live' history isn't planning to say goodbye anytime soon.
Former Red Sox ace Jon Lester blasted only the fourth home run of his career in a Nationals-Marlins game on Monday.
While they used to be foes on the court, former Miami guard Mario Chalmers holds Boston Celtics legend Paul Pierce in very high regard.
The actor is #10 on the Forbes 2020 list.
Gotham City is getting a new protector. "In the Heights" star Leslie Grace and "Five Feet Apart" actress Haley Lu Richardson are emerging as top contenders to take the role of Barbara Gordon in "Batgirl," the upcoming HBO Max superhero film. Testing for the role has already started. Isabela Merced, who has appeared in "Sicario: […]
He's expected back early next season.
EXCLUSIVE: Even though audiences won't see Robert Pattinson in The Batman for another eight months, Warner Bros. and DC Films are putting the wheels in motion on its next big superhero. Sources tell Deadline execs are expecting to test a group of actresses starting this week for the highly coveted title role of Batgirl. Although […]
Bezos told the "Today" show that he's traveling to space to help build "infrastructure" for future generations.
Ray Allen had some nasty scrapes after a bike crash.
The Dallas Cowboys will be featured on HBO's "Hard Knocks" for a third time. They finished 5-11 in 2002 and 7-9 in 2008.
Kris ConnorBritt McHenry's lawsuit against Fox News, alleging sexual harassment and retaliation by her one-time Fox Nation co-host Tyrus, has been voluntarily dismissed by her legal team.According to two sources familiar with the matter, McHenry has settled with Fox News—likely with a nondisclosure agreement and undisclosed cash settlement—and will leave the network."I am very proud to have to stood up for my rights and hope that I have empowered other women to do the same," McHenry told The Dai
The Courtside Club, located behind the visitor's baseline at Little Caesars Arena, will feature a full bar and be the first of its kind in the NBA
Grand Theft Auto Online for PlayStation 5 and Xbox Series X/S is set to include vehicle upgrades that won't be available on older consoles, according to new details from Rockstar Games.
Netflix's upcoming limited series, Brand New Cherry Flavor, has dropped a sinister, demonic-looking trailer involving lots of cats and death. The post BRAND NEW CHERRY FLAVOR Trailer Shows Demonic Hollywood Revenge Story appeared first on Nerdist.
Hello...it's Adele, stunning in a fashionable outfit at the NBA Finals for Game 5 with the Phoenix Suns versus the Milwaukee Bucks. See her look for yourself.
On the heels of the Sun in Cancer and Pluto in Capricorn, we enter the week of the 18th through 24th shadowed by the wisdom of opposites. This means we've been called to examine what makes us who we are as compared to what we work not to be — indeed, what we mean to dismantle within us or disavow in others. The 18th ushers in three in-conjunct aspects like small waves of inquiry: Venus in Leo quincunx Pluto in Capricorn, Mercury in Cancer quincunx Saturn in Aquarius, and Mars in Leo quincunx Nep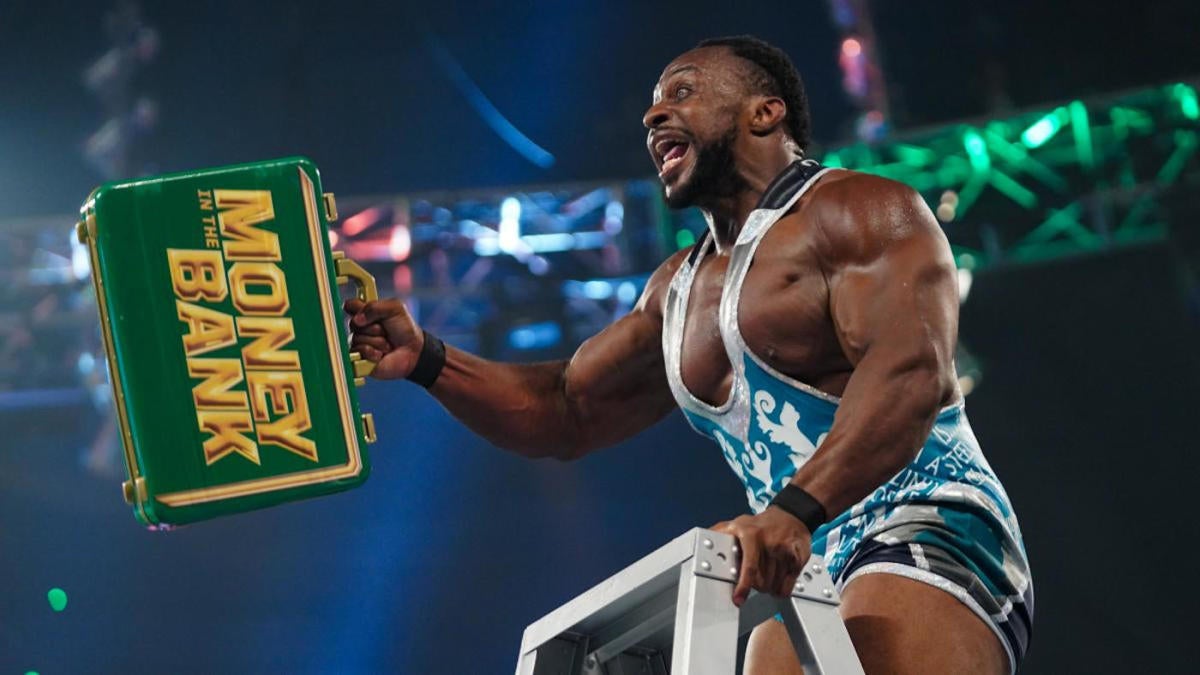 CBS Sports 20 July, 2021 - 11:00pm
WWE fans were treated to a feel good moment at Money in the Bank on Sunday when Big E ascended the ladder to retrieve the Money in the Bank briefcase. With the win, Big E is now guaranteed a title shot at a time of his choosing in the next year, an opportunity that nearly always results in the winner being crowned world champion.
Along with the return of John Cena, Big E's win stands as one of the lasting memories coming out of the event. Speaking with CBS Sports less than 24 hours after his victory, Big E was still enjoying the moment.
"It's pretty incredible," Big E said. "I think just having the honor of having the briefcase is pretty incredible knowing that, hey, I'm close to being world champion. But it's just the moment of the night is something I'm going to remember for a long time. That energy, the fan reaction, there's nothing like that. That's what we aim for in our industry, you know? It's what you work for years and years for, nights like that, nights where everything almost feels perfect. I thought the match was incredible and just being in the ring with so many incredibly talented performers and guys who could all be world champions and are so incredible at what they do is humbling. Being newly back in crowds with that moment and the significant moments. So many things felt like a perfect storm was in place.
"...I think, for me, the end game is to be world champion. But I also want to have fun with it. That's been my focus as far as becoming a singles performer and a singles wrestler. I want to approach this with determination but I still want to be me. I want to have fun and I want it to be fun. I think that little interaction that you saw with myself and Paul Heyman on Friday, that's a bit of it. I still think what we do -- the 'E' is for entertainment. That's important to me and it's so important for me to go out and make people smile and laugh and entertain them. But I want people to know there's a side of me that's determined to be a world champion, not just be one, but have a reign that is memorable and long and one that people enjoy."
BELIEVE IN THE POWER OF POSITIVITY.@WWEBigE is MR. MONEY IN THE BANK! #MITB pic.twitter.com/CURawYlViZ
While fans have felt that Big E was ready for a run at the top of the card for years, it felt at times that WWE would never pull the trigger on giving him that opportunity. Even when Big E was split from his New Day teammates Kofi Kingston and Xavier Woods and moved to SmackDown, it never felt that he'd built any significant sustained momentum.
Big E stressed that, while there were impatient moments over the past few years, his focus remained on doing the best with everything he was given.
"I suppose there are moments like that where I felt like I can and should be doing a lot more," Big E said. "In the same vain, I really try to focus on controlling what I can. It's a waste of mental energy and emotions to sit up and complain. My perspective has always been, 'Hey man, whatever you're given, do your best with it on a nightly basis.' I've always tried my best to never have that feeling that I made it. Despite being named the greatest tag team of all time and doing so many incredible things with the New Day, for me there was just never a moment where I felt like I made it and it was time to ghost and there will never be. I'll retire one day feeling like I still have more work to put in. For me, I feel like the last couple years I've been ready. Just the outpouring of respect from my peers has really bolstered my confidence to think that, yeah, you know what? I am ready to take that top spot. It feels like now? It's time now. We're here and I'm excited about that."
Big E has been plenty busy outside the ring as of late. Possessing one of the most iconic and instantly-recognizable voices in WWE, he has become the face of WWE's effort to find "the next great ring announcer" in a WWE contest being held on TikTok, with the winner earning an opportunity to live the role at SummerSlam.
"I think it's so easy to lean on the ring announcers of my childhood," Big E said of the premier qualities of a great ring announcer. "You think about Howard (Finkel), but what makes a good ring announcer is that you have to have a certain professionalism but I love when ring announcers kind of bring their own little flair to it or they have the guy, their top guy like John Cena where his call is a little bit different and there's a little more umph on it for someone who is the guy. I like when ring announcers bring a little bit more personality while still being professional. It's a bit of a balance. The fact that we're using TikTok right now to scout the world for the next great ring announcer is pretty cool. To see that culminate very soon at SummerSlam is very cool. The way we use newer forms of media to find and recruit talent is exciting. We'll see how it shakes out."
More importantly, Big E has also partnered with friends to launch a project bringing awareness to important Black figures throughout history. The project, titled Our Heroes Rock, is an effort by Big E, Andreas Hale and Jonathan Davenport featuring animation and hip hop, and kicks off in the coming months with a feature on Ruby Bridges.
"For me, I think the death and murder of George Floyd was something that really shook me and I had this feeling that I wanted to do more," Big E said. "I didn't know what to do but I have a bit of a platform and a voice and I wanted to use it. I think a lot of ignorance and hate starts at a lack of understanding and I just thought, 'You know what? What if we did something akin to, or the spiritual successor to, Schoolhouse Rock. But let's do it for Black figures and politicians and artists and activists upon whom not enough spotlight is shined upon.
"This project we're working on right now is focused on Ruby Bridges, she was a six-year-old Black girl in 1960 who integrated an all-white school in New Orleans. Her story just resonates to anyone. It's such an incredible story. ... We wanted to use hip hop to make it fresh. In so many ways, hip hop is the language of culture right now. We wanted to use animation. Jonathan Davenport has been designing the New Day gear for, I think, the last seven years now and he's such an incredible artist. This has really been a labor of love. Our hope is to produce this film, which hopefully comes out in the next few months, and hopefully we can have a series where we can do more of these stories. That's what I'm excited about and what we've been working on pretty much daily for the last several months."
© 2004-2021 CBS Interactive. All Rights Reserved.
CBS Sports is a registered trademark of CBS Broadcasting Inc. Commissioner.com is a registered trademark of CBS Interactive Inc.
Images by Getty Images and US Presswire
Cultaholic 20 July, 2021 - 12:00pm
You are using an outdated browser. Please upgrade your browser to improve your experience.
Speaking to WWE's Megan Morant after the match, Big E talked up his big win, saying:
"It signifies for me… it's just been a lot of years of working and trying to be in this position, to be at the very top and feeling like you know, we've been crowned the best tag team of all-time, but like that's how they see me, that's my position in this company, and that's it. But for me, to show that I can run with the ball, that means everything, and I'll say it until I'm on my death bed – I don't get there without Kof and Woods, I don't get there without The New Day. I'm thankful, man, I'm thankful.
"The work just starts here. The work… just starts here, man. There's no resting on my laurels, there's no thinking I've made it. You got the briefcase, but I'm not a World Champion, yet. You put that on my resume and you can never take that away from me. You can never take away World Champion from me. Put that on my epitaph."
"This is just the beginning," Big E said. "This is not a 'I made it' moment, this is not a 'Rest on my laurels' moment, this is a 'I'm coming for you' moment. Y'all have a target on your backs, and becoming World Champion… I'm not stopping there, either. I'm not stopping. This is a great first step, this is a night I won't forget."
Scripts, news, and features writer. Anything with words, basically.
eWrestlingNews 19 July, 2021 - 04:51pm
At Sunday night's WWE Monday in the Bank pay-per-view event, Big E. won the Men's Money in the Bank Ladder Match to earn a future WWE title shot. Following the show, Big E. spoke with Megan Morant about his journey to capture the briefcase and what it means for his career. He said,
Ewen is an American professional wrestler and former powerlifter and American football player. He is signed to WWE under the ring name Big E. He ...
eWrestlingNews 19 July, 2021 - 01:24pm
WrestleVotes wrote, "Talked to a few sources and it seems as though WWE feels like they can absolutely keep the energy & momentum created so far this past weekend and carry it all the way thru to SummerSlam. If they can, we are looking at an all time PPV event come 8/21. Time will tell."
Gonna say this. Tonight's show is stacked. I just hope they commit to the plans that are on paper.
— Andrew Zarian (@AndrewZarian) July 19, 2021
Tony is an American businessman. A noted American football and association football executive, he is a co-owner of the Jacksonville Jaguars of the National Football ...