Cageside Seats 19 July, 2021 - 10:00am
Tonight eight women will enter the Money in the Bank ladder match in the hopes of climbing their way to a championship opportunity. Asuka, Naomi, Nikki A.S.H, and Alexa Bliss represent the red brand, while Tamina, Natalya, Zelina Vega, and Liv Morgan fly the blue banner. The field of competitors is...let's say interesting...which really means that tonight, it truly is anyone's match to win.
The entire point (in theory) of a MITB match is to give a deserving superstar a chance to prove themselves worthy of a championship run. These matches always have established stars and often previous champions, but ideally, a fresh face wins the briefcase and earns the opportunity of a lifetime.
Let's rank tonight's competitors from least likely to win to most:
At the bottom is Tamina. Not only is she a last-minute addition to the match, but - let's be real here - Tamina is never going to be a women's champion. Frankly, it's still kind of shocking that she is a tag team champion. She's been on the roster for a really long time, and although she has the experience to back up a championship run, she doesn't have the charisma.
Natalya certainly has the in-ring acumen to be a fighting champion, but she's too busy carrying the women's tag titles to also be carrying a MITB briefcase. Nattie was a great champion, but I think it's safe to say that her time in the main event spotlight has passed.
Asuka won the briefcase last year but never really got the opportunity to exist with the contract. Instead of lording it around and becoming a constant threat on the roster, she was handed the Raw women's championship when Becky left on maternity leave. So, in theory, they could give it to Asuka again and allow her to have a traditional briefcase run, but it's unlikely.
Zelina Vega shocked the WWE Universe when she returned to SmackDown. After she was unceremoniously released due to the great Twitch debacle, many assumed she would follow her former client, Andrade El Idolo, to AEW. These rumors all but solidified when her husband, Aleister Black, was also released. But Zelina is a wily one and loves to keep us on our toes, so she's back in WWE and looking to reestablish herself. That being said, it doesn't feel like now is the right time for her to win the briefcase. On the one hand, we all know she would be an amazing heel briefcase holder and would cut excellent promos, but on the other, well, she did lose her very first match back and didn't really even wrestle that much before she was released. We need to see more of her in-ring before she gets an opportunity like the briefcase.
Naomi has been struggling to reestablish herself as a main event player for a while. After a revolving door of tag team partners, it's time for Naomi to remind everyone that she was an excellent champion and that she's capable of doing it again. A briefcase win here would be just the thing to help push her out of the midcard and back into the main event.
Out of all the competitors in this match that have been champions previously, Alexa Bliss is the most likely to win. Sure, she has won it before, but evil, twisted, dark Alexa hasn't. They are endless mind games she could play if she combined her magic with the threat of a cash in. Just pray that Lilly doesn't come back and hide herself inside.
If we look at her recent win/loss record Nikki A.S.H. is on a roll. Despite the terrible name and the even worse costume, Nikki is somehow making it work! The briefcase could be her ticket to SUPERstardom, knocking that A right off her moniker.
Ok, I'm a little biased. Liv Morgan wasn't even supposed to be in this match and was a last-minute replacement, but if anyone deserves a big push in the women's division, it's Liv. She has consistently stepped up to the plate and has done an excellent job navigating all the landmines WWE creative has thrown at her. Not to mention the fact that her in-ring acumen has steadily improved, resulting in her being an absolute delight to watch. She lost both her besties due to untimely releases, had an awkwardly forced lesbian storyline with Lana, and had to cut promos from a bubble bath. This woman has paid her dues tenfold. Give her the damn briefcase!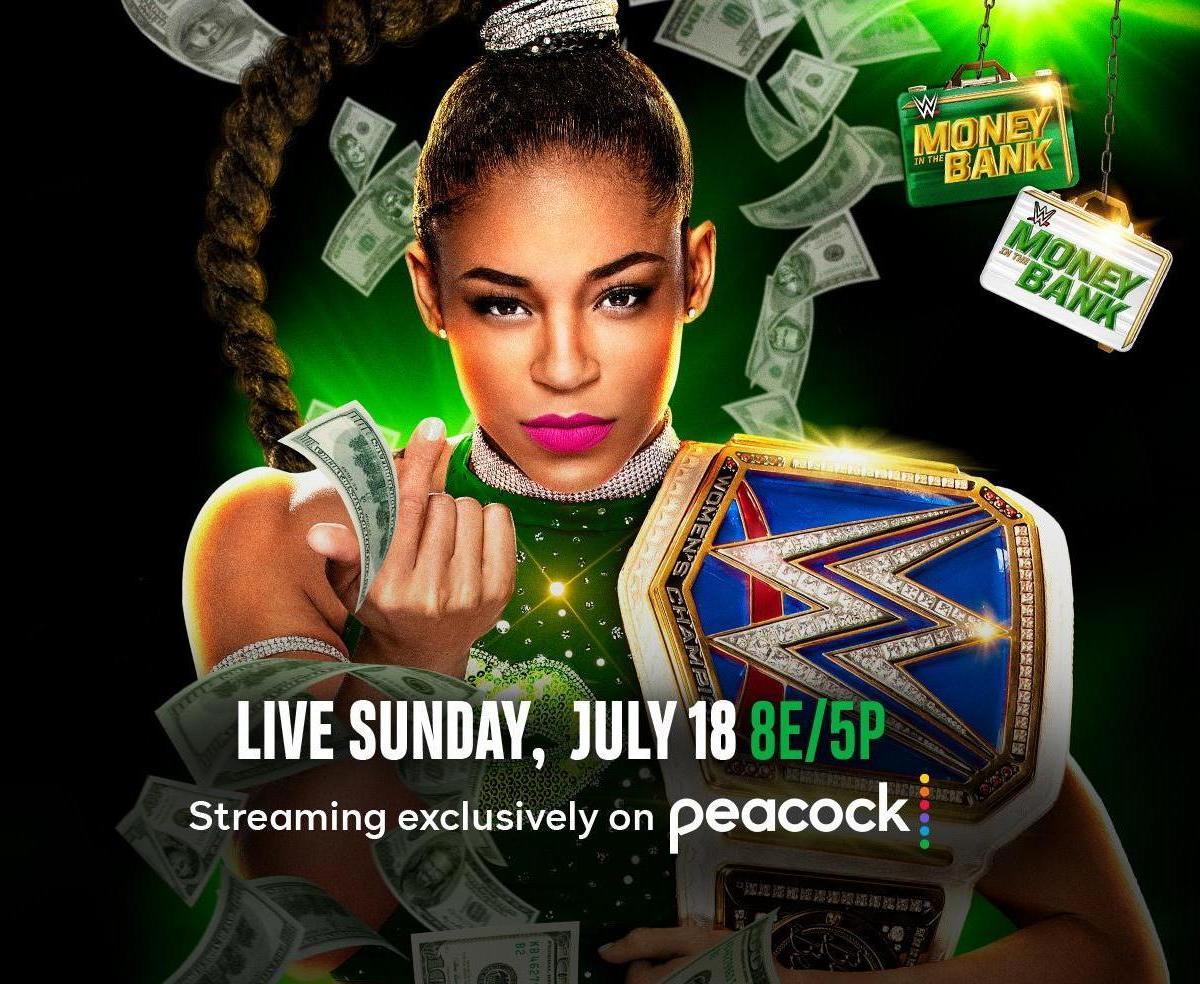 Bleacher Report 19 July, 2021 - 10:00am
Championships, title opportunities and bragging rights were all up for grabs Sunday night as WWE presented Money in the Bank, a show headlined by the event's namesake matches and Roman Reigns defending his Universal Championship against Edge.
Was The Head of the Table able to retain his title or did The Rated-R Superstar net title No. 12 in an epic return to pay-per-view? 
Who emerged from the men's and women's MITB ladder matches with guaranteed title opportunities to use at any given point in the next year?
Find out now with this recap of the extravaganza.
The booking decision creates intriguing questions rather than predictable answers and that is always welcome.
Enjoy our content? Join our newsletter to get the latest in sports news delivered straight to your inbox!
iHeartRadio 19 July, 2021 - 10:00am
John Cena made his long-awaited return to WWE television on Sunday (July 18) night.
The 15-time World Champion made a surprise appearance at the end of the Money in the Bank pay-per-view following WWE Universal Champion Roman Reigns' victory over WWE Hall of Famer Edge in the show's main event.
Cena, who has typically gotten a mixed reaction from WWE crowds during the past decade, returned to thunderous cheers when his music hit the speakers at Dickies Arena in Fort Worth, Texas, as the live broadcast went off-air.
WWE shared footage of Cena addressing the Fort Worth crowd and acknowledging its uncharacteristic excitement after its broadcast concluded.
"It's so weird because I'm used to you guys telling me how much I suck, man this feels pretty good," Cena said, smiling as the crowd responded with more cheers. "I see this dude's sign over here, it says, 'If Cena shows up, we cheer,' is this like Bizarro World? What's going on?
🎺🎺🎺 🎺@JohnCena is BACK!!! 🤯 #MITB pic.twitter.com/QsXF8OxDr2
Cena was expected to return in the coming days to build up an angle with Reigns for a main event match at SummerSlam next month, according to multiple reports.
"Tonight I just wanted to come out here and let Roman Reigns know that I was back and I certainly wanted to come out here to let all of you that I'm back," Cena told the crowd. "And I promise you this is not a one night only, but what's special to me is that this is the first night. As always, I want to thank all the WWE superstars for putting their lives and their bodies on the line to entertain all of you, but most importantly, I missed you guys.
"I really...I really really missed you guys, so as much as I'm thankful and grateful for them, man, I love you guys and I really really missed you and thank you so much for being here tonight and making this moment special to me and special to everybody in here."
Cena also announced he would be kicking off Monday's episode of RAW to tell his "motivation" for returning in a video shared on WWE's official Twitter account.
Last week, Wrestling Observer Newsletter's Dave Meltzer reported WWE had "locked in" a Universal Championship match between Cena and Reigns for the SummerSlam pay-per-view event next month.
Cena, who's made a transition to acting in recent years, reportedly finished filming the upcoming HBO Max series The Peacemaker, but is signed on for Argylle, which is set to begin filming in Europe in August, though its exact start date and/or Cena's filming schedule has not yet been made public.
During an appearance on The Tonight Show with Jimmy Fallon on June 23 to promote the film F9, Cena acknowledged his inevitable return to wrestling, but claimed "I just don't know when."
Cena also addressed a post on his (notoriously vague) Instagram account of the WWE logo shared in May.
"I was feeling rather nostalgic about the WWE and I just wanted to post the logo," Cena told Fallon. "Some people took it as I was returning immediately, which that's not the case, but I haven't had my last match and I can't wait to have my next one."
Prior to Money in the Bank, Cena shared a post on his Instagram in which an account balance read "0.00," leading to even more speculation of his return.
Last month, Spectrum Sports' Jon Alba confirmed previous reports that Cena is expected to be WWE Universal Champion Roman Reigns' opponent in the main event of the SummerSlam pay-per-view event on August 21.
WrestleVotes initially reported WWE was working toward a Cena-Reigns match headlining the event if possible.
Alba reports Cena's acting schedule will be cleared in the beginning of July, which will coincide with WWE's return to a live event touring schedule, as well as a potential buildup to the SummerSlam match.
Cena's schedule clears up in the beginning of July, which would allow him to return to #WWE in time for the return of fans. I believe it was @AndrewZarian who first mentioned this possibility a few weeks ago. #WWE
Cena missed this year's WrestleMania event, in April due to prior obligations and international travel restrictions amid the ongoing COVID-19 pandemic while filming Peacemaker in Vancouver. The 15-time World Champion had never previously missed WWE's biggest annual event since his debut in 2003.
Cena, who was professional wrestling's top superstar throughout his career, was credited for always making a demanding WWE schedule prior to transitioning into an acting career. Since then, he's taken a part-time role with the company, still managing to make sporadic appearances, but hasn't appeared on WWE television since WrestleMania 36 in 2020.
Reigns has served as WWE's franchise player in Cena's absence. The former Georgia Tech football standout has closed out WrestleMania during five of the last seven years, which included retaining the Universal title by defeating Edge and Daniel Bryan in April.
Reigns also acknowledged rumors of possibly working with both Cena and Dwayne "The Rock" Johnson, while providing a warning to the two box office stars during an appearance on ESPN's SportsNation last week.
"I'm a problem right now for everybody. If I were them, I would stay on set."@WWERomanReigns on why @TheRock should stick to Hollywood 🍿 pic.twitter.com/KtGMmzxtDE
The Rock made his last WWE appearance during SmackDown's 20th anniversary episode and wrestled his last match at WrestleMania 32 (2016), appearing in an impromptu match against then-Wyatt Family member Erick Rowan, which escalated into a brawl that saw Cena run out to assist his fellow wrestler-turned-actor.
The two former World Champions headlined WrestleMania 28 (2012) and WrestleMania 29 (2013) against each other and split victories, with Cena taking the latter match.
Johnson also made his WWE return after a several-year absence in the lead-up to WrestleMania 27 (2011) and served as the event's host, which saw him cost Cena the victory in his main event WWE Championship match against The Miz.