Mackenzie Douthit
DouthitKenzie
Can we talk about how @itsjojosiwa is killing it on #dwts and being the first to do female with female dance partners

ON With Mario Lopez
onwithmario
📺: #DWTS Pro Dancer @JennaJohnson Talks Dancing With @itsjojosiwa, New Clothing Line & More! #Jojo onwithmario.iheart.com/featured/on-with-mario/content/2021-10-11-dwts-pro-jenna-johnson-talks-dancing-with-jojo-siwa-clothing-line-more/
Jeanna Kadlec
jeannakadlec
okay listen jojo siwa dancing the argentine tango with another woman was the representation i didn't know i needed
Kristyn Burtt 💃🏼
KristynBurtt
Here's Your First Look at Jojo Siwa's New Competition Show Siwas Dance Pop Revolution www.eonline.com/news/1305089/heres-your-first-look-at-jojo-siwas-new-competition-show-siwas-dance-pop-revolution via @enews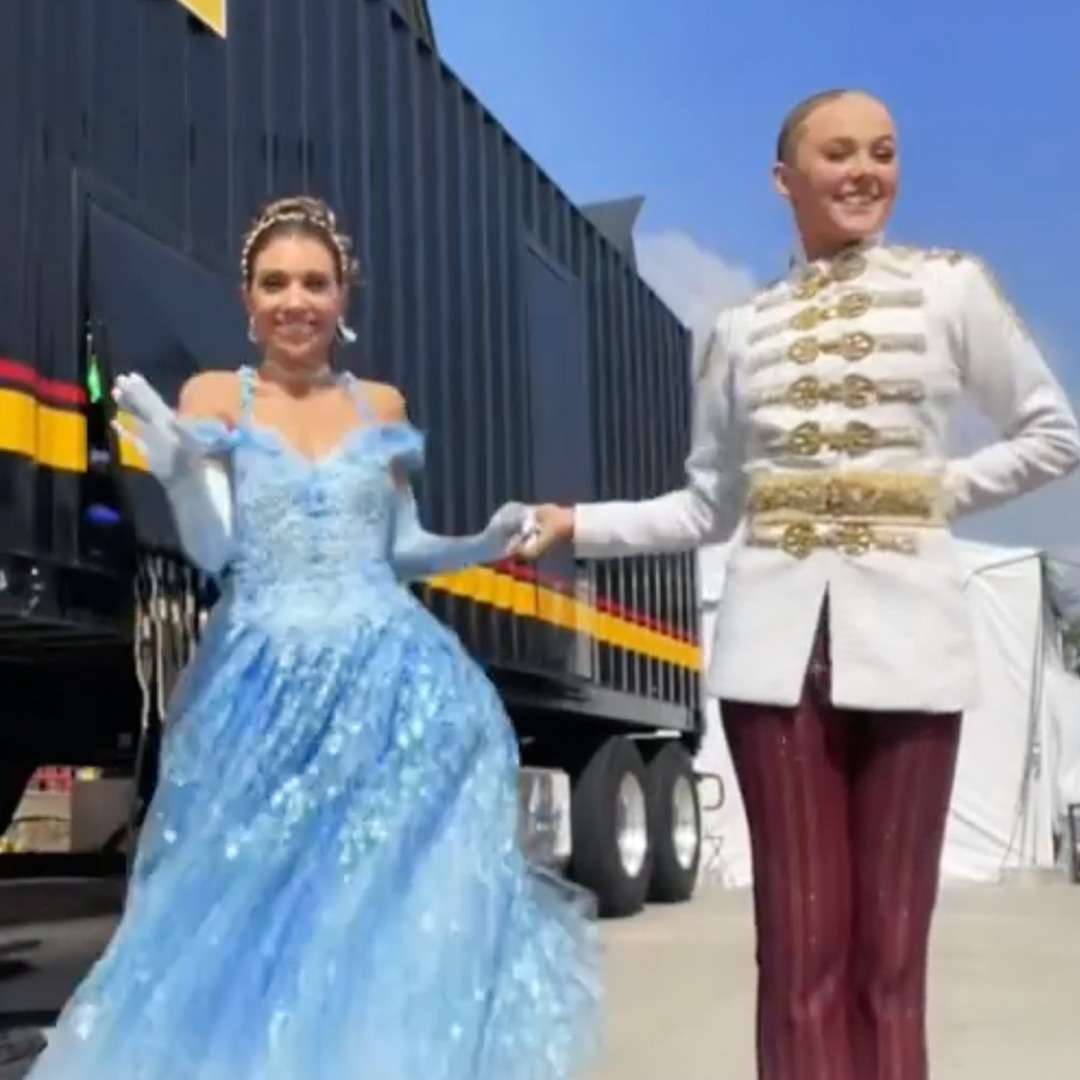 On Monday, Oct. 11, the ABC competition show aired the first part of its Disney-themed week with "Disney: Heroes Night." Concluding tomorrow, the popular film celebration features the celebrities and their partners dressed as some of the studio's most beloved characters, from Mary Poppins to Snow White to Elsa.
This episode was exciting for a variety of reasons, as it saw the ballroom return for Cheryl Burke and Cody Rigsby, who are both healthy again after previously testing positive for COVID-19. In addition, judge Derek Hough is back as well, after he took last week off following a possible COVID-19 exposure.
There were no eliminations tonight, meaning all of the pairs will take part in Tuesday's "Villains Night." Heading into the week, JoJo Siwa and Amanda Kloots were tied atop the leaderboard after the first three weeks.
Continue reading to see all the performers in their Heroes outfits, and click here to see E! News' exclusive behind-the-scenes photos from the pairs' recent trip to Disneyland. Dancing With the Stars returns Tuesday, Oct. 12 at 8 p.m. on ABC.
JoJo Siwa's dance was the Viennese waltz, set to Cinderella's "A Dream Is A Wish Your Heart Makes."
The real-life power couple got cozy to "Someday My Prince Will Come" from Snow White and the Seven Dwarfs.
The Incredibles' Edna and Frozone were brought to life as the pair performed to the song "The Incredits."
The duo danced the rumba to Tarzan's "You'll Be in My Heart."
For their paso doble, the country singer and his partner channeled Mulan to the tune of "I'll Make a Man Out of You."
The pair delivered a purr-fect tribute to The Lion King with their samba, set to "I Just Can't Wait to Be King."
The Olympic gymnast strutted her stuff to "Colombia, Mi Encanto!" from the forthcoming Disney animated film Encanto, which will be released next month.
The Spice Girls standout joined partner Gleb Savchenko for Mary Poppins' "Step in Time."
The Real Housewives of Atlanta star performed a contemporary routine to "How Far I'll Go" from Moana.
A Goofy Movie's Powerline was brought to life by Cody Rigsby, who danced to the song "Stand Out."
To perform a quickstep to The Jungle Book's "I Wan'na Be Like You," Melora Hardin dressed as Baloo, while Artem Chigvintsev was Bagheera.
Iman Shumpert danced the foxtrot to Frozen's iconic "Let It Go."
The former The Bachelor star had a friend in The Miz, who became the Genie from Aladdin, with help from some blue paint.
Your source for entertainment news, celebrities, celeb news, and ​celebrity gossip. Check out the hottest fashion, photos, movies and TV shows!
Read full article at Dancing With The Stars
Yahoo Lifestyle 12 October, 2021 - 09:20am
Yahoo News 12 October, 2021 - 08:25am
It was Disney Heroes night on DWTS, and the out Gen Z superstar and Dance Moms alum gave us the queer, Disney-themed dance routine we've always wanted to see when she and her competition partner Jenna Johnson danced the Viennese waltz to the classic Cinderella anthem "A Dream Is a Wish Your Heart Makes."
Ditching the usual princess garb that is typically expected of women for princess-themed anything, Siwa donned Prince Charming's classic costume to dance with Johnson (who took on the role of Cinderella's to Siwa's prince), and as expected, they slayed the ballroom floor for the fourth week in a row, scoring 35 out of 40 points total and getting the first 9s of the season from the judges' panel!
Siwa and Johnson's Disney-themed routine comes on the heels of some epic performances from previous weeks, the likes of which include a routine to Britney Spears' iconic 1998 smash hit "...Baby One More Time," Lady Gaga and Ariana Grande's pandemic bop "Rain On Me" (where they got the second-highest score of the night), and the "Are You Gonna Be My Girl?" performance the week before that, where they topped the entire episode with the highest-scoring performance in the competition!
And this wasn't the only same-sex waltz in the DWTS universe to capture audiences' attention!
On Saturday night's most recent episode of Strictly Come Dancing (the British equivalent of DWTS), all the dance pros gathered together for special opening routine to Taylor Swift's classic tracks "Lover" and "Love Story." Johannes Radebe, who is currently competing with Great British Bake Off's John Whaite in the competition, stole the show when he arrived to the Strictly ballroom and started dancing the waltz with Kai Widdrington.
Radebe (like many of us viewers) got emotional at the end of the super romantic performance, which is totally understandable when you consider just how far we've come when it comes to on-screen inclusion and mainstream LGBTQ+ representation in dance!
"DWTS" Disney Night saw real hero Iman Shumpert dancing to "Frozen," JoJo Siwa as Prince Charming and Tom Bergeron's words about his 2020 firing.
Patriots offensive coordinator Josh McDaniels tried a formation he hasn't used in a long time.
Dancing With the Stars would like us to come along and sing the song and join the jamboree… not once, but twice this week. You guessed it: Disney Week has taken over the ABC competition series once more, with Monday's episode celebrating Disney heroes, while Tuesday's special installment will feature dances inspired by Disney villains. And […]
Here's a look at how Patriots rookie quarterback Mac Jones played against the Texans in Week 5 with stats and video highlights.
Audience reviews for National Geographic's new documentary about Dr. Anthony Fauci has been ignored by audiences on Rotten Tomatoes, despite overwhelmingly positive reviews from professional critics.
Amanda Kloots and pro partner Alan Bersten performed the rumba to Tarzan's "You'll Be in My Heart" during the Dancing with the Stars two-night Disney event
The pair returned to the Dancing with the Stars ballroom on Monday after both contracting breakthrough cases of COVID-19
Prince Albert of Monaco previously dismissed rumors that his marriage is on the rocks.
'Dancing With the Stars' season 30 competitor JoJo Siwa posted a TikTok showing her and pro dance partner Jenna Johnson practicing for Britney Night when the two had a scary fall.
You may want to ease up on the googly eyes, Brian Austin Green and Sharna Burgess. The judges aren't feeling the love!
Trump vowed to unseat the 10 House Republicans who voted to impeach him. Months later, they face Republican challengers.
Following news about Lori Loughlin's return to TV as Abigail Stanton in When Hope Calls, Hallmark Channel released a statement, clarifying that they have no plans to work with the actress.
A fan Q&A on Instagram Live took a highly personal turn into the singer's "body count."
"I'm not going back, Tim…. I'm not going back home." With that declaration from Gibbs, made while peacefully casting a line into an Alaskan bay, CBS' NCIS this Tuesday night announced series lead Mark Harmon's exit after more than 18 seasons. Harmon reportedly was ready to hang up Gibbs' cap after last season, but learned […]
The rapper wants to come on the NBC sketch show to impersonate the comedian.
The 17-year-old aspiring model took to Instagram on Sunday to share a slate of snapshots of herself.
Ahead of the new season of 'Dancing With the Stars' in the fall of 2021, former 'Dancing With the Stars' host Tom Bergeron talked with 'Full House' star Bob Saget about getting fired from the show.
HELLO! 12 October, 2021 - 05:09am
But JoJo's kind words also sparked a debate between her fans as they worried she's no longer with her off-screen girlfriend, Kylie Prew.
In the sweet post ahead of their Disney week performance on Dancing with the Stars 2021, JoJo wrote an emotional message about Jenna which read: "Tomorrow. Somehow I've smiled the most ever this week, while also setting my crying record. Being on @dancingabc with @jennajohnson has been more than a dream come true.
"It's unexplainable the joy and happiness that I feel while on set, thank you Jenna for being the best partner In the entire world. This journey would be SO different without you."
JoJo continued: "I'm so thankful for everything that you put into our dances every single week. Somehow they get better and better each week! Also thank you for being my best friend. Thank you for making me laugh, smile, plank, say 'oh', try things I would neverrrr try, and so much more!
"You're the literal best. Thank you to all of the amazing CREW on DWTS. The amount of people who work on this show is insane, and they all are so so amazing.
"Thank you to all the other cast for being so fun and being my family. And thank you to YOU for watching, supporting, and voting."
Many of JoJo's social media followers commented, telling them they are their favorite couple on the show, but others were concerned that this might mean the former Dance Moms star had split from girlfriend, Kylie.
"I wonder how Kylie feels about JoJo's posts about Jenna?" wrote one fan about the couple - who were best friends before things turned romantic. Another pointed out: "There was no mention of their nine month anniversary the other day. They usually celebrate every month and post about it."
Others said JoJo had mentioned something difficult happening in her personal life on Instagram just days before, while more insisted Kylie was still 'liking' JoJo's posts, so hoped things were ok between them.
Regardless of what is happening in her personal life, it appears she's found great support in her dance partner - who is happily married to fellow, pro-dancer, Val Chmerkovskiy.
All the AW trends the A-list are loving… plus how to shop more sustainably
7 hacks for buying designer homeware on eBay
A CBD face mask that combats spots and fine lines? Kristen Bell and Gwyneth Paltrow swear by skincare just like it
By registering to HELLO!'s newsletter, you acknowledge that you have read and accepted hellomagazine.com's privacy policy, the cookies policy, and the website terms of use, and that you consent to hellomagazine.com using your data according to the established laws. If you wish to change your mind and would like to stop receiving communications from hellomagazine.com, you can revoke your consent by clicking on "unsubscribe" in the footer of the newsletter.
iHeartRadio 11 October, 2021 - 03:18pm
WATCH: