Daily Mail 19 July, 2021 - 07:00am
By Cian Cheesbrough For Mailonline
Louis Oosthuizen claimed some of the pin positions for the third round of The Open were 'very questionable' after clinging onto his lead ahead of the final day at Royal St George's.
The South African preserved a one shot lead over Collin Morikawa ahead of Sunday's final round despite a mid-round stutter on Saturday as he finished with a respectable 69 to sit on -12 overall.
With clear blues skies and little breeze in Kent on the Saturday, the R&A introduced a series of far tougher pin positions to make sure scores did not get out of control.
Louis Oostuizen claimed pin positions were 'very questionable' for third round of The Open 
And after 38-year-old hit a few 'poor swings' that cost him shots at the 11th and 13th before eventually holding on to his lead, Oosthuizen was ready to question the change in positions by the R&A. 
'I think the R&A weren't happy with the low scoring, so they put some pins out there that were very questionable,' he said. 'It was tough, so I was glad I could hold it together.
'I was 13 under at a stage, and with a good back nine I could have gone to 14 or 15. But there was a few very tough pins out there that you couldn't really go for at all. You always had to make those 20-footers for birdie.
'I made a few bad swings there in the middle of the round and put myself in some awkward positions and ended up making two bogeys. I had four-iron into 14 and I made a horrible swing, ended up making a par.
The R&A introduced tougher pin positions with clear blue skies at Royal St George's
'I did have a lot of opportunities to go two or three better, but that's what this golf course can do to you.'
Oosthuizen is hoping to make it third time lucky after finishing second in his previous two major championships USPGA Championship and the US Open this season.
The 2010 Open champion said: 'Finishing second never makes you feel great and the goal is obviously to go one better and win my second Claret Jug.'
The leader was not the only one to question the positions, with John Rahm describing them as 'some of the hardest pin locations I've ever seen'.
John Rahm was another to heavily criticise them as ''some of the hardest pin locations I've ever seen'.
'Because of the weather conditions it's easy to think it could have been a little bit better, but the pin locations were no joke,' the Spaniard said. 
'I don't know if on TV you could appreciate it, but those are some of hardest pin locations collectively I've ever seen.' 
Oosthuizen and Morikawa are set to tee off on their decisive round at 2.35pm, with the American leading the chasing pack that includes Jordan Spieth, Scottie Scheffler, Corey Conners and Rahm who hope to pip the South African.
The comments below have not been moderated.
The views expressed in the contents above are those of our users and do not necessarily reflect the views of MailOnline.
By posting your comment you agree to our house rules.
Do you want to automatically post your MailOnline comments to your Facebook Timeline?
Your comment will be posted to MailOnline as usual.
Do you want to automatically post your MailOnline comments to your Facebook Timeline?
Your comment will be posted to MailOnline as usual
We will automatically post your comment and a link to the news story to your Facebook timeline at the same time it is posted on MailOnline. To do this we will link your MailOnline account with your Facebook account. We'll ask you to confirm this for your first post to Facebook.
You can choose on each post whether you would like it to be posted to Facebook. Your details from Facebook will be used to provide you with tailored content, marketing and ads in line with our Privacy Policy.
Part of the Daily Mail, The Mail on Sunday & Metro Media Group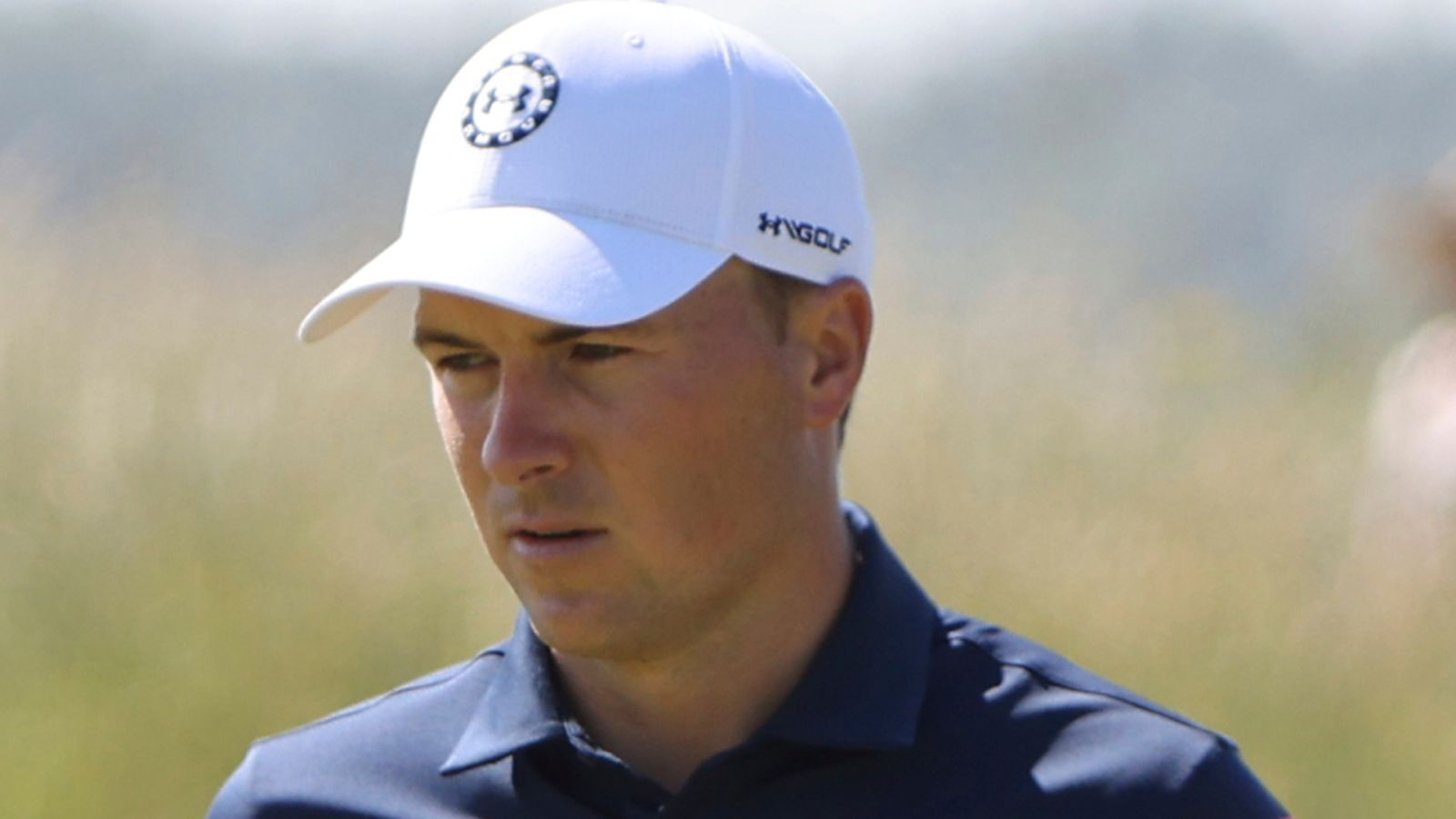 Sky Sports 19 July, 2021 - 07:00am
Spieth was just one shot behind Louis Oosthuizen with two holes remaining in the Saturday evening sunshine and in great position to set up the chance to tie the South African after a perfect drive down the 17th fairway.
But the 2017 champion made bogey despite having only 60 yards for his second, and he compounded the error with a three-putt bogey at the last to slip three strokes behind before heading straight to the practice putting green.
His attempts to clear his head looked to have failed when he bogeyed the fourth and sixth holes on Sunday, but he roared back into contention with an eagle at the seventh followed by birdies at nine and 10.
Despite Morikawa reeling off three straight birdies approaching the turn, Spieth kept the pressure on with gains at 13 and 14 trimming the deficit to a single shot, but four closing pars left him two strokes behind the champion.
"It's hard to be upset when I was a couple over through six holes, I couldn't have really done much more after that point," said Spieth, whose runner-up finish was his best result in a major since winning The Open at Royal Birkdale in 2017.
Get the best prices and book a round at one of 1,700 courses across the UK & Ireland
"But the finish on Saturday, that was about as upset as I've ever taken a finish of a round to the house. I walked in and said, 'Is there something that I can break?' I knew that was so important because I would have been in the final group.
"I was 60 yards out and in the fairway, and made bogey on 17. Then I had a good look straight up the hill on 18. I finished two over on those holes, which what was frustrating was the separation it would have been. It would have been three of us separated by at least three shots from the field and I would have been in the final group.
"So it was kind of a double whammy there where you feel like you're not worried about someone going low behind you as much and you feel in control when you're in the final group. That was a new one for me, but what good does it do to be upset? I got to play with a chaser's mentality, which sometimes can be with a bit more freedom."
"So I had to regroup 18 hours later and then just had a lot of in-between clubs, and you have to be so precise here," added Spieth. "You need some good numbers, but I kind of fatted it off six and went to seven thinking, 'Okay, now we're going for everything, and we're going to see what happens'.
"I'm proud of going six under in the last 12 in this golf tournament and putting some pressure on Collin. From what I've heard, he made a big par save on 10, made a putt up the ridge on 14 and a par save on 15. I needed a break, and I didn't get it from him.
"I did all I could. So I'm upset because I really felt like I played well enough to win and made a couple of really dumb mistakes that possibly, if I had maybe played the week before, wouldn't have made, like just stepping in and missing a two-footer on 18 yesterday, not really thinking about it.
"But at the same time, I did everything I could in the past few hours to win this championship."
Jon Rahm, meanwhile, earned a podium finish on 11 under after a spectacular late charge with four consecutive birdies from the 13th in a closing 66, but the US Open champion conceded he had not putted well enough to contend for back-to-back major victories.
"It was a good championship and I played really good golf, but I think the main part of my game that could have been a little bit better is putting," said the Spaniard. "Not that I'm asking to make every putt, but I really struggled to make putts outside really eight feet.
"Even if you take today, I did make a long one on 15, but besides that every birdie putt I had was short, and even the eagle putt on the seventh. There were a lot of chances out there that I could have made or that I know that guys out there ahead of me are making.
"At the end of the day, it was still a really good showing, I played really good golf all week. Too bad I ended up just shy, but I'm still going to smile because I gave it my all. Finished really, really strong and gave myself the best chance I could."
Today's Golfer 19 July, 2021 - 07:00am
We analyse what's in the bag of golfer Louis Oosthuizen.
South Africa's Louis Oosthuizen is enjoying an incredible year with runner-up finishes at the US PGA and US Open and a record-breaking opening 36 holes at The Open.
The 38-year-old, who won the 2010 Open Championship at St Andrews, shot 129 for the opening two rounds at Royal St George's, the lowest 36-holes score in the Major's history.
But what golf clubs, grips and ball does he use? We take an in-depth look at what's in the bag of Louis Ooosthuizen for the year's final men's Major.
Ping G400 (9º at 8.75º, D4; Fujikura Ventus Blue 6 S shaft, 45 inches, tipped 1.5 inch)
TaylorMade SIM2 Titanium (15º; Fujikura Speeder Tour Spec 7.2 X shaft)
Ping Blueprint (3-PW; True Temper Dynamic Gold Tour Issue X100 shafts)
Ping Glide 2.0 Stealth (50º-SS, 54º-SS; True Temper Dynamic Gold Tour Issue S400 shafts)
Ping Prototype Glide Forged Pro (60º-TS; True Temper Dynamic Gold Tour Issue S400 shaft)
Ping PLD Voss Prototype (Stability Shaft Tour; Ping PP58 midsize full cord)
Win the same bag Collin Morikawa used at The Open...
What is so special about Royal St George's, host...
What's In The Bag of US Open champion Jon Rahm,...
What's In The Bag of four-time Major champion and...
Phil Mickelson made history by winning the US PGA...
Golf.com 18 July, 2021 - 05:01pm
Collin Morikawa lines up a putt on Sunday on the 18th green at Royal St. George's.
Collin Morikawa, on the 18th at Royal St. George's, hit his 25-foot birdie putt from past the hole, it tickled the right side and missed. Morikawa kicked up his leg. He winced.
When you don't miss a putt of consequence for an entire day, at your first Open Championship, during its Sunday final round, while first trying to chase down the lead, then trying to protect it, the misses sting just a little more.
Don't get us wrong. Morikawa did miss. He didn't go 18 holes played, 18 putts made. But they repeatedly dropped when they needed to. He'd win by two shots, his second major championship, both before he turns 25 next year. Clutch is an impossible thing to quantify, but at least one analyst, himself a major champion, believed Morikawa's putting on Sunday was historical in that regard.
"Some of the best clutch putting we've ever seen," Paul Azinger said on the NBC broadcast.
Consider, too, the fact that he both switches between two putting styles — beginning this week, he employed a "saw" putting grip for shorter putts and a traditional grip for longer ones — and that before last week's Scottish Open, he had not played a true links-style tournament, and the putting performance becomes more remarkable. Even the champ himself was impressed. When asked afterward where he would rank "that putting display today," Morikawa said:
"Definitely one of the best, especially inside 10 feet. I felt like it was as solid as it's going to get. I don't think I really missed many from that distance. Especially in a major. I think in a major on a Sunday in contention, I wasn't thinking about anything other than making a putt."
Half of Morikawa's holes finished with tap-in range putts. The other half required a little more work. A look at the latter, in order of play:
500-yard par-4 4th: Here, after hitting over the green and pitching on, Morikawa rolls in a 7-footer for par. It pulls him into a share of the lead with Louie Oosthuizen.
183-yard par-3 6th: Morikawa misses a 35-footer for birdie, but makes the 4-foot comebacker. "This will do your head a lot of good if you can make it," Azinger said beforehand on the broadcast. "Good, solid putt there, and it calms your brain."
461-yard par-4 8th hole: Morikawa sinks a 6-footer for birdie, and his lead is now three. The hole earlier, Morikawa made birdie while Oosthuizen doubled.
403-yard par-4 9th hole: Morikawa makes an uphill 15-footer for birdie, his third straight birdie, and he continues to lead by three, now over Jordan Spieth.
425-yard par-4 10th hole: Morikawa hits his approach left of the green, he pitches on, then rolls in a right-to-left 15-footer to maintain his advantage. "Well this guy's self belief is off the charts," Azinger said on the broadcast. "There's no lag or layup in him." "He's just unflappable," announcer Dan Hicks said.
253-yard par-3 11th: Morikawa hits his tee shot to 50 feet, and his birdie putt falls short, to the right and about 3 feet away. "These are the ones that will put hair on your chest," Azinger said. "These are tough putts." Morikawa makes it, and his lead is three over Spieth and Oosthuizen.
554-yard par-5 14th: Maybe the putt of the tournament. His lead now one over a charging Spieth, Morikawa pitches on with his third shot to about 15 feet. "You got to be conscious of your speed here in that the first several feet is so distinctively uphill," analyst Jim "Bones" Mackay said on the broadcast. "It's hard to get the pace right and keep it within a few of the hole should it not go in." It does, down the middle, and Morikawa leads by two over Spieth. "He's got the guts of a burglar," Azinger said.
496-yard par-4 15th: If 14 isn't the biggest putt, then 15 is. Morikawa, after hitting his approach left of the green, pitches to 7 feet, then drops it for par. "What a gut check, and he answered," Azinger said on the broadcast. "It's really unbelievable," analyst David Feherty said.
155-yard par-3 16th: Morikawa misses a 30-footer for birdie short, but cleans it up for par to keep his two-shot lead over Spieth. Morikawa would par out from here to win the Claret Jug.
In all, he would finish with no bogeys over his last 31 holes, and he wouldn't three-putt throughout the week.
"I'm going to tell myself probably tomorrow why can't I keep doing that all the time?" Morikawa said afterward. "But you know, I'm going to try to figure out what worked today and use that for the future because I know I can putt well. I know I can putt well in these pressure situations. I've just got to keep doing that.
"Yeah, everything about my stats say I'm not a good putter statistically. I feel like I can get a lot better. But in these situations, I feel like everything is thrown off the table. Forget about all your stats, who can perform well in these situations. That's why I think over the past few majors you've seen a lot of the same names up there, because they believe in their game, they know what they're doing when they practice, and they're able to bring it out in these big moments.
"Thankfully, I was able to put it out there on Sunday today and close it out."
GOLF.com and GOLF Magazine are published by EB GOLF MEDIA LLC, a division of 8AM GOLF