Kourtney Kardashian
kourtneykardash
What's better than classic brownies? @kendalljenner's slutty brownies. poosh.com/kendall-jenner-slutty-brownies-recipe/
Aaron Bronsteter
aaronbronsteter
45th U.S. President Donald Trump will be in attendance for UFC 264 this weekend per Dana White. As will Justin Bieber, Dave Chappelle, Kevin Durant, Odell Beckham Jr., Machine Gun Kelly, Megan Fox, Mel Gibson, Kourtney Kardashian and Travis Barker and many others.

Kourtney Kardashian
kourtneykardash
Go green and glow with these face masks poosh.com/face-masks-for-summer-glow/

Perez
ThePerezHilton
If I could afford a VIP guide like them every time I went, I'd be going to Disneyland at least once a month! perezhilton.com/kourtney-kardashian-travis-barker-kids-bonding-family-disneyland/ #KourtneyKardashian #TravisBarker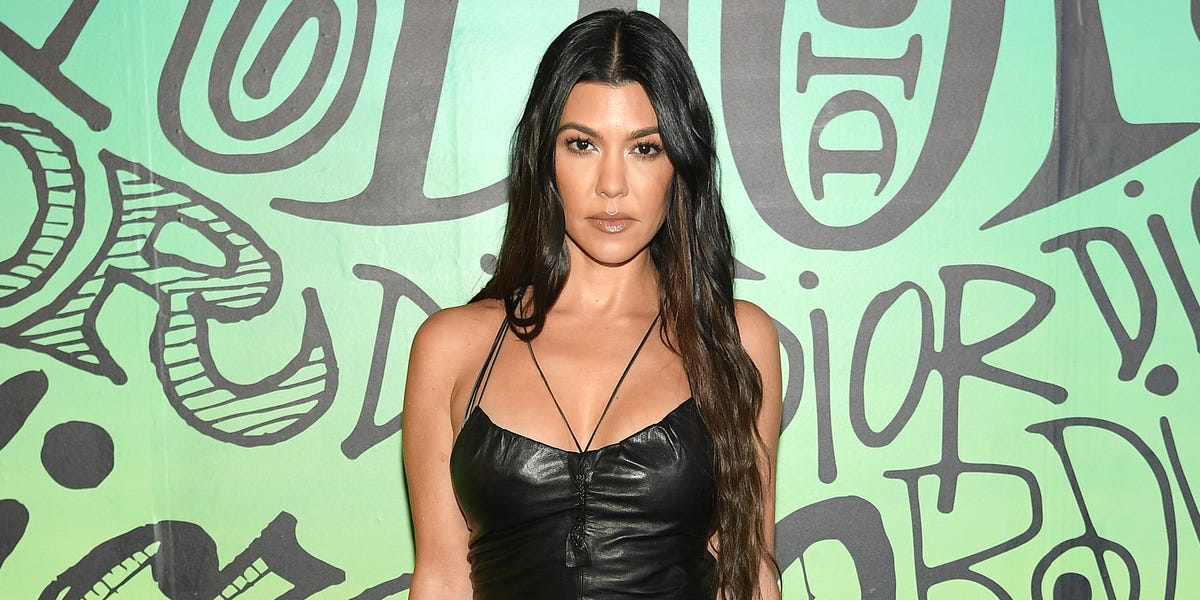 "It's so good to see celebs with cellulite."
Kardashian bikini and booty photos are all around. But, Kourtney Kardashian basically broke the Internet with her latest unedited thong bikini photo on Instagram. Via her lifestyle site Poosh, Kourt shared the backside pic that shows her walking on a stony path rocking a bucket hat, thong bikini, and red sandals with her followers (as well as more behind-the-scenes pics on her Instagram Stories). And her fans are absolutely here for it.
"Talk about an instant butt lift. We tapped Kourt's trainer @jesseohara for her top at-home pilates moves for a rounder rear. Link in bio for her tips. 📷: @kourtneykardash #pooshtheboundaries," the pic was captioned.
This pic garnered tons of comments praising Kourtney for showing off her body and not editing out any cellulite.
"I love the untouched photos! Amazing! 🔥" one follower commented. And another wrote, "It's so good to see celebs with cellulite." And another fan also commented, "Unedited is just cheeky 🍑❤️." Others wrote: "Way to empower the natural women body!! Love this 🙌❤️" and "I love that the little dimples were kept! It's so natural and so beautiful 😍."
Kourtney shared that during the pandemic and lockdown, she had put on a few pounds.
""I commented back and said, 'This is the shape of my body. I definitely gained a few pounds over this quarantine time and I love my body and I'm proud of my shape and I'm obviously posting it and this is the shape of my body,' " she told viewers during a Poosh YouTube video via People. "I don't think I look pregnant at all. We're all shaped differently, and that's my body, and I'm proud of it so that's how I respond to the negative comments."
Along with the IG pic, she also shared her go-to Pilates moves from her trainer and Pilates instructor, Jesse O'Hara, that give her an "instant butt lift" and round shape. It's a seven-move workout that includes:
In addition to her Pilates routine, former keto diet fan Kourtney also currently follows a vegan diet "95%" of the time. She shared her entire vegan eating plan on Poosh. Her meals throughout the day include blueberry bagels, vegan chicken and waffles, and vegan sushi.
That sounds like a recipe for a strong bod, no editing needed.
Read full article at Yahoo Lifestyle
inTouch Weekly 08 July, 2021 - 12:37pm
In Touch Weekly has affiliate partnerships so we may receive compensation for some links to products and services.
Yahoo Canada Shine On 07 July, 2021 - 06:16am
This week, both Kourtney Kardashian and Lipa have shared snaps on Instagram wearing the same GCDS string bikini. It's veryyy cute (and sadly sold out), so we can absolutely see why they both snapped it up. The bikini in question is tailor-made for the indecisive shopper, as it's got a different-coloured pattern adorning each section of it.
One bikini top triangle is covered in jolly green and white gingham, while the other is covered in a red bandana print. The bottoms have blue heart print on the front and daisies on the back, and the whole thing is trimmed in ultra-cool baby pink piping. So basically, a 90s dream.
Dua styled her bikini top as a layering piece with baggy blue jeans and a cropped white collared shirt. She accessorised with a royal blue baseball cap and matching aviators with tinted blue lenses (arguably the sunglasses of the summer, if you ask us).
Kourtney, on the other hand, added red lace-up sandals and matching bandana-print bucket hat. In another shot, we see her wear it with some faded, ripped blue jeans over the top. Cute!
The tennis superstar withdrew from the French Open for her mental health.
These styling tools are a classic for a reason.
Simple dermatologist-recommended steps for every skin type, at every age.
Even Chrissy Teigen can't get enough of the cozy blanket style!
The fashion icon tells InStyle how he stopped himself from making comparisons and went on to create a new dreamy, inspiring world that's completely different from the original.
Get cleaner air with this sleek purifier.
Most American Children Are Deficient In These Four Major Nutrients, Says New StudyOrdering off the Kids menu seems like a good way to cut back on calories, and it is, since the portions are going to be smaller. So you'll reap those benefits if you're an adult looking for a lighter meal from your favorite fast-food restaurant. However, when it comes to your child's health, the options may not be as healthy. Since kids eat smaller portion sizes anyway, a healthful fast-food meal is all about the p
Learn how to make your new ink last.
Plus a tiny bag for a very big look.
Here's everything we know so far about the spinoff series.
Shoppers say they're the "most comfortable shorts."
The Duchess offered her support to the tennis star after her decision to withdraw from the French Open.
The Drag Race All-Stars 5 winner's latest beauty collaboration is ideal for moments of self-care.
The Planet Her singer is making over-the-top, out of this world fashion a thing, and doing it in an authentic way.