Wonderwall 16 July, 2021 - 08:28am
RELATED: Harry Styles and Olivia WIlde plus more stars hit the beach in 2021
On July 12, Kourtney Kardashian's hairstylist Glen Coco took to Instagram to share photos of the reality star and her rocker boyfriend, blink-182 drummer Travis Barker, during a trip to Sin City, captioning it, "…NOWWW I understand why ppl tie the knot in Vegas 💒🥲🖤 There's nothing like love AND a good time 🥳." In the photos, Travis is seen covering up Kourtney's ring finger with his hand. Social media was further frenzied after Travis's daughter Alabama shared one of the photos on her Instagram Story, adding, "so happy for you guys." (The photos eventually made their way onto Kourtney's Instagram Story as well — though she didn't disclose any details.) However, on July 13, a report from The Sun seemed to dispel any Vegas wedding rumors. "Kourtney and Travis never filed for a marriage license here," a source at the Marriage License Bureau in Clark County, Nevada, told the outlet. "They would have had to have come into this office in person and we would have noticed them." That being said, fans weren't convinced a wedding or possibly and engagement had taken place, especially after Kourtney posted a pic on her Instagram Story on July 13 showing a vase filled with a dozen white roses, a gift from sister Khloe Kardashian she captioned, "omg came home to this."
RELATED: Reality TV star plastic surgery photos: Fillers, nose jobs, implants, tummy tucks and more
Looks like Bella Hadid has been in a relationship far longer than anyone knew! While she and boyfriend Marc Kalman — an art director who's worked with rapper Travis Scott — only went public with their romance in early July, according to Page Six, the pair have been secretly dating since July 2020 and have managed to keep things low key throughout the pandemic. "They hid it well," a source told the outlet. "If they went out, he would come out first, get the car, and then she would get into the car. They would drive to a location, and he'd drop her off but not get out and go park the car." The supermodel made their relationship Instagram official with a July 8 photo of them kissing in France.
RELATED: What '90s supermodels are doing (and look like) now
Kanye West and Irina Shayk made headlines in June when reports revealed they were casually dating, but a new report claims they're cooling off. "She likes him as a friend, but doesn't want a relationship with him," a source told Page Six on July 13 after the model and mother of one allegedly turned down Ye's request to attend a couture show with him in Paris. "She doesn't want the association that they are dating, which is what would have run in the press if she showed up [in Paris with him]," the source continued. "It would have been another month of news saying that they are dating." They were first spotted together in Provence, France, where Kanye was celebrating his 44th birthday in June, but the source claims Irina only "went to his birthday party as a friend" and there "were 50 other people there."
Bachelor Nation's Matt James and Rachael Kirkconnell are working hard to repair their relationship. On July 10, the pair made their red carpet debut at the ESPY Awards, where they told People correspondent Sandra Vergara about their relationship and the criticism they've endured because of it. "I will say that, you know, of course it was difficult in the moment, but just being able to step back and work on our relationship to assess," said Rachael, who was previously put on blast for past acts of racism. "Taking a moment away from the spotlight's been really good for us. It's been a lot better."
Matt James and Rachael Kirkconnell aren't the only couple who made their red carpet debut at the ESPY Awards on July 10! Actor Zachary Levi showed up with new girlfriend Caroline Tyler. While it's unclear how long they've been an item, the day after event, they were spotted holding hands while walking in New York City.
On July 10, Page Six reported that music manager Scooter Braun and his wife of seven years, Yael Cohen, a co-founder of the F*** Cancer organization, have separated. Scooter — who notably discovered Justin Bieber and publicly feuded with Taylor Swift over ownership of her master recordings — reportedly still live together and have no plans to divorce as of yet. The pair, who began dating in 2013, share three children: Jagger, Levi and Hart.
Drake went all out for a date night with the new woman in his life! On July 8, the Canadian rapper rented out Dodger Stadium in Los Angeles for an intimate dinner with Instagram influencer and model Johanna Leia. "@DRAKE ON A DATE? Randomly just flew over this cozy couple enjoying a private dinner along the third base line at an empty Dodger Stadium from #Air7HD@ABC7#Drizzy," tweeted ABC7 helicopter reporter Chris Christi alongside an aerial image of the date. Drake and Johanna were spotted having an elegant meal on the baseball field while a bartender was at an nearby table. The pair were previously seen together at a Sierra Canyon High School basketball game watching her son Amari, a top high school prospect who's committed to UCLA, and NBA star LeBron James's son Bronny playing. On July 12, People magazine reported that Drake and Johanna have been seeing each other for several months and that the rapper has been mentoring Amari on how to handle attention and pressure.
Angelina Jolie and The Weeknd (real name: Abel Tesfaye) are keeping people guessing. They were seen at the same place for the second week in a row, sparking more speculation about the nature of their acquaintance — is it friendship or romance? On June 30, they were seen leaving Santa Monica, California, restaurant Giorgio Baldi after an allegedly "hours-long" hangout. Then on July 9, multiple outlets reported that both were spotted at artist Mustafa The Poet's intimate concert at Goya Studios in Los Angeles, which Angelina attended with two of her children. Mustafa hails from Toronto, just like the "Blinding Lights" hitmaker.
After sparking speculation that he'd married girlfriend Denise Bidot in April 2021, Lil Wayne has set the record straight. On July 8, the "Lollipop" rapper spoke of his relationship status on Instagram Live after Nicki Minaj brought it up. "The other day it was some tweets going on, and I was like, 'Oh, what's going on?' and I texted you and I was like, 'Oh, Congratulations. I can tell you've been in a good mood,'" said Nicki. "And I said, 'Congratulations,' because I thought you had gotten married." Weezy responded, "I'm so glad you asked me that. I did not get married."
Adele and rapper Skepta were first linked in October 2019, though there wasn't much evidence they were actually dating at the time. But now they've since given fans some new clues. On July 11, Page Six reported that the "Rolling in the Deep" singer and the grime emcee were seen shopping at a discount Prada outlet store just outside San Bernardino, California. "She was sitting watching him while he was picking sweaters, pants, trying on jackets and coats and having the employees help him. She was giving him feedback and saying what she thought he looked great in," a source said. "It was cute that [she was] just waiting and being a normal girlfriend while he looked. He must have shopped for 45 minutes." Last October, Adele called herself a "(single) cat lady," but this outing, fans think, implies otherwise.
Emma Bunton is a married woman! The Spice Girl recently exchanged vows with her partner of 21 years, Jade Jones, to whom she'd been engaged since 2006 and with whom she shares two sons. On July 13, Emma took to Instagram to announce that she and her beau had quietly wed. "Mr and Mrs Jones! ❤️❤️❤️❤️," wrote Emma alongside a photo of her groom in a khaki brown getup that included a Gucci blazer and herself in a short white wedding gown with an elegant flower crown.
After weeks of increasingly public appearances with her boyfriend of two years, Adrien Brody — including on the red carpet during the 2021 Cannes Film Festival — Marchesa designer Georgina Chapman has finalized her divorce from disgraced movie mogul Harvey Weinstein. On July 13, Page Six reported that online court records now show the case as "disposed" after a sealed motion was filed a day prior. Georgina, who filed for divorce back in 2017, shares two children with the former Miramax exec, to whom she was married for a decade. They reached a divorce settlement in January 2018.
Two worlds collide! Comedians Eddie Murphy and Martin Lawrence are longtime buddies who worked together on 1992's "Boomerang" and 1999's "Life." Now their eldest children are dating! On July 10, Martin's daughter, Jasmine, took to Instagram to post a birthday tribute to Eddie's son, Eric. "Happy birthday, my love! I'm so incredibly blessed to know you, to love you, and to have you by my side. Cheers to many more blessings, laughs, and beautiful memories! I love you so much!! 🖤✨" Just two weeks earlier, Eric posted a similarly adorable message on the social media app, writing, "Head over heels in LOVE with YOU @jasmin_lawrence ❤️❤️❤️❤️ #myotherhalf #equallyyoked #iloveyou."
Braunwyn Windham-Burke might soon be ready to say goodbye to her longtime husband. On July 13, Page Six reported that the "The Real Housewives of Orange County" alum and husband Sean Burke were trying out a "trial run separation" for the summer. The pair revealed their plan to co-parent their seven children during an Instagram Live on July 12. Braunwyn will reportedly take the kids to Hawaii for approximately two months, while Sean will rent a home in Newport Beach, California (which happens to be owned by a friend of Fernanda Rocha, Braunwyn's new girlfriend and a fellow "RHOC" alum). "We are packing up this house, the one we filmed in last year, and we are moving," said Braunwyn. "We have decided jointly that we are going to take a few months apart." She continued, "We really want to do what's best for us — we are family, we've been together for 26 years… That's a lot and that's something we don't want to minimize — we want to honor that. I think having some space right now will give us some clarity." After Braunwyn came out as a lesbian in late 2020, she and Sean revealed plans to stay married but date other people, though they also acknowledged those plans might change as they navigated their new normal.
After seven years of marriage, hitmaker Kenny "Babyface" Edmonds and his wife, Nicole Pantenburg, are getting divorced. "After much thought and with great sadness, we have decided to end our marriage. We continue to care and have respect for one another and share eternal love for our daughter and her well-being. We ask for personal privacy for ourselves and our daughter as we navigate these new steps as a family," they told TMZ in a joint statement on July 13. "Babyface" and Nicole married in 2014 and share 12-year-old daughter Peyton Nicole.
On July 12, "Shameless" actor Steve Howey's girlfriend, fitness model Madeleine Conti (pictured), made their relationship Instagram official in honor of his 44th birthday. "Every moment with you has been special. Happy birthday to my favorite person. ❤️ And Louie's favorite person, too," she wrote alongside a carousel of photos of them together. Steve's ex-wife, actress Sarah Shahi — from whom he split in 2020 — has also moved on. She's dating her "Sex/Life" co-star Adam Demos.
On July 9, Dillon Passage — the estranged husband of incarcerated "Tiger King" star Joe Exotic (real name: Joseph Maldonado-Passage) — debuted his new relationship on Instagram. "Everyone, meet John 👋 I've planned on keeping my relationship private for personal reasons but lately I've been having a hard time dealing with things happening in my life and John has been my rock and helping me get through it all," he wrote alongside a series of photos of them together. "In short, this is an appreciation post for this special special man. Thank you for being you ❤️." In March, Dillon announced that he was seeking to divorce Joe.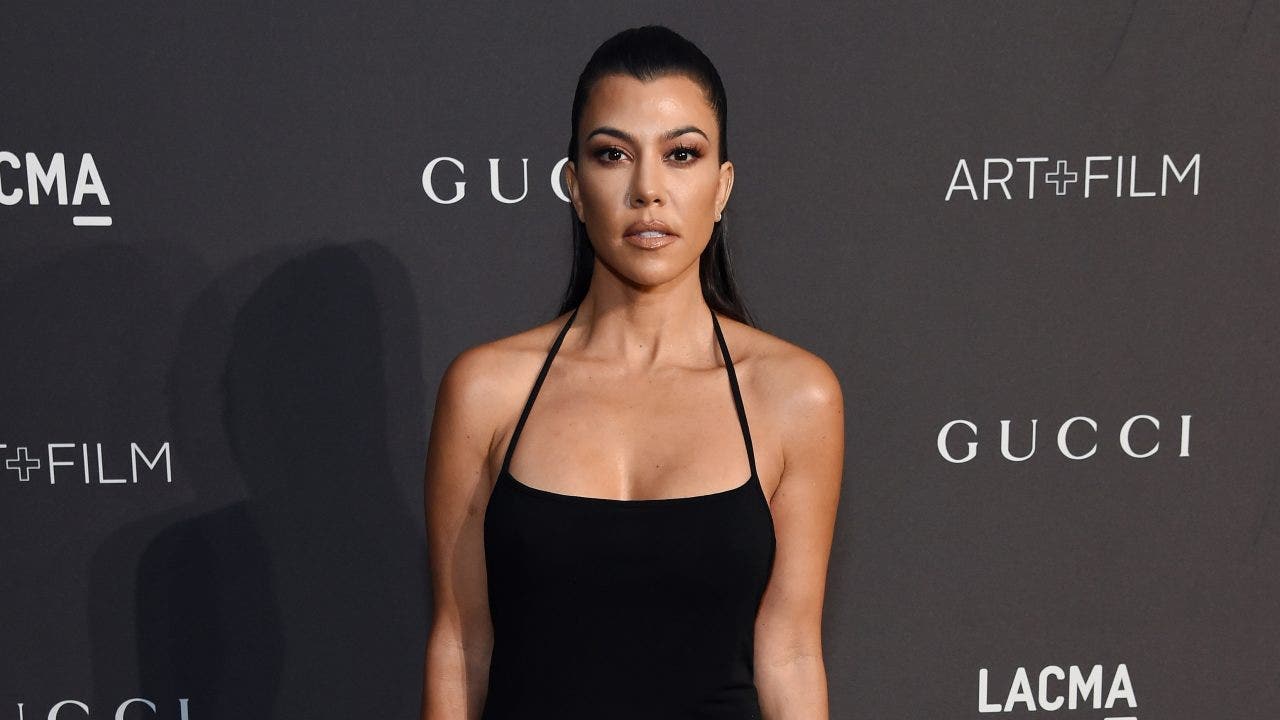 Fox News 15 July, 2021 - 03:57pm
This material may not be published, broadcast, rewritten, or redistributed. ©2021 FOX News Network, LLC. All rights reserved. Quotes displayed in real-time or delayed by at least 15 minutes. Market data provided by Factset. Powered and implemented by FactSet Digital Solutions. Legal Statement. Mutual Fund and ETF data provided by Refinitiv Lipper.
Fox News Flash top entertainment and celebrity headlines are here. Check out what's clicking today in entertainment.
Kourtney Kardashian has a new look.
The 42-year-old star has seemingly introduced some edgier outfits to her wardrobe since beginning to date Blink-182 drummer Travis Barker, and fans have taken notice.
A selfie taken by the reality star was shared by her company, Poosh, on Tuesday, which highlighted one of her newer outfits.
In the snap, Kardashian donned a sheer black and green color-fade top that put her body on display, paired with a black leather skirt and fluffy green shoes. The star used emojis to censor the racy pic.
To complete her ensemble, Kardashian held a bedazzled purse and wore her dark hair slicked back.
Fans had plenty to say about the new look as well.
"We love this outfit," wrote another.
"Woooow," another added. "I LOVE this outfit."
However, others weren't so hot on the getup.
"Don't like your new looks," a follower noted.
"Not liking her style lately," said another. "You are to [sic] beautiful to dress like a skater chick."
Added a third: "I don't understand why she changed her whole style because her new boyfriend… #personality where???"
Yet another suggested she was in the midst of a "midlife crisis."
Kardashian and Barker, 45, have been dating since the beginning of the year. The former reality star recently shared photos from a PDA-filled outing she and the musician recently embarked on.
"Swipe for happy girl," she wrote in the caption of the post, which featured several photos of herself smiling ear-to-ear while dressed up in what appeared to be a hotel.
In one blurred shot, Kardashian held Barker's hand while strolling down a hallway and smiling. In the final photo in the post, Barker rested his tattooed hand on his girlfriend's feet.
This material may not be published, broadcast, rewritten, or redistributed. ©2021 FOX News Network, LLC. All rights reserved. Quotes displayed in real-time or delayed by at least 15 minutes. Market data provided by Factset. Powered and implemented by FactSet Digital Solutions. Legal Statement. Mutual Fund and ETF data provided by Refinitiv Lipper.
Yahoo Lifestyle 15 July, 2021 - 03:49pm
Apparently, hairstylist Glen Oropeza posted a series of photos from Kourt and Travis's Vegas trip and wrote, "NOWWW I understand why ppl tie the knot in Vegas. There's nothing like love AND a good time." Oh, and? The original post included a diamond ring emoji but was then swapped to a heart. Innnteresting.
Travis's daughter Alabama posted Kravis's Vegas pics on Insta Stories and captioned them, "So happy for you guys." Like…maybe she's just generally happy? Or maybe she's happy that they're engaged. *spirals*
Obviously, take all of this with a giant heap of salt because neither Kourtney nor Travis has confirmed aaanything, and we all know how Kravis fans (me) love to read into things. But obviously, it's time to speculate wildly via a poll!
Sources are spilling on their ~plans~.
"They are in it for the long haul." 👀
We love how raw and open Kourtney Kardashian is about her body and life. Her relationship with Travis Barker has led her to open up further about her personal life…at least physically. Right when we thought Kourtney Kardashian and Travis Barker couldn't pack on the PDA any further…If you thought their thumb sucking, Instagram stories, […]
The print sort of looks like tattoos, no?
The media personality continued her edgy couple style with Travis Barker.
It was peak Sin City nightlife fashion.
Sometimes things really are what they seem.
"It's so good to see celebs with cellulite."
Just Kris Jenner being Kris Jenner.
The Poosh founder tested out Addison Rae's new workout video.
Travis Kelce says that for years his name has been incorrectly pronounced as "Kel-see" instead of "Kells," but his mom says their name is "Kel-see."
Reality Steve spilled the tea on all the 'ships.
PARIS, FRANCE – JULY 05: Xenia Adonts wears a white pearls necklace with CD pendant from Christian Dior, a white and navy blue checkered zipper tank-top / crop-top, a matching white and navy blue checkered blazer jacket from Dior, a matching white and navy blue checkered short skirt, a gold J'Adior ring from Dior, a gold ring, a white matte leather heart pattern embossed Lady D-Lite hand bag from Dior, a gold Bulgari watch, outside Dior, during Paris Fashion Week – Haute Couture Fall/Winter 2021
Elizabeth Hurley took to Instagram to show off a pic of herself sporting a blue swimsuit.
The 33-year-old singer is having the last laugh.
Teigen says she feels "lost" after fallout over her past bullying of Courtney Stodden.
Doctors stress that while "breakthrough" infections can happen, they're not common and usually not serious.