The Los Angeles Angels decided this week to release one of the greatest players of this era, a first-ballot Hall-of-Famer, and they were forced to do so without a sendoff, a farewell tour or even a press conference.
It was just a transaction on the waiver wire: Albert Pujols, designated for assignment.
Pujols' unceremonious departure from the Angels came at particularly awkward moment for another first-ballot Hall-of-Famer: Detroit Tigers slugger Miguel Cabrera was in an 0-for-27 skid, the worst of his career, while striking out a pace that would have been unthinkable only a short time ago.
In the last two days, Cabrera has returned home and started to hit once again, registering two hits on Friday and two more on Saturday. The season is still young, and although Cabrera's overall numbers are ugly, there's plenty of time to get on track.
But the comparisons to Pujols are inevitable and understandable. Both are legendary figures with contracts that pay them handsomely well past their prime years.
However, unlike Pujols, who was in the final year of his contract with the Angels, Cabrera is signed through 2023.
Even if, for some inexplicable reason, the Tigers wanted to release Cabrera now, they'd have to cut him a check for roughly $88 million -- more than this year's entire payroll.
So it won't happen this year. And it's very unlikely to happen next year.
No matter what the Tigers say publicly about having an "urgency to win," the standings say they're the worst team in baseball by a healthy margin and not anywhere close to competing.
There's no pennant race and no one's coming to Comerica Park to see Harold Castro. Fans are there because they want to see their hero chase 500 homers and 3,000 hits. Cabrera still has star power, and that counts for a lot, especially when a team has nothing else to offer.
But presumably the Tigers will be good again some day, with aspirations of making the playoffs and an real urgency to win each game. And then the questions about Cabrera will grow more difficult.
The Angels would have been happy to keep Pujols as a pinch-hitter, bench player, and veteran goodwill ambassador. If Cabrera will settle gracefully into that role, there's no doubt the Tigers will be able to spare a roster spot for him, even in 2023, when he play the majority of the season as a 40-year-old.
But Pujols wanted more than that, even though he hasn't been even a league-average offensive player since 2016. The Tigers can only hope that Cabrera will be more realistic.
When the Angels signed Pujols to a 10-year, $240 million deal before the 2012 season, he was coming off 11 consecutive elite seasons with the St. Louis Cardinals. He finished in the top-five in MVP voting in 10 of those 11 years and won the honor three times.
He was the best of the best, the cream of the crop. He was also 32 years old.
You know how the story ended: The best of his 10 seasons with the Angels was not as good as the worst of his 11 years with the Cardinals.
For their investment, the Angels received one season of elite value (2012), four years of good or very good production (2013-2016), and five years of below-average production (2017-2021).
But if the Pujols deal was bad, the extension Cabrera signed with the Tigers prior to the 2014 season is likely to end up being far worse.
Don't let anyone tell you that the Tigers had no choice but to make the deal; or that it was considered a smart move at the time; or that Cabrera could have gotten much more on the open market.
None of those things are remotely true.
It was widely considered a bad deal, an utterly baffling deal, when it was made, and it's gotten worse with age.
When Cabrera was extended prior to the 2014 season, he was still two years away from free agency. The eight-year, $248 million extension he signed covers the 2016 through 2023 seasons.
For their investment, the Tigers have received one year of elite value (2016), four seasons of roughly league-average production (2017-2020) and three remaining seasons of uncertainty (2021-2023).
Yes, it would be nice to imagine that Cabrera could finish his career like David Ortiz or Nelson Cruz, productive well past the age of 40. But it's obvious by now that his career trajectory is following a different path, and the most apt comparison is -- you guessed it -- Albert Pujols.
That doesn't mean the story has to end unhappily.
But it does mean that both Cabrera and the Tigers are likely to face a reckoning sometime between now and the end of the 2023 season.
Will one of the greatest hitters ever to play the game be willing to accept a bench role?
And if not, will be the Tigers be forced to make the same uncomfortable decision the Angels made this week?
Note to readers: if you purchase something through one of our affiliate links we may earn a commission.
Read full article at Halo Hangout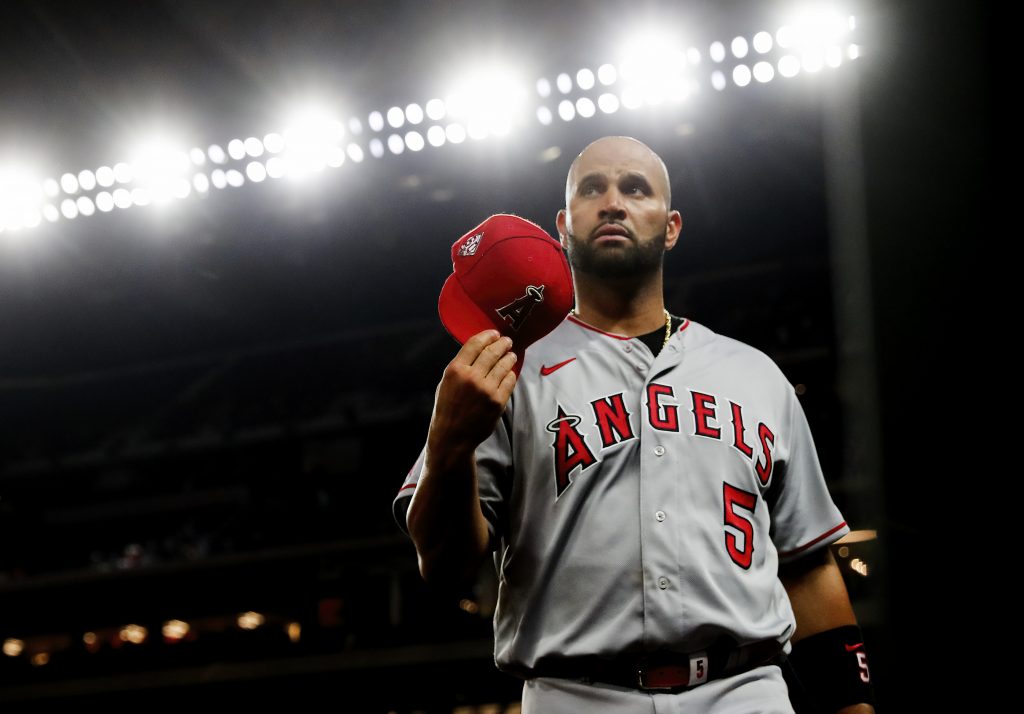 FOX 11 Los Angeles 09 May, 2021 - 07:01pm
The Albert Pujols era in Anaheim has come to an end. In a shocking move, the Angels announced Thursday that Pujols has been designated for assignment. The DFA is largely a formality, as Pujols and the remainder of his $30MM salary will go unclaimed on waivers. It's possible the Halos could work out some kind of trade where they effectively eat all of that salary, but a release is most likely. Pujols is in the final season of a 10-year, $240MM contract.
"The Angels organization proudly signed Albert Pujols in 2011, and are honored that he was worn an Angels jersey for nearly half of his Hall-of-Fame career," owner Arte Moreno said in a statement announcing the move. "Albert's historical accomplishments, both on and off the field, serve as an inspiration to athletes everywhere, and his actions define what it means to be a true Superstar. Since his Rookie of the Year season in 2001, Albert and his wife Deidre have generously given their time and resources to countless charities throughout the world. We are thankful to the entire Pujols Family."
It's a stunning end to one of the largest contracts in Major League history, although from a pure performance standpoint, it's hard to fault the move. The 41-year-old Pujols has connected on five homers in 2021 but is batting just .198/.250/.372 overall. He's drawn only two unintentional walks in his 92 trips to the plate this season. The results in 2020 were similarly disappointing, and Pujols has an overall .214/.263/.387 line across his past 255 plate appearances.
Pujols' fit on the Angels has become increasingly difficult, given Shohei Ohtani's flat-out excellence at the plate and the emergence of slugger Jared Walsh. The 26-year-old Ohtani is batting .264/.316/.623 with nine home runs through 114 plate appearances. Walsh, a former 37th-round pick, has built upon last year's surprise production with a ridiculous .333/.412/.576 line in 114 plate appearances, bringing his overall output since Opening Day 2020 to a robust .313/.369/.611 in 222 plate appearances.
Even with Pujols forced into action at first base, this announcement has sent shockwaves through the baseball world. Mike DiGiovanna of the L.A. Times reports that Pujols was unhappy not only with the fact that he was benched against Rays lefty Ryan Yarbrough last night — against whom he is 6-for-9 with a pair of homers in his career — but that the decision to sit him was made by the front office rather than by manager Joe Maddon. The extent to which that specific instance contributed to today's move isn't clear, but MLB Network's Jon Heyman adds that Pujols was also recently given the message that his playing time would begin to be scaled back.
Pujols' signing in Los Angeles was a watershed moment in both Angels and Cardinals franchise history. The three-time National League MVP spent the first 11 seasons of a surefire Cooperstown career in St. Louis, cementing himself as one of the game's top all-around players while batting .328/.420/.617 with 445 home runs through 7433 plate appearances.
Pujols hit the market as one of the most coveted free agents in history. At the time of his signing, his 10-year, $240MM deal was the third-largest in MLB history, trailing only Alex Rodriguez's prior $252MM and $275MM contracts. That contract was negotiated by Moreno himself, and it's now Moreno who has formally made the announcement and issued a statement confirming the end of Pujols' time with the organization.
The contract, of course, didn't pan out as hoped. Pujols began his Angels tenure mired in a dreadful slump, though he recovered to finish his first year with a .285/.343/.516 slash and 30 home runs. With the Angels, Pujols was never the juggernaut that he'd proven to be in St. Louis, but the first five seasons of his contract still resulted in a solid .266/.325/.474 batting line — good for a 119 wRC+. It's not the production for which the Halos had hoped, but it's a far sight better than the cumulative .240/.289/.405 output he's compiled since 2017.
Pujols hit several iconic milestones during his time with the Angels, belting his 500th and 600th career home runs and also tallying his 3000th hit. But beyond the individual milestones, the Angels had only one postseason appearance during the Pujols era — a winless, three-game sweep at the hands of the upstart Royals back in 2014.
It's not clear what's next for Pujols. There's already been immediate speculation and plenty of clamoring from fans about a farewell tour in St. Louis. A reunion of Pujols, Yadier Molina and Adam Wainwright would no doubt give Cards fans chills, but with Paul Goldschmidt at first base and no universal designated hitter, Pujols isn't exactly a clean fit for that roster.
Others have suggested a reunion with skipper Tony La Russa, now managing the White Sox, also might make some sense. However, Yermin Mercedes has been the team's best hitter at DH, and reigning MVP Jose Abreu has first base locked down. It still seems likely that some club will take a chance on Pujols if he wants to continue playing.
For the Angels, moving on from Pujols allows the club to utilize Walsh at first base and Ohtani at designated hitter once top prospects Jo Adell and/or Brandon Marsh are called to the Major Leagues for a look in right field. Were either to hit at even an average (or slightly below-average) level upon his promotion, that'd give the Angels both an improved lineup and an improved defensive outlook.
The organization surely didn't make the decision to move on lightly. Beyond his stature as one of the best players in Major League history, Pujols is a beloved teammate who is respected by all in the league and revered by fans for both his on-field contributions and his prolific charity work off the field. The very fact that there is such widespread shock to a see the DFA of a player with his lack of production over the past few seasons is a testament to that reverence. Time will tell whether that leads to another opportunity.
The Cleveland Indians should sign Pujols. They need a better first baseman than Bauers. Someone that can hit a little better for average. The perfect fit for Cleveland to play first base was Mitch Moreland, but he signed with the A's.
Also, Pujols returning to St Louis would be special, but we have a great first baseman.
He was my favorite player growing up. Probably the coolest hitter to watch ever.
Pujols is a below replacement level player. Nobody needs him.
Yes! As a White Sox fan I'd love to see Pujols come to the AL Central. He's washed up and an easy out
And he has that 10-year service contract with the Angels going into effect next year. Aaaawkwaaard.
Ii can see the Cardinals Fans wheels a turning!!! Ha!
A trade of Matt Carpenter for Albert Pujols so Pujols can finish his last season with the Cardinals!!!
Fans see Pujols revitalizing himself through the trade——- then Pujols makes it back to the World Series this season with the Cardinals ———
7th game of the World Series 2021. Game is tied in the bottom of the 9th. ——- Pujols comes off the bench and blast a 3 run homer in Big Mac Land and the Cardinals win the World Series!!!!!! End of Story.
Wait——- after the World Series—- Pujols signs a multi million dollar contract out of Hollywood for the Movie rights for his biography movie!!
remember mark mcgwire, he got pinch hit for by kerry robinson
It was a fun ride to watch. Thank you, Albert..
One of the worst contracts in baseball history
13, you're wrong. Baseball wise, sure, however that signing led to a 3 billion dollar TV deal.
Halo11Fan, That deal happened at the same time. Pujols had nothing to do with it.
458, you are incorrect. the angels and fox agreed on $2 billion contract initially but then they added an extra $1 bil for signing pujols.
Fox Sports told the Angels they would give them significantly more money annually if they were to sign a few superstars. I don't know how much exactly, but it was at least $30 million more annually.
This would explain why the Angels came out of nowhere and sighed Pujols to that record deal at the time. It was a few days after the Angels signed pitcher CJ Wilson. And no, Wilson was not one of the superstar signings by the Angels to help get them a huge television deal.
I know CJ Wilson. We went to high school together and remained friends ever since. He is the person who told me about the deal between Fox Sports and the Angels.
How does that make sense? The Angeles didn't even have the highest offer for Pujols. They would have had the highest offer, which was 300 from Miami, if signing him meant getting a billion extra dollars.
You don't follow the Angels. He had a lot to do with the 3 billion.
He didn't sign with Miami because they would not include a no trade clause.
Don't forget it was the largest offer but he did sign in one of the largest tv markets.
Angels used the TV deal to sign Pujols
What amazes me is people who don't follow the Angels talk about situations they know nothing about as if they do. That contract paid for itself. Good business move, bad baseball move.
Can you provide the source that states this? I'd like to read it.
What source are you looking for. The Angels signed Pujols and then signed a 3 billion dollar tv deal. You can easily google that.
That was a very high deal at the time.
All this stuff is easily obtained, but I followed it as it happened.
Yes and No. Great ticket draw. Still is.
Your mind isn't in line with reality. Kevin Brown was very good for most of the contract and a reliable SP. Dodgers season would be in deep trouble without Bauer. They were content paying him big money for 2 years and it has worked out fine. Probably too difficult of a concept for you to understand.
Trevor Bauer Gerrit Cole seem like fine contracts when you look at Chris Davis, Vernon Wells, Hamilton Josh, or many others where they didn't even supply good production the beginning years
but t is so obvious they are using foreign substance when they pitch. though most i have seen are using stuffs
Unglar you really think Coles contract going to look good last couple years? Man I sure wouldn't bet on it!
ZERO – ZILCH – NONE of these 10 year contracts are designed to look good over the last couple years. When are fans going to get this concept through there heads. These massive length contracts are given out to spread out the AAV. That is why Bauer got 40mil per year, because he only took 2 years, if he had signed a long contract he might have got something closer to what Strasburg got.
Someone hasn't looked at Bauer's production hmm BillyBaggins… what a joke
Yeah, right up there with Vernon Wells, Josh Hamilton and Gary Matthews, Jr.
Arte has done a great job when it comes to those.
Dont forget he also has a 10/10M deal with the Angels after he retires. Great contract, both sides got exactly what they paid for!
Chris Davis and Miguel Caberra disagree.
Pujols contract was bad, but Angels made more money then they lost with Pujols.
can we get some real proof before we assume a guy is lying about his age?
No. We're going to keep making the jokes buddy.
his birth certificate is written in green crayon
There's actually lots of proof.
The Angels probably knew his age when they signed him, so it really doesn't matter.
Arte had to know or simply didn't care. Have you seen Pujols high school picture?
Take a look at the high school junior here: maxpreps.com/news/e7KQPGXm902Q_dadifVTYw/albert-pu…
I thought the birth certificate with a taped on headshot and green crayon writing stating "I am 1Z" would be all the proof you need.
Just listen to Albert's own words. He's given it away so many times, like this one when he had allegedly just turned 38::
"​​"I actually hit it off Octavio Dotel, I think I told you that," Pujols said. "I was about about 12, 13, almost 13 years old."
"And we go back, you know, 28 years later, and here I am."
"He then, of course, doubled down, saying that Dotel is "three or four" years older than he is." (Dotel is now 47.5)
evidence admissible in court? or just hearsay?
Internet trolls don't need an ounce of evidence, let alone proof. Trolls are trolls.
11, there's overwhelming evidence Pujols lied about his age. For good reason at first, no doubt. But he had plenty of time to come clean and didn't.
Give me a link. And why do people confuse the word evidence with proof?
I think he is older than 44/45. I think it's funny how people act like pujols is a saint when he opted for more money/greed over cardinals legacy. Then threw a fit when his poor play warranted his team to not play him and still pay him.
It's not like his actual age matters.
Wow, I thought they'd keep him on out of respect. I mean, it totally makes sense but still shocking.
In todays baseball with teams carrying so many pitchers teams need versatile bench players. AJols was an anchor helping sink the team.
I think they want Walsh fulltime at 1b and Ward to get a shot in the OF before the boys (Adell and Marsh_ come up. Now that the minor league season is starting the clock is ticking.
Completely agree. And Ward can also play 1B/3B.
No he will not be signing with the. Brooklyn Nets but could the Yankees sign him?
I wonder if this is a retirement thing or maybe a chance to go back to St. Louis for one last ride.
As a Cards fan, I think it would be fun to bring him in (it would cost next to nothing). But they can't waste roster spots on both him and Carpenter. Carp can play some defense still, at least, but you'd basically have two guys who are just pinch-hitters.
I'd trade some cash for him, put him on the 40 man, let him play one game or one at-bat at Busch with the expectation he'll retire after that game. I'd be fine with that. Just don't take someone off the 40 they can't afford to lose.
If he's really ready to retire, I'd love to give him a three-game set as a farewell, preferably in the 2nd half of the season (assuming more fans will be in the stands). I don't know how that would work out though. Presumably he's either done-done or he's going to be in a new uniform within a week.
Yes and No. Great ticket draw. Still is.
Thanks Albert. See you on the HOF platform.
10 years was absurd. Seven or eight would have been more reasonable.
$1 bil extra in tv money was cool. and remember when he was signed going over the threshold was nothing. penalty even now should be higher but then when he signed nobody really worried about it.
10 years was absolutely necessary. It was the only way to get him. If I remember correctly, the Cardinals offer was also for 10 years with a little less money and I think the Marlins had a similar offer on the table. If the Angels offered 7 or 8 years, he would have re-signed with the Cardinals or went to Miami during their strange free wheeling offseason. Remember they signed Jose Reyes, Mark Buerhle, and a couple of others to big deals that year.
The Angels needed a splashy signing. The Pujols deal was not excellent, but it was hardly awful either. In 10 years with them he had 1180 hits and 222 homers. That was the downside of his career and it was better the entire career of most players.
He stopped taking walks and we're talking about a 1B/DH here.7.5 WAR in 10 years for 210 million dollars. That smells like a terrible contract.
He was probably the 2nd best hitter/power hitter of his generation. Only behind Barry Bonds. But he wasn't that guy in Anaheim. He stunk after a couple seasons and he cost a ton of money to do so.
Yeah and if contracts were judged exclusively on WAR, then you would be right. But WAR is only one piece of the puzzle, not the whole thing. The amount of money that Pujols generated through TV deals, ticket sales, and just added buzz surrounding his milestones was more than worth the deal.
Plus walks are overrated and 1B is still a position on the field that needs to be filled. It is no less valuable than any other position, no matter what Fangraphs say.
Pujols deal has been one of the worst contracts in history. There is no justification for it, it has simply been a disaster.
On the field yes. Financially it was a brilliant contract. Moreno made tons off of the Fox TV deal and shirt sales.
That's the funny thing. Arte made 5x or more back in profit compared to the cost of Albert. It's impossible for this to be the worst contract ever, no matter his production. It was a win on day 1
Arte saw that plantar fasciitis and said "meh, give me that pen!"
I do wish we got to see the true Albert+young Trout together. Alas
Fire the Angels gm…. dude is having an elite career give him a proper farewell
There's no chance there wasn't a conversation with Pujols, the coaching staff, and management about this. He was dead weight on the roster that they'd already carried for too many years.
Yes, averagejoe. I have nothing but respect for AP but he has been an anchor for years and a huge part of the problem. Perhaps he gets the contract paid out if he's released but not if he retires. In any event, I applaud management for making a hard decision. Based on his Angels performance only, he would have been relesed a long time ago if his name wasn't Albert Pujols. Love the guy.
Fire Perry Minasian that just was hired…because he's cut dead weight that he's having to clean up after? Do you think the owner had no say in the cut?
Ridiculous to think that if the guy hasn't been performing for awhile, no playoff spot to speak of during his contract, they'll still be paying his ridiculous contract — and they should have take up a roster spot…? Look how Ruth ended his career. Either you choose your end or someone else chooses it for you.
Not only did the owner have a say in the cut, but in the original terrible signing as well.
Fire the owner is what should have been said.
Problem is we can't fire the guy who keeps signing the Pujols, Wilson, etc contracts and that's the owner.
The contract was hideous, but not his fault. A GREAT, GREAT player; we should never forget that.
Lol I remember some commenter on here a while back said that Albert's contract increased the Angels' TV deal by more than $300m
At least 300 million. They signed him and the following week the Angels signed a 3 billion dollar TV deal
Where is your concrete evidence that they wouldn't have gotten that much TV money if they hadn't signed Albert? I'm not seeing any.
come on, you really think that after they signed him they suddenly were offered another billion or more? That isn't at all how this occurred, the TV deal was signed and details were leaked before the winter meetings. You have it backwards, they were able to sign Pujols and Wilson that winter BECAUSE they signed that TV contract. This was when all those regional TV contracts came due over the course of 5 years and we started seeing astronomical numbers being thrown about. The Dodgers, Phillis, Angels, Mariners and others signed TV deals much bigger then originally anticipated (in the billions, 8.5b for the Dodgers alone) and went on spending sprees.
Jim. This is very well established in and around LA. And I'm no Angel fan. But I've lived in OC for basically the entire Pujols deal
He got them A LOT more money from Fox
Sign with the Cards for fun
Now release Moreno, please. Thanks I'm advance.
Should sign a 1 day contract with St Louis and play 1 more game
Cardinals need to sign him…just to have him in clubhouse!
Wow. So does he just hang it up or will he play somewhere else that needs a DH? Sad to see him go out if its not on his own terms.
A DH should be able to hit. From 2017 through today his OPS+ is 85.
I know it's hard to see it now but one day it will be a Braves/Angels World Series.
He had 5 home runs. Team leader. Weird.
Team leader with 5 homers??? Shohei has 9, Trout 8, Jared Walsh has 6. He's tied with Upton for 4th on roster but he has a .622 OPS even with the 5 homers
I think he meant he's a leader for his team…
Why all the negativity? hes probaly the best hitter any of us have seen in our lifetime whos under 30 years old, multiple WS wins, over 600 home runs, the worst thing he did in his career was agree to be paid a ton of money? i wish i had that problem of someone throwing xx amounts at me$, his problem simply as age and injurys, i hope he does retire, just for the fact he can no longer play. Great guy, awsome player, Even though STL lost the 04 world series against my red sox, it was fun seeing how talented he truly is.
Because it was an awful contract. That's not his fault, unless you believe the age thing, but it's still a reason to be negative about his tenure if you're an Angels fan.
I don't see how the age thing would make it his fault anyway. 10 years was a mistake the day it was signed no matter how old he was.
It's his fault if you believe he lied about his age because he's misrepresenting himself. Do you think he'd get the same yrs or $ if his age was different?
I think giving him 10 years was stupid whether he was 31 or 33. It's not like it was a good decision that was made worse because of his misrepresentation.
" It's his fault if you believe he lied about his age because he's misrepresenting himself. Do you think he'd get the same yrs or $ if his age was different?"
He was hurt. That's the real Crux. Arte signed him when he had a chronic injury and thought he could play through it. His decline had nothing to do with maybe being a couple years older or not.
About his age, after 9/11, it's very difficult to lie about your age. You pretty much have to assume the identity of another person. Until I see evidence recharging that, I believe he's 41 years old. And he's aged like a 41 year old. His last good year was 2016.
cards "offended" his huge ego by initially offering 6 year cheap contract. in the end marlins, cards and angels all offered 10 year contracts.
Not diminishing his accomplishments, but his teammate, Mike Trout, is a better hitter under 30 than Trout.
Wasn't it part of the deal that he would be a special advisor for another 10 years after he retired?
He's 45 and well past retirement age.
Thankful for his charity work but he did get his last two contracts under obviously false pretenses.
One of the greatest hitters of all time (pre-LA days). Always thought he'd finish second all time on the homer list.
Wow. I thought they'd keep pushing him out there helping him to get 700. This is surprising to say the least.
No doubt it was an amicable decision. He's likely heading back to St Louis for his farewell.
There is no way Perry, Arte, or any other MLB franchise that would simply release one of its all time greatest players just because.
Helluva career, sir. Thanks for coming to Angels and delighting us fans. Wish it could ended differently, but much respect to Albert and his family. Thank you.
"There is no way Perry, Arte, or any other MLB franchise that would simply release one of its all time greatest players just because."
He was a great player, he wasn't a great player for them.
Gotta believe that it was at his request. Probably a 1 day deal with the cards and then riding off into retirement.
Right, that makes the most sense.
It might make the most sense for fans, but not for the front office. Cardinals barely have the roster flexibility to have Matt Carpenter around, much less Pujols too. I just don't see it on a 1st Place Team.
What I hope is that his release kills his 10 year post-career service contract with the Angels so Pujols can come back and wear his red jacket along with all of the other Redbird legends sooner rather than later.
Yikes!! I'm thinking Pujol's is not going to attend any Angel events in his post retirement anytime soon lol. Maybe having Phil Gosselin start at DH and hitting 6th while Pujols was on the bench last night was the straw that broke the camel's back.
The Angels are just a terrible organization. Not that it is news to many…
For releasing a guy who should have retired after 2019?
For pretty much every move they make.
Bart before you make that statement stop and think: who in any profession retires and walks away from that much money (medical issues aside). If he retired they don't have to pay. Would you leave you paycheck just because you were performing as well as 5 years ago?
You mean 'if you were under=performing as well as 5 years ago'? Dude lied about his age. He made roughly $250 mil on the contract after the 2019 season. He has hurt his legacy by continuing to play for $$$.
You think teams don't exercise some due diligence before handing out those contracts? They knew what to expect and made a calculated risk that he would bring a title during the "good" years. It's the system – don't hate the player for playing.
Trade for Freeman now the Braves will never pay him. Maybe can get something for him.
On to the White Sox with LaRussa?
Wonder if this was at his own request. Maybe knew time was short and he wanted to do something like play one more game in a Cardinals uniform.
Prediction… Cards get him and release Carpenter!
Prediction. Cards release Carpenter and the Angels sign him while the Cards sign Pujols.
Since Pujols was DFA'd, if something like that happens, you'd think the Cards would trade Carp for Pujols, with Anaheim paying the difference in the salaries.
Wow, that is unexpected, but justified. Heck of a career
I can't say I'm upset about it, but why do this now? The only thing has to be that he has some opportunity somewhere else. I find it hard to believe they just would drop this on Albert without him being part of the conversation. Maybe the White Sox? At this point, he's below replacement-level so there is a bit of addition-by-subtraction here, but he meant a lot to the team and to Trout personally, so what kind of fallout happens there? I'll be interested in seeing how this develops. Feels like this might be more for Albert than the Angels…
Apparently, Pujols was upset not to be in the lineup last night. It was at the order of the front office. Only my opinion but maybe he was turning into clubhouse poison.
If this is the end then thanks for the exciting times, Albert! Class act guy, would have liked to see his final chapter have a lil happier ending.
I'm watching the Cards game and Brad Thompson is saying that he's "hearing" that Pujols wants to keep playing. I don't know if Thompson has ties to anyone who could actually speak to that. Give that whatever credit you want, but it would suggest that Pujols didn't want to be released so he could retire.
"Shocking end." Shocking to who exactly? I feel 90% of people who paid attention knew this would happen towards the tail end the moment the contract was signed, and the remaining 10% knew it would happen after watching him over the past 5 seasons.
He's producing more than Lindor. This seems harsh. Also this is clearly sarcasm. Sorry Mets fans. Lindor will be fine. Just let me have my moment.
He should try cheating like Stanton is this year
CWS? LaRussa connection? Someone's gotta pick him up right? It's just not right to let this be the end of what has been one of the best MLB careers ever.
Reds without Votto….Brewers 1B is a black hole….he could resurface playing AGAINST the Cardinals.
lol yeah why not have him resurface with the Brewers at 1b, the team already has one -0.7 war 1b and another -0.5 war 1b. His -0.5 war would fit right in to the teams seeming philosophy at first. lol. It's not like the bar has been set very high. haha.
Miguel Cabrera should be next, but alas dear Tiger faithful…
It was their late owner's dying wish that Miggy completes his contract, I believe.
That'll never happen. His contract, no matter how ridiculous for the end of the Big Man's career, was a gift from late-owner Mike Illich. He knew the contract was lopsided, but wanted to be sure Cabrera was a Tiger for life.
Plus, look what they did for Victor Martinez. Dude could barely run and the Tigers still played him and treated him with the utmost respect. The Detroit Tigers and Angels of Anaheim are not the same organization.
I mean, he's been terrible. But, on his final year of a Hall of Fame career?
Not sure which is more disgraceful.
Will he file for unemployment in two weeks?
He can just wait a few months and get Social Security ha ha.
Probably, because based on the policies of the socialist state of California, he would make more on unemployment than if he stayed working.
No one cares, you don't need to announce it.
Not sure why people are surprised, this is what happens with players who cannot produce at the end of these sorts of contracts. Chris Davis will be next. There have been rumors they would eat the rest of Pujols' contract and release him in the final year for a while now. I personally thought it was going to happen last year, but then the pandemic cut into the total value of the deal, which gave them an incentive to keep him around. You wish they'd keep him out of respect, but they want to try and compete.
CD isnt a first ballot HOFer who is chasing some all time milestones in HR. I think it shows disrespect to one of the greatest to ever play the game. If you didnt want the end of his HOF career dont sign him till he is 41 or else live with the consequences of that and let the man take his curtain call.
If Pujols didnt want out the Angels suck. Shocking I know that a team owned by AM sucks. Guess the owner doesnt give two figs about the history and majesty of the game. He apparently doesnt like winning either since it takes work to miss the playoffs that much with Mike Trout for the league minimum. (I mean really if 29 other teams tried to suck that bad with Trout 10WAR/500k they couldnt do it on purpose.
This is ridiculous. The Angels owe him nothing but the money.
If this guy didn't have his mega deal he would've been out of the league 2 years ago. He's a DH who bats 20% below the league average. A guy like that isn't sniffing the big leagues.
You play to win. Not to play around with nostalgia. He's not good anymore. And he never was a superstar in Anaheim.
I wonder what Trout is thinking right now. Pujols was his mentor.
Agree. Trout and Pujols were bud's. Hard to believe this didn't have Mike and Albert's stamp of approval. If not, Mike's going to be pissed.
Trout is thinking he may suffer the same fate in the last year of his contract.
Weird. Did they offer him the graceful exit of announcing his retirement as the Yankees did with A-Rod and the Red Sox did with Pedroia?
He doesnt want to retire! DUH. Pujols was smelling the all time HR record and had to correct people this spring when they thought his wife was implying he was done after this one. Dude really wanted to pass Bonds 100% and now we get the sad situation where he looks for another gig while everyone watches and knows we're only in this sad state because the LAA couldnt take there medicine on the deal they signed.
Jesus Christ every time I read one of your posts on this it's worse.
The Angels, who want to make the playoffs, should "take their medicine" and play Albert Pujols because he wants to pass someone on a HR list? A truly idiotic comment.
No team with the hopes of being competitive is giving this guy everyday at bats.
I would have released him after he tried to tag up from 1st base on a lazy fly ball to left field on Monday
Hell, the Reds could use him for a few weeks. Dude loves GABP
First Ballot Hall of Fame player. I hope the Cards pick him up at least on a 1day contract and start him that game.. He was at his best in the NL
Would really like him to stick around if he thinks he can pull off 30 more HR's the next year or two to pass A-Rod…
Cabrera, Cano and Davis should be next.
Robbie might pop for roids again and save Cohen a ton of money. Wouldn't blame him for waiting.
Should have been DFA'ed 6 years ago
Wow! Didn't see that coming! Miggy is still hanging on in Detroit.
Miggy's legacy is in Detroit. The fans there can point to him and remember when he was great. They can say they brought their kids to see Miggy before he donned a Tigers cap in Cooperstown. He's a draw on a team that didn't have designs on winning.
Pujols is none of those here in Anaheim. He's a hired gun who never performed and will not wear an Angels cap in the Hall.
If I'm Mike Trout, why would I stay with the team that I know for a fact is going to treat me like garbage at the end. No matter how good and loyal I was.
See above. Trout is an Angels legacy player through and through. And he's a great player.
Pujols was a hired gun who never performed. There's a huge difference.
And it was Pujols who said he'd rather be released than see his playing time drop. The franchise granting him his wish isn't treating him like garbage.
Says the Angels fan…Angels should consider themselves lucky Trout is such a great guy….no one would blame him if he demanded a trade
Most of the time people say Trout doesn't want to win because he signed a huge deal here.
Now the team makes a move to drop dead weight and try to win and you say he should demand a trade.
I get it, you all want Trout, but he's here and he's the best player in generations. It sucks Arte meddles and blows the budget on guys like Pujols or else Trout would have a better team. I'm more frustrated than anyone else here.
But Trout's not leaving. He loves it here. And hopefully his loyalty is rewarded with a better team. This is a start towards making that happen.
Like Trout has a choice about staying with the club.
Yeah dude is under contract for a long long time. This also isnt the NBA where he can just tell Arte to F off Harden style and trade him.
Doesn't trout have a full NTC and 10-5 rights? He surely controls his destination
It's unfortunate he had to be DFA'd but his contract is a sunk cost and is a liability for the team to win. Great career though, Albert!
Hoping he catches on with the Cardinals and finishes it out there
One of the BEST EVER! He will still get his money! If you remember we went to bed low those many years ago thinking Albert was coming back to St. louis. Then some owner person wanted a NAME PLAYER, so they OVER PAID, got what he was at that time. If a STUPID HUMAN shows up at your place today and offers you STUPID MONEY you would do the same. I would love to have him back in St. louis but do not see it happening at all. Release Matt Carpenter sign Albert, vanity on my part. Best action would be to sign the one day contract, retire a St. louis Cardinal. LA CANNOT possibly appreciate Albert as a Cardinals fan did, does and will!!!!
It had to come eventually. Sad to see him go. A great player and person. HOF is next.
Can he play Centefield? Right now that slash would be an improvement for the Phillies.
He can't play CF or any field. lol
I thought his contract contained a deal where he would remain with the Angel's in the front office beyond this season? I wonder if that is still a thing or was it even ever a thing….?
Yes, it does $1M per year for 10 years once he's retired
We'll probably get more details, but as I referenced above, teams will give HOF players the graceful exit. Hal Steinbrenner flew up to meet with A-Rod and offered him the option of announcing his retirement in season, and keep in mind the Yankees and A-Rod had a choppy relationship. That indicates to me that Pujols was offered retirement and declined, saying he still wants to play. Fine for him to want that, but he should realize he's done. Running into the occasional HR won't keep you at DH or 1B, especially with Ohtani and Walsh on the team.
Good point, but let's not compare A Rod to Pujols….A Rod caught twice with steroids…he was lucky the Yanks gave him that option
One was caught, one wasn't? :-)
Regardless, that's the point. The Yankees gave him respect. Maybe Albert wouldn't let the Angels do the same. Hard to say though. Anything is possible with Moreno as owner.
Surprised, but I guess I shouldn't be. And I certainly don't blame Pujols for the contract: no one forced the Angels to offer him that many years. I can't imagine that any team would take him at this point, with or without the contract.
wasnt it the Marlins crazy as it sounds that were the runners up in FA for AP? I want to say it was only slightly less then the LAA offered. STL I remember was down to have him back but only at the price they wanted that was much lower.
Hello Rick Hahn! Could use his bat for the White Sox. Plus he knows Tony LaRussa.
Would love to see StL pick him up but understand with no DH in NL it might be rough.
Great Career, he changed the game of baseball forever. Came out of Dominican Republic with not much, and changed Cardinals history during/after the steroid era. Truly created a dynasty for the team, and baseball will always cherish his presence. Sign with the Cardinals as a tribute, then retire. One of the greatest of all time, and I am honored to watch him play. God bless
Just goes to show how many of these mega contracts are going to be so horrible.
Miggy and Pujols were prob the best pure hitters of our generation and they haven't even been able to hit their weight in recent years.
They didn't get paid for their recenr years though.
"For nearly half of his Hall of Fame career"
Yeah, the crap half… I'll admit as a Mariners fan, I was terrified when he signed with the Angels. However, he's been more kitten than lion and for that I am thankful.
Mariners fans have so much more to worry about with there own team before thinking about the rest of the devision bub. Make a roster that can make the playoffs that doesnt have Arod and Griff on it finally and then worry about the competition. I have always been fond of the M's, but its criminal to miss the playoffs every season with a player of king Felixs calibre for that decade there.
The last line of the article suggests that maybe it wasnt a mutual agreement. You would think that the Angels would allow him his last game in an Angels uniform in order to say goodbye and for fans to snap some pics of a historic player.
Again, a desperately needed move, but he deserves nothing but respect as he leaves.
You'd like to know what went on behind closed doors, but in the end it's irrelevant. He hasn't been an asset for a long while (negative cumulative BWAR since 2016). Assuming he's done, those are some fancy lifetime numbers, and a certain trip to the HOF. As much as people ridicule his recent past, at his (sustained) peak, he put up stats not often really seen in decades.
Long overdue. He's broken and terrible – yes terrible. He was a god in St. Louis but flat out P00 in Anaheim. Later!
Just because Babe Ruth is out of gas he is still Babe Ruth, and you treat him and his career with the respect that greatness deserves. Pujols has also always been a good person with none of the Ty Cobb esq baggage.
There is circumstantial evidence that this is not so. In Monday nights game Pujols tried to tag from first to second on a lazy flyball and was easily thrown out. Last night he threw a fit because he wasnt in the lineup. It could be that Pujols forced the Angels hand.
Look for An A.L. team to sign him for prorated minimum. He still has power. He could DH, occasionally start, and pinch hit.
I'd wonder whether another team would really want him….it's a lot of publicity, releasing him would be more publicity, and it's not like what he offers couldn't otherwise be found elsewhere. He hasn't had an OPS+ of over 91 in six years. Some of the older sluggers like Frank Thomas and Thome retained more value late in their career,
Doesn't he have a 10 year FO deal when the playing deal ends? Or was that a rumor years ago that I hung onto? Lol
Yes..his contract includes a 10 year personal service contract. Pays him 10 million when he retires….however if he represents another team it is void. If he wants to go in hall with cards hat..it is void. Its a choice he will have to make.
Straight-up trade Pujols for Chris Davis.
Trouble in River City. Trouble starts with T and that rhymes with P and that stands for Pujols.
"41 year old…" haha that's hilarious!!!
If he's 41 I'll eat my shorts.
So he goes into the hall wearing a Halo cap, right!?
I joke I joke. Pretty unceremonious exit, especially if it truly centered around a lineup decision
And Monday nights little league baserunning mistake trying to tag up on a lazy fly ball.
Hall of Famer as a Cardinal. A wash, typical free agent as an Angel, where the team shells out megabucks and the player becomes mediocre. St. Louis already has Door Matt Carpenter, they don't need to waste a roster space for another DH type who can't produce. Just saying good bye to Albert. is good enough.
Maybe he will just retire instead.
what i am angry at is team's terrible records and pitching. minasian had a chance to make the angels really great but totally blew it. and he is trying to put that on pujols. perry the dumb caca!
MLB Trade Rumors is not affiliated with Major League Baseball, MLB or MLB.com
KSDK News 09 May, 2021 - 07:01pm