The gift from Joe and Clara Tsai appears to be among the largest ever made for sports-related health and medical research and will benefit the Salk Institute in La Jolla, a world leader in basic biology, and UC San Diego, which specializes in turning discoveries into drugs and therapies.
They will share the $220 million with Stanford, which will lead the new Wu Tsai Human Performance Alliance, as well as Boston Children's Hospital, the University of Kansas and the University of Oregon.
The Chula Vista Elite Athlete Training Center, where some current Olympic athletes have been working out, and the San Diego Padres are likely to become part of the research, according to UCSD.
"Scientific funding has traditionally been focused on the study of diseases," Clara Wu Tsai said in a statement Wednesday.
"We are taking the opposite approach and studying the human body at its healthiest and most vital, to enable the thriving of all people — from an Olympic Gold Medal-level athlete to a grandfather lacking the mobility to enjoy a full life."
The Salk will focus on the role that genes and molecules play in training, healing and recovery, while UCSD comes up with models that better predict how changes in tissues affect the body.
It's part of a broader look at the bones, muscles, ligaments, tendons and soft tissue that make up the musculoskeletal system. Problems with this part of the body can cause crippling pain and stiffness, especially in older people.
Forbes magazine estimates his wealth at $10.9 billion, most of which is tied to Alibaba, the largest online commerce company in China, and one of the largest of its type in the world. He co-founded the company and currently serves as its executive vice chairman.
Tsai, who was born in Taiwan and educated at Yale, also owns the NBA's Brooklyn Nets, the WNBA's New York Liberty, and Barclay Center, the Brooklyn arena where both teams play their home games.
In recent years, he and his wife have become well known philanthropists. They donated $50 million last August to support economic mobility in the Black community, notably in Brooklyn. In April 2020, they gave UC San Diego $1.6 million in medical supplies to help fight Covid-19.
The new Tsai gift is among the biggest gifts of any kind ever made by donors who live in San Diego County, and it reflects the desire of some philanthropists to shorten the time it takes to turn lab discoveries into new treatments.
In 2013, La Jolla's Denny Sanford gave UCSD $100 million to accelerate efforts to find ways to use human stem cells to treat a number of afflictions — a movement called bench to bedside.
"After robust dialogues and engagement with biologists, engineers, trainers, clinicians, and athletes, we decided to focus on defining the scientific principles underlying human performance."
Some of the research will be led by UCSD's Sam Ward of the Triton Center for Performance and Injury Science, which will be of interest and consequence to anyone who picks up a golf club.
"Currently you can go to Callaway Golf and somebody will analyze everything in the world about your swing," said Ward, a professor in UCSD's departmentsof orthopedic surgery and radiology.
"But they don't consider what's going on in your back and in your shoulders or your wrists to help optimize what the right golf swing is for you.
"We're trying to incorporate not only mechanics but the underlying biology in order to make decisions about what the right equipment is and what the right training regimes and right rehab regimes are for everyone."
The new alliance also includes Satchidananda Panda, a Salk researcher who has has helped show how such things as circadian rhythms and sleep deprivation can affect the musculoskeletal system.
"Within each of us there is an athlete," Panda said. "We want to be physically fit and to be free of injuries. That's why we're going to be doing research that applies to all of us."
Nearly 3,200 people are on waiting lists as the campus grapples with more growth
Get top headlines from the Union-Tribune in your inbox weekday mornings, including top news, local, sports, business, entertainment and opinion.
You may occasionally receive promotional content from the San Diego Union-Tribune.
PacBio says Omniome's approach to reading short stretches of DNA gives it an edge over current technologies
Daré Bioscience received a grant of up to $49 million to develop its reversible contraceptive
Some neighbors say the structure's 100-foot height is too high for the area
Scientists at Scripps Research used wearable device data to show that it can take two to three months for your heart rate, sleep and activity levels to return to normal after a coronavirus infection
A volunteer was caching water in advance of the annual tally when he died
The possibility of another big wave of growth is causing its own set of problems
Read full article at The San Diego Union-Tribune
Well+Good 21 July, 2021 - 08:00am
Adama Sesay・July 21, 2021
Movement towards self-preservation through articulating what feels right to you is a major part of this full buck moon in Aquarius of 2021.
Movement towards self-preservation through articulating what feels right to you is a major part of this full buck moon in Aquarius of 2021. This is encouraged by emotionally intelligent planet, Mercury in Cancer, forming a supportive connection with Neptune retrograde in Pisces. This is a time when many will take the time to finally honor their emotions and decide what feels right to them.
This time is focused on making heart-centered decisions. Below, learn what you can expect from the full buck moon in Aquarius of 2021 for your zodiac sign. For a more holistic look at the month ahead, read your sun, moon, and rising signs. (you can run a free online natal chart generator here.) Then, incorporate your bespoke full moon affirmation into your day to help energize you towards your truth.
You are realizing that in order for your hopes, dreams, and wishes to come true, you have to actively choose them first. Perhaps you are currently in a situation where you feel like your creativity, inner child, and self-expression can't truly flourish.
This is a time when you can suddenly decide to leave this stagnant energy. Choose what truly lights your fire and allows you to be who you are, Aries. The key now is to create a detailed plan on how to get there because with every new idea, work is involved.
Your full-moon affirmation: My creativity is flowing and powerful. I love my individuality and what I have to offer the collective.
It's time to shake things up and break away from the norm, Taurus. Your career and life path is being activated, and this is prompting you to choose what truly fits you. This can be an entirely new direction, a complete innovation or overhaul, or a current one. The change can be sudden but also much-needed in order for you to truly grow professionally.
You have experienced tremendous growth over the past year with who you are as an individual. It's only natural now for you to seek situations that cater to who you are now.
Your full-moon affirmation: I love, accept, and integrate who I was and who I am now becoming.
The universe is pushing you to break out of the box. Gemini is a master communicator and this energy is encouraging you to embrace that. This is a time when you are feeling pushed to express your truth and embrace your creative message.
Where have you held yourself back from this or allowed others to dull your sparkle? You do have a lot to offer the collective, and this lunar event is encouraging you to break free of judgment. Only you can hold yourself back.
Your full-moon affirmation: My voice matters. When I speak my truth I reclaim my power.
Money, material gains, and shared resources are a focus for you. If you have been working on a unique business or creative venture, you can now start to experience manifestation. This could be through gaining more clients or receiving sudden support through an outside source.
This shift can also manifest through a life partner. This full buck moon in Aquarius of 2021 is activating change in their revenue stream, which ultimately affects yours, too. In general, the means could be through something innovative, future-oriented, and stable.
Your full-moon affirmation: I am abundant and blessed. For every dollar that flows out, 100 always flows back to me.
Your individuality and how it relates to your relationships is in the energetic spotlight. Your creative truth versus the opinions of others can create internal friction to make a decision more in alignment with you. Sudden career shifts or changes in a work relationship can occur.
Not only could this influence be work-related, but major changes in a love or personal relationship can occur. If you are not receiving what you need or feel a sense of stagnancy, this can feel like a time of positive liberation.
Your full-moon affirmation: I love myself and through this radical self-love, I only magnetize those who match my energy.
Your health and work routine are going through changes. If you have been dealing with challenges or difficulties in this area of life, you can feel pushed to make a change for the better. This could be through adding meditation, healthier eating, and movement into your day to day life. Alternative healing can also be of interest.
You also are experiencing changes in your work routine. Perhaps you have felt restricted creatively in your current role. If so, now you can be pushed to choose a new work environment or schedule that is more inspiring for you. Freelancing, starting a business, or focusing on a unique project can also manifest at this time.
Your full-moon affirmation: Health is wealth. I am healthy, provided for, and rapidly healing from the inside out.
You can start to see movement on an important contract, investment, or joint financial matter you have been putting energy into. This can feel sudden, and this new opportunity can feel like a step up for you. Perhaps this is a mortgage, business investment, or a venture with a marriage partner, if this applies.
This is also a powerful time for creativity. You can also feel the push to launch a new idea to your network or social media. It can feel more in alignment with your true creative self-expression. Use this as a time to free yourself from what has held you back from this authenticity. For some, Libra's fertility matters can be a focus at this time.
Your full-moon affirmation: The energy I give mentally and financially always returns to me tenfold. The universe is an endless source of abundance.
Career and life-path changes are developing, Scorpio. You are stepping out of your comfort zone, and into the spotlight in regards to your work. This could be through a new and innovative opportunity or through a creative project.
Use this as a time to tap into your creative truth. If you are in a place where you feel as if you can't do this, you can be pushed to make a decision. Listen to your heart and allow your emotions to guide the way. Conforming to others will only bring you discomfort.
Your full-moon affirmation: The world loves what I create. The passion and love I have always comes through in my work.
Expanding your mind with knowledge is driving you. This could be through earning a new certification or taking courses online to help make a bigger impact on the collective. You could also do this through foreign travel or international matters if you have this opportunity.
You may also feel more outspoken about your beliefs and what your thoughts are on an important issue through social media or your industry. Remember your mission and what you're passionate about. While this can feel sudden, it can feel liberating to finally start sharing your truth.
Your full-moon affirmation: My mind is expanding and so is my consciousness. I feel confident in my ideas and thoughts.
Money and your earned income are an important topic for you, closely linked to your self-worth, and the full moon is bringing to light truths surrounding this area of your life. You may find that you have been underpaid or have not been charging enough for your services.
You may also start to take a unique approach to how you earn your money. This could be through choosing an unconventional job or creating your own business. This is a time of liberation and independence from limitations and restrictions you have felt in your resources. It's up to you to give yourself what you are worth first, and the outside reality will conform to this.
Your full-moon affirmation: I am worthy of abundance. My skills and talent always receive the compensation I deserve.
This full moon affects you the most, Aquarius, as it's occurring in your sign. This is activating the unique individual you naturally are and how this relates to your personal relationships. If you are in a romantic or work relationship that doesn't allow you to express who you are, you can be influenced to make a change.
You are aligning with your most authentic self at this time. Saturn in Aquarius has been pushing for you to release what (or who) has been holding you back from your self-expression and creativity. Now can feel like a time of sudden but necessary changes.
Your full-moon affirmation: I attract creative collaborators and relationships that understand and love the true me.
The cosmos are injecting fun, self-expression, and change into your work and health routine. Perhaps you have felt stagnant and uninspired in this area of your life. This could be through a new exercise outlet or the need to switch up how you accomplish your work. Don't be afraid to share your innovative ideas—colleagues can be receptive to them at this time.
For some Pisces, there also can be a shift in focus towards working with children. For others, if your work schedule has felt oppressive versus enjoyable, you can feel encouraged to change it. Protecting your energy and not overworking yourself is important.
Your full-moon affirmation: Every day I'm inspired to create. I inject fun and enjoyment into everything I do.
Think of it as your comeback tour.
© 2021 Well+Good LLC. All rights reserved. Read our Privacy Policy and Terms and Conditions.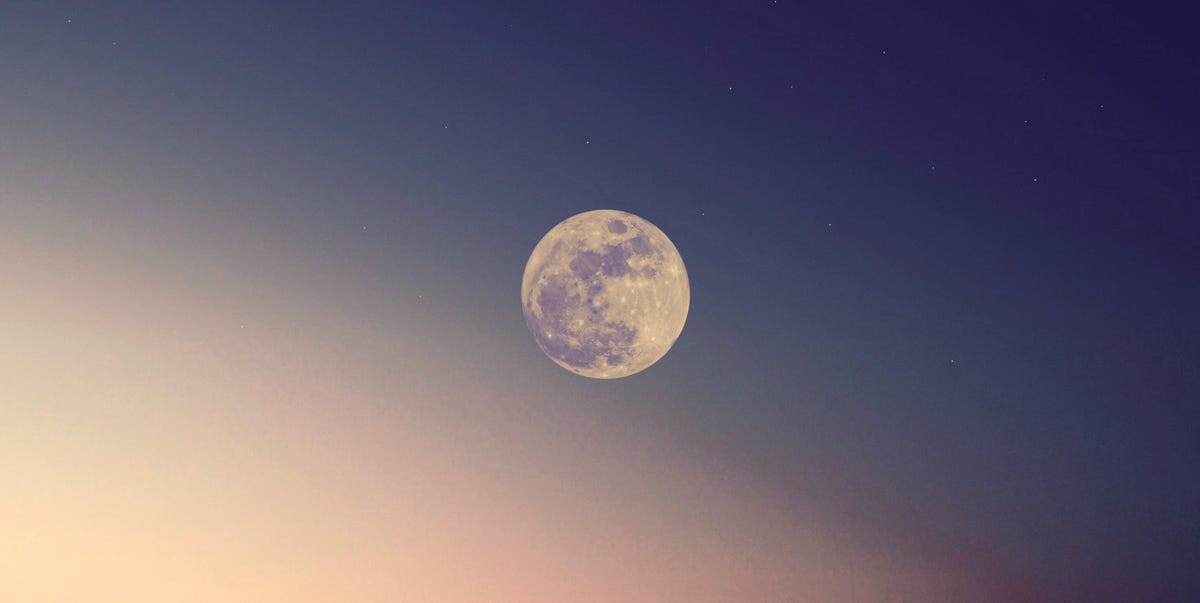 Women's Health 21 July, 2021 - 07:30am
It's time to let your freak flag fly—and ditch anyone who rains on your parade.
There are some people in your life that you keep around, just cuz. Maybe you feel meh about them, or maybe you're trying to avoid confrontation but, deep down, you know they just don't get you.
Well, that's about to change. There's a full moon popping up on July 23, 2021, and it's going to make you want to be real AF, so-called-friends be damned. It's called the Full Buck Moon, and it's happening in the sign of Aquarius.
During this full moon, you'll be all about embracing who you are, while being super accepting of others, according to Donna Page, a certified astrologer in Atlanta. Naturally, though, there's a lot more to it than that.
Here's what else your zodiac sign can expect from the Full Buck Moon in Aquarius, and how it'll impact your life in the future.
Fact: The moon has different phases, and the moon is its biggest, roundest, and brightest self when it's in the full moon phase.
This full moon's name comes from a mix of Native American, Colonial American, and European sources. The Full Buck Moon happens when antlers on male deer (a.k.a. bucks) are in their full growth mode, according to The Old Farmer's Almanac. FWIW, bucks shed and regrow their antlers each year, turning up with a bigger and better rack with time. #Themoreyouknow, amirite?
The July full moon is also known as the Feather Moulting Moon, the Salmon Moon, and the Berry Moon.
Because this particular full moon is in Aquarius, it'll make you want to be surrounded by people that accept you for who you are, even if you're a total weirdo sometimes. Because, hello, you're uniquely you, and people should appreciate that. If not, ya know, there's the door. Suddenly, you'll see with crystal-clear clarity who your true friends are, along with those people you'd be 100-percent cool with never seeing again.
But, this isn't just about you wanting acceptance from other people: You're going to dish out plenty of it yourself. Yeah, you may not totally see why your BFF is in love with her partner, but that's okay. You're here to support her, and nothing more.
This can trickle down to work, too. Are you clocking in at a place where you feel like you can be yourself (or a decent work version of yourself), or do you feel like a total robot in the office? If it's the latter, maybe it's time to shop your resume around, just to see where it gets you.
On the love front, you'll want a little space in your relationship—but not bad space. Just wanting to go away for a girls' weekend and having your S.O. be all kinds of supportive, even though you're missing their summer league softball championship game-level space. Is that too much to ask? Nuh-uh.
All the zodiac signs will be impacted by the Full Buck Moon in Aquarius, but Aquarius and Leo will feel it the most.
Embracing who you really are and focusing on the people who are more than cool with that will only make you feel like your truest, best self. And really, you can't go wrong with that. Ditto for weeding out the people who aren't there to cheer you on—you don't need 'em, and you'll only be happier and healthier down the road without them.
You'll also realize how good it feels to try to be the most nonjudgmental version of yourself possible. Like, this is you at your peak awesomeness—and you'll want to embrace more of that in the future.
If you feel like work just isn't a good fit anymore, this full moon energy can push you to make a change to something that's juuust right, which will ultimately make you feel happier and enjoy work more. What's not to love?
Finally, having your S.O. show support for you needing a li'l more space here and there will come back around (make sure to return the favor when it's their turn). A little distance not only makes the heart grow fonder, but will bring the two of you closer.
The next full moon is on August 22, 2021 in the sign of Aquarius (yes, again!). During this time, you'll try to tap into your emotions a little more and ditch some of the crappier ones—looking at you, jealousy.
Until then, enjoy being the coolest, most accepting version of yourself.
mlive.com 21 July, 2021 - 07:24am
The Full Thunder Moon, which will peak at 10:37 p.m. ET Friday, July 23, will have an extra reddish or orange hue to it because of smoke and ash from wildfires raging in northern and western Canada.
This "fine particulate matter" creates a reddish filter in the atmosphere. It's also been giving us some pretty colorful sunrises and sunsets for the last several days.
RELATED: How long will pink sunsets and sunrises in Michigan continue?
The moon or sun near the horizon always looks reddish because it is being viewed through more of the Earth's air, but the wildfire ash takes that effect to the next level.
While the peak for July's full moon occurs Friday night, it will appear full – and likely reddish or orange – Thursday evening through Sunday evening.
Among the names that Native Americans applied to full moon of July was Thunder Moon because it coincides with the frequent thunderstorms of summer, according to the Maine Farmer's Almanac original compilation of those Native American names in the 1930s.
Some Native American peoples also knew this month's full moon as the Full Buck Moon for its arrival as buck white-tailed deer are developing their antlers for the year.
According to NASA, Europeans called the full moon of July the Full Hay Moon "for the haymaking in June and July, and sometimes the Mead Moon (although this name and Honey Moon were also used for the previous full moon). Mead is created by fermenting honey mixed with water, sometimes adding fruits, spices, grains, or hops.
"For Hindus, Buddhists and Jains, this is the Guru Full Moon (Guru Purnima), celebrated as a time for clearing the mind and honoring the guru or spiritual master.
"For Theravada Buddhists, this full Moon is Asalha Puha, also known as Dharma Day or Esala Poya, an important festival celebrating Buddha's first sermon. As the full Moon day of Waso (the fourth month of the traditional Burmese lunisolar calendar), this is the start of the three-month annual Buddhist retreat called Vassa."
Note to readers: if you purchase something through one of our affiliate links we may earn a commission.
WJW FOX 8 News Cleveland 20 July, 2021 - 07:52pm
NASHVILLE, Tenn. (WKRN) – July's full moon, known as the Buck Moon, falls on Friday, July 23, but will appear full from Thursday evening through Sunday morning, according to NASA.
According to the Farmer's Almanac, the Algonquin tribes of the northeastern United States called July's moon the Buck Moon because it appears at the time of year when male deer regrow their antlers to be bigger than the year before.
The moon is also known as the Thunder Moon due to the frequent thunderstorms that are common in summer.
The Buck Moon isn't the only reason to keep your eyes on the night sky. The Perseid Meteor Shower is also underway through August 24.
Next month's full moon, known as the Sturgeon Moon, will be visible on August 22.
The meteors come from the comet known as 109P/Swift-Tuttle, which brings this meteor shower each summer. Swift-Tuttle orbits the sun every 133 years and was last in our inner solar system in 1992.
Each year the Earth goes around the sun, it passes through a dusty trail left behind from this comet. Those particles in the trail then collide with our atmosphere and disintegrate to create the beautiful meteor shower and fireballs that we see in the summer night sky.
The meteor shower, which began July 14 this year, is named after the constellation Perseus, which is the area in the sky the meteors appear to come from when looking from the Northern Hemisphere.
According to NASA, the Perseids meteor shower is known for the fireballs which "are large explosions of light and color that persist longer than an average meteor streak." These fireballs come from some of the comet's larger particles.
Copyright 2021 Nexstar Media Inc. All rights reserved. This material may not be published, broadcast, rewritten, or redistributed.
(Nexstar Media Wire) - Twitter is officially testing a dislike button, the company confirmed on Wednesday.
In a message visible to some iOS users, Twitter said dislikes "aren't public or visible to the author, while Likes are."
Rangers said they received a report of the lightning strike shortly before 3 p.m. at the Bright Angel Trailhead.
The investigation by the Centers for Disease Control and Prevention of facilities in the Grand Junction, Colorado, area raises concerns among public health doctors that successes in protecting vulnerable elders with vaccines could be in peril as the more aggressive delta variant spreads across the country.
WKRN News 2 20 July, 2021 - 05:25pm
NASHVILLE, Tenn. (WKRN) – The latest full moon is coming this week. July's full moon, known as the Buck Moon will appear over Tennessee on Friday, July 23 at 9:37 p.m. CST.
According to the Farmer's Almanac, the Algonquin tribes of the northeastern part of the United States called July's moon the Buck Moon because it appears at the time of the year where male deer, known as bucks, regrow their antlers to be bigger than the year before.
The moon is also known as the Thunder Moon due to the frequent thunderstorms that are common in summer.
The Buck Moon isn't the only reason to keep your eyes on the night sky. The Perseid Meteor Shower is also underway. Tennesseans can check out the "best meteor shower of the year" now through August 24.
Next month's full moon, known as the Sturgeon Moon, will be visible on August 22.
In the meantime, if you go outside and grab photos of the Buck Moon this weekend, make sure to send them to PIX@wkrn.com or submit them below.
NASHVILLE, Tenn. (WKRN) – The Perseid Meteor Shower is underway, which means you have a chance to see the "best meteor shower of the year" from the comfort of your own home.
The shower lasts through Aug. 24 and peaks around Aug. 11-13. The shower provides 50-100 meteors an hour for skywatchers to see, according to NASA.
It all started before Tennessee ever became a state of the Union. From the original 1786 land grant to today, the Grassmere property has witnessed more than two centuries of changes.
What happens when their parent or guardian is locked up because of the incident?