Governor Kate Brown
OregonGovBrown
COVID-19 and the Delta variant remain dangerous threats, especially if you are not vaccinated. Please, protect yourself, your family, and your community. Talk to your health care provider if you have any questions, and find an appointment near you: GetVaccinated.Oregon.gov

Scott Gottlieb, MD
ScottGottliebMD
In the U.S., as more of our older residents are protected through vaccines, a larger proportion of those being hospitalized with Covid are comprised of younger people. In Florida, similar to other states, more than 95% of hospitalizations are people who aren't fully vaccinated. pic.twitter.com/1M1LBCVGpO
MayorOfLA
MayorOfLA
We're seeing a surge in COVID-19 cases, & unvaccinated people are most at risk. I stopped by a pop-up vax event in Leimert Park today where Angelenos got vaccinated for free right in their neighborhood — you can, too. Find a site like this near you: Coronavirus.LACity.org/GetVaccinated pic.twitter.com/PNMBddOhWv
Mark Poloncarz
markpoloncarz
97% of Louisiana's COVID deaths since February were unvaccinated. In Alabama it is 96% of deaths since April. Those correspond with our deaths locally. Simply put, your odds of getting very sick and dying from COVID are very low if you are vaccinated. abcnews.go.com/Health/statistics-show-risks-vaccinated-covid-19/story?id=78845627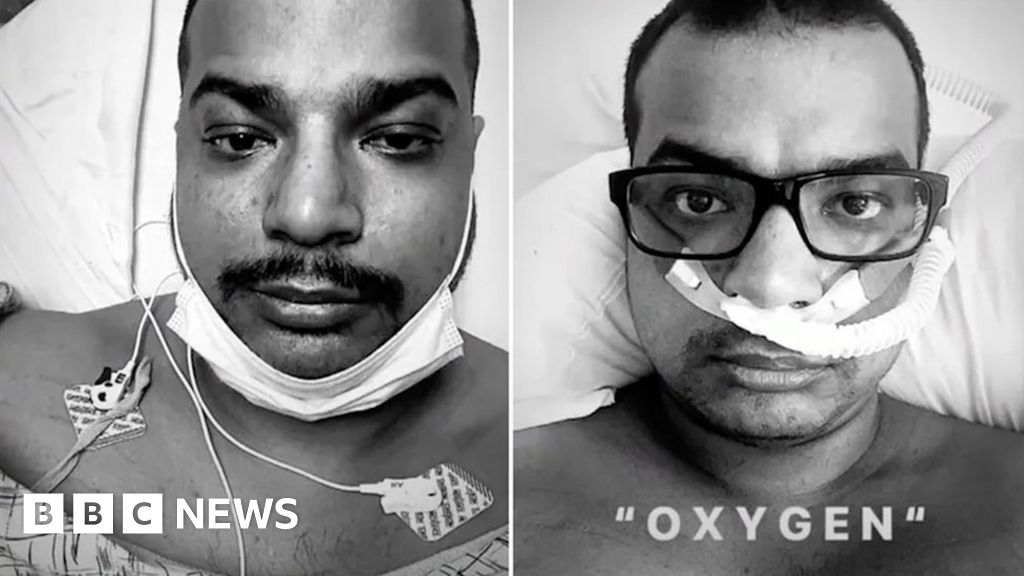 Stephen Harmon, a member of the Hillsong megachurch, had been a vocal opponent of vaccines, making a series of jokes about not having the vaccine.
"Got 99 problems but a vax ain't one," the 34-year-old tweeted to his 7,000 followers in June.
He was treated for pneumonia and Covid-19 in a hospital outside Los Angeles, where he died on Wednesday.
In the days leading up to his death, Mr Harmon documented his fight to stay alive, posting pictures of himself in his hospital bed.
"Please pray y'all, they really want to intubate me and put me on a ventilator," he said.
In his final tweet on Wednesday, Mr Harmon said he had decided to go under intubation.
"Don't know when I'll wake up, please pray," he wrote.
Despite his struggle with the virus, Mr Harmon still said he would reject being jabbed, saying his religious faith would protect him.
Prior to his death, had joked about the pandemic and vaccines, sharing memes saying he trusted the Bible over top US disease expert Dr Anthony Fauci.
Hillsong founder Brian Houston confirmed news of his death in a tweet on Thursday.
"Ben has just passed on to us the devastating news that our beloved friend, Stephen Harmon has passed away from Covid. Heartbreaking," Mr Houston said.
In an Instagram post, he paid tribute to Mr Harmon.
"He was one of the most generous people I know and he had so much in front of him," he wrote on Instagram.
"He would always turn up to our grandkids soccer games and he will be missed by so many. RIP."
He added that the church encourages its members "to follow the guidance of their doctors".
California has seen a rise in Covid-19 cases in recent weeks, with the majority of those being taken to hospital unvaccinated.
Watch, listen and follow text commentary from day two of the Tokyo 2020 Olympics with 18 gold medals to be won.
15 sayings from around the world
Read full article at BBC News
The Sun 24 July, 2021 - 07:00pm
Business Standard 22 July, 2021 - 01:37am
More than 3.20 crore COVID-19 vaccine doses are currently available with states, union territories and private hospitals for inoculation, the Union Health Ministry said on Thursday.
More than 3.20 crore -- 3,20,01,490 -- balance and unutilised doses are still available with states, UTs and private hospitals to be administered, the ministry said.
The Union government is committed to accelerating the pace of vaccination and expanding its scope, it said.
The new phase of universalisation of COVID-19 vaccination commenced from June 21, 2021.
The vaccination drive has been ramped up through availability of more vaccines, advance projections of vaccine availability to states and UTs for enabling better planning by them, and streamlining the supply chain.
As part of the nationwide vaccination drive, the Government of India has been supporting states and UTs by providing them COVID-19 vaccines free of cost, the ministry said.
Under the new phase of vaccination, the Centre procures and supplies to states and UTs 75 per cent of the vaccines being produced by manufacturers.
(Only the headline and picture of this report may have been reworked by the Business Standard staff; the rest of the content is auto-generated from a syndicated feed.)
Copyrights © 2021 Business Standard Private Ltd. All rights reserved.
Business Standard is happy to inform you of the launch of "Business Standard Premium Services"
As a premium subscriber you get an across device unfettered access to a range of services which include: