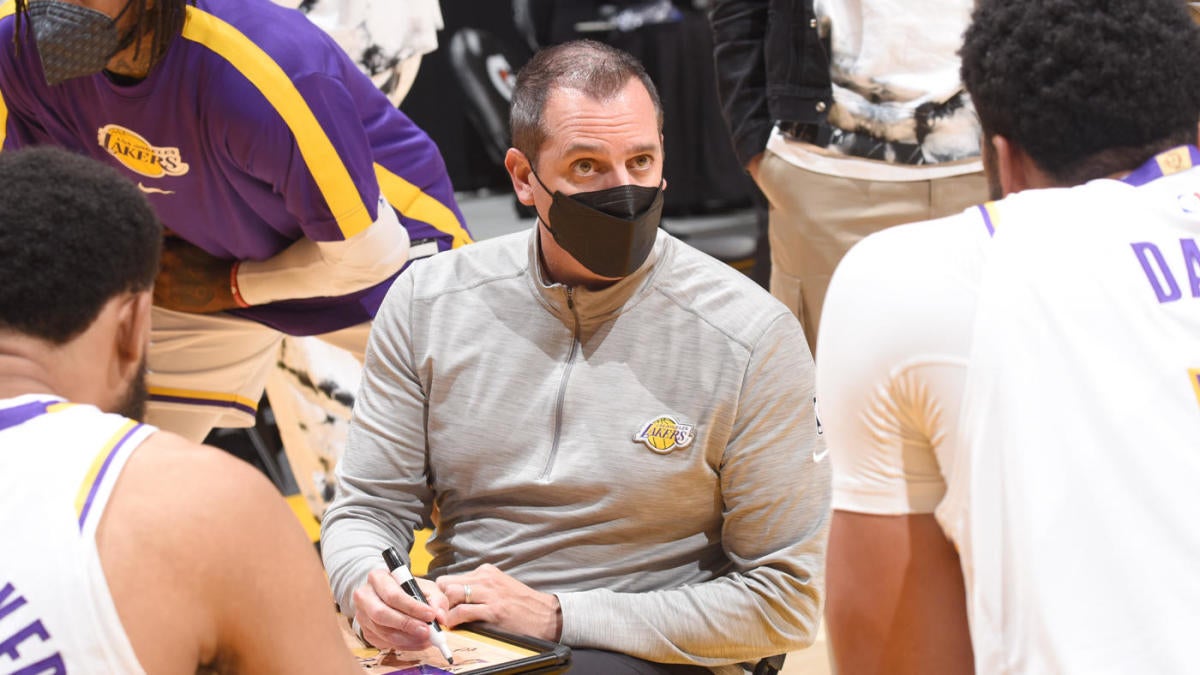 Barring an unexpected trade, the Los Angeles Lakers are going to have one of the most financially lopsided rosters in NBA history. The trio of Russell Westbrook, LeBron James and Anthony Davis combine to make over $120 million in the 2021-22 season, and individually, all three of them will make more than the $32.2 million owed to the entire rest of the roster. At the moment, the Lakers have more players making the minimum (seven) than not (five). If they fill out their three remaining roster spots with minimum salary players, they will have twice as many players at that salary as not.
That reality made the Lakers particularly appealing to free agents expecting to make roughly the minimum. The presence of those three superstars ensures contention, but the lack of depth beyond them ensured that playing time would be available. The Lakers were able to build a roster largely around minimum-salary players in part because they could sell free agents on the idea that they could play major roles in their rotation. The Athletic's Shams Charania reported that Kent Bazemore turned down more money and years from the Golden State Warriors to join the Lakers partially because he believed they'd be able to give him a bigger role. Other free agents likely held that same belief. Joining most contenders for the minimum means competing with incumbent role players for playing time. Joining the Lakers meant competing with other minimum-salary free agents.
And therein lies one of the biggest challenges awaiting Frank Vogel this season. Despite starting the offseason with practically no depth, the Lakers managed to recruit a roster that, in some ways, is overflowing with it. There are 240 minutes of playing time available in a basketball game. With three roster spots left to fill, the Lakers already have players who averaged over 300 minutes per game last season.
This hardly means that the Lakers are among the NBA's deepest teams. Remember that in most cases, players who are available for the minimum are available for the minimum for a reason. Even if some took less money to join the Lakers, they've meaningfully downgraded from the more balanced supporting cast of the past two seasons. Generally, teams prefer consolidated rotations with seven or eight players holding key roles.
Those minimum players make it harder for the Lakers to trim the rotation down that far. Previous iterations of this group had reliable 3-and-D role players like Kentavious Caldwell-Pope and Danny Green to play major minutes, but most of this year's signings veer towards either the "3" end of the spectrum (Wayne Ellington, Carmelo Anthony and Malik Monk) or the "D" end of it (Dwight Howard). Even players with more balanced track records carry risks. Bazemore is a reliable defender who shot 40.8 percent from behind the arc last season, but was below league average in the four seasons prior at 35.1 percent. Trevor Ariza's shooting numbers are similarly inconsistent, and at 36 years old, there's no telling how much longer he'll be able to maintain his defensive performance.
These are hardly disqualifying weaknesses. The Lakers signed these players because they believe that they can contribute, and many ultimately will. It's just hard to envision most of them doing so at the 30ish minute clip that teams generally prefer out of key players deep in the playoffs, especially when you factor in redundancy.
If there's one thing this Lakers roster doesn't lack, it's ball-handlers. The James-Westbrook duo alone ensures that the Lakers can have at least one Hall of Fame point guard or point guard-adjacent floor general on the floor at all times … yet the two players on this roster making more than the minimum but less than the star trio derive most of their value from handling the ball. Talen Horton-Tucker is a 28.5 percent career 3-point shooter whose potential lies in his remarkable ability to score at the rim. Westbrook obviously does that in spades and benefits most from teammates that can create space for him to do so. Kendrick Nunn can do so, but he lacks Horton-Tucker's defensive upside. Monk similarly overlaps with Nunn as a score-first guard that struggles defensively.
It's hard to have too much ball-handling, a skill that has proven increasingly valuable in the postseason setting, but the Lakers' choice to maximize it at the expense of other, more supportive skills is going to make life difficult on Vogel as he constructs this rotation. Returns on ball-handling start to diminish rather quickly compared to, say, shooting or defense because, in the simplest of terms, only one person can handle the ball at a time, whereas every player on the court defends and generates gravity. The Lakers have to balance their needs for shooting and defense along with this glut of ball-handlers, and they have to do it given the real flaws of their players. This is not going to be an eight-man rotation, but based on the math above, it can't be a 12-man rotation either. There isn't a clear pecking order among the role players, yet there aren't enough minutes for all of them, either. Depending on who fills those final three roster spots, either now or through in-season additions, the logjam could get even tighter.
So how can Vogel sort through this complicated mishmash of players? Some of the questions are easier than others. It starts with two key questions:
Once the Lakers know who is starting and how they're aligning their stars, they can begin to construct lineups that specifically make sense around them. For the sake of preserving Davis, Gasol is probably going to open the season as the starting center. With a bit of extra spacing out of that spot, the Lakers can prioritize defense a bit more at shooting guard. That makes Bazemore a likely choice for the final starting slot.
Things get tougher from there. The Lakers have placed an enormous degree of organizational faith in Horton-Tucker … but do they trust him enough to play him next to Westbrook? If the answer is yes, their spacing is compromised, and if the answer is no, he's basically confined to James-led bench units. The real competition here is between Nunn, Monk and Ellington. At best, only two of them can get steady minutes given their defensive limitations. Ellington has the most valuable specific skill set for this roster. He's also the oldest and likely the most comfortable with an unsteady role. Nunn and Monk overlap, but they're younger and carry sorely needed upside. In a perfect world, the Lakers would love for Monk to outplay Nunn, as Nunn's $4.9 million salary could net them more in an in-season trade than Monk's minimum pact.
If there's a battle between the two, it will likely play out at training camp. The same might be true of Ariza and Anthony at forward if Davis isn't a full-time center. Ariza's defense is badly needed. Limiting Anthony's minutes carries enormous political ramifications. James recruited his longtime friend himself. Vogel saw firsthand how difficult it is to manage expectations with former All-Stars when Andre Drummond joined the team midseason. Whether it's Anthony or others, there are going to be disappointed veterans here. There aren't 300 minutes to go around.
With a group of imperfect supporting players, Vogel is going to have to weigh what each brings individually and decide how best to allocate those skill sets. The process is going to be ongoing, and injuries are going to wind up answering many of these questions for him. Right now, the Lakers have 12 players fighting for minutes. When the dust settles, they're hoping they can trim that number down a fair bit. They might not have a clear path to seven or eight for the postseason, but for now, just figuring out a 10-man regular-season rotation is going to be one of Vogel's greatest challenges as coach of the Lakers.
The new Lakers season starts October 19! You need a jersey for your favorite player before the first games tip. Shop NBA jerseys, hats, jackets, and a whole lot more here.
© 2004-2021 CBS Interactive. All Rights Reserved.
CBS Sports is a registered trademark of CBS Broadcasting Inc. Commissioner.com is a registered trademark of CBS Interactive Inc.
Images by Getty Images and US Presswire
These cookies are essential for the proper functioning of our Services. Essential cookies cannot be switched off in our systems. You can set your device to block or alert you about these cookies, but some parts of the Service will not work.
These Cookies allow us to collect information about how visitors use our properties. Some examples include counting visits and traffic sources, so we can measure and improve the performance of our services. If you do not allow these Cookies we will not know when users have visited our properties and will not be able to monitor performance.
These Cookies enable the services to provide enhanced functionality and personalization. They may be set by us or by third party providers whose services we have added to our services. If you do not allow these Cookies then some or all of these services may not function properly.
These Cookies may be set by us or through our services by our advertising partners. They may be used by those companies to build a profile of your interests and show you relevant advertising on this and on other properties. If you do not allow these Cookies, you will still see ads, but you will experience less relevant advertising.
These Cookies are set by a range of social media services that we have added to the services to enable you to share our content with your friends and networks. They are capable of tracking your browser across other sites, building up a profile of your interests to show you relevant content and advertisements on the relevant social networks. If you do not allow these Cookies you may not be able to use or see these sharing tools.
Read full article at CBS Sports
Lakers Nation 25 August, 2021 - 01:00pm
Lakeshow Life 25 August, 2021 - 01:00pm
Sports Illustrated 25 August, 2021 - 09:48am
So who helped their stock and who took a step back this offseason? Let's assess the best and worst of free agency and the draft with The Crossover's offseason awards.
Will the Russell Westbrook experiment work in Los Angeles? That's no guarantee, But we're assured to see some major fireworks at the Staples Center this season as LeBron James & Co. look to return to the Finals.
It's easy to forget that the Lakers sat second in the West at 28–13 on March 18, and a healthy Anthony Davis could have completely changed the course of the Western Conference playoffs. There are clear fit issues and a potentially crippling lack of depth present ahead of next season, though, from a sheer talent perspective, Los Angeles has to be considered the Western Conference favorite if James, Davis and Westbrook are all healthy.
Westbrook's adjustment with the Lakers should be one of the dominant story lines of the 2021–22 season. He's now a clear third option after largely running the show for the Wizards, and he even served as the Rockets' true engine for large portions of the 2019–20 season. Los Angeles should feast in transition, and it's easy to envision Westbrook-to-James lobs going viral on opening night. The postseason will provide a greater challenge. Can Westbrook refine his shot selection when it counts? Will he have any ability to punish sagging defenses? Westbrook finally securing his first ring would mark a satisfying coda to a Hall of Fame career. But it won't come without a serious adjustment on both ends.
Westbrook isn't the only new character of intrigue at the Staples Center. Veterans Trevor Ariza, Carmelo Anthony and Wesley Matthews will scrap for minutes on the wing. Dwight Howard returns for what could be a disastrous sequel. Kendrick Nunn and Malik Monk are both expected to be consistent contributors, once again testing James's ability to mold a championship contender around an uncertain core. Bringing home another Larry O'Brien Trophy with this group would mark one of James's greatest accomplishments.
The 2021 free-agent class was filled with quality contributors despite a lack of available headliners, leading to a number of shrewd moves by contenders. The Nuggets added a small-ball five in Jeff Green to complement Nikola Jokić, while Utah signed a frontcourt piece of its own in Rudy Gay. Dennis Schröder should provide legitimate scoring punch with the Celtics, and Nic Batum's return to the Clippers should stabilize the situation in Los Angeles before Kawhi Leonard returns. Yet to find the shrewdest offseason addition, look no further than the championship favorites in Brooklyn.
The Nets' roster entering 2021–22 isn't exactly a skeleton crew outside of its Big Three. While the Lakers may struggle to find contributors outside of their dynamic trio, the supporting cast alongside Kevin Durant, Kyrie Irving and James Harden should be ready to contribute when called upon, even if one or two superstars are out of commission. Joe Harris is returning after testing the free-agent waters, as are Blake Griffin and Bruce Brown. Adding Patty Mills to the fold should only augment an electric offense. The 12-year veteran still turned in a quality season with the Spurs in '20–21, shooting 37.5% from three in 24.8 minutes per game. Mills is a solid spot-up shooter, and his zippy playmaking should add some verve to Brooklyn's isolation-heavy attack. Mills is almost guaranteed to make a key shot in a playoff game at some point in '22, returning to the spotlight after shining throughout the second half of San Antonio's extended dynasty.
The Bulls began their move toward contention last season, making a trade deadline move for Nikola Vučević as Zach LaVine ascended to All-Star status. And while LaVine's COVID-19 absence—and frustrating point guard play—scuttled playoff plans in 2021, Chicago should return to the postseason in '22 after doubling down on LaVine's supporting cast. Lonzo Ball should bring a dose of creativity and defensive length to the backcourt, while DeMar DeRozan arrives as a late-game scoring option and additional off-the-bounce playmaker. The Bulls' new Big Four (whether you can call it that) sports a complementary skill set, and there are additional role players of interest in Alex Caruso and young forward Patrick Williams. Kudos to Chicago for investing in a winning product, even if it's an imperfect one.
The line between contending for a championship and starting into a rebuild can be very thin in the NBA, a lesson the Rockets learned rather quickly last year. Houston exited the NBA bubble after the 2019–20 season still committed to its two franchise anchors, believing that the right tweaks could vault Harden & Co. over the top in a crowded Western Conference. That path was quickly erased.
Westbrook snuffed out Harden's disenchantment with the Rockets during the offseason, and he quickly requested a trade before the Harden saga truly came to a head. The second-greatest player in franchise history showed up late to training camp, looked completely disinterested for eight games, then deemed the situation untenable after a blowout loss to the Lakers. He was shipped out of town shortly thereafter, ending a stretch of extended contention for the franchise. A rebuild marked the only step forward.
There was significant dissension regarding exactly how Houston should proceed following Harden's trade demand. Many implored Houston to make a trade for Ben Simmons, bringing a proven (albeit imperfect) All-Star into the fold to mark more of a retooling than a full-on rebuild. The Rockets took a different route, one that now looks far more appealing than any potential path with Simmons.
Rockets general manager Rafael Stone opted to receive Brooklyn's absolute haul of draft picks rather than trade for Simmons, implicitly kickstarting a full-on tank in Houston. Months later, the move paid off. The Rockets' tankery landed them the No. 2 pick in the draft, and Jalen Green appears more than ready to assume the mantle of franchise anchor. Trading P.J. Tucker added further pick capital, and, on draft night, the Rockets added a quartet of 19-year-old rookies. Houston isn't a playoff competitor in 2021–22. There will be plenty of rough stretches ahead. But Stone took the wreckage of Harden's trade request and built an intriguing young core, one well stocked with potential building blocks. It seems as though Stone recognized the big picture more than his critics realized upon making a blockbuster deal with the Nets.
It's hard to see the Celtics competing for the championship in 2021–22. Brooklyn and Milwaukee project to be potential 60-win teams, and Boston isn't exactly sporting a more talented roster than the Hawks, Sixers or Heat. The Celtics have prioritized sustainability over maximizing championship chances in recent years, and to their credit, the strategy has landed a pair of All-Stars for perhaps the next decade. Though even with Jayson Tatum and Jaylen Brown at their best, this specific Boston squad isn't sniffing the Finals anytime soon.
We could be having a very different discussion in the spring. The Celtics enter the 2021–22 season armed with a litany of tradable contracts, including a $77 million deal for Marcus Smart and a $54 million contract for center Robert Williams. We won't ship Smart, Williams or anyone else out of town just yet, though it's hard to ignore the potential looming scenario. Boston has the salaries to make a trade work for a third All-Star, most likely Bradley Beal. We're currently in a bit of a lull for the Celtics in their hunt for another championship, though that could change in a hurry. A new Big Three could emerge in Boston relatively soon after Brad Stevens lays the groundwork this offseason.
The Sportsrush 25 August, 2021 - 06:00am
Bradley Beal is finally starting to get the respect he deserves from the NBA community.
For years now, despite putting up superstar-level production, he hasn't been given what he is due. A large reason for that is undoubtedly the lack of success obtained by the Wizards during the 28-year-old's time there. But, frankly, the blame for that needs to go to the front office of the franchise failing to put the right roster around him.
However, while most fans and analysts fail to recognize Beal's gifts on the court, most high-profile players in the league have been keenly aware of it for a while. And as it goes in the NBA, this has allowed him to become close friends with some of them, including Lakers star, LeBron James.
With the King being in the latter stages of his career, he has decided to turn his attention to his legacy, and the players of tomorrow. And in following those lines, he sent something to the kids of Bradley Beal. And as the Washington star later told us, this elicited a hilarious reaction from his two sons.
What happened? Well, let's get into it.
Also Read: Kevin Durant and NBA Twitter react as Warriors star drains three after three during recent practice session
Okay, diplomacy aside, let's be honest here. The return of LeGM is nigh. And in theory, it's a pretty smart plan.
The first stage of the plan is to get on Bradley Beal's good side. How does he do that?
Well, take a look at the Instagram post below.
With this little gesture, the King has likely already gotten on his good side. So what now?
Well, it's impossible LeBron James hasn't heard all the noise about Russell Westbrook, and his fit with the Lakers. And, he's likely already thinking ahead.
Having the Brodie on this team is a huge risk, so James is keeping his options open. If things don't work out this year, the franchise will probably look to trade Westbrook back to the Wizards for Bradley Beal. And, the Wizards have to listen, because their superstar becomes a free agent in 2023 anyway.
Why does that matter? The player has been unhappy for a while now, and likely won't re-sign with them. Instead, they can get Russ back, and maybe even look to trade him for assets, which will aid a rebuild.
Sure, Russell Westbrook becomes a free agent in 2023 too. But, having grown up in LA, the former OKC man will probably want to re-sign with the Lakers, giving the franchise all the bargaining power, they need to make it happen.
And so, with even their salaries being at a similar level, the franchise doesn't lose any assets and gains a player who would be a seamless fit alongside Anthony Davis and LeBron James.
A good king is one that is cunning when he needs to be. And boy if the Lakers superstar planned this, he may just be the cunning in the entire realm.
Also Read: Dwight Howard issues his positive yet very bold take on the Lakers' ceiling next season
I've always been someone surrounded by sports. At 15 though, Basketball was brought to my attention, and I absolutely fell in love with it. At 20 now, I look to share the joy I feel with the world through my articles.
Advanced NBA statistics show how Sixers' Ben Simmons has a better career playoff true shooting%…