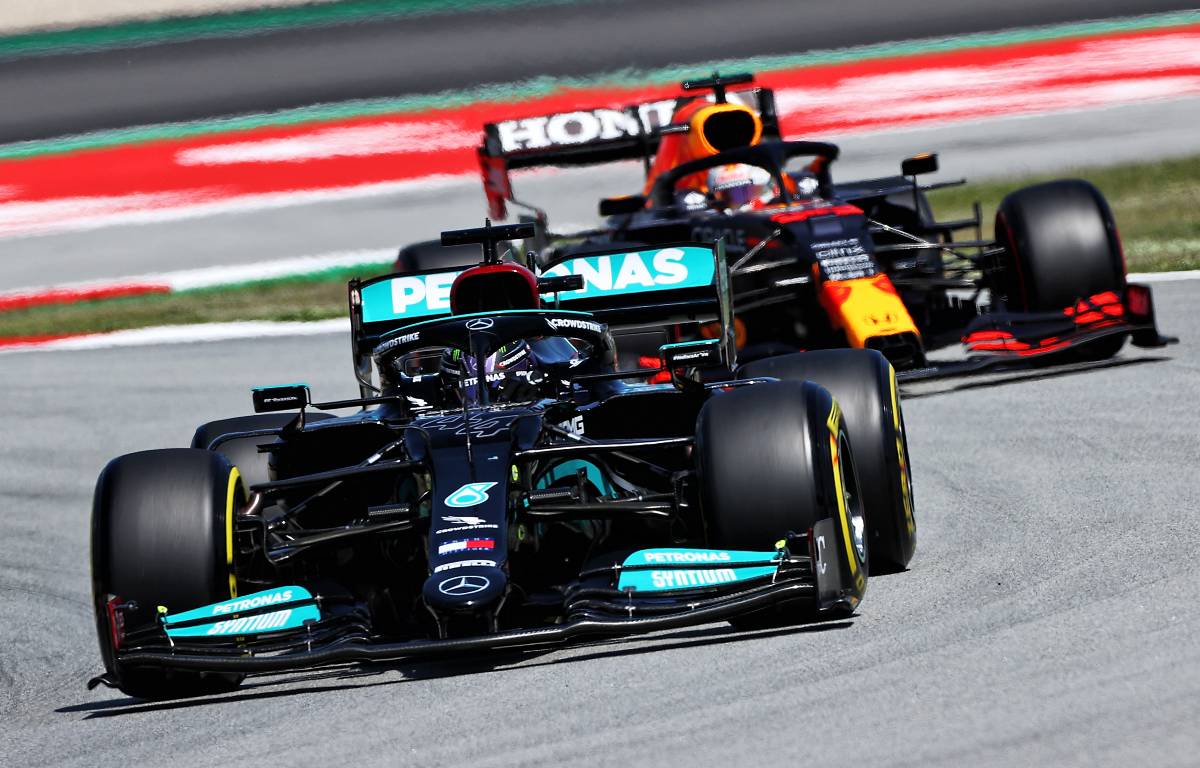 PlanetF1 09 May, 2021 - 11:00am
Date published: May 8 2021
The latest instalment of the 2021 battle between Mercedes and Red Bull climaxed with Hamilton taking his 100th F1 pole position for a race he has won in each of the previous four years at the Circuit de Barcelona-Catalunya.
But it was by a margin of only 0.036sec from Verstappen, who had been quickest in Q2 after a Friday afternoon practice session which the Dutchman had finished down in a surprising ninth position.
Hamilton told Sky F1 that the reason for Red Bull's improved Saturday performance was, he believed, down to a "bendy" rear wing.
"It's the goal to get on the front row and be first," said the seven-time World Champion, who is eight points ahead of Verstappen in his quest for an eighth Drivers' title.
"It's 600 metres down to Turn 1, there's often a headwind and it means the guys get to drag you, which is really difficult.
"The Red Bulls are really fast on the straights. They have this bendy wing on the back of their car which they put on today and they gained at least three tenths from this wing.
"So they will be quicker down the straights than us and it will be hard to keep them behind, but that doesn't mean it will be impossible. Timing and rhythm will be everything tomorrow."
100 POLES! I can't even begin to describe how this feels. I can't thank the team and everyone back at the factory enough for everything they've done to help us secure this incredible milestone. I feel so humbled and very grateful. This feels like my first win all over again 🙌🏾💯 pic.twitter.com/KkCgShdhq2
— Lewis Hamilton (@LewisHamilton) May 8, 2021
Having reached the unprecedented century of pole positions, which began at the 2007 Canadian Grand Prix and puts him 32 clear of Michael Schumacher who is second on the list, Hamilton visibly showed that the joy of setting the fastest lap on a Saturday never gets old.
"It's just crazy that it's been such a long journey and the excitement is still the same," said the delighted 36-year-old Briton. "The enjoyment is just as much if not more.
"Naturally I'm much better at my job than I was in 2007, I understand myself, manage to get myself to a good place and my focus is on a way different level to back then.
"I guess that's why I continue to be able to do those special laps."
Follow us on Twitter @Planet_F1, like our Facebook page and join us on Instagram!
Motorsport.com 09 May, 2021 - 09:43am
The two leaders came extremely close to touching at the race's first corner, with Verstappen making an aggressive move to get ahead, which forced Mercedes into making two bold strategy calls to get Hamilton back into a position to win his 98th grand prix.
At the start, Verstappen appeared to make a faster getaway from the front row, but dipped in behind Hamilton once the Mercedes shot up to speed.
But Verstappen stole to the inside for the first corner and boldly held on to take the racing line through Turn 2, which meant the two leaders came very close to touching – Hamilton backing out and a collision avoided by the barest of margins.
Bottas followed the top three through the opening two turns, but as he trailed Hamilton through Turn 3 he was overtaken by Charles Leclerc roaring around on the outside line – emulating Fernando Alonso's similar move at the start of the 2013 Spanish GP.
Leclerc muscling into third meant the top two easily began to romp away in the opening stages of the 66-lap race, with Verstappen and Hamilton the only drivers lapping in the 1m23s.
Verstappen was able to edge clear to a near two-second lead, but Hamilton had just begun to close back in when the race was suspended by a safety car period called on lap eight so Yuki Tsunoda's car could be recovered from the outside of the reprofiled Turn 10 – the AlphaTauri appearing to shutdown on Tsunoda as he approached the long left-hander.
When the race restarted on lap 11, Verstappen dropped Hamilton exiting the final chicane and weaved across the main straight to try and disrupt the tow going back to the Mercedes, which was in any case close to the following Leclerc.
As DRS was suspended for the first two laps after the restart, Hamilton could not get close while running at just under a second behind and Verstappen was able to just creep his advantage up above the critical one-second threshold when DRS was reactivated.
Much like at the start, Verstappen and Hamilton quickly pulled clear of Leclerc and Bottas – again lapping at a low 1m23s pace that the rest of the pack could not match.
As the race moved past the end of its first third, Hamilton began to heavily pressure Verstappen, who pitted at the end of lap 24 to take the medium tyres – but had to endure a 4.2s stop as the Red Bull's new left-rear tyre was still coming out of the garage when the Dutchman arrived at his box.
But Mercedes did not bring Hamilton in to cover the Red Bull stop on the next tour – team boss Toto Wolff heard complaining to race director Michael Masi about Nikita Mazepin holding up Hamilton on the lap after Verstappen came in.
Hamilton was left out for three further laps before he came in to take the mediums, with Leclerc following him in far behind and emerging well adrift of Bottas, who had pitted the lap before Verstappen.
Verstappen comfortably retook the lead with Hamilton in the pits and had a 5.5s lead at the end of the Mercedes driver's out-lap.
But Hamilton's tyre offset meant he could run at a much quicker pace – the world champion carving into Verstappen's lead by around 1.5s a lap as he logged successive laps in low-to-mid 1m21s .
By the start of lap 34, he was just a second behind the leader and continued to home in – with Mercedes even telling Bottas that his pace in third was good enough to catch the Red Bull by the end.
In the subsequent phase of the race, Hamilton was in and out of Verstappen's DRS range, but was unable to get really close to the leader, who had upped his pace significantly to reach the 1m21s bracket when Hamilton reached the critical on-second deficit.
With the gap at the front relatively stable, Mercedes made an aggressive call to pit Hamilton again at the end of lap 42 for another set of mediums – these ones used from earlier in the weekend.
At the end of Hamilton's out-lap, he faced a 22s gap to close, with Red Bull opting to leave Verstappen out on a one-stopper to the finish as he had no medium tyres left heading into the race.
Hamilton again carved into Verstappen's lead – regularly setting fastest laps and going over 1.5s quicker – but he did appear to lose time at one point passing Bottas just as the final 15 laps approached, with the second Mercedes ordered not to hold up the other car, but Hamilton still having to make closer-than-comfortable move into Turn 10 on lap 53.
But once Hamilton was clear he continued to rapidly close in on Verstappen with a string of fastest laps and reached the leader again on lap 59.
As they ran down the pit straight at the start of the next tour, Verstappen weaved to break the tow once again, but Hamilton's pace was so much higher with DRS that he shot ahead on the outside line and swept back into the lead at the exact spot he had lost it on the opening lap.
Red Bull immediately then opted to pit Verstappen for a second time to chase the fastest lap bonus point – a tactic Mercedes had already taken with Bottas.
Hamilton came home with a comfortable 15.8s lead at the finish, with Verstappen winning the battle to take the fastest lap with a 1m18.149s.
Leclerc finished a lonely fourth – Bottas had had to pass him with a DRS blast in the closing stages after the Mercedes driver's late second stop – well clear of Sergio Perez, who came home fifth after winning a lengthy mid-race scrap with McLaren's Daniel Ricciardo.
Carlos Sainz finished seventh ahead of Lando Norris, who received a black-and-white flag sanction for an aggressive late move to defend against the Ferrari into Turn 1 as the race entered its final quarter.
Esteban Ocon lost ground from his fifth place grid spot at the start and he eventually came home ninth ahead of Pierre Gasly, who came out on top of an intense fight with the pack just outside the top 10 – which was at the time headed by Fernando Alonso, who eventually came home 17th – in the final laps.
Gasly had to serve a five-second penalty at his first stop for lining up too far over of his grid spot for the start.
Verstappen felt like 'sitting duck' against Hamilton in Spain fight
F1i.com 08 May, 2021 - 11:53am
Mercedes driver Valtteri Bottas believed he was in with a strong chance of taking pole position for this weekend's Spanish Grand Prix, having previously taken the top spot in 2019.
The Finn had been the fastest of anyone on Friday, and was second in the times in both Q1 and Q2 when it came to qualifying on Saturday afternoon.
But in the crucial final top ten pole shoot-out, he was only able to claim third place on the grid. He missed out on the front row to Red Bull's Max Verstappen by a tenth of a second, while his own team mate Lewis Hamilton went on to score a historic 100th pole.
"First of all, massive congrats to Lewis for the 100," Bottas told the media in parc ferme after the end of the session. "It's a crazy number, so well done.
"That was close! It felt like I was there in the battle for the pole," he continued. "I was always expecting to have a close qualifying.
"And I'm gutted, because in the first run - which was the fastest run for the top three cars at least - in turn 10 I had a bit of a snap at the apex and lost a bit more than a tenth."
That would have been enough to put him onto the front row - if not outright pole. But Bottas did his best to shrug off the disappointment.
"Those kind of things, they are annoying but can happen," he said. "But overall in the qualifying session, the pace was good, the speed was there.
"It was all about the fine details at the end and I couldn't quite get it right today," he admitted. "We have a strong package. It's going to be a good fight tomorrow, no doubt.
"I think the long run pace is good," he added. "But I think it's honesty very similar to the Red Bulls' in the last few races, so I'm expecting a good fight.
"If you can keep the tyres in good condition, you're going to be more competitive around the pit stops. There's the possibility to mix the strategy and try a one or a two-stop.
"It will be another close one between us and Red Bull. We'll do lots of work tonight and you'll have to wait until tomorrow to know our strategy."
Mercedes team principal Toto Wolff suggested that losing out on the front row might even prove to be a good thing for Bottas, as he will now start the race immediately behind Hamilton on the clean side of the track, with everyone on the same soft compound.
"We have the advantage of two cars on the clean side of the grid, and both drivers in the top three; that will provide us a strategic opportunity, and we need to make the most of it for the race."
Overall, Wolff was delighted with how the session had turned out. "[That's] exactly how we want it to be in F1, battling for every thousandth of a second.
"It looked like Max and Red Bull had a big advantage in Q2, but we kept chipping away at it and in the end, the top three drivers were covered by a tenth of a second.
"Both Lewis and Valtteri did a fantastic job in those final laps, and when it's such tiny margins, every detail makes a difference."
Keep up to date with all the F1 news via Facebook and Twitter
Keep informed with the latest F1 news, reports and results from F1i.com. Also bringing you live reporting, features, interviews, videos, pictures and classic content.
Formula 1 RSS UK 08 May, 2021 - 09:25am
'P4 the best we could have done' – Leclerc delighted with 'very competitive' Ferrari performance in Spain
DRIVER OF THE DAY: Hamilton adds fan honours to Barcelona victory
Late pass secures Hamilton victory in Spain after race-long battle with Verstappen
WATCH: Verstappen beats Hamilton into Turn 1 in thrilling Spanish GP start
F3: Hauger bounces back by dominating Race 3 in Barcelona
Hamilton set a blistering 1m 16.741s on his first lap in Q3, with Verstappen narrowly behind. But with all eyes trained on the fight at the front in the final minutes of qualifying, neither Hamilton, Verstappen nor Bottas could improve on their second runs, meaning Hamilton claimed his record-extending 100th pole position – with the Mercedes driver yelling exuberantly on team radio after a phenomenal milestone in the history of Formula 1 was reached.
It wasn't all bad for Verstappen, however, who after showing strong pace in Q2 to lead the segment, claimed his first ever front row start at the Circuit de Barcelona-Catalunya, ahead of Bottas.
Ferrari's Charles Leclerc confirmed the Scuderia's turn of speed this weekend with P4, as Alpine's Esteban Ocon continued the team's form from Portimao with fifth. Home hero Carlos Sainz was sixth in the second Ferrari, ahead of McLaren's Daniel Ricciardo, who had just one lap in Q3 but managed to get ahead of his ninth placed team mate Lando Norris – who'd led the way in Q1.
The second Red Bull of Sergio Perez could only manage P8 after a difficult weekend so far for the Mexican, with the second home driver Fernando Alonso in P10.
So that was the top 10 – but all the accolades today are for Lewis Hamilton, the first driver to make it triple figures in pole positions in F1 history.
Following a 10-minute delay to the start of the session as a Tecpro barrier was put back in place after a support race crash, the drivers headed out onto a hot Circuit de Barcelona-Catalunya, with track temperatures up in the mid-40s – and air temperatures in the mid-20s.
Yuki Tsunoda would be the shock casualty from the first segment, the Japanese driver running wide on his final flying effort going through Turn 9 and crossing the line a mere 0.735s off the fastest Q1 lap – but with that enough to see him out of the segment for the second time in his four F1 race weekends. "I can't ******g believe this car," he screamed frustratedly over the radio.
Tsunoda in 16th was joined in the drop zone by the Alfa Romeo of Kimi Raikkonen, the Haas of Mick Schumacher, Williams' Nicholas Latifi (who smashed his left-hand mirror after going over the bumps at Turn 9) and the second Haas of Nikita Mazepin – Haas outqualifying another team on pure pace for the first time in 2021.
Up at the front, though, and having encountered a traffic jam at the Turn 13-14-15 complex on his first push lap, McLaren's Lando Norris was the shock fastest runner in Q1 after his second effort, setting a 1m 17.821s to pip Mercedes' Valtteri Bottas, who was 0.184s slower in P2 on medium tyres.
Charles Leclerc again demonstrated the pace of Ferrari this weekend by going P3, narrowly ahead of Red Bull's Verstappen, as the second AlphaTauri of Pierre Gasly showed that there was pace in the AT02 by going P5, 0.369s adrift.
George Russell and Antonio Giovinazzi had never made it into Q2 at Barcelona before this year. But although both would make it to the second segment of qualifying in 2021, Q2 was as far as either driver would go, Williams having opted to burn up all of Russell's soft tyres in Q1 to help him reach Q2.
Over at Aston Martin, meanwhile, the time sheets made for unhappy reading in Q2. With both cars using the team's new update this race, neither driver could progress into Q3, Lance Stroll going 11th fastest and missing out by just 0.008s, as Sebastian Vettel took P13 – while last year as Racing Point, the team had taken fourth and fifth on the grid...
At the head of the field, and having bided his time in Q1, Verstappen flashed the speed of his RB16B in Q2, becoming the first driver into the 1m 16s this weekend with a 1m 16.922s, two-tenths ahead of Bottas and Hamilton as Sainz took P4 – while having been sitting in P12 after the first runs, Sergio Perez was up to P5 on his second run to join his team mate in the final qualifying shoot-out.
All the runners who made it through to Q3 did so on soft tyres, meanwhile, meaning the top 10 will all start on the red-walled tyres on race day.
Hamilton duly set the pace on his first lap with a 1m 16.741s, with Verstappen just 0.036s off that time in P2, with Bottas a further tenth adrift in third.
With the seconds counting down in Q3, the drivers headed out for their final laps. Hamilton was up in his first sector, but couldn't improve in sectors 2 and 3, failing to trump his best effort.
Charles Leclerc did improve, however, jumping from P7 to P4 to push Alpine's Esteban Ocon down to P5 as Sainz claimed sixth on home turf.
The Spanish fans actually had two drivers to cheer on in the top 10, Alonso taking 10th, with Ricciardo, Perez and Norris in between in P7, P8 and P9 – an under-the-weather Perez likely to have been disappointed especially, given that he was a full 0.924s off his team mate Verstappen, having spun violently at Turn 13 on his first flying lap.
But after all that, the plaudits went to Hamilton on a historic day, as he became F1's first ever pole position centurion.
"I can't believe we are at 100. It's down to the men and women back at the factory continuously raising the bar and just never giving up. The support that I have, it's been a dream for me to work with these guys. And the journey we've been on has been immense.
"Who would have thought in 2013 or the end of 2012 when we made the decision to partner we would have been qualifying at 100? So I feel very humble. I am ecstatic. It's like my first" – Lewis Hamilton, Mercedes
The 2021 Spanish Grand Prix kicks off at 1500 local time, which is 1300 UTC. Lewis Hamilton has won the last four races at Barcelona, and five races here in total – but can anyone end his reign this weekend? Tune into our live coverage of the race on F1.com to find out.
WATCH: Ride onboard for Hamilton's 100th F1 pole position
F3: Hauger bounces back by dominating Race 3 in Barcelona
HIGHLIGHTS: See all the action from final practice for the Spanish Grand Prix
HIGHLIGHTS: All the action from qualifying for the Spanish GP as Hamilton takes his 100th pole
Ferrari duo hoping to fend off McLaren on race day after Leclerc qualifies a brilliant P4 in Spain
© 2003-2021 Formula One World Championship Limited