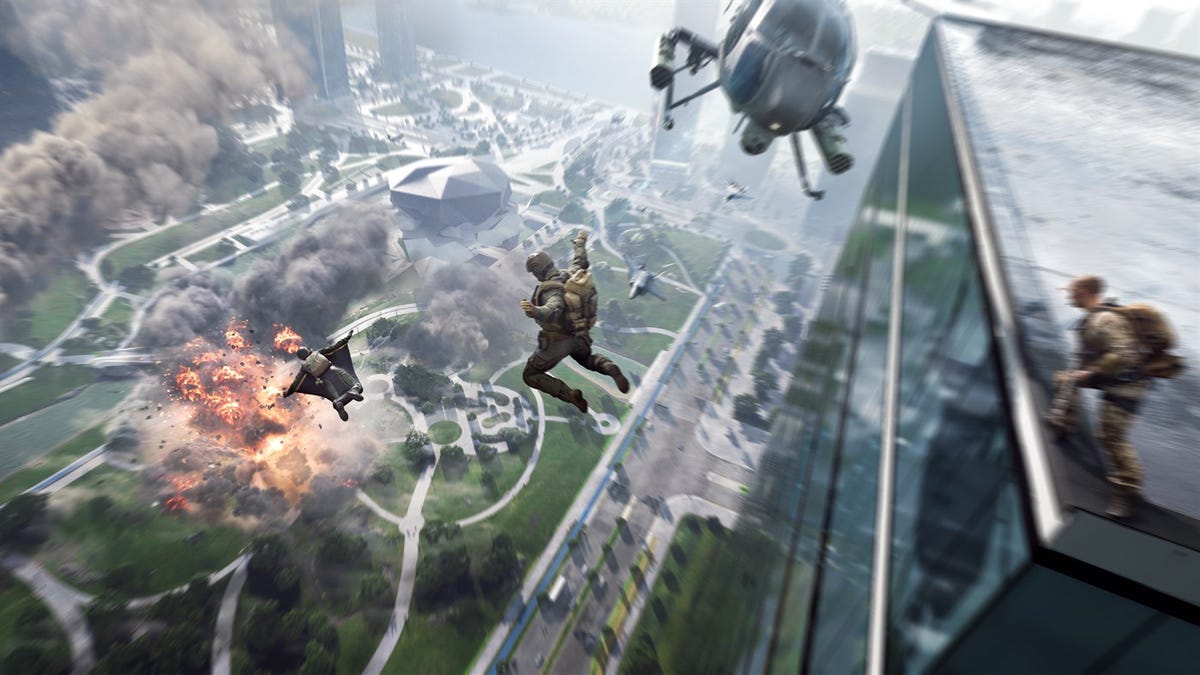 Turns out, the newest Battlefield mode will be...old Battlefield. Called Portal, DICE planned to reveal it during today's EA Play.
Battlefield 2042's Portal is essentially a community sandbox mode. Using weapons, gadgets, vehicles, and other assets from previous Battlefield games, players can create customized game modes and share them to the Battlefield 2042 community via playlist.
Read More: Battlefield 2042 Is Not Commentary On Climate Refugees Says Dev, Internet Disagrees
Six maps from older Battlefield games will be included: two each from Battlefield 1942, Battlefield Bad Company 2, and Battlefield 3, also known as The Best Battlefield. (Yes, Caspian Border is included in Portal.) All of the older maps are rebuilt in Battlefield 2042's Frostbite engine, and will feature the destruction mechanics recent Battlefield games are known for.
According to a GameRant, though you can mix and match stuff, each team has to be locked into a specific era. And notably, none of the gear will be balanced by default. In other words, if you're on the team using weapons from a World War 2-era Battlefield, you'll likely get freakin' wrecked by the team using high-tech gear from Battlefield 2042.
But you can balance any Portal modes through something called the "Rules Editor," which can alter damage for era-specific weapons and, according to GameRant, tweak the number of players on each team—so, say, those with weaker weapons have more players. DICE says that it's gonna be complex AF, and plans to include tutorials to get folks up to speed.
Portal mode doesn't include a campaign.
Battlefield 2042 comes out October 22 for PS4, PS5, Xbox One, Xbox Series X/S, and PC. It'll support 128-player matches on PC and next-gen consoles. Matches on last-gen consoles will be limited to 64 players.
Read full article at Kotaku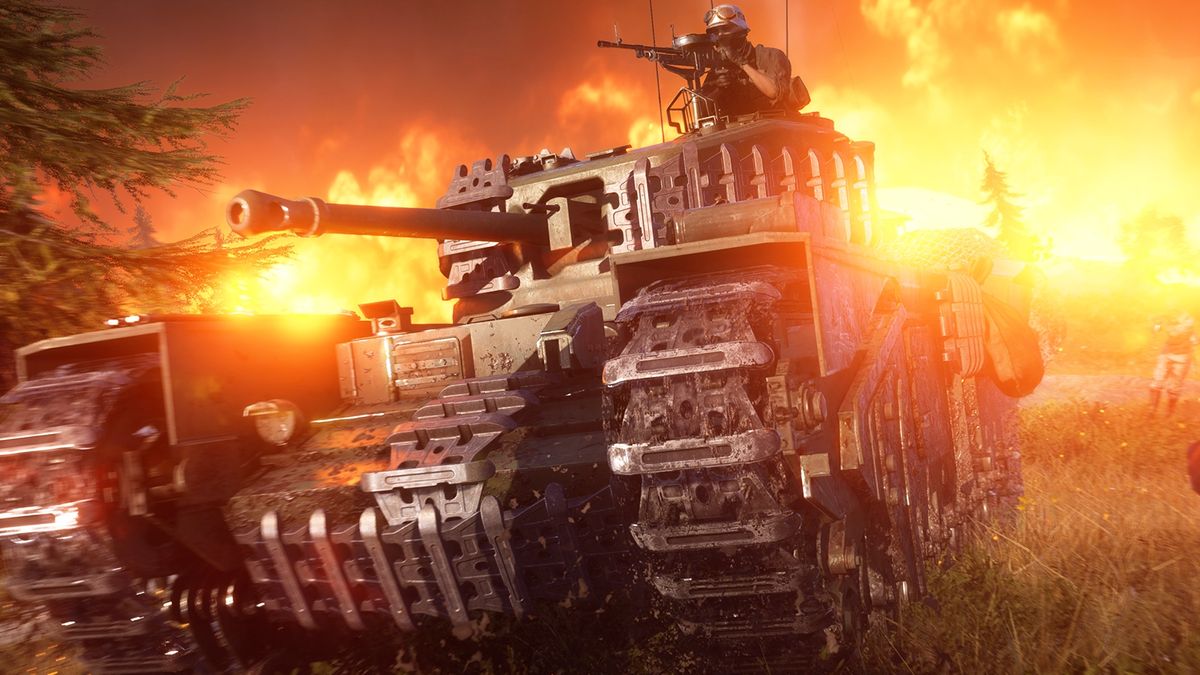 PC Gamer 22 July, 2021 - 01:10pm
And if you haven't played them, the standard editions of both are being given away free on Prime Gaming, with Battlefield 1 available to claim now until August 4, and Battlefield 5 becoming available from August 2 until October 1. When you claim them you'll be given an Origin code, and the games will be permanently yours.
Battlefield 1 took us back to World War 1, and told a series of more focused, cinematic singleplayer stories. Thanks to its epic scale and some incredible set-pieces, it's one of the best campaigns the series has had.
Battlefield 5 would actually be my pick of the two though, because I love these games for their multiplayer chaos. The two also make a neat pair, as Battlefield 5's World War 2 setting is very much a thematic continuation of what the studio had achieved with Battlefield 1. If nothing else, DICE consistently makes fantastic-looking and hugely fun combat sandboxes and, for free, you really can't go wrong.
Rich was raised by a Spectrum 48K in the Scottish wilderness, and this early exposure to survival mechanics made him a rooter-out of the finest news truffles, and suspicious of all the soft, civilised Amiga people. These days he mostly plays Counter-Strike and Rocket League, and is good at one of them. He's also the author of a Brief History of Video Games.
Thank you for signing up to PC Gamer. You will receive a verification email shortly.
There was a problem. Please refresh the page and try again.
© Future US, Inc. 11 West 42nd Street, 15th Floor, New York, NY 10036.
Polygon 22 July, 2021 - 01:10pm
Electronic Arts' showcase tells us what's in store for the rest of the year
You can catch all of the announcements here through the YouTube stream above, or through Electronic Arts' official Twitch channel.
It might be easier to confirm what won't be discussed at EA Play Live 2021. BioWare said at the beginning of July it would have nothing to show — that means no news on the next Dragon Age or Mass Effect games. And last week, EA's Star Wars developers said they have nothing new to show, either.
Skate 4, or whatever that sequel will be called, also isn't getting any face time at EA Play Live 2021. Developer Full Circle posted a teaser/update video on Monday saying they were still hard at work on the game, but the fact they posted no gameplay video suggests a launch date is well into the future.
EA Sports' FIFA and Madden NFL series usually get a spotlight during EA's summer showcase, but those games already had pre-show panel discussions on Monday and Tuesday, so there may be little new to reveal here. Madden NFL 22 will launch at the end of October, and FIFA 22 arrives Oct. 1.
As for surprises, if Star Wars and BioWare are out — and rumors that EA Sports would bring back an old series appear not to have panned out — that leaves Dead Space? VentureBeat's Jeff Grubb reported on July 1 that a remake of 2008's Dead Space is in the works at EA Motive, the makers of 2020's Star Wars Squadrons and co-developer on 2017's Star Wars Battlefront 2.
Either way, we'll find out everything Electronic Arts has to say at 10 a.m. PDT/1 p.m. EDT.
RealSport101 22 July, 2021 - 08:59am
Today is finally the day, EA Play Live 2021 is this afternoon, and we're excited to hopefully see the reveal of The Sims 5.
Now, we don't know for sure that it's coming, but we don't know much about the show officially. If anything, we know more about what WON'T show up than what WILL.
It's certain that EA Sports' titles will make an appearance - the likes of FIFA 22 and Madden 22 - as will the likes of Battlefield 2042 and Apex Legends, but that is it for confirmed showcases.
The developers of Mass Effect, Dragon Age, and Star Wars have all confirmed that they won't show anything off at EA Play Live, which leaves few possibilities beyond The Sims 5.
EA will want to please their non-sports and non-racing game fans, and simple updates on Apex Legends Season 10 and Battlefield 2042 will not be enough. There needs to be some surprises.
The rumoured Dead Space Remake is one such surprise, but there needs to be more. The Sims 5 is that perfect surprise, and it's also the perfect time for it.
As we have said before, it has been 8 years since the release of The Sims 4, so it's been long enough.
Yes, The Sims 4 is still going strong, with the Cottage Living expansion out today, but EA and Maxis could capitalise on that popularity. The reveal of The Sims 5 may even bring more people to The Sims 4 and its new expansion out of pure excitement.
No matter what form the reveal takes, whether it's just a simple trailer or a deep dive into new features or a potential multiplayer mode, fans will leave happy.
Fingers crossed for the reveal of The Sims 5 at EA Play Live today. We think the time is right for it.
Once it begins at 6pm BST/1pm ET, you'll be able to watch EA Play Live via the stream link below
You can watch the showcase right here: