Mark Freund
MarkFreundTV
We know Penn State had some legitimate injuries in this game, but this 54 seconds of video was especially entertaining. I believe this player walked off the field shortly after this clip ends... Let's just say the Iowa coaching staff wasn't buying this one. pic.twitter.com/YC6RPQaIi8
Sam Cooper
SamDCooper
lol this Iowa fan pic.twitter.com/ESUsyPE27a

Michael Graham
michaelgraham
All the false starts a little bit ago. Was loud. pic.twitter.com/S2pcgvccJ4
Scott Dochterman
ScottDochterman
Iowa coach Kirk Ferentz said he felt bad for Penn State's players who were legitimately injured but said fans who booed other so-called injuries "aren't stupid" and "they smelled a rat." Ferentz said only one other time did he suspect an opponent took dives to stop momentum.
Why did Clifford not play for Penn State?
Iowa City --- The injury bug has bitten Penn State at Kinnick Stadium. with a lower-body injury on the game's fifth play, and he did not return to the field after spending a considerable amount of time in the team's injury tent but has been seen on the sideline riding the exercise bike and encouraging his teammates. Rivals.com - AlabamaPenn State football loses Sean Clifford, PJ Mustipher, at Iowa
No teams in your favorites yet.
Iowa coach Kirk Ferentz said that while some Penn State players injured in Saturday's game had legitimate ailments, he understands why Hawkeyes fans booed when other Nittany Lions players went down.
Ferentz on Tuesday noted that Penn State quarterback Sean Clifford did not return to the game after leaving early in the second quarter and that he could see another Nittany Lions player on the bench with an ice bag on his leg.
"I hope those guys are well, I don't know what their status is," Ferentz said. "Nobody wants to see anybody get hurt. But I think probably [the booing] is a reaction to, there were a couple of guys that were down for the count and then were back a play or two later. Our fans aren't stupid. They're watching, they know what's going on.
"I've been here 23 years and I think that's only the second time we've seen that kind of stuff going on."
After Iowa's 23-20 win, Penn State coach James Franklin expressed disappointment about the booing, noting that the Hawkeyes don't run an up-tempo offense, which recently has led to defenses feigning injuries around college football.
"I do have a little bit of a hard time with our players getting hurt and the [Iowa] fans and the coaches and the staff booing our players," Franklin said. "To all of the Iowa people out there, it was not part of our plan. It would not be. You don't run a tempo offense. We had some guys get injured, and I just don't know if I necessarily agree. I don't think that's the right thing for college football, booing guys when they get hurt, however it looks."
Ferentz on Tuesday noted that faking injuries has gained more attention, as the American Football Coaches Association has asked the NCAA football rules committee to address the pattern. He said that Iowa has two staff members who worked at programs that encouraged them, using code words such as "scuba" and "turtle."
"We don't coach it, haven't really been exposed to it," Ferentz said. "But our fans thought they smelled a rat, I guess, I don't know, so they responded the way they responded."
Ferentz also announced that defensive back Riley Moss likely will miss a couple weeks with a knee injury sustained while making an interception late in the first half against Penn State. Moss, who leads the Big Ten in both interceptions (4) and interceptions returned for touchdowns (2), does not need surgery.
No. 2 Iowa hosts Purdue this week before an open week.
Read full article at Black Heart Gold Pants
UI The Daily Iowan 13 October, 2021 - 04:21pm
A comeback 23-20 win over Penn State is the latest indication that this Iowa season will be one to remember.
Kinnick stadium is seen during a football game between No. 3 Iowa and No. 4 Penn State on Saturday, Oct. 9, 2021. The Hawkeyes defeated the Nittany Lions 23-20. (Grace Smith/The Daily Iowan)
The word "special" was used an awful lot by Hawkeye football players and coaches after then-No. 3 Iowa's 23-20 win over then-No. 4 Penn State on Saturday.
They called the atmosphere at Kinnick Stadium on Saturday special. The same was said about the Hawkeyes' comeback win over the Nittany Lions. The crowd storming the field? Special.
"Today was definitely special," Iowa center Tyler Linderbaum said. "It's something we'll remember for the rest of our lives."
After Saturday's game, this season looks like it could be pretty special for Iowa, too.
We're only halfway through the 2021 season, but after Saturday, there seems to be enough evidence to back up the claim that Iowa's win over Penn State was a game to remember in a season that's going to also be worth remembering.
Maybe it was the 28-point win over Indiana in Week 1 that featured highlight play after highlight play after highlight play. Maybe it was the 10-point win on the road in a top-10 Cy-Hawk matchup that proved Iowa is still a Hawkeye state. Maybe it was the seven forced turnovers and 51 points in a rout against Maryland in College Park.
Well, if those wins weren't enough of an indication, coming back from a 14-point deficit and scoring a game-winning touchdown to beat Penn State in the first top-five matchup at Kinnick Stadium since 1985 should definitely provide sufficient evidence that this season is turning into something special.
RELATED: Hawkeye fans storm Duke Slater Field to celebrate Iowa's win over Penn State
"I grew up a Hawk fan my whole life, going to Kinnick as a little kid," Iowa safety Jack Koerner said. "High-fiving so many little kids, screaming 'Go Hawks!' about 150 times is a moment I'll never forget."
Iowa is off a 6-0 start for only the third time in 23 seasons under head coach Kirk Ferentz.
The criticism that the Hawkeyes lack a top-tier win because Indiana and Iowa State aren't as good as initially thought is, well, invalid after Iowa's instant-classic victory over Penn State.
"We definitely felt like this was a statement win," Iowa safety Jack Koerner said. "We try not to concern ourselves too much with outside noise, whether people think we deserve to be this or deserve to be that. But some of that stuff bleeds through a little bit and this definitely was a great, great win."
Iowa trailed by 14 points in the first half. Things weren't looking good.
Petras started one-of-nine passing with an interception. The Hawkeye defense uncharacteristically allowed two early touchdowns. But the defense settled in. And the offense heated up.
Yes, Iowa's defense played better after Penn State starting quarterback Sean Clifford left the game with an injury (the Nittany Lions led 17-3 at the time). But hey, that's football. Iowa's secondary picked off both Penn State quarterbacks twice, giving the team a nation-best 16 interceptions on the year.
Petras threw two touchdowns after his rough start, including the game-winning 44-yard score to Nico Ragaini with 6:26 remaining in the game.
Also, just give punter Tory Taylor the Heisman now. The Australian sophomore backed the Nittany Lions deep in their own territory all game long.
RELATED: 'The doughboys:' How Iowa's secondary got its nickname
"It was a team effort for sure," Petras said. "When we weren't moving the ball, the defense had our back, the special teams had our back. And then we were able to score that touchdown late to put us ahead. That's awesome. Just a great day. Super proud to be part of this team."
Iowa won what may be its signature regular season game of the Ferentz era, and Hawkeye fans poured out onto the field after the final whistle as a result.
A Hawkeye fan asked me to take a picture of him and his friend on the field after the game. I overheard someone else say "I never want to leave" as they soaked in the atmosphere.
A brief "we want Bama" chant broke out.
And, after Alabama's loss to Texas A&M, No. 2 Iowa is ranked higher than the Crimson Tide. The last time Iowa was ranked this high was in 1985. Before that, it was 1961. The Hawkeyes have only spent 20 total weeks as No. 1 or No. 2.
Iowa's comeback against a top-five team on a national stage was a special win for the Hawkeyes and Hawkeye fans alike.
"It's No. 3 vs. No. 4. That's the stuff you love and the stuff you're going to remember for the rest of your life," Linderbuam said. "I've been a part of a lot of big games, but I don't know if they've been anything like this."
The Hawkeyes are firmly in the Big Ten Championship and College Football Playoff races, and looking at the remaining regular season schedule, that doesn't seem to be changing anytime soon.
Is this season becoming special? It sure seems like it.
Sioux City Journal 13 October, 2021 - 04:21pm
Get local news delivered to your inbox!
Unlimited access to our E-edition
Unlimited articles on siouxcityjournal.com with no surveys
FREE Access to Newspapers.com archives (last 2 years)
Games and puzzles online
Not since a No. 1-ranked Iowa team prevailed 12-10 over No. 2 Michigan in a Kinnick Stadium classic on Oct. 19, 1985, have the Hawkeyes played a game with so much pre-game hype.
After all the talk leading up to the 3 p.m. kickoff, it didn't seem likely we would see a contest that could live up to all of that.
And that certainly seemed to be the case when visiting Penn State, ranked No. 4 in the nation, grabbed a 17-3 lead on No. 3 Iowa less than three minutes into the second quarter.
Jordan Stout's 32-yard field goal came three seconds after senior quarterback Sean Clifford absorbed a crushing hit from Iowa linebacker Jack Campbell just as he released an incomplete pass intended for Brenton Strange.
It turned out to be the last play of the day for Clifford, who'd been the star of the show for the Nittany Lions.
Without that costly injury, could the Hawkeyes still have prevailed in this battle of unbeatens?
We'll never know, of course, because the visitors of Coach James Franklin were dealt that hand of cards and were unable to stave off Iowa's dramatic comeback for a 23-20 triumph.
In all of college football history, all that matters is what the scoreboard reads when time has expired. The variables involved in these outcomes can't change the winners or the losers.
Clifford, to be sure, was having his way when he went down with what appear to be fractured ribs. The Cincinnati native is a talented athlete who, like most talented athletes, has had his ups and his downs.
No matter what he accomplished in his team's first five games last season, it wasn't enough to prevent them from getting off to a shocking 0-5 start to an abbreviated, nine-game season.
It was a 41-21 home loss to Iowa that kept the Lions winless five games into that 2020 campaign. Still, they hadn't lost again until this visit to Iowa City, winning last year's final four games before starting 2021 with another five in a row.
Sports aren't so much about the bad breaks that befall the vanquished. They're more about what the opponent gets done in order to win.
This Iowa football team, which has extended the program's current winning streak to 12, deserves more credit for a victory that has sent them to No. 2 in both the AP and the USA Today/ESPN polls.
Are the Hawks' THAT good? The answer is complex, but it amounts to this: In some respects they are. In a few others, they definitely aren't.
No college team in America can compare to Iowa's knack for creating turnovers and also for committing precious few of their own. By comparison to their FBS-leading 16 pass interceptions along with four fumble recoveries, the Hawks have coughed up just three fumbles and thrown two interceptions. That's a plus-15 turnover margin that leads the nation.
Four more picks helped produce this memorable win. So did the continued excellence of punter Tory Taylor, the sophomore from Australia who pinned Penn State inside their own 10 a whopping five times.
Iowa downed one Taylor kick at the 1-yard line, another at the 2 and yet another at the 3 while having two more boomers fair caught at the 8.
Field position has been the trump suit throughout the Kirk Ferentz era, and it has been a game plan that has led to much success.
The loyal fans who have backed this program faithfully through thick and thin were at their best ever, it would appear. The sellout crowd generated so much noise that Penn State was whistled for six false-start penalties.
The Ferentz regime has also had a habit of overcoming struggles on offense with impressive play on defense. This year is a classic and rather astonishing case in point.
All 10 teams with fewer yards per game than Iowa are teams with losing records adding up to a combined 12-45 mark.
So, the Hawkeyes have put together a perfect 6-0 record while facing what is clearly the toughest stretch on their schedule. Six remaining games are with Purdue (3-2), Wisconsin (2-3), Northwestern (2-3), Minnesota (3-2), Illinois (1-5) and Nebraska (2-5).
There are no guarantees, to be sure, but the road to the Big Ten Championship game Dec. 4 in Indianapolis would certainly appear to be more clear than ever.
With five of the Top 10 teams in the AP poll all hailing from the Big Ten, Iowa is the only one that represents the league's seven-team West Division.
Penn State, meanwhile, is the only ranked team from the East on the Iowa schedule, which does not include No. 6 Ohio State, No. 8 Michigan or No. 10 Michigan State.
The Lions, who fell three spots to No. 7 this week, may have to finish out their schedule without a quarterback who is arguably more indispensable than anyone on the Iowa roster. Perhaps this one factor is what could make these Hawkeyes worthy of a place in the FBS Playoffs.
Those playoffs, by the way, will once again involve just four teams with two semifinals Dec. 31 and the championship game Jan. 10 at Lucas Oil Stadium, host also of the Big Ten title clash.
Yes, there has been considerable talk of expanding this championship "tournament'' to 12 teams. However, that has not yet been resolved.
Former Journal sports editor Terry Hersom can be reached via e-mail at terrencewhersom@gmail.com.
Get local news delivered to your inbox!
SIOUX CITY – The book "Friday Night Lights,'' which later became a motion picture and then a popular TV series, focused on high school footbal…
SIOUX CITY — We live in an area where college football loyalties are divided between Iowa, Iowa State and Nebraska. I can't imagine any feasib…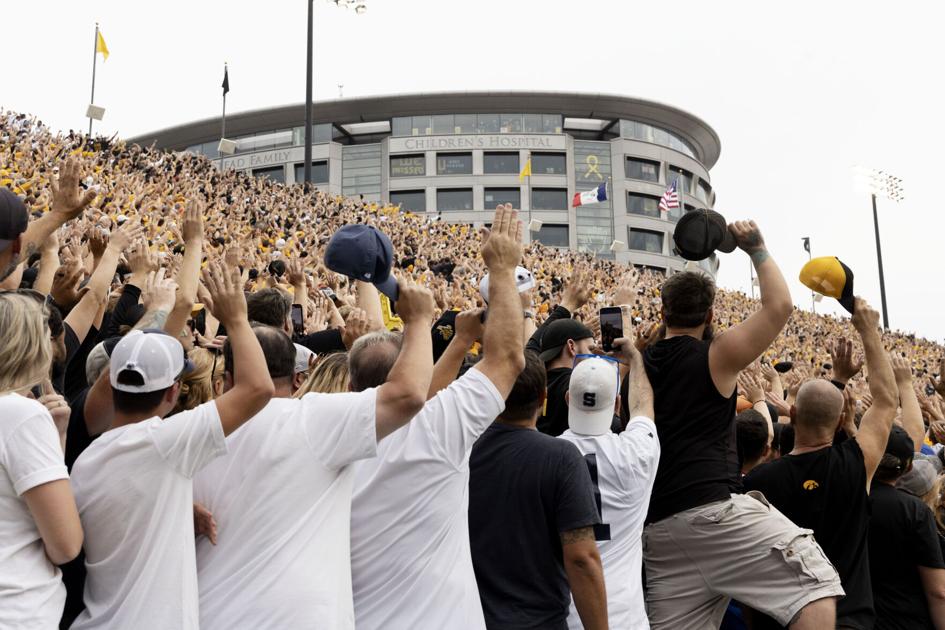 The Daily Collegian Online 13 October, 2021 - 04:21pm
Some clouds. Low 52F. Winds light and variable.
Attendees at the Penn State vs. Iowa football game wave to the University of Iowa Stead Family Children's Hospital at the end of the first quarter at Kinnick Stadium, Saturday, Oct. 9, 2021. The Hawkeyes beat the Nittany Lions 23-20.
American singer-songwriter Connie K. Lim, known professionally as MILCK, sits at a piano on the Alumni Hall stage as she begins her lecture, hosted by the Student Programming Association, on Monday, Oct. 4, 2021 in University Park, Pa. MILCK said her musical style is influenced by John Lennon's "Imagine" in addition to other artists and Lennon's wife, Yoko Ono.
Turtles at the duck pond outside the Hintz Family Alumni Center on Monday, Oct. 4, 2021 in University Park, Pa.
Matt Woods presents at "Keynote" in the Flex Theatre of the HUB-Robeson Center during the blueStart Festival, hosted by Innoblue and blueStart in University Park, Pa. on Tuesday, Oct. 5, 2021. Woods, a 2020 energy engineering graduate, detailed his company Xact Metal.
Penn State's Pattee and Paterno Library on Tuesday, Oct. 5, 2021 in University Park, Pa.
Cast members of the Penn State Thespian Society perform "Little Women" on stage at Schwab Auditorium in University Park, Pa. on Wednesday, Oct. 6, 2021.
Defender Anna Simon (17) steals the ball away from Bucknell midfielder Payton Kenny (5) before passing it to her teammates during the Penn State field hockey match against Bucknell University on Saturday, Oct. 9, 2021, at the Penn State Women's Field Hockey Complex. Penn State beat Bucknell 4-1.
Midfielder Rachel Wasserman (9) jumps into the arms of forward Sam Coffey (17) after Coffey scores the first goal of the Penn State women's soccer game against Maryland on Friday, Oct. 9, 2021, at Jeffery Field. Penn State won 5-1 against Maryland.
Vendors set up outside MLK Plaza at the first annual State College Latin festival on Saturday, Oct. 9, 2021. The event was hosted by Juana's restaurant and the Borough of State College.
Penn State students (from left to right: Andrea Ramos Medero (Junior - Premed), Michael Sadowski (Senior - Civil Engineering), Adriana Ramos Medero (Junior - Premed), Monica Fernandez (Senior - Biology)) dance to salsa music at the Happy Valley Latin Festival at Martin Luther King Plaza on Saturday, Oct. 9, 2021, in State College, Pa.
Iowa's defense celebrates the interception of a pass intended for wide receiver Jahan Dotson (5) during Penn State football's game against Iowa at Kinnick Stadium, Saturday, Oct. 9, 2021. The Hawkeyes beat the Nittany Lions 23-20.
Head Coach James Franklin stands worriedly over second-string defensive tackle Dvon Ellies (91), in for an injured PJ Mustipher (97), as medical trainers assess his injuries during Penn State football's game against Iowa at Kinnick Stadium, Saturday, Oct. 9, 2021. The Hawkeyes beat the Nittany Lions 23-20.
Fans cheer in the stands during the Penn State men's soccer game against Michigan at Jefferey Field on Sunday, Oct. 10, 2021 in University Park, Pa. Penn State defeated Michigan 2-1.
Runners line up and anticipate the start of the annual THON 5K on Sunday, Oct. 10, 2021 outside of the Bryce Jordan Center in University Park, Pa. Hundreds of people participated this year.
Tzu Hsiang Yeh (senior-data science) high fives the Nittany Lion before crossing the finish line near the Bryce Jordan Center at the annual THON 5K on Sunday, Oct. 10, 2021 in University Park, Pa.
Donate to the Collegian by clicking the button below.
Success! An email has been sent to with a link to confirm list signup.
Error! There was an error processing your request.
At a Glance--going through the highlights of the news so you don't have to. Sign up today!
Get weekend previews and weekend recaps from The Daily Collegian Sports staff sent to your inbox.
We're always interested in hearing about news in our community. Let us know what's going on!