Will Lady Gaga be at the Met Gala?
Lady Gaga didn't make it back to the Met Gala this evening, unfortunately. The singer, who also missed the MTV VMAs yesterday, kept a low profile on her social media. ... Gaga spoke to Oprah for ELLE in November 2019 about her fashion and reflected on that big meat dress moment. ELLE.comWhy Lady Gaga Skipped the 2021 Met Gala
If you needed any more proof that Lewis Hamilton is an incredible force in the racing world and beyond, not even two days after a near-death Formula 1 crash in Italy he stepped onto the Met Gala red carpet in New York on Monday to promote emerging Black fashion designers.
The theme of this year's Met Gala was "In America: A Lexicon of Fashion," centered around American style and independence. Tables at the Met run upwards of $30,000 and typically major designers or fashion houses will buy them and invite the celebrities they're dressing for the night, making it difficult for up-and-coming designers and stars to make an impact at the event, which is referred to as "fashion's biggest night." That makes what Hamilton did especially impactful: The seven-time world champion bought his own table and invited four young Black designers as his guests.
I LOVE YOU LEWIS HAMILTON #MetGala pic.twitter.com/9RRBtlwZ29
Red carpet host Keke Palmer asked Hamilton how his outfit tied into this year's theme and he said that he felt "really, really fortunate" that Vogue editor-in-chief Anna Wintour agreed to host his table. "I've brought four incredible, young, Black talented designers," he said, "so we've got a great host of people tonight and it's about just highlighting beauty and excellence and talent."
Accompanying Hamilton was American designer Kenneth Nicholson, who created a custom suit complete with a lace calf-length shirt. In an Instagram post, Hamilton said Nicholson's "craftsmanship and point of view advances menswear in truly inspiring ways." Along with Nicholson and superstar stylist Law Roach, other attendees with Hamilton were designers Theophilio and Jason Rembert, model Alton Mason, singer Kehlani and athletes Miles Chamley-Watson and Sha'Carri Richardson.
After the Gala's red carpet livestream ended, Vogue played a video with Hamilton talking more about his table and his work in the fashion world. "We're living in a time where diversity and inclusion is so important and that's something I'm fighting for in my industry," he said. Earlier this year Hamilton started the Mission 44 foundation to "champion and empower young people from underrepresented groups" in the UK and he also launched his own Hamilton Commission as well as the Ignite joint program with Mercedes to increase diversity in F1 specifically.
Talking about his work in F1 and how it influenced him to purchase the table, Hamilton said, "I realized it's very similar within the fashion industry. A lot of brands, young designers don't have the same opportunities and the Met is the biggest fashion event of the year. In this theme, I wanted to create something that was meaningful and it's something that will start and spark a conversation. When people see us all together, it will put these Black designers at the top of peoples' minds."
lewis hamilton bought a table and invited young black designers to the met gala so they could have a platform and create their own impact on the fashion world, this is what using your own platform for good means #MetGala pic.twitter.com/XUeAUhAaGN
Hamilton is no stranger to the Met Gala, or the world of fashion in general -- this was his sixth appearance at the Met since 2015. He's collaborated with Tommy Hilfiger many times, is a frequent guest at fashion week runway shows and is rumored to be one of the investors that bought W magazine. Not to mention all the streetwear looks he serves in the F1 paddock on a weekly basis.
We're just waiting on that debut album now, Lewis.
Climb in the driver's seat for the latest car news and reviews, delivered to your inbox twice weekly.
Read full article at CNET
PEOPLE 14 September, 2021 - 07:00am
On the red carpet, expect the celebrity guests to embody the theme of American style, whether through flashy, star-spangled ensembles, or more discreet nods to Americana motifs. The Met Gala's red carpet has a history of creating memorable outfits—remember Rihanna's high-fashion Margiela pope look from 2018?—so it's bound to be an eventful night to remember.
As for who will be on the guest list tonight? Co-chairs this year include Billie Eilish, Timothée Chalamet, Naomi Osaka, and Amanda Gorman, but there will be plenty of other Hollywood A-listers walking the famous Met steps tonight, too. Keep refreshing this post to see if your favorite stars will make a cameo. If you're having FOMO, fear not: You can also watch a livestream from the event here, exclusively on Vogue.
Below, scroll through the gallery for every 2021 Met Gala look, and be sure to keep refreshing Vogue for even more stories from fashion's biggest night.
Yahoo Life 14 September, 2021 - 07:00am
The 19-year-old co-chair told Vogue livestream host Keke Palmer that "it was time" for her to try out the femme fatale look in the form of a blush-colored off-the-shoulder gown featuring a 15-foot train made complete with silver jewelry, her blonde bob styled in some curls and a dark burgundy lip. Although it's a departure from her usual look, Eilish said it's something she's dreamt of doing for far too long.
"I've always wanted to do this but I was just scared and I didn't feel comfortable in my skin and I feel like I finally did," Eilish said. "I feel like I've grown so much in the last few years."
One of the designers of the nude tulle dress, Fernando Garcia, told the New York Times that the 19-year-old "was very interested in surprising everybody with a look she hasn't done before." Yet she also had some requirements. Eilish demanded that Oscar de la Renta institute a policy change and end all sales of fur. While co-creative directors Garcia and Laura Kim haven't used fur in their designs for years, the brand still sold fur items in stores. CEO Alex Bolen, though resistant at initially, changed his tune.
"I'm honored to have been a catalyst and to have been heard on this matter," Eilish said, according to the Times, of the new policy, adding that she found it "shocking that wearing fur isn't completely outlawed at this point in 2021,"
The singer previously opened up about her evolving sense of style and her relationship with her body in an interview for Vogue UK that took her fans by storm.
"It's all about what makes you feel good. If you want to get surgery, go get surgery. If you want to wear a dress that somebody thinks that you look too big wearing, f**k it – if you feel like you look good, you look good," she told the magazine. "Showing your body and showing your skin – or not – should not take any respect away from you."
While Eilish's photos from the Vogue UK piece helped her to break an Instagram record of surpassing one million likes in the shortest amount of time, she continued to stir up that same interest with Monday's Oscar de la Renta gown.
She explained that she worked with Fernando Garcia and Laura Kim of Oscar de la Renta on the ensemble and pulled inspiration from Mattel's annual Holiday Barbie. "It was my favorite thing in the world," she said.
She looks like a Disney princess!
The singer and co-chair had her princess moment.
Oscar de la Renta's widow has wanted the brand to stop selling fur for years. But it was Billie Eilish's ultimatum that finally brought change.
You can snag her exact products at Sephora.
Eilish stepped away from her usual loungewear style for a couture moment.
The Oscars of Fashion are back.
From Emma Chamberlain to Timothée Chalamet, here's a look at what every celebrity wore to the 2021 Met Gala on Monday.
The tennis star's ensemble was designed by Nicolas Ghesquière in collaboration with her sister, Mari Osaka.
All of your biggest questions, answered.
For those who were unaware, this year's Met Gala theme was "In America: A Lexicon of Fashion," which meant the...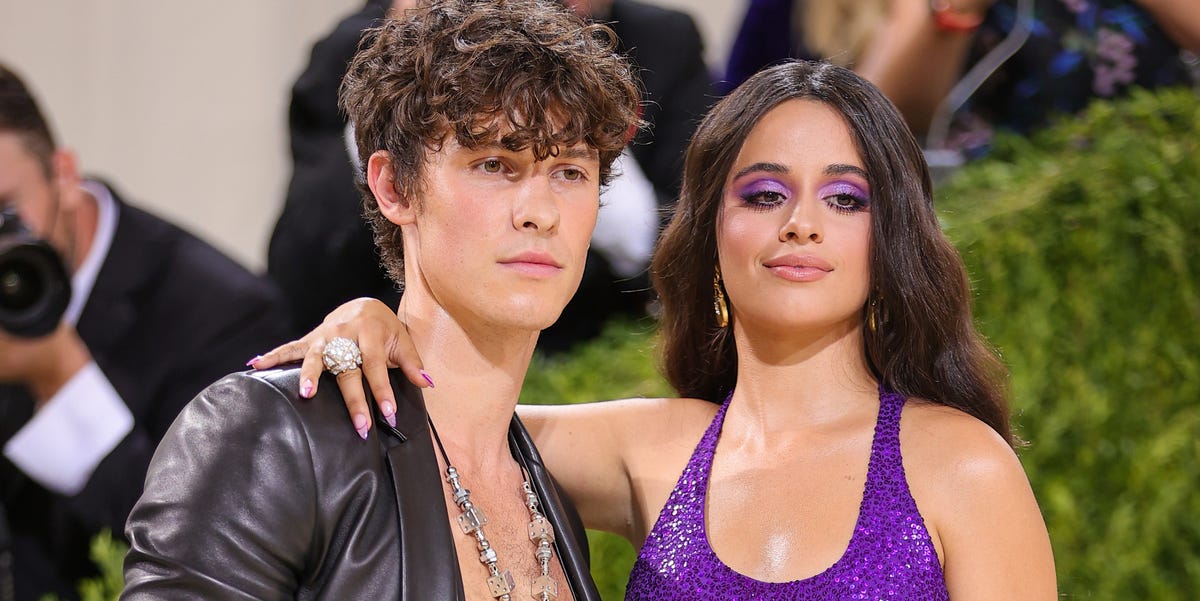 Cosmopolitan 14 September, 2021 - 07:00am
Shawn Mendes and Camila Cabello stepped out tonight for their biggest red carpet of the year: the Met Gala. The couple, who have been dating for two years, made their debut as a pair at the prestigious New York City fashion event. Cabello wore a purple sparkly crop top and skirt. Mendes wore an open leather jacket and black pants alongside her. The two were affectionate in front of the cameras.
"We definitely fight, and we get in like the worst little arguments, but like, I think that we definitely are pretty good at picking up on when it's just ego talking," Mendes said. "And we usually like, call each other out. It's we have a really honest and open relationship, but, but yeah, no, we definitely fight. I think like, especially like, I think the longer the relationship goes, it's like the easier it seems to be to fight. So, yeah, it's definitely not that holding hands all the time, but we're really good with each other. It never gets bad. It's always like a little fight."
Sirius XM's Stanley T asked Mendes, "When you find yourself in an argument with her and then you realize in the argument you're wrong. How do you handle that? Do you just come out and say, 'you know what, I've been thinking about it. I'm sorry'?"
"Yeah," Mendes replied. "All of it, it takes all my might in the entire world, but I have to admit that I'm wrong, but it takes everything. My face probably looks like tight and red, but I say I'm wrong. Hopefully. I mean, maybe she would say something else. I'm sure. Sometimes I don't say I'm wrong."
Daily Mail 14 September, 2021 - 12:31am
By Brian Marks For Dailymail.com
Elliot Page looked classy in a Balenciaga tuxedo as he walked the red carpet at the 2021 Met Gala in Manhattan on Monday evening.
The 34-year-old actor opted for classic style with some unusual touches for the event, which had an American fashion theme.
This was the first Met Gala in two years, after the 2020 edition was delayed due to the pandemic, and it also marked Elliot's first red carpet appearance since he came out as transgender in December.
Suited up: Elliot Page, 34, looked dapper in a black Balenciaga tuxedo as he made his Met Gala debut on Monday evening in Manhattan
Elliot appeared to be swallowed up by his outfit, which featured a oversize jacket with thick shoulders and extra-long sleeves.
The jacket's sleeves usually stop at the wrist, with the shirt just peeking out, but his flared sleeves reached down to his fingers and showed plenty of his sleeves.
The Juno star wore a crisp white shirt with a thick silver button at the collar in place of a tie.
He added a splash of color to the minimalist look with a green flower pinned next to his shawl lapels
Big on him: Elliot appeared to be swallowed up by his outfit, which featured a oversize jacket with thick shoulders and extra-long sleeves
Extra-long: The jacket's sleeves usually stop at the wrist, with the shirt just peeking out, but his flared sleeves reached down to his fingers and showed plenty of his sleeves
Elliot opted for comfort and dressed down his outfit a bit with a pair of chunky black Balenciaga trainers.
In addition to marking his first red-carpet appearance since coming out, Monday night was also the actor's Met Gala debut.
The famous fashion event was canceled in 2020 due to the raging coronavirus pandemic, and this year's edition had to be pushed back from its usual May date due to rising delta variant cases.
The inception star was doing his part to help slow the spread of Covid-19 by getting vaccinated, which was a requirement for attendance this year.
'Currently, all attendees at The Met Gala on September 13 must provide proof of full vaccination and will also be expected to wear masks indoors except when eating or drinking,' a spokesperson for The Met said last month.
Elliot complied and showed off his simple black mask inside the event to match his tux.
No fuss: Elliot opted for comfort and dressed down his outfit a bit with a pair of chunky black Balenciaga trainers
Bit moment: The Inception star, who wore a mask indoors in accordance with the rules, was making his first red carpet appearance since coming out as transgender in December
Elliot must have made Game Of Thrones fans at home jealous when he stopped to chat with the show's stars Kit Harington and Rose Leslie.
Kit contrasted Elliot's black tux with his white jacket with peaked lapels and a black bow tie.
Rose, who married her costar in 2018, looked glamorous in a voluminous off-the-shoulder yellow tulle dress.
In December, shortly after he came out, Elliot revealed to Time Magazine that he had always been uncomfortable on red carpets when he wore feminine clothing.
'I just never recognized myself,' he admitted. 'For a long time I could not even look at a photo of myself.'
Small talk: Elliot must have made Game Of Thrones fans at home jealous when he stopped to chat with the show's stars Kit Harington and Rose Leslie
Colorful: Kit was Elliot's inverse with a white tuxedo jacket, while his wife and former costar Rose looked glamorous in a voluminous yellow tulle dress
Film roles also posed a challenge for him, as he often had to continue to present as a woman on set.
'Even though [I was] an actor, just putting on a T-shirt cut for a woman would make me so unwell,' Elliot said.
This year's gala will be a more intimate affair than recent editions, to be followed by a larger one on May 2, 2022. Both will launch a two-part exhibition, a survey of American fashion to be on view for almost a year.
In America: A Lexicon of Fashion, opening Sept. 18, will celebrate the 75th anniversary of the museum´s Costume Institute and 'explore a modern vocabulary of American fashion,' the spokesperson added.
Part two, In America: An Anthology of Fashion, will open in the museum's popular American Wing period rooms on May 5, 2022, and will explore American fashion, with collaborations with film directors, by 'presenting narratives that relate to the complex and layered histories of those spaces.' Both parts will close on Sept. 5, 2022.
Comfortable in his skin: In December, Elliot revealed to TIME that he had always been uncomfortable on red carpets when he wore feminine clothing. 'I just never recognized myself,' he admitted. 'For a long time I could not even look at a photo of myself'
The comments below have been moderated in advance.
The views expressed in the contents above are those of our users and do not necessarily reflect the views of MailOnline.
By posting your comment you agree to our house rules.
Do you want to automatically post your MailOnline comments to your Facebook Timeline?
Your comment will be posted to MailOnline as usual.
Do you want to automatically post your MailOnline comments to your Facebook Timeline?
Your comment will be posted to MailOnline as usual
We will automatically post your comment and a link to the news story to your Facebook timeline at the same time it is posted on MailOnline. To do this we will link your MailOnline account with your Facebook account. We'll ask you to confirm this for your first post to Facebook.
You can choose on each post whether you would like it to be posted to Facebook. Your details from Facebook will be used to provide you with tailored content, marketing and ads in line with our Privacy Policy.
Part of the Daily Mail, The Mail on Sunday & Metro Media Group
Life&Style Weekly 13 September, 2021 - 08:04pm
She's done it again! Emily Ratajkowski turned heads at the 2021 Met Gala red carpet on Monday, September 13.
The model, 30, wore a gorgeous red gown while walking up the iconic staircase into the Metropolitan Museum of Art in New York City. She stunned in the dress, proving that her looks at Fashion's Biggest Night get better each year. This time around, the theme was In America: A Lexicon of Fashion, and Emily's look did not disappoint.
The mom of one has walked the Met Gala red carpet a few times over the years. In 2019, she took the theme of Camp: Notes on Fashion theme to a whole other level by showing off her toned tummy in a custom Dundas dress. Fans will remember how she paid homage to some of Cher's most iconic red carpet looks with the silver halter grown, which was complete with a bedazzled winged headpiece. Leaving little to the imagination as she walked the then-pink carpet, Emily's train glided behind her making her look like a real-life fairy.
"For me, Cher is just such an icon," Emily told Good Morning America in May 2019. "She is someone that I have always looked up to. Moonstruck was one of my favorite movies growing up. It still is. There's not always a moment to really pay homage to her — and we had this really great vision of doing that and pushing that limit, and this is the opportunity to do it."
Designers Peter Dundas and Evangelo Bousis also gushed over the look while chatting with GMA. While Peter explained that he tied in the "entire wing that goes from the side of the dress to the back" along with the winged headpiece. Evangelo noted, "Emily is the only person who could wear this dress; it was made for her."
"I'm just obsessed," Emily said of the look. "This is that moment where you are like, 'OMG it is coming together — it is going to happen.'"
While some stars opt to bring their significant others to the Met Gala, Emily has walked the red carpet without husband Sebastian Bear-McClard. The couple tied the knot in February 2018 and welcomed their first child, Sylvester Apollo Bear, in March 2021. Since then, she's been showing off her post-baby body all over Instagram, and the Met Gala is no different.
"I'm completely and undeniably helpless when it comes to almost everything surrounding my pregnancy: how my body will change, who my child will be," she told Vogue in October 2020 about becoming a mom. "But I'm surprisingly unbothered. Instead of feeling afraid, I feel a new sense of peace. I'm already learning from this person inside my body. I'm full of wonder."
Emily turned the Met Gala into a runway as she stepped out in a unique dress designed by Vera Wang.
The model had all eyes on her as she rocked the impeccable frock, which featured lace cutouts around the waist.
Emily didn't do much with her brown locks aside from adding some subtle curls, though she wore just the perfect amount of makeup.
The Gone Girl actress walked the carpet solo, seemingly leaving her husband, Sebastian Bear-McClard, at home with their 6-month-old son, Bear.
No one shuts down a Hollywood event quite like Emily!
Life & Style has affiliate partnerships so we may receive compensation for some links to products and services.
Vogue 13 September, 2021 - 03:56pm
The Giants could be without their starting tight end on Thursday night.
Engram missed their Week 1 game against the Denver Broncos and Kyle Rudolph took over as the starter at tight end. Rudolph didn't do much, but he did see five targets, catching two for eight yards. he was in on 48 snaps while TE Kaden Smith saw 28, per Pro Football Focus.
Their matchup with the Denver defense was tough, but it doesn't get any easier against Washington. If Engram misses again, Rudolph would only be a useful player in 2TE leagues at this point, as Daniel Jones connected with his wide receivers better than his tight ends in Week 1.