Read full article at CNBC
NBC Sports 15 July, 2021 - 01:24pm
ESPN 15 July, 2021 - 01:24pm
Lionel Messi and Barcelona have reached an agreement for the forward to sign a new five-year deal with the Catalan club, sources have confirmed to ESPN. Sources added that Messi has accepted a significant wage reduction to prolong his stay.
Messi was a free agent after his contract at Barca expired, and he had courted interest from Paris Saint-Germain and Manchester City since first revealing a desire to end his 20-year relationship with Barca last summer. The 34-year-old's previous contract, which was worth over €500 million ($594m) over four years, expired at the stroke of midnight on June 30.
However, with the return of Joan Laporta as president in March, Messi grew more open to staying at Camp Nou. An official announcement is expected in the coming days.
Laporta had hoped to finalise an agreement before Messi's previous terms expired. Barca's financial problems made that impossible, though, with their gross debt over €1 billion. Cutbacks have been essential, in terms of transferring players out, reducing the wage bill and getting Messi to accept a lower salary.
La Liga president Javier Tebas has warned Barca they will not be allowed to register Messi's new deal if they are unable to reduce spending to comply with the league's Financial Fair Play rules. Barca's spending limit has been reduced from over €600m to €347m since the coronavirus pandemic, with further reductions expected to be imposed for the upcoming season.
Therefore, to register Messi's new deal, in addition to new signings Sergio Aguero, Memphis Depay, Eric Garcia and Emerson Royal, Barca need to continue reducing the wage bill and moving players on. With that in mind, sources at the club refuse to rule out the departure of Antoine Griezmann, a €120m signing in 2019.
Messi is on holiday with his family after his Copa America glory with Argentina last weekend, which was his first senior trophy with his national team.
He will link up with Ronald Koeman's squad later in the summer, with Barca's league campaign kicking off on Aug. 15 against Real Sociedad at Camp Nou.
Messi had first expressed a desire to leave Barca last August after the 8-2 defeat to Bayern Munich in the Champions League. His relationship with then-president Josep Maria Bartomeu had reached a breaking point. In a September 2020 interview with Goal, after Barca had blocked his departure, Messi called Bartomeu a "liar" and said the board had been "making things up as they go along" and "plugging holes" for years.
Bartomeu, facing a vote of no confidence, resigned last October and was eventually replaced by Laporta in March. Laporta has a good relationship with Messi and his family. He was Barca's president when Messi made his first-team debut and when he signed his first professional contract with the club.
Sources told ESPN in April that Laporta was working on a contract renewal for Messi that included the option of playing in Major League Soccer before returning to Barcelona.
In public and in private, Laporta had always maintained that he was "convinced" he could persuade Messi to stay. The club have already made a series of signings this summer, bringing in Sergio Aguero, Memphis Depay and Eric Garcia, as well as recalling Emerson Royal.
Messi first joined Barca's academy in 2000 and has gone on to play 778 games for the club, breaking Xavi Hernandez's appearance record last season. He has scored 672 goals, another club record, and has helped Barca win, among other trophies, 10 La Liga titles and the Champions League on four occasions.
Daily Mail 15 July, 2021 - 01:24pm
Lionel Messi's plans to leave Argentina were put on hold on Tuesday after the Barcelona star's private jet was halted amid a bomb scare. 
The 34-year-old briefly returned to Rosario on Monday following Argentina's Copa America triumph at the Maracana after an Angel di Maria strike clinched the nation's first major trophy since 1993.
Messi was due to jet off for Miami, Florida to spend some time on holiday with his family, but his flight was delayed after a man claimed to have left a bomb in his suitcase.
Lionel Messi's private jet was halted on Tuesday following a bomb scare in Rosario
The 34-year-old briefly returned to Argentina following his country's Copa America triumph
Islas Malvinas International Airport was evacuated immediately and emergency protocols were put in place, with all flights grounded. 
The incident was swiftly resolved but the emergency resulted in a major backlog of flights leaving the airport, including Messi's.
An airport statement read: 'At 11:50 am, the airport security police (PSA) activated the preventive emergency plan due to a situation of suspicion. The building was evacuated as a precaution.' 
It is not known whether Messi's wife, Antonela Roccuzzo, and his three sons were with him during the incident, but he was pictured with his father Jorge on the tarmac on Tuesday. Antonela had greeted Messi upon his arrival from Brazil on Monday.
Messi, pictured with father Jorge, was set to jet off on his holidays after a long 2020-21 season
However, emergency plans were imposed after a man claimed to have a bomb in his suitcase
In a statement, the airport said that the building was evacuated as a precaution on Tuesday 
Messi will spend the next few weeks unwinding after an arduous campaign in which Barca failed to return to the summit of Spanish football, nor make headway in the Champions League.
The 34-year-old became a free agent at the start of the month after the expiration of his four-year deal worth £425m. However, there has been no panic among Barca chiefs as to securing Messi's future, 12 months on from the Argentine expressing his desire to leave Catalonia.
Sportsmail understands that  Messi has agreed to take a 50 per cent pay-cut to sign a new five-year deal with the LaLiga side.
The contract will see Messi stay at the Camp Nou until he is 39 and will help the club with their cost cutting following warnings from LaLiga president Javier Tebas who says their spending must continue to be reduced drastically before Messi can be registered.
Messi was greeted by his wife, Antonella Roccuzzo, on Monday after the players returned 
It is not known whether Antonella and their three children were present during the incident
Despite becoming a free agent and previous interest from Paris St German and Manchester City no talks with other clubs took place in recent weeks.
The 34-year old has been with Barcelona's academy since 2000 amassing 778 games and scoring 672 goals.  
Barcelona are continuing to cut costs to meet with La Liga's financial FairPlay guidelines.
They have agreed to sign Sergio Aguero, Memphis Depay and Eric Garcia but are in the throes of streamlining their squad with debts around £1billion.
They have also opened negotiations with Atletico Madrid over a proposed swap deal involving Antoine Griezmann and Atletico midfielder Saul Niguez.
No comments have so far been submitted. Why not be the first to send us your thoughts, or debate this issue live on our message boards.
By posting your comment you agree to our house rules.
Do you want to automatically post your MailOnline comments to your Facebook Timeline?
Your comment will be posted to MailOnline as usual.
Do you want to automatically post your MailOnline comments to your Facebook Timeline?
Your comment will be posted to MailOnline as usual
We will automatically post your comment and a link to the news story to your Facebook timeline at the same time it is posted on MailOnline. To do this we will link your MailOnline account with your Facebook account. We'll ask you to confirm this for your first post to Facebook.
You can choose on each post whether you would like it to be posted to Facebook. Your details from Facebook will be used to provide you with tailored content, marketing and ads in line with our Privacy Policy.
Part of the Daily Mail, The Mail on Sunday & Metro Media Group
MagicalMessi 15 July, 2021 - 01:24pm
ESPN UK 15 July, 2021 - 01:24pm
CBS Sports HQ 15 July, 2021 - 01:24pm
GIVEMESPORT 15 July, 2021 - 05:57am
We live in a world where footballers' stats are available to us at the click of a button.
In a matter of seconds, anyone with access to a laptop, tablet or a phone can find out the number of goals Lionel Messi has scored throughout the course of his amazing career.
But one fan of the Argentine superstar doesn't like to rely on the internet when it comes to stats about the six-time Ballon d'Or winner.
Don Hernan, a 100-year-old Argentinian man who's become a bit of a Tik-Tok sensation thanks to his grandson Julian, has been writing down every Messi goal since the 34-year-old started his footballing journey.
If he has to miss a game featuring his favourite player, Hernan simply calls Julian to find out whether Messi scored, so he can add the goal to his book if necessary.
It's a brilliant story and after Argentina's triumph at the 2021 Copa America, Messi recorded a video message for his number one fan.
"Hello Hernan. Your story reached me," Argentina's record goalscorer said.
"It seems crazy to me that you have been recording my goals and in that way, and that is why I wanted to send you a big hug and thank you for what you do, for all your follow-up work."
Hernan was then shown the message from Messi by his grandson and things got a little bit emotional.
A teary-eyed Hernan said: "I always followed you and I will follow you. Until the end, I will walk behind you."
Hernan was able to add four more goals to his book during the 2021 Copa America, with Messi finishing the tournament as the leading scorer.
The Barcelona star also contributed five assists, which was also the most of any player at the South American festival of football.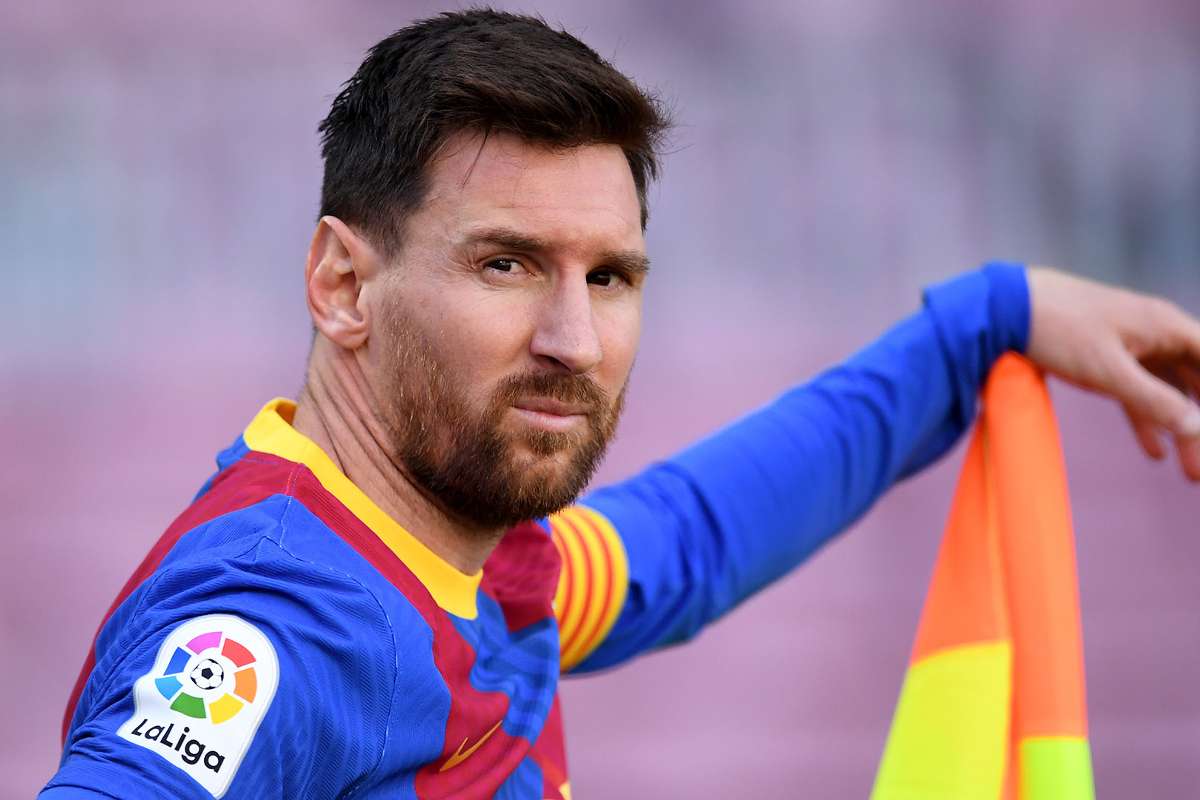 CaughtOffside 15 July, 2021 - 12:28am
You are using an outdated browser. Please upgrade your browser to improve your experience.
Though he will still be handsomely remunerated over the course of a reported new five-year deal, the Argentinian is once again leading by example, only this time off the pitch.
If the best player in the world has no problem with a vast decrease in his weekly wage, then surely others will follow suit.
At least that's what Joan Laporta will be hoping as he continues to work out a pathway through the club's current financial predicament.
If reports are to be believed, Messi could've earned a lot more money elsewhere, but he was only ever interested in trying to do a deal with the club of his life.
A club whom he will be hoping to lead to domestic and European glory again in the time he has left.
Barcelona will surely be grateful for his concessions, and he likewise.
With Josep Maria Bartomeu's reign now consigned to the history books, it's onwards and upwards for the Catalans.
This site uses Akismet to reduce spam. Learn how your comment data is processed.