shannon sharpe
ShannonSharpe
That's what I'm talking about Caleb Dressel. Get out, make them chase you dwn and they could not. #gold #Olympics #100FlyChamp 👏🏾👏🏾👏🏾
Nicole Auerbach
NicoleAuerbach
"He doesn't need to be 'the next Michael Phelps,'" @Nathangadrian told me this week. "We already have what we need in Caeleb." Meet Caeleb Dressel: Team USA's new Olympic swimming star who just won a thrilling, emotional gold medal: theathletic.com/2736450/2021/07/28/caeleb-dressel-2021-olympics-team-usa-swimming-gold/ pic.twitter.com/9YrmD7xuy8
Pat Forde
ByPatForde
For some reason I neglected to post today's columns. First: on the controversial decision to leave Caeleb Dressel off the men's 800 freestyle relay, which became the first American men's Olympic relay to miss the podium. Ever. bit.ly/37aau97

Bobby Carpenter
Bcarp3
Thank you Caleb Dressel… the amount of pride I free watching the USA winning Gold medals in Swimming and Track is awesome #Olympics
Zac Stubblety-Cook of Australia set an Olympic record in the 200-meter breaststroke. Bobby Finke of the United States won gold in the 800 freestyle.
Dressel exploded out of the blocks — six-hundredths of a second faster than Chalmers — and was ahead from start to finish.
The 100 free is the classic event, one that every swimmer swims as a child before splintering off to various specialties. This version of the men's 100 free came spiced with a rivalry that has been building since the 2016 Rio Games, when Chalmers, then 18, won gold and Dressel finished sixth, just shy of his 20th birthday.
But Dressel has won a pair of world championships in the event since, and the Tokyo Games felt like a true splashdown to broader fame.
Now 24, Dressel led the United States to a gold medal in the 4x100 free relay this week in Tokyo, over Italy and Australia. His gold medal in the glamour event of the 100 could be a type of coronation for Dressel, who has two other events yet to swim — the 50-meter freestyle and the 100-meter butterfly.
Flickinger is 27, which is well-aged in swim years, and won silver at the 2019 world championships. She already had a bronze medal from the 400-meter individual medley in Tokyo, but the butterfly is her strongest stroke. Smith narrowly edged her to the finish.
Zhang's time of 2 minutes 3.86 seconds was the third-fastest time ever. Smith finished second in 2:05.30, with Flickinger securing the bronze in 2:05.65.
Zhang Yufei of China is out in front in the women's 200-meter butterfly final.
Ryan Murphy of the United States just wrapped up a second-place finish in the 100-meter backstroke semifinals, and the first-time Olympian Bryce Mefford of the U.S. finished fourth.
They comfortably secured spots in the finals. Murphy won three gold medals in Rio, in the 100-meter backstroke, 200-meter backstroke and 4x100-meter medley relay.
Nic Fink of the United States finished finished fifth in the 200-meter breaststroke.
Arno Kamminga of the Netherlands started at a world-record pace in the 200-meter breaststroke final, but Zac Stubblety-Cook of Australia caught him down the stretch, and Australia has yet another gold in the pool.
Arno Kamminga of the Netherlands earned the silver medal, in 2:07.01, followed by Matti Mattsson of Finland with the bronze.
The men's 200-meter breaststroke, a do-not-miss for fans who do like lots of splashing, was thought to be an open race, maybe a chance for Anton Chupkov of the Russian Olympic Committee to flirt with the world record he already holds.
Chupkov won the bronze medal in Rio at 19 years old, and came to Tokyo five years later with a new set of major titles under his belt. But he struggled in the semifinals and his seventh-place time landed him in an outside lane. He finished fourth in the final.
Finke just exploded off the last turn and turned the engines on. He had a lot left in the tank.
Finke won gold!!! He just bided his time, and then caught and passed the rest of the leaders.
It was a surprise even to Finke. He said he had "no idea" he could win.
Finke, 21, a four-time all-American at the University of Florida, was competing in his first Olympics. His victory was the first for an American man in an Olympic distance race since 1984.
The race was expected to be a wide-open slog, with Mykhailo Romanchuk of Ukraine a slight favorite.
Paltrinieri arrived with one of the 10 best times in history, but he had struggled in Tokyo and was relegated to an outside lane for the final. He jumped out to the early lead, and held it through 14 of the race's 16 laps.
The pack pulled closer with each turn, and Finke surged in the final 50 meters, swimming the last leg in 26.39 seconds, 1.65 seconds faster than Paltrinieri.
Finke finished in 7 minutes 41.87 seconds, a quarter-second ahead of Paltrinieri, who held on for silver. Romanchuk captured the bronze.
The men's 800 meters was added to the Olympics for the first time this year, along with the women's 1,500, which Katie Ledecky of the United States won.
An earlier version of this article described incorrectly the swimmer Bobby Finke's 800-meter freestyle race. He is also scheduled to compete in the 1,500 free; it is not his only event at the Tokyo Games.
Gregorio Paltrinieri of Italy jumped out to an early lead and is out front with less than 200 meters to go.
In the men's 800-meter freestyle, Robert Finke of the U.S., a rising senior at the University of Florida, is in Lane 3 and in third place, one-quarter of the way through.
In the final race of this session, the women's 4x200-meter freestyle relay, Ledecky is expected to swim for the United States.
She will look to add a ninth Olympic medal to her collection, but it will probably not be gold. Australia is a big favorite, looking for a world record behind Ariarne Titmus, who won the individual 200 free and edged out Ledecky for gold in the 400 free.
The relay will not be Ledecky's last race of these Games. She is scheduled to compete in the 800 free qualifying heats on Thursday evening (Tokyo time), after a few hours of rest.
The men's 200 breaststroke is a do-not-miss for fans who do not like much splashing. Anton Chupkov, of the country that shall not be named at these Olympics but has Moscow as the capital, could flirt with the world record he already holds. Chupkov won the bronze medal in Rio, at 19, and came to Tokyo five years later with all the major titles since.
But he struggled in the semifinals, his seventh-place time landing him in an outside lane. Watch the bobbing head in Lane 1. But also watch for Zac Stubblety-Cook of Australia, the leader out of the semifinals, and James Wilby of Britain and Arno Kamminga of the Netherlands.
There will be lots more splashing and plenty of drama in the women's 200 butterfly. Any combination of women, including two top Americans, could end up with gold or no medal at all. Hali Flickinger won silver at the 2019 world championships, and Regan Smith may push her in an event not considered her strongest. (That would be backstroke.)
That American duo will have to shoulder their way past Zhang Yufei of China and Boglarka Kapas of Hungary, who beat Flickinger in those 2019 worlds.
The center includes a 10-lane main pool, a training pool and a diving pool. For races, only the inside eight lanes are utilized. All the swimming, diving and artistic swimming events are held there. Next month, it will host the Paralympic swimming competitions.
The main pool is 50 meters (164 feet) long and 25 meters (82 feet) wide. And it is 3 meters deep, or about 9.8 feet. The main pool and the warm-up pool also have movable floors and walls and have adapting depth options.
The temperature is kept between 25 and 28 degrees Celsius, which is between 77 and 82.4 degrees Fahrenheit.
Yes, lifeguards keep close watch on the swimmers, who could require aid from injuries and cramps. They're also on hand for other contests: Water polo games are very physical; artistic swimming has seen many concussions in the past; and divers are launching themselves from towering heights.
Air horns are usually used to remind swimmers that they're on their final lap.
Dressel started swimming when he was 5, after his parents enrolled him in swim lessons — a decision he did not agree with at first, he said in a video interview on U.S.A. Swimming's YouTube page.
But Dressel, who is from Green Cove Springs, Fla., eventually became laser-focused on swimming. By his mother's telling, Dressel's first "competition" came when he jumped in the pool during one of his siblings' swim meets, raced his way to the other end and claimed, "I won a medal, I won a medal!"
It was the first unofficial accomplishment in his booming career: Dressel, who swam for the University of Florida, went on to sweep up 15 medals at world championships and set world and U.S. records.
At the 2019 FINA World Championship Games, Dressel broke his first long-course world record in the 100-meter butterfly, posting a time of 49.50 and shattering the previous record of 49.82 set by Michael Phelps.
Dressel made his Olympic debut at the 2016 Games in Rio de Janeiro, where he and his team won gold in the men's 4x100 freestyle and in the 4x100 medley relays. At the Rio Games, Dressel placed sixth in the 100-meter freestyle.
He won his third Olympic gold with Team U.S.A. in the 4x100-meter freestyle relay at the Tokyo Games on Monday, but he has not yet won an individual Olympic gold.
Dressel, who has a tattoo of the Olympic rings on the inside of his right arm, hopes to change that in the 100-meter freestyle final, where he will face off against competitors from Australia, Italy, Hungary, Romania, South Korea, France and the Russian Olympic Committee.
"As soon as I get behind those blocks, I finally get to do what I was trained to do," Dressel said in a U.S.A. Swimming video from 2016. "I finally get to be me."
Australia is the big favorite in the women's 4x200 freestyle relay, and a win would add to its 4x100 gold medal.
Swimming coverage begins at 9:30 p.m. on NBC.
The scheduled times of the medal events are:
9:30 p.m. Eastern time: Men's 800-meter freestyle final
9:44 p.m.: Men's 200 breaststroke final
10:28 p.m.: Women's 200 butterfly final
10:37 p.m.: Men's 100 free final
11:31 p.m.: Women's 4x200 free relay final
NBC's coverage can also be streamed on NBCOlympics.com and on its Peacock service.
The distance has been available to men since the 1904 Olympics, when it was introduced as a mile race. Women who contested the event in other meets had to settle for the 800 meters at the Games, an event that Ledecky will try to win for a third time on Saturday.
On Wednesday morning, though, she finally got her chance in the inaugural women's 1,500 and delivered her first gold of the Tokyo Games. Ledecky's time of 15 minutes 37.34 seconds was more than four seconds faster than her American teammate Erica Sullivan (15:41.41), who won the silver, and more than five seconds ahead of the bronze medalist, Sarah Kohler of Germany (15:42.91).
Ledecky holds the world record in the 1,500 and had the top qualifying time on Monday. Her victory in the event — a grueling marathon that requires 30 trips the length of the pool — came a little more than an hour after Ledecky had finished fifth in the 200 freestyle final.
Ledecky has won three 1,500-meter world championships and has set world records six times, more than any other swimmer in the event, male or female. But in just competing at this distance in the Olympics, Ledecky was getting an opportunity denied to distance-swimming greats like Janet Evans, Debbie Meyer, Shane Gould and Jennifer Turrall.
Until 1968, the longest Olympic event in women's swimming was 400 meters. Meyer won the first 800-meter Olympic race for women at the Mexico City Games that year, as well as the 200 and 400 freestyle.
She held the world record in both the 800 and the 1,500 back then, and she told The Times in 2014 that she questioned why the longer race was not available at the Olympics. Meyer said she had been told that there weren't enough countries with women competing in the 1,500.
"It really was all about the thinking then," she said, "which was, women were the weaker sex and because men were stronger people, they could last the distance."
Over the years, other discrepancies in swimming have been resolved. From 1984 to 1996, for example, the men had three relays and the women two. At the Atlanta Games, the women gained parity, with a 4x200-meter freestyle relay.
But FINA, the international governing body for aquatics, had long resisted allowing women to compete in the 1,500 at the Summer Games, despite efforts in every sport to make the Olympic experience equal for women and men.
In 2015, Julio Maglione, the FINA president, said he doubted that the 1,500 could be added to the Olympic program, which was already packed with races at multiple distances for every stroke.
Yet now, not only have women gained the 1,500, but male distance swimmers also have an 800 on their schedule for the first time since 1904. A mixed medley relay has been added, with two men and two women on each team.
The longest swim in Tokyo, however, will not take place in the pool. The 10-kilometer open-water event was added to the Olympics in 2008, with races for men and women.
Read full article at The New York Times
USA TODAY 28 July, 2021 - 10:00pm
Dan Wetzel, Pat Forde, Pete Thamel
Andy Behrens, Dalton Del Don, Matt Harmon, Liz Loza, Scott Pianowski
You Pod to Win the Game
Hours after failing to medal for the first time at a major international meet, Ledecky won the first-ever women's 1500-meter freestyle at the Olympics. She swam 30 laps of the Tokyo Aquatics Center pool in 15:37.34, more than four seconds ahead of fellow American Erica Sullivan, to claim her first gold of these Games.
Sullivan, a 20-year-old from Nevada, claimed Silver. Germany's Sarah Kohler won bronze.
When it was over, Ledecky was near tears.
"Yeah, just after the 200, I knew I had to turn the page very quickly," Ledecky said. "And in the warmdown pool, I was just thinking of my family, and kinda each stroke, I was thinking of my grandparents, [getting emotional], and they're the toughest four people I know, and that's what helped me get through that."
The event, which Ledecky all but owns, hadn't been on the Olympic program until its addition this year. Ledecky surely would've won it five years ago in Rio. She won it at worlds in 2017, and set the still-standing world record in 2018. She'd never lost it in a competitive final. Her dominance was so thorough, so seemingly inevitable that many of her competitors don't even think they have a chance to beat her.
And yet, at least to outsiders, doubt accompanied her to the blocks here on Wednesday, because her 200-meter freestyle loss had been so uncharacteristic. It was her first non-medal swim in 36 tries at a major international meet. Her perfection at the longer distance seemed secure, but could we be sure?
Doubt evaporated gradually over the mile-long grind. Ledecky led from the jump, and then extended her lead, and extended it further. Almost two full seconds at the 250. Almost three full seconds at the 800. More than four full seconds at the 1100.
China's Jianjiahe Wang, Italy's Simona Quadarella and Kohler tried to stay within touching distance. Ledecky never let them within a body length. Quadarella and Wang fell off. Sullivan came on over the back half of the race and out-touched Kohler for silver.
"I think people maybe feel bad for me, I'm not winning everything, and whatever," Ledecky said. "But I want people to be more concerned about other things going on in the world, people that are truly suffering. And I'm just proud to bring home a gold medal to Team USA."
Ledecky's final individual event of the Tokyo Olympics will be the 800-meter freestyle, and there, she'll be favored to win a second gold medal.
When Katie Ledecky failed to medal in a final for the first time, she rebounded with a dominant win in the 1,500-meter freestyle.
For the second time in as many races, Katie Ledecky is upstaged by Australian Ariarne Titmus.
The U.S. hadn't lost a major international match since 2015.
Katie Ledecky was happy to take gold, but she might have been even more excited when she realized that her teammate Erica Sullivan had snagged silver.
For the first time in more than a century, Britain claimed a relay gold at the Olympic pool. A dynamic quartet carried the British to a dominating victory in the men's 4x200-meter freestyle relay Wednesday. Tom Dean, the 200 free gold medalist led off and 200 silver medalist Duncan Scott swam the anchor leg.
Simone Biles will not defend her title in the women's all-around competition.
Lee was unrattled by Biles' withdrawal in the team competition on Tuesday, and now she has a chance to represent her community on a global stage.
The Tokyo weather has been brutal.
The Tokyo Games' swimming schedule has left Katie Ledecky with an unprecedented conflict.
Texas' move to the SEC is an admission that it's just like everyone else, something the school's 52-46 conference record the past 11 years and "TEXAS IS BACK" punch lines have indicated.
When Simone Biles withdrew, her three teammates stepped up.
Just a few days after lighting the cauldron to start the 2020 Tokyo Olympics, Naomi Osaka was knocked out of the women's tennis tournament.
For long-distance swimmers, winning a gold medal in the 1,500-meter freestyle is as good as it gets. Nicknamed "the mile race" by the aquatic community, the event is the longest distance athletes swim in the competitive pool.
The record for lowest score on Jeopardy! was negative $6,800 and stood for over six years before being overtaken by $600 on Monday.
Team USA made history on the fifth day of the Olympics with the womens 33 basketball team winning gold against the ROC. Stefanie Dolson, Allisha Gray, Kelsey Plum and Jackie Young won the first gold medal ever as a team for the category.
Katie Ledecky got her first gold medal of these Olympics, while Simone Biles pulled out of another event she came into the Games favored to win. Ledecky bounced back from losses in her first two events in Tokyo to win the inaugural 1,500-meter freestyle for women by more than 4 seconds on Wednesday. The victory came about after Ledecky finished fifth in the 200-meter freestyle for her worst finish ever at an Olympics.
The U.S. swim star had a powerful message after winning the 1500-meter freestyle.
Zhihui Hou took gold in the women's 49-kg weightlifting at the Tokyo International Forum
NBC Sports 28 July, 2021 - 10:00pm
msnNOW 28 July, 2021 - 10:00pm
Some of the world's best golfers, including Rory McIlroy and newly-crowned British Open winner Collin Morikawa, will tee off early for the first round of the men's golf competition at the Kasumigaseki Country Club.
And Novak Djokovic will be aiming for a place in the semi-finals of the men's tennis singles as he faces home hope Kei Nishikori.
Dressel won his first gold after spearheading the USA to the 4x100m relay title, but reigning champion Kyle Chalmers stands in his way in the 100m freestyle in the Olympic battle of the pool between Australia and the Americans.
The American is attempting three individual events in Tokyo, with the 50m freestyle and 100m butterfly still to come and he could feature in several more relays.
"I know what my job is as I hit the water. It's not different if it's relay or individual," Dressel said after qualifying on Wednesday.
Biles's decision to ditch a second event, hot on the heels of her dramatic withdrawal from Tuesday's team event due to mental health concerns, has raised serious doubts about the American superstar's further participation in the Games.
The 24-year-old's struggles follow those of Japanese tennis star Naomi Osaka, another face of the Tokyo Olympics who lost in the third round on her return from a break to restore her own mental health.
Biles, unbeaten in all-around competition since 2013 and widely touted as the 'G.O.A.T' (Greatest Of All Time), arrived seeking five Olympic titles to equal Soviet gymnast Larisa Latynina's career record of nine.
But she withdrew after a single, shaky vault in the team competition.
After also ditching the all-around, she has four remaining individual events, if she chooses to take part.
The four-time gold medallist from Rio 2016 Biles is not hiding away -- she turned up at the gymnastics venue to cheer on the US competitors in the men's all-around final on Wednesday.
Biles told broadcaster NBC she would assess her readiness to compete on a "day-by-day" basis.
"Physically, I feel good, I'm in shape," she said. "We're going to take it day by day, and we're just gonna see."
Her very public struggles have attracted widespread support with even former US first lady Michelle Obama tweeting "we are proud of you and we are rooting for you."
Djokovic said after beating Alejandro Davidovich Fokina in straight sets in the third round on Wednesday that pressure was inescapable.
"Pressure is a privilege. Without pressure there is no professional sport," the Serb said.
"If you are aiming to be at the top of the game, you better start learning how to deal with pressure and how to cope with those moments."
Biles has hinted that the unprecedented environment of the Tokyo Olympics -- largely spectator-less and with competitors' movements strictly limited to prevent coronavirus infections -- had contributed to her anxiety.
On Wednesday, Dutch athletes in quarantine in Tokyo after testing positive for the virus revealed they had staged a sit-in strike over the harsh conditions, eventually earning the right to stand by an open window for 15 minutes fresh air a day.
"Not having any outside air is so inhuman, and it is mentally super-draining," said street skateboarder Candy Jacobs, while taekwondo fighter Reshmie Oogink called it "Olympic jail".
The International Olympic Committee said athletes in quarantine had access to psychologists in the Athletes' Village and phone helplines.
Like us on Facebook to see similar stories
Please give an overall site rating: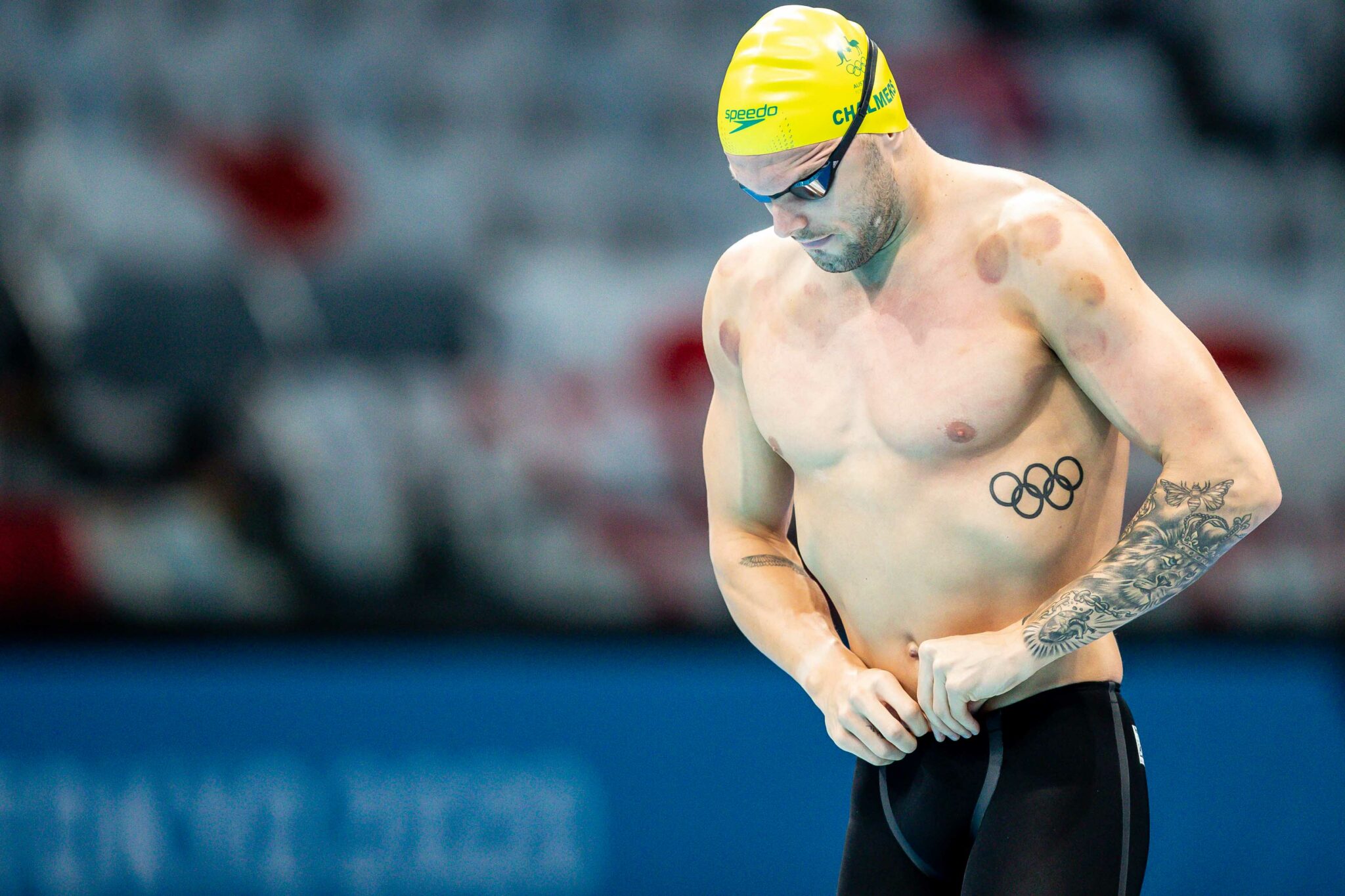 SwimSwam 28 July, 2021 - 06:26pm
Hong Kong's Siobahn Haughey broke her own Asian Record today in the semifinals of the women's 100 free after initially setting the mark in prelims.
Stubblety-Cook won Olympic gold with a 2:06.38 and became the first-ever man to swim under 2:07 in the event at an Olympic Games.
Olympische Spiele 2020 in Tokio Beckenschwimmen, Samstag 24.07.2021 bis Sonntag 1.8.2021 Freiwasserschwimmen, Mittwoch 4.8.2021 bis Donnerstag 5.8.2021 Olympic Aquatics Centre,…
Olimpiadi di Tokyo 2020 Dalla corsia numero 8 Gregorio Paltrinieri va a conquistare un argento olimpico che vale quanto un oro.
Olympische Spiele 2020 in Tokio Beckenschwimmen, Samstag 24.07.2021 bis Sonntag 1.8.2021 Freiwasserschwimmen, Mittwoch 4.8.2021 bis Donnerstag 5.8.2021 Olympic Aquatics Centre,…
Hungary ended the US women's water polo team's 13-year Olympic winning streak on Wednesday. They scored in the final minutes to defeat the Americans 10-9.
Australia will swap out all four legs from prelims, including replacing Mollie O'Callaghan after she set a world junior record leading off the prelims relay.
La sessione di giovedì mattina, che consiste nelle finali e semifinali del giorno 5, produrrà cinque nuovi campioni olimpici.
July 28th, 2021 International, News, Previews & Recaps, Tokyo 2020
Haven't done your homework? Cram for tonight's Day 5 Olympic Swimming Finals with our quick-hitting session preview:
Someone will become the first-ever Olympic gold medalist in the men's 800 free – and there are several good candidates and not too much clarity heading into the final.
Ukraine's Mykhailo Romanchuk is the top seed into the final after smashing a national record in 7:41.28 in the heats. But he's got distance/open water star Florian Wellbrock of Germany only about a half-second back and swimming one lane over.
While this race remains one of the most super-suit affected – with a 7:32 world record that might be among the most unapproachable of any event left on the books – tonight's final will feature three of the top eleven performers of all-time. Most of the top swims in history have come in the 2000s, including Zhang Lin's world record and sub-7:40 swims by Ous Mellouli (2009), Grant Hackett (2005) and Ian Thorpe (2001). And Sun Yang (7:38 in 2011) is out on a doping suspension.
That leaves Gregorio Paltrinieri of Italy as the fastest active swimmer in the field. He went 7:39.27 in 2019, but is dealing with mononucleosis this summer and barely scraped into the final in 8th. He'll swim from an outside lane.
Romanchuk is the #8 performer of all-time. Wellbrock is #11.
In contrast, the men's 200 breast shapes up to be a battle of the top two swimmers of all-time, perhaps with the world record as an add-on to gold.
Russia's Anton Chupkov has won every major gold this Olympic cycle: World Championships in 2017, European Championships in 2018, Worlds again in 2019, and Euros again in 2021. That all comes after an Olympic bronze back in 2016 at the age of 19. Chupkov is the world record-holder, but he's also struggled so far in Tokyo and qualified just 7th out of semifinals.
He'll have the outside-smoke opportunity from lane 1 – and don't count him out until the finish, because he's basically looked out of the hunt with 50 to go at both 2019 Worlds and 2020 Euros, and he closed hard to win both races.
Technical swimming nerds (the author among them) will want to keep an eye on Chupkov's underwater pullouts, where he's famously eschewed traditional streamlines, though his underwaters looked a lot more orthodox at Euros in May.
Australia's Zac Stubblety-Cook moved to #2 all-time with a big swim at Australian Olympic Trials, and he'll hold the top spot into this final. Watch Dutch speedster Arno Kamminga and British talent James Wilby to push the pace early, as both Stubblety-Cook and Chupkov are more known as closers in this event.
It's been a tough showing for China in the pool at these Olympics, with just two medals so far in the absence of star distance man Sun Yang. Without Sun in the mix, China's top swimmer is probably Zhang Yufei, who has her best gold opportunity in the 200 fly tonight.
Zhang moved into the top 10 in history with a huge semifinals 2:04.89. That's especially impressive considering half of the top 10 are from the super-suit era. Zhang was also fast in the 100 fly heats and semis, and managed to go almost a half-second faster in the final, though she could only bag silver. She's got a great chance to push into the low-2:04s tonight.
Americans Hali Flickinger and Regan Smith will chase her on one side. Flickinger was the 2019 World Champs silver medalist in this race and won bronze in the 400 IM earlier this week. Smith is the 100 back bronze medalist and a star backstroker – though she's struggled a little more in her best events, it wouldn't be shocking to see a young swimmer have a blowup swim in an "off" event where perhaps she's not feeling the same amount of Olympic-spotlight pressure.
Hungary's Boglarka Kapas beat Flickinger for 2019 Worlds gold, and she shouldn't be counted out either. She's on the other side of Zhang in lane 3.
This should be one of the highlights of the entire Olympic Games. We've already seen two massive showdowns between the best swimmers from Australia and the U.S. – and so far, Australia's Ariarne Titmus has won both over American Katie Ledecky.
In the 100 free, it's 2016 Olympic champ Kyle Chalmers representing Australia and 2017/2019 World champ Caeleb Dressel representing the United States. The two have gone head-to-head multiple times, and the races have never failed to entertain. Here's a look at their showdowns in top-level international meets over the past five years:
Swimming head-to-head, Chalmers has won twice to Dressel's one, but Dressel's win was more recent, and also the fastest time for either man. Both have had some inconsistency in health – Chalmers withdrew from 2017 Worlds to have heart surgery, and Dressel struggled in 2018 after lingering injuries from a motorcycle crash. The 2019 Worlds final was the first time both men really put it together in the same race, and it resulted in two of the top six swims in history.
Both appear fully healthy this week. Dressel went a field-best 47.26 leading off the 4×100 free relay; Chalmers split a field-best 46.44 from a flying start while anchoring Australia. The stage is set for some massive fireworks, with both men in striking distance of a 46.91 world record that has stood since 2009.
If you're watching with some non-swimmer friends, feel free to read this whole segment word for word and pretend it's your own analysis. If you really want to look smart, tell everyone not to make any calls about who has won the race until the touch. Dressel has the best start-plus-breakout in the world, arguably in world history. But Chalmers has consistently hit the best second-50 split of anybody in world history in this race. So Dressel should jump out to a lead, and it'll really come down to whether Chalmers can run down Dressel over the final 15 meters or so.
At the risk of making this segment 1000 words on its own, we should also note a few outsiders who could break up the Dressel-v-Chalmers storyline. Russia's Kliment Kolesnikov is the 100 back silver medalist and beat both Dressel and Chalmers in the semis with a stellar 47.11 – that's the #9 swim of all-time.
16-year-old David Popovici is the world junior record-holder and was the world leader coming into this meet with a 47.30 from the European Junior Championships. 18-year-old Hwang Sun-woo of Korea could also challenge that world junior record after going 47.56 in semis.
Italy's Alessandro Miressi was 47.4 on a relay leadoff earlier this week, and France's Maxime Grousset was 47.5.
Australia has a bead on the world record here, carrying in two finalists from the individual 200 free earlier this week, including the gold medalist Ariarne Titmus. If she leads off, we could see Titmus challenge her own Olympic record of 1:53.50, or even the world record of 1:52.98.
With 17-year-old Mollie O'Callaghan smashing a 1:55.11 leadoff leg in heats, Australia should be primed for a massive swim. 100 fly bronze medalist Emma McKeon (also the 100 free favorite who will swim semis in this session) was 1:54.7 in-season, and Australia has plenty of options for their fourth leg.
It should be the United States, China and Canada battling for silver and bronze in a game of musical chairs in which one nation will be left off the podium. The U.S. got a boost this morning when Paige Madden split 1:55.9 and Katie McLaughlin 1:56.0 – they should pair with 2016 Olympic champ Katie Ledecky and 2012 Olympic champ Allison Schmitt.
Canada finished a distant fourth in heats, but they very much swam their "B" lineup and should add lots of fully-rested heavy hitters tonight. Penny Oleksiak was the bronze medalist in the 200 free, and 14-year-old Summer McIntosh is a rising force who was 5th coming out of heats and just barely missed the final.
China would probably need to switch up their lineup significantly to challenge Canada or the U.S., and that would require making Yang Junxuan double with the 100 free and/or Zhang Yufei double with the 200 fly. Beyond them, Li Bingjie is the leader after a 1:56.2 prelims split.
SwimSwam with the preemptive strike making Chalmers the cover photo. Huge play for Caeleb.
I was fully prepared for her to miss the semi after she was the photo yesterday.
Dressel has Kolesnikov to race tonight. Chalmers semis might have been a miscalculation, he's gonna get lost in the wakes.
He needs to get out faster, unless popovici does something really wild he will have the fastest backend, but it's not worth anything if you are 0.7 or something like that behind at the turn.
Then I wake up. I've died and I'm in heaven. God was just messing with me.
If Australia is going to win the most golds in the pool today has to be a big day.
Zac and Kyle both probably need to get it done.
Jared Anderson swam for nearly twenty years. Then, Jared Anderson stopped swimming and started writing about swimming. He's not sick of swimming yet. Swimming might be sick of him, though. Jared was a YMCA and high school swimmer in northern Minnesota, and spent his college years swimming breaststroke and occasionally pretending …
Subscribe to our newsletter and receive our latest updates!
© 2021 Swim Swam Partners, LLC. All rights reserved.