How can I watch the UCF football game?
Fans can watch the game for free via a trial of fuboTV. Channel finder: Verizon Fios, AT&T U-verse, Comcast Xfinity, Spectrum/Charter, Optimum/Altice, Cox, DIRECTV, Dish, Hulu, fuboTV, Sling. nj.comBoise State vs. UCF FREE LIVE STREAM (9/2/21): Watch college football online | Time, TV, channel
UCFSports 03 September, 2021 - 02:30am
UCFSports 03 September, 2021 - 02:30am
KTVB 03 September, 2021 - 02:30am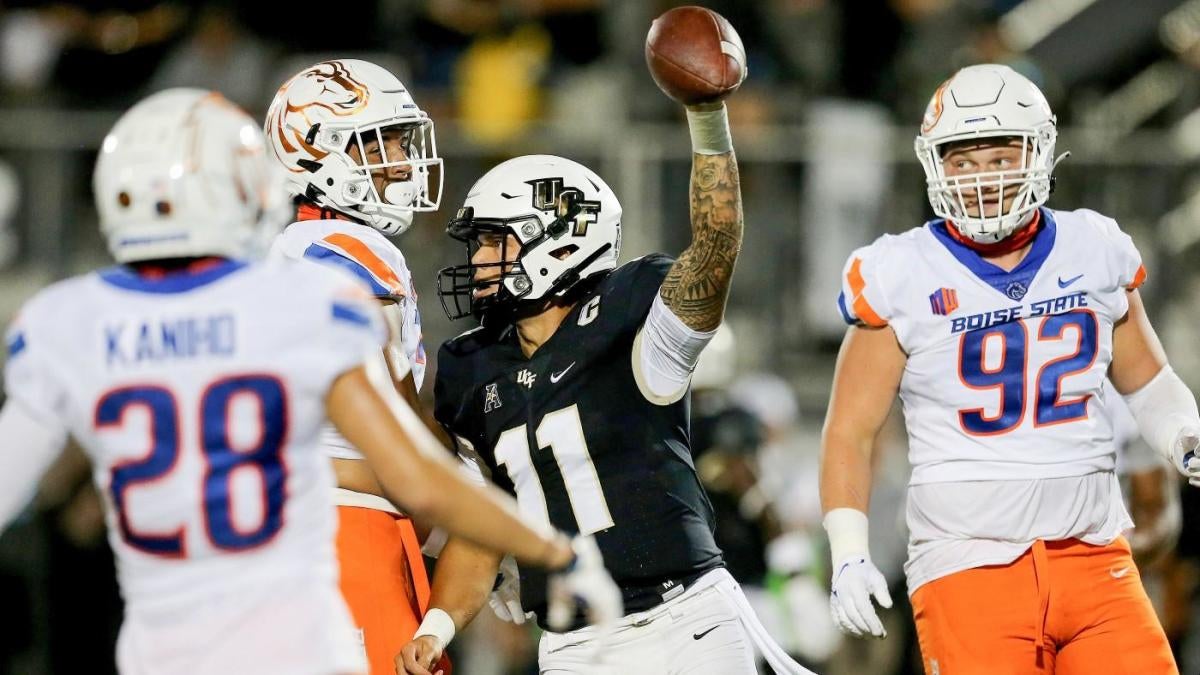 CBSSports.com 03 September, 2021 - 12:58am
The first results of Week 1 in college football came on Thursday night with an entertaining schedule that included a national title contender on the road in conference play, two conference championship contenders facing off in an non-conference game that was delayed for hours because of lightning and a 2020 conference runner-up get knocked off by its FCS foe at home.
UCF and Boise State shared some haymakers in a matchup of teams that could easily enter the conversation for a New Years Six bowl bid at the end of the year, but the first blow came from Mother Nature with hours of lightning delays before the game kicked off. UCF got off to the worst start imaginable, throwing a pick-six in the end zone on the first possession and falling 21 points behind late in the second quarter.
However, new UCF coach Gus Malzahn and the Knights offense got things together before halftime and eventually took their own one-score lead with a touchdown and a safety on back-to-back possessions and rallied for a 36-31 win. UCF's victory was not without some concern, including a hard hit on starting quarterback Dillon Gabriel on a failed two-point try in the fourth quarter. Gabriel, thankfully did return to action after sitting out a couple of plays. The 21-point margin tied the biggest in school history
Earlier No. 4 Ohio State found itself down 14-10 at halftime against Minnesota, with the Golden Gophers having all the momentum and a tough home environment with plenty of noise from the crowd all decked in black to match the team's alternate jerseys. The rain didn't help either C.J. Stroud, but the final stat line (294 yards, four touchdowns, one interception) was productive enough to stack up adequately against his predecessor quarterbacks in their first starts as the Buckeyes QB1.
They better not let @chrisolave_ get hot 😈@OhioStateFB strikes back quickly out of half: pic.twitter.com/N0iXggH2bo
The veterans on Ohio State's offense also happen to be the team's wide receivers, which meant Stroud got his lift from the pass catchers as Chris Olave and Garrett Wilson took over in the second half. The Buckeyes hit a handful of plays throughout the entire game that went for 30-plus yards, and three of them were touchdowns Olave and Wilson. After Haskell Garrett returned a Tanner Morgan fumble for a touchdown and Minnesota star running back Mo Ibrahim left the game with a leg injury the eventual result (a 45-31 Ohio State) was not a huge surprise.
Other highlights from Thursday's Week 1 college football action included Tulsa getting beat by UC-Davis, a slow start for Tennessee in what became a 38-6 win against Bowling Green in Josh Heupel's debut, NC State's dominant 45-0 win against USF and much, much more. There were a couple of FBS vs. FCS matchups that went a little more according to plan and others that didn't (UNLV), and it was not lost on anyone that Tennessee and the team it's new head coach just left, UCF, were both in the spotlight at the same time. Especially with Malzahn's own SEC history that includes an SEC title, two division crowns and a national championship as a coordinator at Auburn.
CBS Sports was with you every step of the way to update you with the latest scores, highlights and storylines throughout the night. All times Eastern
The battle between two of the top Group of Five teams in college football didn't disappoint. UCF -- in its first game under coach Gus Malzahn -- topped Boise State 36-31 in a game that was delayed by more than two hours by lightning in the Orlando area. Knights running back Isaiah Bowser punched it in from eight yards out to cap off a 10-play, 75-yard drive to polish off a game that began with Boise State jumping out to a 24-7 lead. The offense finished it off for the Knights, but the real story here was the UCF defense. It held Boise State to three straight three-and-outs in the third quarter that culminated with a blocked punt for a safety on the first play of the fourth quarter to swing momentum to the gold and black. All told, the Broncos managed just 87 yards in the second half.
The Knights trailed Boise State 24-7 late in the first half, but came out of the locker room hot after closing out the first half with a score. They found the end zone two more times on Dillon Gabriel touchdown passes of 11 yards and 21 yards to take the lead after three, due in large part to a stifling defense. The Broncos went three-and-out on all three of their third quarter possessions. On the first play of the fourth quarter -- a punt attempt after the third three-and-out -- was snapped over the punter's head and went out of the back of the end zone for a safety.
The Knights are rolling up 30-24 early in the fourth.
Weber State is a solid FCS program, and it hung with No. 24 Utah during the first half. But the Utes pulled away in the fourth quarter for a 40-17 victory. Baylor transfer Charlie Brewer went 19-of-27 for 233 yards, two TDs and one INT. Tavion Thomas ran for 107 yards and two TDs on 12 carries for Utah. Defensively, Utah was tough — per usual — and held Weber State to just 1.9 yards per rush and 57 total rushing yards. Big game at BYU is up next for the Utes, who were adequate but not necessarily authoritative in tonight's opener.
Tennessee begins the Josh Heupel era with a mostly drama-free 38-6 win over Bowling Green, but it's clear the Vols have a ton of work to do offensively if they're going to effectively execute Heupel's system against decent opponents. Michigan transfer Joe Milton started out hot by leading TD drives on UT's first two series. But the offense cooled off and never found a rhythm through the air for the rest of the game. Tennessee ran for 326 yards, but that's more a reflection of BGSU's inability to match up. Vols get Pittsburgh in Knoxville next week.
The Knights scored just before halftime thanks to a seven-play, 74-yard drive in the final 90 seconds of the second quarter. Dillon Gabriel tossed the touchdown, his second of the quarter after starting the game with a gut-punch of a pick-six. That 100-yard Boise State return set an eerie stage for the crowd that had also waited two hours from the scheduled kickoff time to see this high-profile Thursday night game unfold. But after the offense sputtered early it's possible that here in the second quarter UCF found something and can climb back into this game after halftime. The Knights will receive the second half kickoff, have the edge in total yards and some juice after things were looking pretty bad down 21-0 early in the second quarter.
.@_dillongabriel_ is too SMOOTH as he throws his second touchdown of the night right before the half. pic.twitter.com/XtEAkUnLgH
You've heard all the hype about Ohio State's five-star multi-tool. Now, you get to see him in action. Henderson took a dump-off from C.J. Stroud 70 yards to the house to give the Buckeyes a 38-24 lead in the fourth quarter. From the moment Henderson caught the ball, he was gone. A big-time speedster who is also a special teams star, Henderson is just the latest blue-chip skill player to give Ohio State the big plays it needs, when it needs them.
A UC Davis team coached by former Boise State and Colorado coach Dan Hawkins just stunned Tulsa 19-17. The Golden Hurricane was picked to finish sixth in the AAC after a 6-3 season in 2020 that included a win at UCF. Most starters are back from that team, but quarterback Zach Smith is not, and the inexperience at the position showed. Brin Davis struggled in his first career start, completing just 15-of-28 passes for 201 yards with no touchdowns and two interceptions. UC Davis won the turnover battle 3-0, which made a huge difference in the game. Back to the drawing board for Phillip Montgomery.
Subplot: awful night for the AAC so far as USF got trounced 45-0 by NC State and ECU is down two scores late against Appalachian State. The league needs a rally from UCF against Boise State.
The Buckeyes scored 14 unanswered points thanks to a touchdown from Garrett Wilson and a scoop-and-score from Haskell Garrett following the Zach Harrison strip-sack of Tanner Morgan. Ohio State leads 31-21 at the end of the third quarter, and things have gotten even worse for Minnesota after star running back Mo Ibrahim left the field with an apparent leg injury. Ibrahim limped up after getting caught from behind on a run in the final minute, and while he left the field on his own he was spotted limping a little on the sideline. Minnesota's best offense tonight has been either Ibrahim or Ohio State personal fouls, so this is clearly a bad sign for Minnesota's shot to keep pace with an Ohio State offense that's just now heating up.
We had to wait two hours to see it, but the Boise State-UCF game in Orlando has not disappointed. UCF -- in Gus Malzahn's first years as its head coach -- drove straight down the field and was on the doorstep of punching it in, but an ill-advised pass by Dillon Gabriel was picked off at the goal line by Tyric LeBeauf was returned 100 yards for the first score of the game. Andrew Van Buren capped off a 10-play, 78-yard drive with a 3-yard touchdown run on Boise State's next possession to give Andy Avalos' crew a two score lead after one.
Boise State looks tougher, more polished and in control in this one.
Ohio State got the ball to start the third quarter and used a heavy dose of Chris Olave to work its way down the field for a go-ahead touchdown, only to see Minnesota respond quickly with a touchdown drive of its own. The Golden Gophers touchdown drive came courtesy of two crucial personal foul penalties on Ohio State's defense, including one that wiped out an interception and long return. Combine those penalties with the pass interference that set up Mo Ibrahim's first touchdown (his second coming here in the third quarter) and Ohio State's defense has done its fair share of shooting itself in the foot and keeping Minnesota in the game.
No. 22 Coastal Carolina rolls up an impressive 610 yards in a 52-14 win over The Citadel to open the season. Chanticleers got reps for 3 QBs and multiple carries for 4 RBs. CCU's first seven possessions ended in scores, while The Citadel's first five ended in punts. The Bulldogs run a lot of triple option and attempted just six passes in the game. They averaged 4.1 yards per carry on Coastal, but their longest play from scrimmage was 18 yards. Good all around showing for Coastal ahead of next week's visit from Kansas.
UCF and Boise State are finally underway and we've got fireworks! Dillon Gabriel had UCF's offense cooking early in the first half and then throws an interception in the end zone that got returned 100 yards the other way for a Boise State touchdown. This is decidedly NOT the way Knights fans were hoping the beginning of the Gus Malzahn era would go. Without that mistake, UCF would have this thing going right according to plan. But that one mistake has created a sense of urgency in a stadium that has gone through a long and uneasy night already with more than two hours of weather delays.
100 YARD PICK SIX ARE YOU SERIOUS 🤯 pic.twitter.com/hsD9eWnDd5
The Josh Heupel era got off to a great start against Bowling Green when Joe Milton III and Jabari Small each ran for touchdowns in the first quarter. The second quarter didn't go so well. Bowling Green reeled off back-to-back 11-yard drives, but couldn't punch it in for seven. The Bowling Green defense, however, didn't disappoint. The Vols ran just seven plays in the second frame, only gained eight yards and a Hail Mary at the buzzer didn't connect.
The main takeaway from the first half is the fact that Tennessee's offense actually looks fantastic under Milton -- the transfer from Michigan. The problem was the fact that he didn't see the field much after those first two touchdown drives. That has to give Vols fans hope for the future because that's what Heupel was was brought to Rocky Top to fix.
Ohio State's new starting quarterback hasn't had the best start to his 2021 campaign, completing just 7 of his first 13 college pass attempts for 54 yards and having his most recent toss picked off by Minnesota. Tanner Morgan then led the Golden Gophers down the field and, thanks in part to an Ohio State pass interference call in the end zone, eventually into the end zone. Ibrahim powered his way in for the go-ahead score, and in less than 10 minutes of game time we've gone from Ohio State dominating looking like its going to go up 14-0 to Ohio State trailing 14-10 on the road in front of a raucous crowd on Thursday night of Week 1.
After forcing a field goal on one end, Minnesota is able to climb back into the game with a much-needed touchdown drive here in the second quarter. Mo Ibrahim converted a 4th down and Tanner Morgan delivered a strike of a touchdown pass to Dylan Wright to pull the Golden Gophers within 3. Minnesota needed a spark here for the home fans and now they've got it. Also encouraging to see Wright stepping up with their best receiver (Chris Autman-Bell) missing the game due to an injury.
Minnesota hasn't been able to get on the scoreboard yet but man the Golden Gophers got somewhat of a win holding Ohio State to a short field goal after a 14-play, 74-yard drive that ate up nearly half a quarter of clock. The inability to punch it in the end zone could be problematic for Ohio State if that trend continues, but if Tanner Morgan can't get the Minnesota offense rolling before halftime it might not be a problem tonight.
No. 22 Coastal Carolina is having no problem with The Citadel. The Chanticleers are up 31-0 at halftime. Grayson McCall is 14-of-16 for 225 yards and a TD. Chants also have 154 yards on the ground. They should get to rest their starters in the second half before their lone Power 5 test of the season next week against mighty Kansas.
The first drive of the Josh Heupel era was a rousing success. Joe Milton III -- the transfer from Michigan -- led the Volunteers on a 12-play, 67-yard drive that culminated with a 10-yard touchdown run to give them a 7-0 lead. Milton was 4 of 5 passing for 26 yards in an offense that looked a lot like the ones Heupel ran at UCF. This is the kind of offense that fans expected when athletic director Danny White brought Heupel to Rocky Top.
Appalachian State is looking to kick off its season with a big win over East Carolina, but the Pirates and star playmaker Keith Mitchell have other plans. One of the highlight plays of this young season is this incredible catch-and-run on a swing pass in which Mitchell converted a first-and-20 into a long touchdown, leaving the Mountaineers in his dust.
The entire defense was left in the dust 💨 pic.twitter.com/vCevNSqQ0e
Boise State vs. UCF isn't the only game delayed by weather. Utah's home opener vs. Weber State has also entered a delay with the visiting Wildcats up 7-3 on the Utes with 8:26 to go in the first quarter. Rashid Shaheed has the lone touchdown of the game. Baylor transfer Charlie Brewer is 3 of 5 for 30 yards in his first season under center for Utah.
The Wolfpack enter the year with plenty of momentum coming off a strong season in 2020 with lots of experience back and hopes of being a top 25 team in 2021. They've looked the part so far early, stuffing USF on 3rd and long and then marching right down the field for a touchdown on their first offensive drive of the game. Ricky Person's 33-yard catch-and-run reception from Devin Leary provided the score, putting NC State up 7-0 early at home against the Bulls. The first two possessions were not without a hiccup or two -- allowing an explosive play on defense and nearly turning it over -- but finding paydirt has engaged the home crowd at Carter-Finley and given the sideline some juice.
One of the biggest Group of Five games this season is in an indefinite delay due to inclement weather and lightning strikes in Orlando. Originally scheduled for 7 p.m. ET, the game was supposed to kick off at 8:12 p.m. but looks to be pushed back to at least 9:45 p.m. as we wait to see when the stadium opens. Both teams have agreed to a 45-minute warm-up window, so once they are allowed back on the field, that will set our expectations for an official a kickoff time.
The game has already been delayed three times since its originally scheduled kick. UCF is nearly a touchdown favorite in Gus Malzahn's first game at the helm.
Big-time development for Ohio State-Minnesota, set to kickoff at 8 p.m. ET. Minnesota's best wide receiver, Chris Autman-Bell, was a game-time decision, according to coach P.J. Fleck thru the week. Reports from the stadium point to the Gophers wideout NOT playing, as he's in T-shirt and shorts less than hour before kickoff.
Update: #Gophers top receiver Chris Autman-Bell is NOT participating in early warmups (T-shirts and shorts) about 90 minutes before #Buckeyes game on Thursday night. Coach PJ Fleck called CrAB a game-time decision Monday. No. 7 might be getting more treatment, but not a good sign
If you are looking for information on Ohio State-Minnesota, it's getting a live blog of it's own right here. As for UCF-Boise State, it sounds like 7:30 is still the EARLIEST it'll kick. The drama from the stadium now appears to be the efforts of police to get students to leave their prime seating in accordance with the PA announcer's orders that all fans leave the seating area due to the lightning.
Police have arrived and are now forcing many of the students to leave the seating area. Those in the prime seats down near the field aren't wanting to leave.
Yo, this is pretty cool. Bruce Pearl is repping UCF gear for his friend Gus Malzahn. Pearl is the current Auburn basketball coach who took a liking to Malzahn while he was leading the Tigers. Seems like a lot of Auburn folks are invested in seeing Gus succeed in his new stop.
Auburn basketball @coachbrucepearl is at The Bounce House to support his friend, @CoachGusMalzahn, in his debut at #UCF. "Blood is thicker than water. He's my brother." pic.twitter.com/5r5ZYH0eCv
Well, we haven't even kicked off yet and things are already interesting at UCF. Reports from the indicate suggest students are defying the PA announcer's instructions to leave the seating area due to lightning. And now there's a rainbow. Would expect a delayed kickoff because of the lightning, but the radar appears to show only scattered showers in the area.
Rainbow over the Bounce House during the lightning delay. pic.twitter.com/GdzUMA6xkz
Looking for some pregame reading on Boise State and UCF? We've got you covered here. Seven of our CFB experts make ATS and straight up picks for the game in that piece. With Temple-Rutgers postponed for Saturday, UCF-Boise will be pretty much without competition in the first hour of the CFB slate tonight. Going to be fun seeing the Bounce House in the spotlight in a matchup of G5 powers.
© 2004-2021 CBS Interactive. All Rights Reserved.
CBS Sports is a registered trademark of CBS Broadcasting Inc. Commissioner.com is a registered trademark of CBS Interactive Inc.
Images by Getty Images and US Presswire
These cookies are essential for the proper functioning of our Services. Essential cookies cannot be switched off in our systems. You can set your device to block or alert you about these cookies, but some parts of the Service will not work.
These Cookies allow us to collect information about how visitors use our properties. Some examples include counting visits and traffic sources, so we can measure and improve the performance of our services. If you do not allow these Cookies we will not know when users have visited our properties and will not be able to monitor performance.
These Cookies enable the services to provide enhanced functionality and personalization. They may be set by us or by third party providers whose services we have added to our services. If you do not allow these Cookies then some or all of these services may not function properly.
These Cookies may be set by us or through our services by our advertising partners. They may be used by those companies to build a profile of your interests and show you relevant advertising on this and on other properties. If you do not allow these Cookies, you will still see ads, but you will experience less relevant advertising.
These Cookies are set by a range of social media services that we have added to the services to enable you to share our content with your friends and networks. They are capable of tracking your browser across other sites, building up a profile of your interests to show you relevant content and advertisements on the relevant social networks. If you do not allow these Cookies you may not be able to use or see these sharing tools.