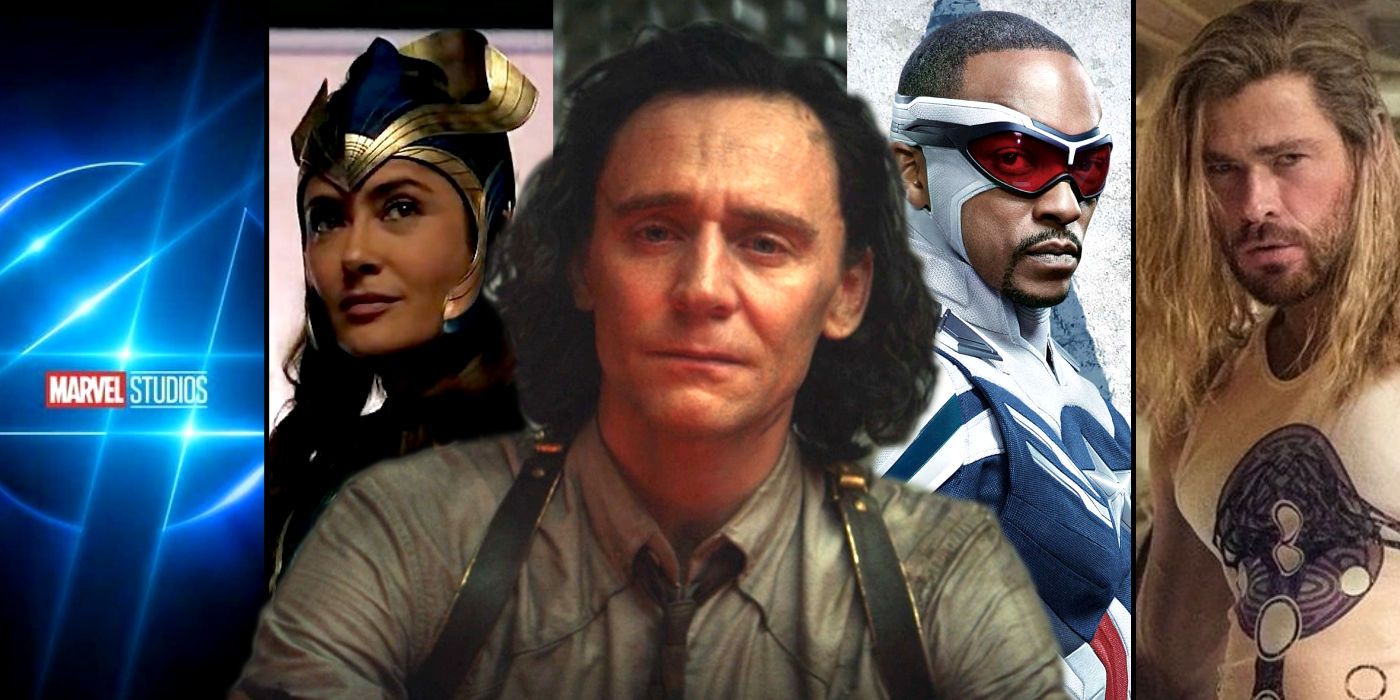 There are thousands of worlds in the MCU - and thousands of versions of those worlds - that remain unexplored. Now is the time for the franchise to begin journeying to them, and through the multiverse. Part of the Phase 4's overarching storyline is setting and diving into the MCU's multiverse, which consists of an infinite number of alternate realities, not just alternate timelines. It's a storyline that's first being established on Disney+ thanks to Marvel Studios' new TV initiative. WandaVision and The Falcon and the Winter Soldier did their part in continuing the story post-Endgame, but it was Loki that set the stage for Phase 4's grand narrative. And that will continue with What If...? before eventually making its way onto the big screen.
Right now, Marvel has over a dozen upcoming TV shows that will tie into over a dozen movies that are in development. So far, only one has released - Black Widow - but since that was a prequel that took place prior to the events of Avengers: Infinity War, the MCU's future story really begins with Shang-Chi and the Legend of the Ten Rings in late summer 2021.
Simu Liu stars as the eponymous Shang-Chi, with Tony Leung playing his father and the real Mandarin. They'll be joined by the likes of Awkwafina, Michelle Yeoh, and more, as well as returning MCU characters Wong and Abomination, both of whom have been shown fighting each other in Shang-Chi's trailer. The exciting part of this film is that it explores an entirely new corner of the MCU. It's not easy to achieve, especially given how expansive the franchise has become, with the multiverse being the main focus in Phase 4.
Not only will Eternals introduce new concepts and fantastical elements to the franchise, but the movie itself will has the most impressive and diverse cast of any superhero film yet. With people like Angelina Jolie, Salma Hayek, Richard Madden, Gemma Chan, Kumail Nanjiani, Kit Harington, Lauren Ridloff, and more - not to mention being directed by recent Oscar winner Chloe Zhao - there's a lot of potential for Eternals to become one of the most talked-about films of the year. Unfortunately, there's little that's known about the core story beyond who's involved.
Alfred Molina returns as Doctor Octopus, with Jamie Foxx as Electro - both of whom come from other Spider-Man universes. With rumors of more villains and characters from other franchises making appearances, there's a possibly for Sony's own live-action Into the Spider-Verse happening in the MCU. And because of Cumberbatch's inclusion, this film will tie into Doctor Strange in the Multiverse of Madness, the next Marvel film after Spider-Man 3.
But beyond the narrative, there's a lot to look forward to regarding the cast. Since there isn't another Avengers movie on the way, Doctor Strange in the Multiverse of Madness acts as Phase 4's major crossover film, with Benedict Cumberbatch being joined by Elizabeth Olsen as Scarlet Witch and Xochitl Gomez as America Chavez, with reports suggesting Tom Hiddleston will reprise his role as Loki following his show's setup. Tom Holland could theoretically return as well, since Doctor Strange will appear in his movie, but that remains to be seen.
Thor abdicated the throne of New Asgard in Endgame and left with the Guardians, it's only natural that both of their stories continue in the upcoming Taika Waititi film. And whether or not Thor needs their help in his new adventure, the Asgardian hero will eventually find himself face to face with Christian Bale's Gorr, the God Butcher, the film's main villain. All in all, Thor: Love & Thunder sounds like the wildest Marvel movie yet, and based on the film's set photos, it certainly seems that way.
Going based on reports, though, it won't just be Wakanda that's featured in the film, despite its subtitle being Wakanda Forever - an apt tribute to the original production and its impact on society. There are rumors that Namor will also appear in Black Panther: Wakanda Forever, paving the way for the introduction of Marvel's Atlantis. It's a storyline that has intrigued for fans for quite some time, but seeing it actually happen on-screen will be something else. At the moment, the main cast from the first film are confirmed for the sequel, but so far, Marvel has kept the rest of the cast and characters under wraps.
Also joining Larson and Parris is Iman Vellani as Kamala Khan aka Ms. Marvel. The studio has long wanted to bring Kamala Khan onto the silver screen, but doing so took longer than expected. Rather than having her own film, Ms. Marvel is being turned into a TV series on Disney+, which releases in late 2021. Following that show's conclusion, Ms. Marvel will appear in The Marvels alongside her childhood hero, Captain Marvel.
Loki already brought in a version of Kang with the villain He Who Remains, but the actual comic book villain, the one who wreaks havoc across the timeline and multiverse, will appear fully in Ant-Man 3. But aside from Kang making his full-fledged debut, the third Ant-Man film promises to explore the Quantum Realm. It was broken down superficially in the second film, but judging by the subtitle of the upcoming sequel, it seems Ant-Man and the Wasp will finally dive deep into the inner workings of what the Quantum Realm is and what its secrets are.
Unfortunately, no details have been shared regarding what the story will be about in the upcoming sequel; however, multiple people involved have confirmed that it will be the final Guardians movie, at least in its current iteration. Another version of the team could appear in the future, or some characters could move to other film series, but that's unknown at the moment.
Read full article at The Mary Sue
Collider Extras 17 July, 2021 - 05:10pm
/FILM 17 July, 2021 - 05:10pm
Posted on Saturday, July 17th, 2021 by Ethan Anderton
The finale of Marvel's Loki opted to focus less on the traditional third act comic book spectacle and more on an ominous conversation between Loki (Tom Hiddleston), Sylvie (Sophia Di Martino), and He Who Remains (Jonathan Majors). Not only did the conversation result in a heartbreaking confrontation between the two Gods of Mischief, but the creation of the multiverse and the tease of a major threat to the entire Marvel Cinematic Multiverse. However, an earlier draft of the finale featured a big action sequence at the top of the episode.
In an interview with director Kate Herron after the season finale of Loki, we asked the filmmaker what kind of changes the episode went through during development. Herron recalled that there used to be a big action sequence at the beginning of the episode where Loki and Sylvie had to fight their way to He Who Remains instead of cautiously wandering around the Citadel and running into him. Herron explained:
"One thing I can remember is that we used to have a big action sequence across the beginning of episode six where they kind of fought their way to the He Who Remains office. But I think something we found, and this came out of lockdown, when I'd filmed the majority of episode one when we got shut down, so I was editing episode one. Something that was really key was, it was really riveting, because we had these amazing actors, seeing them have this conversation, and I could change pace and keep the energy going through it and it wouldn't feel slow and like, "Oh, we need a burst of action or energy here."
One of the most satisfying and refreshing parts of Loki have been the extended conversations shared between characters, such as Mobius making Loki reconcile his place in the universe and any number of the conversations between Loki and Sylvie throughout the series. Clearly that gave Herron and the Loki team confidence that they could pull off this finale without any big spectacle. Herron continued:
"I think for us it felt like, episode five is our massive spectacle, it's super fun, it's got a big monster, it's got all the crazy comic book references. So it felt like starting and ending a conversation, we could just do that. I think for me, it was way more creepy anyway, with them going through what looked like an abandoned citadel, and it's a massive tension build until you meet this character. I think if there was action before that, the energy is lost, right? And then you have to build it up again."
Letting the conversation with He Who Remains stand on its own along with the heartbreaking betrayal experienced by Loki and Sylvie is a bold move, even with the quick fight between the two Gods of Mischief towards the end. Sure, much of it is exposition that has larger ramifications on the Marvel Cinematic Universe, but that final scene with Loki and Sylvie is still heart-wrenching and serves as the real conclusion to this season.
The only downside to losing this action sequence to kick off the episode is that we didn't get to see Miss Minutes get in on the action. Herron revealed to Marvel.com that the sassy animated clock would have been involved in this axed fight sequence. The director said, "At one point, we had a fight scene with Miss Minutes in the Citadel; we had all kinds of stuff [for her]." Maybe she'll get her chance to throw her clock hands around in the second season.
You can stream the entire first season of Loki on Disney+ right now.
Copyright © 2005-2019 /Film. Privacy Policy / Cookie Policy. Web design by Pro Blog Design. Logo Concept by: Illumination Ink
All names, trademarks and images are copyright their respective owners. Affiliate links used when available.