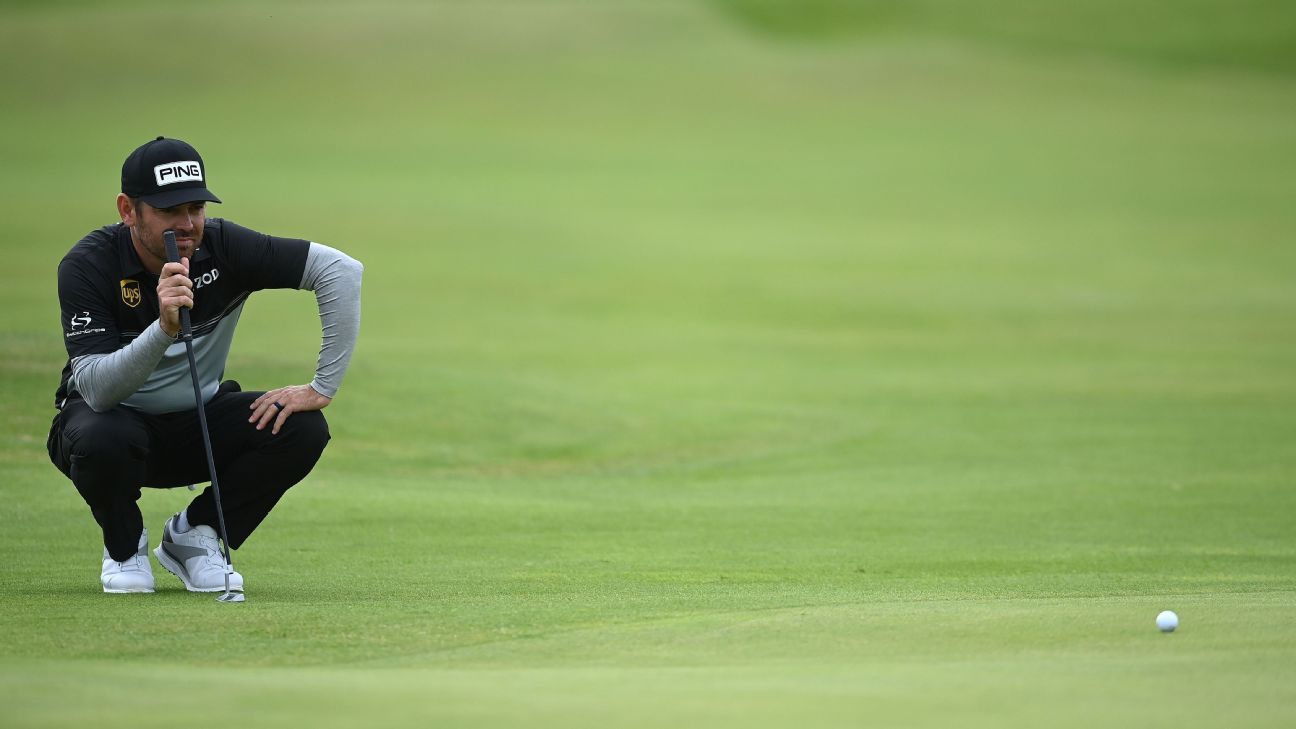 Normalcy returned to the wind-swept links at Royal St. George's in other ways, too.
The roars and cheers of the biggest golf crowd since the pandemic rumbled around this quirky course off Sandwich Bay, just like pre-COVID times.
For Jordan Spieth, who is 1 shot off the lead, that was as welcome as being an Open contender once again.
"It feels inside the ropes, from the first tee forward, the most normal of any tournament we have played thus far relative to that same tournament in previous years," Spieth said.
Oosthuizen saved par from a fairway bunker on No. 18 for a 6-under 64. That tied the lowest opening round at Royal St. George's, previously set by Christy O'Connor Jr. in 1981.
That didn't look as though it would be the case after the South African opened with seven straight pars. He followed with six birdies in his next nine holes.
"I've learned over the years playing major championships that patience is the key thing,'' said Oosthuizen, who has six runner-up finishes in majors since winning The Open at St. Andrews in 2010.
Oosthuizen and Spieth were among the morning starters who enjoyed the best of the conditions, notably soft bounces on the most undulating fairways and greens on the Open rotation.
Yet many of the world's best couldn't take advantage.
Patience already might be wearing thin for U.S. Open champion Jon Rahm, who slapped his thigh in frustration after making a double-bogey at No. 9, where he took 2 shots to get out of a pot bunker in the fairway. He shot 71, like Bryson DeChambeau, who spent much of his first round up to his knees in deep grass -- and cursing his driver, saying it "sucks'' -- after being unable to use his power to overwhelm Royal St. George's.
Shane Lowry, the Open winner in 2019, also shot 71 in front of a crowd that has a daily capacity of 32,000 this week. Not since Royal Portrush, where Lowry won, has any golf tournament seen so many spectators through the gates.
With last year's event canceled because of the pandemic, Lowry could finally be announced at an Open as the reigning champion golfer.
"It was a very special day for me,'' he said.
Not so for the majority of the afternoon starters, who encountered more prolonged gusts off the English Channel and slightly drier conditions.
Rory McIlroy birdied the last to salvage a 70 in his bid for his first major title in seven years. Justin Thomas shot 72. Phil Mickelson shot 80, his highest start ever in The Open, that left him tied for last place.
Benjamin Hebert and Webb Simpson, with rounds of 66 that tied them for fourth place with three others, had the best scores from the afternoon. Former PGA champion Collin Morikawa, in his first links test, and English favorite Tommy Fleetwood were at 67.
Fleetwood would like nothing more than to become the first golfer from England with his name on that silver jug since Nick Faldo in 1992.
"It's been a long time since an Englishman has won the Open, and I would love to be the next one. So we'll see,'' Fleetwood said.
Brian Harman was tied for second with Spieth after making five birdies in his first eight holes and finishing with a 65. Top-ranked Dustin Johnson hit 14 greens in regulation and said he was pleased with his round of 68 that had him in a tie for 19th.
The return of the spectators made it feel like a proper Open, especially on the hill overlooking the par-3 6th hole that attracted some of the biggest galleries of a day that started with a blue, cloudless sky.
Just before midday, the group containing Stewart Cink, Lee Westwood and Martin Kaymer all hit tee shots inside 6 feet of the pin. As they walked onto the green, one spectator shouted: "You three should be professionals.''
To which Kaymer's caddie, Craig Connolly, replied back across the green: "You should be a comedian.''
Said Spieth: "I feel like the fans here are very knowledgeable about the sport, and they're also having a great time.''
Read full article at ESPN
The Open 16 July, 2021 - 01:01am
Some of these cookies are necessary to make our site work, while others help us to improve your experience by providing insights into how the site is being used.
The Open 16 July, 2021 - 01:01am
The Open 16 July, 2021 - 01:01am
Some of these cookies are necessary to make our site work, while others help us to improve your experience by providing insights into how the site is being used.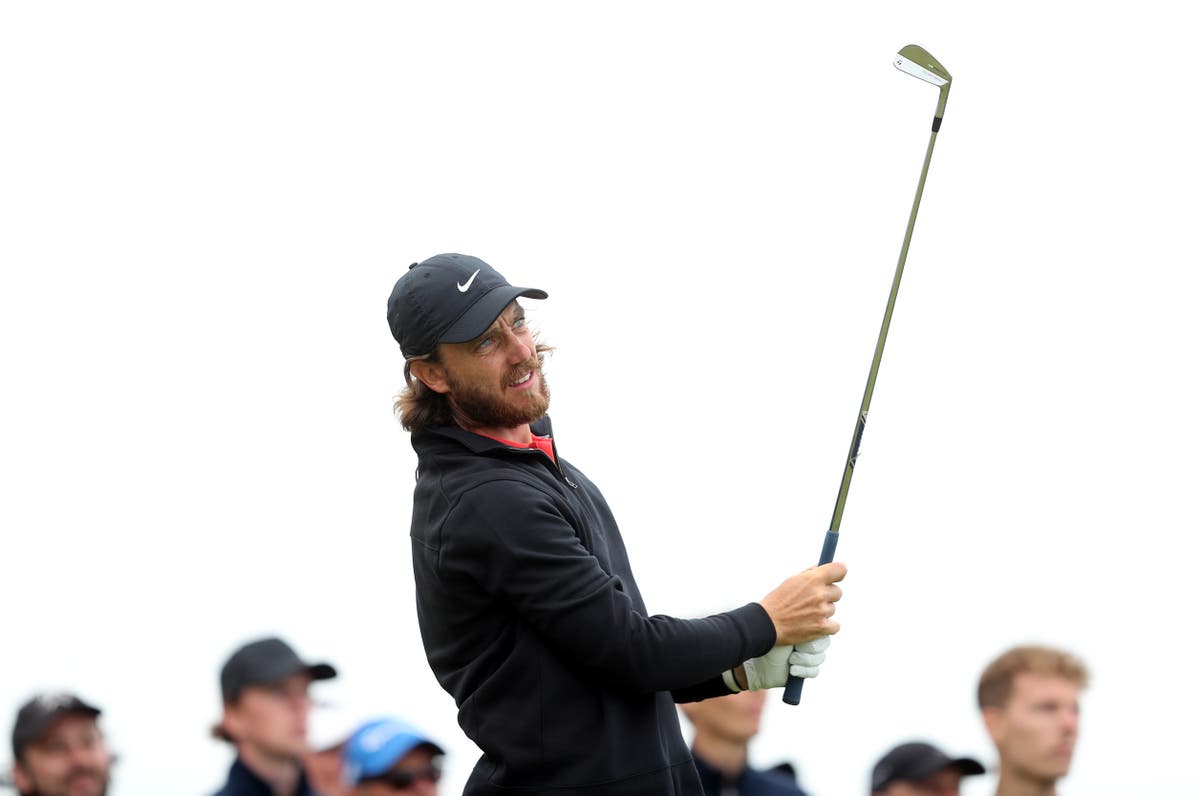 The Independent 16 July, 2021 - 01:01am
A superb 67 in the tougher afternoon conditions left Fleetwood just three shots off the lead held by Louis Oosthuizen and dreaming of becoming the first English winner since Sir Nick Faldo in 1992.
"Growing up watching the Open it gives very, very special feelings whenever the event comes around," said Fleetwood, who was second to Shane Lowry at Royal Portrush in 2019.
"It brings an amazing opportunity to accomplish a dream. It brings its challenges of the more you want something, the harder it is to stay present,the harder it is to focus on all the things that you try and do week in, week out.
"I love the Open so much. I love links golf. I love the history of this event and yeah, it's been a long time since an Englishman has won the Open and I would love to be the next one."
Oosthuizen, who won at St Andrews in 2010 and lost a play-off at the same venue five years later, carded a flawless opening 64 to enjoy a one-shot lead over 2017 champion Jordan Spieth and Brian Harman, with 2009 winner Stewart Cink part of a five-strong group on four under.
Fleetwood led the home challenge alongside major champions Danny Willett and Justin Rose, while Rory McIlroy birdied two of his last five holes to shoot level par as US PGA winner Phil Mickelson slumped to an 80.
Golf writer Jason Sobel takes a comic view of Sergio Garcia's traffic troubles on the way to the course
Bryson DeChambeau's claim that his driver "sucks" was met with a withering response from manufacturers Cobra.
Brandt Snedeker almost made a hole-in-one on the 16th and then made a second consecutive two on the 17th.
Former champion Louis Oosthuizen got off to a brilliant start with a bogey-free 64.
Germany's Marcel Siem qualified by winning a Challenge Tour event and enjoyed a very happy birthday on Thursday.
The 15th played back into the wind and to a scoring average of 4.365. Just seven of the 156-strong field managed a birdie.
The par-five 14th was straight downwind and Rory McIlroy reached it with two long irons to set up one of 80 birdies on the day. The hole played to an average of 4.577.
A breezy and overcast start with breaks in the cloud possible by mid-late morning bringing sunny intervals. Any remaining cloud will clear leaving dry, sunny spells. Winds easing a little at 15-20mph.
1020 – Rory McIlroy, Patrick Reed (USA), Cameron Smith (Aus)1426 – Bryson DeChambeau (USA), Branden Grace (Rsa), Jordan Spieth (USA)1437 – Brian Harman (USA), Mackenzie Hughes (Can), Dylan Frittelli (Rsa)1459 – Shane Lowry, Louis Oosthuizen (Rsa), Jon Rahm (Spa)
usatoday.com 15 July, 2021 - 07:14am
Louis Oosthuizen didn't have any trouble putting behind the frustration and disappointment of yet another runner-up finish at the U.S. Open last month. On Thursday, he jumped straight to the top of the British Open's famous yellow leaderboard, shooting 6-under 64, one stroke better than Americans Brian Harman and Jordan Spieth and tying the lowest opening round in an Open at Royal St. George's in Sandwich, England (1985, Christy O'Connor Jr.).
"Probably in my mind the perfect round I could have played," he said. "I didn't make many mistakes."
A strong start is an encouraging sign for Oosthuizen's chances to be in the Claret Jug hunt. The two previous times he opened with a round in the 60s at the Open, he won in 2010 and lost in a playoff in 2015. The playoff loss to Zach Johnson at St. Andrews stung for a long time, but Oosthuizen, who has finished second six times in majors, has proven to be a tough, resilient foe and he's figured a way to bounce back from defeats that have broken lesser men.
"I tried to take a few days and just try and forget about it and see if I can get myself ready for the next one," Oosthuizen said.
South Africa's Louis Oosthuizen reacts on the 18th green after his first round 64 on day one of The 149th British Open Golf Championship at Royal St George's, Sandwich in south-east England on July 15, 2021. (Photo by ANDY BUCHANAN)
"I think I probably would have taken seven pars again," he said. "I've learnt over the years playing major championships that patience is the key thing, and even if you make bogeys, know that a lot of people are going to make bogeys."
But once he broke the seal, Oosthuizen took advantage of soft conditions and peeled off five birdies in a seven-hole stretch.
"All of a sudden just made two good putts on 8 and 9 and got the ball rolling," he said. "It happened quickly."
More work to be done 👊🏼 @TheOpen #TheOpen pic.twitter.com/v8zw0icrik
— Louis Oosthuizen (@Louis57TM) July 15, 2021
Oosthuizen's patience extends to his equipment. He used to change putters as often as a medical professional changed surgical gloves, but he's settled on a Ping Voss putter that has been a godsend. He took just 25 putts in the opening round. All the putters from his days of playing musical chairs? Their days are numbered and for good reason. Oosthuizen has improved from No. 121 in strokes gained: putting in 2018 to first this season.
"I've got a bag there at home that I might just throw in a river someday," he said. "Every week we were trying something. I realized quickly that there's no way to find any consistency in putting if you do that."
Only a few things guaranteed in life – taxes, death & Louis O up near the lead in a Major Championship 🤣#TheOpen
— Luke Donald (@LukeDonald) July 15, 2021
On Thursday, Oosthuizen had all systems firing: He flighted his irons well, controlled his distance and rolled his rock to an early lead and put the field on notice that he's tired of being a bridesmaid.
"It's surprising that he hasn't held a claret jug or any major trophy for some time," Golf Channel's Justin Leonard said.
Eleven years after a dominating seven-stroke triumph at St. Andrews, Oosthuizen displayed the patience of a man who knows that the chase for major glory always is a marathon, but it doesn't hurt to sprint quickly out of the gate.
DeChambeau acknowledged that his post-round comments were unprofessional and driven by frustration and emotion.
Everything you need to know for the second round of the British Open.
Could an English player end his country's British Open drought at Royal St. George's this week? Several candidates are in position to do (...)