Dan Wetzel, Pat Forde, Pete Thamel
He got run out of coaching early in his career because of off-field issues at Miami, only to return and establish himself as the indispensable wingman of Pete Carrol's gilded run at USC. He failed famously at Ole Miss as a head coach, stormed out of USC as the interim when it wouldn't name him the full-time coach and then famously led LSU to the national title in the 2019 season after earning the job as an interim.
There has been nothing linear about Orgeron's rise, which only padded the lore when LSU broke through with its historic and undefeated season. He even wrote a book, "Flip the Script," to chronicle overcoming adversity.
In one nightmarish year on and off the field in 2020, the script quickly flipped back on Orgeron. That leaves Orgeron entering the 2021 season as the most compelling character in the SEC, as his reputation has backslid toward the overmatched coach who struggled with staff, fumbled with offensive identity and is teetering toward the conversations beginning of whether he should be run out of town.
After going 5-5 in 2020, getting named in a Title IX lawsuit about allegedly mishandling a rape allegation and experiencing LSU getting institutionally excoriated for its failings in matters of sexual misconduct, the national championship glow has been fully extinguished in Baton Rouge. Orgeron has also gotten divorced in the wake of the title, which was unrelated to the other issues, and everything that could have gone wrong on and off the field pretty much did.
Orgeron declined to answer a lone media day question about he and the school's looming sexual misconduct allegations. That includes an amended lawsuit in June that names Orgeron and his LLC as defendants and says Orgeron failed to report a rape allegation to the school's Title IX office or any other authority.
"That's something I'm not going to comment on," Orgeron said. "It's an ongoing investigation, and I'm not going to comment on any of that."
Orgeron then added in a tone that would make one think someone poured sour milk in his gumbo: "Thanks for asking, though."
Media days are an opportunity for coaches to portray any type of reality they want. So it was interesting to hear Orgeron's spin about the momentum from LSU winning its final two games and pulling in the country's No. 4 recruiting class. "We ended up being an ascending program," Orgeron said.
It became clear early on that Orgeron entered media day with a simple gameplan: Make clear that LSU is attempting to channel the Joe Brady/Joe Burrow magic from 2019.
That gameplan could be a cause for skepticism or optimism, depending on your perspective. LSU hired Jake Peetz as offensive coordinator and DJ Mangas as pass game coordinator, which Orgeron explicitly said was to "run Joe Brady's offense of 2019." He pointed out that it was one of "the most prolific offenses in the history of football" while failing to point out that it was run by a No. 1 draft pick throwing to two first-round picks and a second-round pick.
He failed to point out that Peetz and Mangas, who were vital parts of Brady's operation, are taking giant leaps. Peetz is in his first year as a coordinator at any level and Mangas has experience as William & Mary's offensive coordinator. Brady arrived with a bright mind and light resume after basically being emergency quarterback J.T. Barrett's coach with the New Orleans Saints, but it's naïve to assume Brady's proteges can conjure similar results with inferior talent.
"The type of offense we're going to run, the style of offense of 2019, the type of checks that we had, the type of protections, that's the stuff I'm talking about now," Oregon said. He added: "I want to see the same type of plays, I want to see the same type of adjustments that were so successful for us."
While LSU returns 17 starters, it still has questions at quarterback, a precipitous drop in receiver talent and a starting left tackle, Dare Rosenthal, who bailed a few weeks ago for Kentucky. Offensive line coach James Cregg was bizarrely fired in June. (Orgeron said both Rosenthal and departed tight end Arik Gilbert of Georgia are future first-round picks, which has to sting LSU fans.)
Orgeron is a hands-off X's-and-O's coach, which showed last season when Bo Pelini's defense imploded and LSU lacked answers. Pelini may go down as the worst high-profile assistant coach hire in SEC history after LSU finished No. 127 in total defense, and Orgeron admitted at media day he didn't do enough vetting. Pelini got paid $4 million to stop coaching LSU, which is second to Kevin Steele's Auburn buyout for assistant coach buyouts. (The difference, of course, is Steele was a solid coordinator who got run out in a coaching change. Pelini was just bad.)
Orgeron whiffed on hiring Marcus Freeman as defensive coordinator, and he sputtered through a search that ended with a well-regarded NFL assistant named Daronte Jones, whose only prior coordinating experience came at Bowie State and in high school. Jones was a star on the Vikings' staff, but there will be some adjustments to calling the college game in the SEC.
LSU has the talent to again be competitive in the conference, as Orgeron has kept recruiting momentum through the school's ugly headlines and the team's underperformance.
But after the highs of the 2019 title, the 2020 season reminded everyone that the spectrum of Orgeron's LSU career includes getting beaten at home by Troy in 2017.
Was LSU's undefeated immortality an anomaly? The 2021 season will go a long way in answering that. Orgeron is 45-14 as LSU's coach with 13 wins over top-10 teams. He still needs to win the LSU opener at UCLA, or he'll spend this fall wondering if athletic director Scott Woodward is batting his eyes at Texas A&M's Jimbo Fisher, a decades-long friend who he hired in College Station.
Fisher, of course, has no buyout in his deal to leave Texas A&M. And to quell that speculation, Orgeron needs another precipitous script flip both on and off the field.
Check out this hype video for SEC football with Luke Combs singing "South on Ya"
Could we see Derek Stingley Jr. play wide receiver this fall?
The #Buckeyes don't have the strongest history of utilizing their tight ends and here is proof.
The past two years, the always-heated Alabama versus LSU rivalry has featured the added perk of pitting up one of the nation's premier receivers, DeVonta Smith, against one of its best cornerbacks, Derek Stingley. While college football might miss out on the battle, you'd forgive Stingley if he wasn't too upset about getting Smith out of his hair for a year. While Alabama and LSU have split the two meetings involving Smith and Stingley, the Tide receiver has wound up on the winning side of the individual battles more often than not.
The American tennis sensation announced the news on social media.
Mets pitcher Taijuan Walker swatted a ball he thought was foul out of play, which led to three Pirates runs on a wild error on Sunday.
President Donald Trump's commerce secretary misled Congress about why he sought to add a citizenship question to the 2020 Census, according to an investigation from the Office of Inspector General, but Trump's Justice Department decided not to prosecute. The watchdog agency's probe showed that Wilbur Ross misrepresented the reason for adding a citizenship question to the census questionnaire during two appearances before House committees in March 2018, according to a letter sent last week to congressional leaders by Inspector General Peggy Gustafson. The results of the inspector general's investigation were presented to the Justice Department during Trump's administration, but department attorneys declined prosecution in January 2020.
The 6-foot-10 forward spoke to Yahoo Sports on the impact the Bucks' culture has had on his career, the mad love he's getting for the first time, how the series with the Phoenix Suns has changed, being around greatness and why he chose to sign with the Bucks when he had more lucrative offers.
I stand by the reporting and I dont think things are going very well between Lillard and the Blazers,
21 for 2021 college football topics. The most dangerous upset alert games for Power Five teams vs. Group of Five programs.
Olivia Breen, the British double Paralympic world champion who will compete at the Tokyo Games next month, was left "speechless" after being told that her briefs were "too short and inappropriate" by an official at the English Championships. Welsh para-athlete Breen was wearing official 2021 Adidas briefs when the incident occurred after she competed in the long jump in Bedford at Sunday's event and questioned whether a male competitor would be subjected to similar remarks. The 24-year-old, who
The European Handball Federation's disciplinary commission imposed a $177 fine per player after the team chose to wear shorts at a recent game.
It pays to play well in major championships.
This is like picking up two linemen!
The 49ers have a bright future, and it's reflected the ESPN power rankings over the next three years. One key area will act as the turning point for them.
The Longhorns are within the top 10 of ESPN's updated 2022 recruiting class rankings.
ESPN ranks front office for Raiders as second-worst in the NFL
Ray Allen had some nasty scrapes after a bike crash.
Long-time NFL assistant coach and current New York Jets passing game specialist Greg Knapp is in the hospital in critical condition due to injuries sustained in a bicycle accident this weekend, according to Mike Klis of 9NEWS. Knapp's agent, Jeff Sperbeck, confirmed to Klis that Knapp was injured when his bicycle was struck by a [more]
Read full article at Yahoo Sports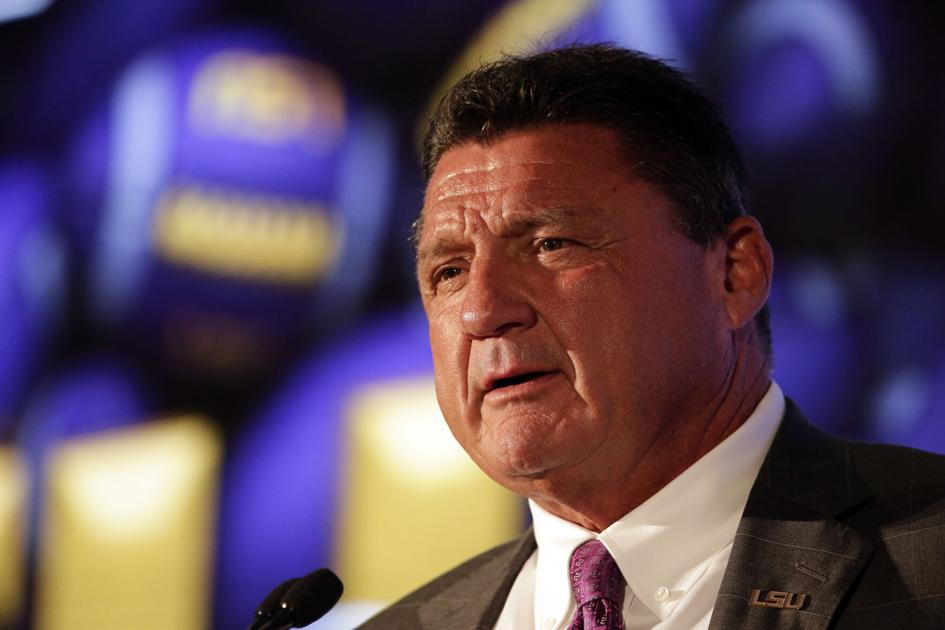 The Advocate 20 July, 2021 - 12:02pm
LSU coach Ed Orgeron speaks to reporters during SEC Football Media Days, Monday, July 19, 2021, in Hoover, Ala.
LSU coach Ed Orgeron speaks to reporters during SEC Football Media Days, Monday, July 19, 2021, in Hoover, Ala.
HOOVER, Ala. — Before Ed Orgeron took the podium Monday at SEC Football Media Days, Commissioner Greg Sankey introduced him as the 2019 national coach of the year.
Like so many things in our still COVID-challenged times, that seems like another world ago.
The lazy perception of Orgeron is that he is the guy who got lucky in 2019 with the almost perfect alchemy of Joe Burrow and Joe Brady creating a record-setting offense that carried LSU to 15-0 national championship season. It is a perspective that omits it was Orgeron who convinced Burrow to transfer to LSU from Ohio State and who gave Brady, a supporting cast member on the Saints' coaching staff, his big shot in the first place.
A season of chaos followed in 2020, with LSU rallying late from a string of embarrassing losses to lesser teams like Mississippi State and Missouri to post a .500 record with a stunning upset win at Florida and a basketball score-like 53-48 victory over Ole Miss. Now entering 2021, Orgeron looks again like a coach on the hot seat, at yet another crossroads in his career.
HOOVER, Ala. — Austin Deculus offered himself as an example for development. Take a look at LSU's fifth-year offensive tackle: brawny build in…
There was something about Orgeron's words Monday that said, with subtle defiance, "bring it on. Let's decide it on the field whether I'm the man to make LSU a contender again or not. I'll accept my fate."
You could almost hear the words of Frank Sinatra cutting across a smoke-filled night club in the background:
Orgeron, to his credit, has never shied away from his mistakes. He said his first head coaching job at Ole Miss taught him to delegate more, not try to coach offense when defense has always been his forte. The hiring in 2017 of former offensive coordinator Matt Canada led to a quick breakup. His admission earlier this year that he didn't formally interview some of the coaches he hired in 2020, like former defensive coordinator Bo Pelini (another quick breakup) was shocking for both his candor and what it revealed about his process.
1. Reading the LSU QB tea leaves
Like the entire LSU program, maybe Orgeron was caught up in the post national-title euphoria. The coach of the year awards. The "60 Minutes" and Fox News interviews. The result has been a return to the basics mantra for O and LSU for 2021. Digging deeper. Working harder. Not taking anything for granted.
And, above all, doing it his way.
"That's it," Orgeron said. "If it's not done the way I want, I'm going to fix it. If I see something broke, I'm fixing it. LSU's standard of performance, the way we have done things.
"This reminds me a lot of the 2018 season. There's a lot of unknowns. There's a lot of noise out there. You've got to block out the noise, a lot of predictions on this and this. That stuff doesn't matter. It's about our football team. It's about me gelling this football team together, us playing together."
The abject failure of the Pelini Era 2.0 at LSU has weighed on Orgeron's reputation as much as anything. He reiterated that Pelini didn't get a formal interview. Instead, Orgeron relied on his wide network of coaching contacts and relationships. It may not have been the right way to make a hire, but there were few if any who voiced concern that bringing back Pelini, who ran top-10 ranked defenses his first time at LSU from 2005-07, was a mistake.
HOOVER, Ala. — Florida was looking every bit like the elite Southeastern Conference program it is in 2020 until it was tripped up in the LS-sh…
"I believed in him, and it just didn't work," Orgeron said. "I said I would never do that (hiring process) again. Every one of these (new) guys, I interviewed them in person. I had a long interview with them, specific questions that I asked, things that I maybe should have asked or shouldn't have.
"If I'd have interviewed Bo Pelini face to face, I would have still hired him. There would have been no question about that because of his reputation and because of the guy I knew."
Interestingly, Orgeron said he conducted the interviews with his new coaches — six of them in all — imagining himself as a player to judge their ability to communicate.
"Coaches are going to know a lot of football, but it's how much that they can get to our players and how much our players will know," Orgeron said. "Every one of these coaches made an A-plus in communication with our players."
HOOVER, Ala. — Commissioner Greg Sankey pushed for higher vaccination rates among league members in his opening remarks of the Southeastern Co…
He was quick to note that the new coaches are, on average, about 20 years younger than their predecessors. Speaking a common generational language is an asset.
Orgeron himself turns 60 next Tuesday. It's a dizzying time of change in college sports, from NIL to transfer portals to college athletes' newfound advocacy when it comes to social issues.
Is Orgeron the man to lead LSU into such uncharted waters and again be a national contender? The fact that the Tigers' fourth-straight top-five recruiting class is currently abuilding — LSU got a commitment from four-star Lake Charles running back TreVonte' Citizen while Coach O was speaking — says recruits think he is.
"Football's changed, and I'm going to change with it," Orgeron said. "I want to coach for a long time, and if that's what I have to do, that's what I have to do."
HOOVER, Ala. — LSU cornerbacks Derek Stingley Jr. and Eli Ricks have been named to the watch list for the 85th annual Chuck Bednarik Award, th…
Whatever LSU's record shows come season's end, Orgeron seems determined to embody that last lyric. Whether it works or not, there is something admirable in that.
Something tells me Sinatra would have approved.
Email Scott Rabalais at srabalais@theadvocate.com
HOOVER, Ala. — The LSU football team has a vaccination rate above 90%, a source confirmed with The Advocate, which means the Tigers have more …
Email notifications are only sent once a day, and only if there are new matching items.
Purchases made via links on our site may earn us an affiliate commission