The Lyrid meteor shower is active from April 16-25 each year, peaking in the predawn hours April 22. The year's first supermoon follows on April 26.
A link has been sent to your friend's email address.
A link has been posted to your Facebook feed.
To find out more about Facebook commenting please read the Conversation Guidelines and FAQs
Welcome to our new and improved comments, which are for subscribers only. This is a test to see whether we can improve the experience for you. You do not need a Facebook profile to participate.
You will need to register before adding a comment. Typed comments will be lost if you are not logged in.
Please be polite. It's OK to disagree with someone's ideas, but personal attacks, insults, threats, hate speech, advocating violence and other violations can result in a ban. If you see comments in violation of our community guidelines, please report them.
Here's a few need to know facts about April's Lyrid meteor shower. USA TODAY
If you look up, you may see a meteor shower painting streaks of light across the night sky, starting today until April 25.  
The Lyrid meteor shower takes place every year, and it happens due to the Earth moving through the remnants of the tail of a comet named Thatcher, said Michael Narlock, head of astronomy at Cranbrook Institute of Science in Bloomfield Hills, Michigan.
"Thatcher comes around every 400 years or so, but basically the solar system is strewn with debris of comet tails," Narlock said. "When that debris hits the Earth's atmosphere, it burns up and we see it as beautiful streaks in the nighttime sky." 
The meteor shower is active from April 16-25, peaking April 22 in the predawn hours. The meteor shower will occur near the Lyra constellation, which is denoted by the bright star Vega. 
"What I usually suggest is go out to a dark place, as far away from the city lights as you can get. Take your camping equipment like your Coleman grill, Coleman tents or something like that," he said. "Lay down and look up. That's the best advice." 
Another celestial event coming this month is the year's first supermoon, also called the pink moon, which will happen April 26. 
Although adorably dubbed as the "pink moon," Narlock said the moon will unfortunately not be pink.
"The moon does change color depending on how much stuff and particles are in the atmosphere," Narlock said. "It's the same reason, essentially, why the sunset and sunrises are a nice red."
"Supermoon," isn't a proper astronomical term, but it has come to mean the moon is closer in orbit to Earth, Narlock said. 
"If you had a picture of the regular moon and a picture of a supermoon, and you put them side-by-side, you would notice a difference, a difference both in size and in brightness," Narlock said. "However, because you won't have that ability, when people see the moon in the nighttime sky, supermoon or not, most people will not notice a single difference." 
According to the Farmer's Almanac's website, the "pink moon" name comes from the springtime bloom of certain wildflowers like creeping phlox, also called "pink moss." The supermoon will most likely have a golden hue, and its peak illumination will take place late on April 26.
© 2021 www.freep.com. All rights reserved.
Read full article at FOX 5 DC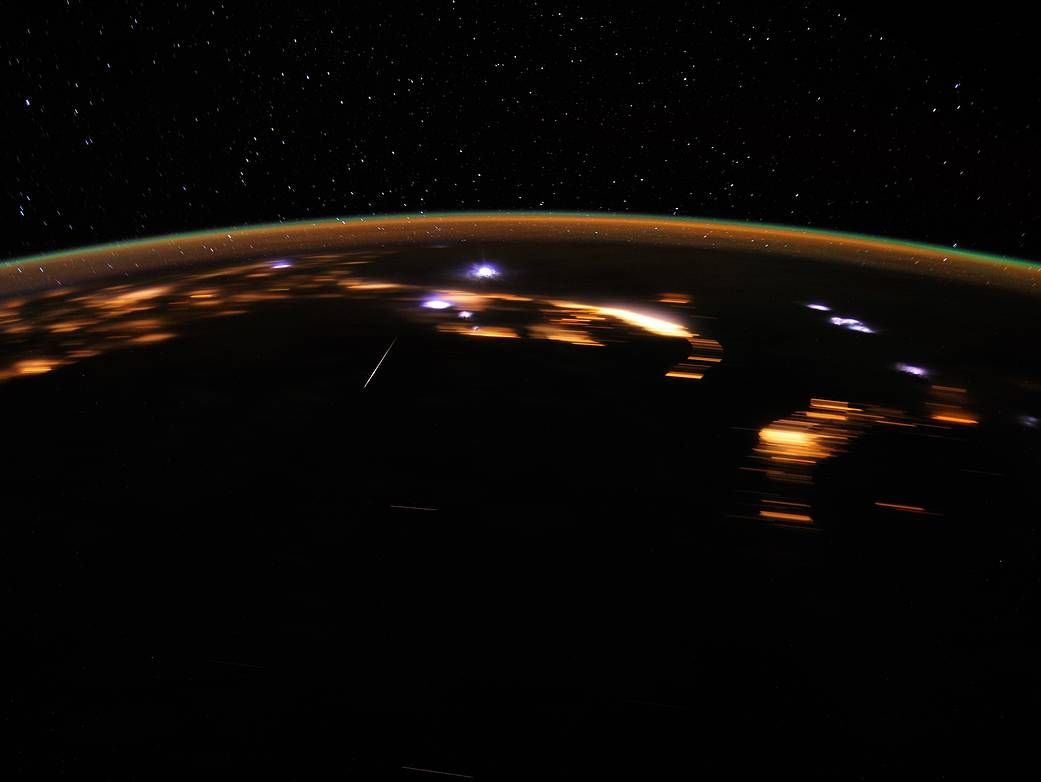 Livescience.com 18 April, 2021 - 02:00pm
The Lyrids will light up the skies starting this weekend.
The comet may be a rare sight, but Earth passes through debris from its orbit every year in late April. This year, the medium-bright meteors that occur when the debris streaks through the atmosphere will be visible between April 16 and April 30 in the Northern Hemisphere. 
Typically, the Lyrids produce 10 to 20 meteors an hour, though they can occasionally burst out with a volley of 100 or so an hour. Such outbursts have been recorded in the United States in 1803 and 1982, in Greece in 1922 and in Japan in 1945, according to NASA. 
—Amazing photos of the Perseid meteor shower
—In photos: Glitzy images of a supermoon
—When space attacks: 6 craziest meteor impacts 
Thank you for signing up to Live Science. You will receive a verification email shortly.
There was a problem. Please refresh the page and try again.
© Future US, Inc. 11 West 42nd Street, 15th Floor, New York, NY 10036.