Reuters 09 July, 2021 - 02:04pm
The indexes were also set to end higher on a week that also saw a sharp rally in U.S. Treasuries amid the fears that the recovery in the U.S. economy was losing steam with the Delta variant of the coronavirus spreading.
S&P financials (.SPSY) led sector gains, followed by materials (.SPLRCM).
Investors are eager to hear from U.S. companies next week when the second-quarter earnings season begins. Big banks will be among the first to report.
Analysts expect earnings growth of 65.8% for companies in the S&P 500 index in the quarter, up from a previous forecast of 54% growth at the start of the period, according to Refinitiv IBES data.
"Earnings are likely to be good because earnings were so weak from a year ago at this time," said Rick Meckler, partner at Cherry Lane Investments in New Vernon, New Jersey.
The Dow Jones Industrial Average (.DJI) rose 454.61 points, or 1.32%, to 34,876.54, the S&P 500 (.SPX) gained 47.99 points, or 1.11%, to 4,368.81 and the Nasdaq Composite (.IXIC) added 136.00 points, or 0.93%, to 14,695.79.
Among individual stocks, Levi Strauss & Co (LEVI.N)added 1.3% as it forecast a strong full-year profit after beating quarterly earnings estimates on improving demand across its markets for jeans, tops, and jackets. read more
U.S.-listed shares of Chinese ride-hailing company Didi Global Inc (DIDI.N) rose 8.8% after four sessions of losses, as it was recently hit by an investigation from China's internet watchdog.
Advancing issues outnumbered declining ones on the NYSE by a 4.08-to-1 ratio; on Nasdaq, a 3.09-to-1 ratio favored advancers.
The S&P 500 posted 35 new 52-week highs and no new lows; the Nasdaq Composite recorded 53 new highs and 30 new lows.
Our Standards: The Thomson Reuters Trust Principles.
The most comprehensive solution to manage all your complex and ever-expanding tax and compliance needs.
The industry leader for online information for tax, accounting and finance professionals.
Information, analytics and exclusive news on financial markets - delivered in an intuitive desktop and mobile interface.
Access to real-time, reference, and non-real time data in the cloud to power your enterprise.
Screen for heightened risk individual and entities globally to help uncover hidden risks in business relationships and human networks.
All quotes delayed a minimum of 15 minutes. See here for a complete list of exchanges and delays.
© 2021 Reuters. All rights reserved
RealMoney 09 July, 2021 - 09:28am
How's it looking out there now?
All but two of the index charts suffered some form of technical damage Thursday, including several changes in near-term trends. However, the data is now offering some possible near-term encouragement. Indeed, insider buying saw a notable pickup in activity as the crowd rushed for the door.
As we have been discussing over the past several sessions, the narrowing of the number of issues being able to gain ground persists. However, in our opinion, that does not mean upside opportunities do not exist.
All the major equity indices closed lower Thursday with negative internals on the NYSE and Nasdaq.
The only two indices that did not see a weakening on their charts were the Nasdaq Composite (see above) and Nasdaq 100 as both closed well above their intraday lows to near their intraday highs by the close; they remain in near-term uptrends. In our opinion, this speaks again to the selectivity of the current market environment.
On the other hand, the Dow Jones Transports, MidCap 400 and Value Line Arithmetic Index closed below support levels and are now in near-term downtrends.
The S&P 500 and DJIA closed below their near-term uptrend lines and turned neutral from bullish as the DJIA also violated support.
As such the near-term trends remain bullish for the Nasdaq Composite and Nasdaq 100, neutral for the S&P 500 and DJIA with the rest negative.
Cumulative breadth was unchanged with the All -Exchange and Nasdaq A/Ds negative and the NYSE's neutral.
Also, the DJIA gave a bearish stochastic crossover signal.
All the McClellan 1-Day Overbought/Oversold Oscillators are oversold and suggesting a possible pause/bounce for the markets, in our opinion (All Exchange: -76.11 NYSE: -70.12 Nasdaq: -80.52).
The Rydex Ratio (contrarian indicator), measuring the action of the leveraged ETF traders, remains bearish at 1.45 as of our last reading.
This week's contrarian AAII bear/bull ratio (23.9/43.37) turned neutral from mildly bearish while the Investors Intelligence Bear/Bull Ratio (contrary indicator) remains bearish at 16.2/59.6.
The Open Insider Buy/Sell Ratio rose to 33.0 from 28.4 as insiders decided it was time to buy some of their stock. However, it remains neutral.
The forward 12-month consensus earnings estimate for the S&P 500 from Bloomberg lifted slightly to $198.90 per share. As a result, the S&P's forward P/E multiple is 21.8x, with the "rule of 20" finding fair value at approximately18.7x.
The S&P's forward earnings yield is 4.6%.
The 10-year Treasury yield closed at 1.29%. We view support as 1.2% and resistance at 1.44%. The 10-year yield remains in a downtrend from its March peak, which we view as a positive for equities regarding the valuation gap.
We are maintaining our near-term "neutral/positive" macro-outlook given the current data setup with the caveat that selectivity is increasingly the key to performance.
At the time of publication, Ortmann had no positions in any securities mentioned.
Thank you, your email to has been sent successfully.
Email Real Money's Wall Street Pros for further analysis and insight
Except as otherwise indicated, quotes are delayed. Quotes delayed at least 20 minutes for all exchanges. Market Data & Company fundamental data provided by FactSet. Earnings and ratings provided by Zacks. Mutual fund data provided by Valueline. ETF data provided by Lipper. Powered and implemented by FactSet Digital Solutions Group.
TheStreet Ratings updates stock ratings daily. However, if no rating change occurs, the data on this page does not update. The data does update after 90 days if no rating change occurs within that time period.
FactSet calculates the Market Cap for the basic symbol to include common shares only. Year-to-date mutual fund returns are calculated on a monthly basis by Value Line and posted mid-month.
Follow Real Money's Wall Street Pros to receive real-time investing alerts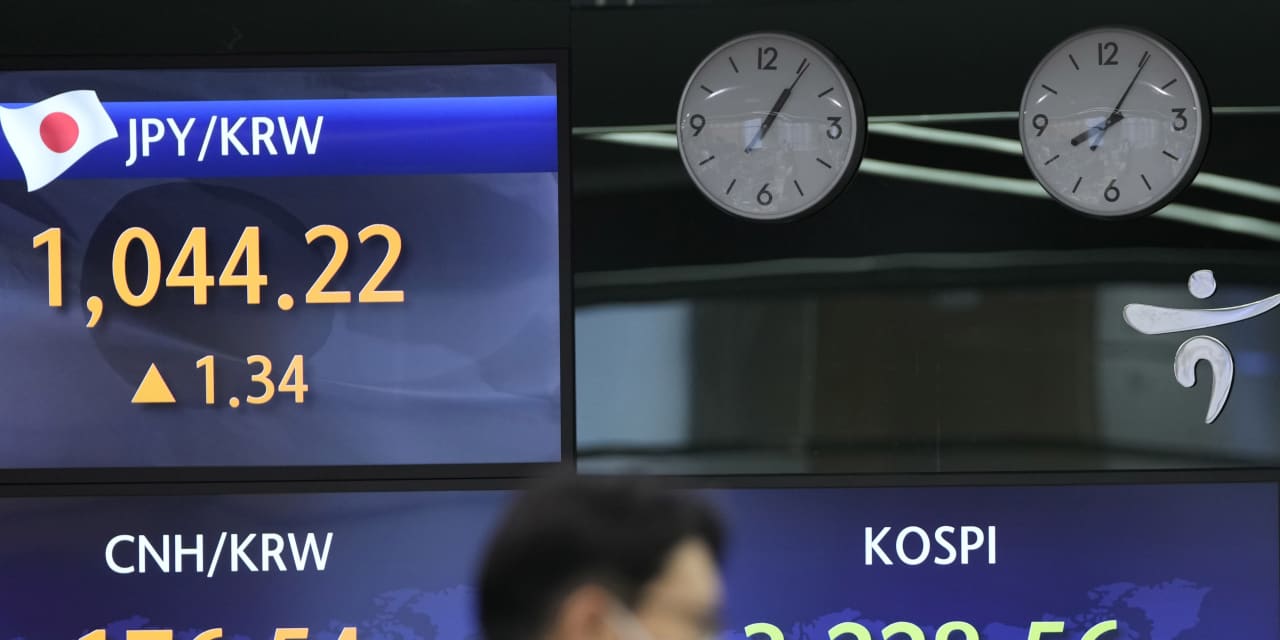 MarketWatch 09 July, 2021 - 12:52am
Tokyo's Nikkei 225 lost nearly 2%. Shares fell in Seoul, Sydney and Shanghai but rose in Hong Kong.
U.S. futures declined ES00 YM00 NQ00 and the yield on the 10-year Treasury note BX:TMUBMUSD10Y rose to 1.34%. On Thursday it fell to 1.30%, its lowest level since February. It recently was trading at 1.74%.
Traders have been shifting money into bonds in recent weeks, pulling down the benchmark yield, which is used to set rates on mortgages and many other kinds of loans.
Tokyo's Nikkei 225 JP:NIK was down 1.7% at 27,633.10 while the Kospi KR:180721 in South Korea declined 1.2% to 3,211.05.
In both countries, authorities have tightened pandemic precautions to counter fresh outbreaks of the coronavirus. Ramping up relatively loose restrictions, Japanese Prime Minister Yoshihide Suga ordered a state of emergency for Tokyo, to run through the July 23-Aug. 8 Olympics.
Investors are gauging the potential impact from COVID-19 variants stymying a resurgence in commerce and travel. Fans have been banned from the Tokyo Olympics following a state of emergency aimed at containing rising coronavirus infections in the capital.
Sydney's S&P/ASX 200 AU:XJO gave up 1.3% to 7,245.10 while the Shanghai Composite index CN:SHCOMP lost 0.4% to 3,512.84. Shares also fell in India and Taiwan, but they rose in Hong Kong, where the Hang Seng index gained 0.7% to 27,330.71.
On Thursday, the S&P 500 SPX fell 0.9% to 4,320.82, weighed down by a broad slide driven mainly in technology, financial, industrial and communication companies. The Dow Jones Industrial Average DJIA lost 0.7% to 34,421.93. The Nasdaq Composite COMP snapped a three-day run of closing highs, sinking 0.7% to 14,559.78.
Part of the sharp drop in long-term bond yields could also be attributed to investors quickly reversing bets that they would continue rising as the economy continued its sharp recovery.
Two recent reports showed that the manufacturing and services sectors are still growing, but more slowly than in previous months and below economists' expectations.
On Thursday, the Labor Department said the number of Americans filing for unemployment benefits rose slightly last week even while the economy and the job market appear to be rebounding from the coronavirus recession.
Investors are increasingly jittery over potential moves by central banks, especially the U.S. Federal Reserve, to wind down lavish support for markets that cratered at the outset of the pandemic.
Minutes from the Fed's June meeting showed officials are moving closer to reducing bond purchases, though most analysts don't expect a reduction until late this year. At that meeting, policymakers said they planned to raise interest rates as soon as 2023, earlier than previously expected.
Railroad stocks were the biggest losers in the S&P 500 Thursday following a published report saying the Biden administration plans to sign an executive order next week directing regulators to take action against consolidation and anticompetitive pricing in the railroad and ocean shipping industries. The report, published by The Wall Street Journal, cited an unnamed source familiar with the situation. Kansas City Southern KSU sank 7.9% for the biggest loss in the S&P 500. Norfolk Southern NSC slid 7.2%, CSX CSX fell 6.2% and Union Pacific UNP closed 4.4% lower.
Investors will be turning their attention to corporate earnings starting next week, when major banks like JPMorgan Chase JPM, Goldman Sachs GS and Bank of America BAC report their results. Banks tend to be a proxy for the overall economy, so investors will be analyzing the reports closely and listening to what banks say about the status of lending and spending as the recovery continues.
David Friedberg, the founder and chief executive of San Francisco investment firm The Production Board, laid out the investment implications of the worsening mega drought affecting North America