Gavin Newsom
GavinNewsom
NEW: CA will have the strongest state vaccine verification system in the US and will require state employees & healthcare workers to provide proof of vaccination—or get tested regularly. We're experiencing a pandemic of the unvaccinated. Everyone that can get vaccinated—should.
Mayor Bill de Blasio
NYCMayor
Simply put: Those spreading disinformation about the #COVID19 vaccine are killing people. 65% of the COVID-19 disinformation on social media links back to 12 people. We're calling on Facebook, Twitter, and Instagram to deplatform these users before they cost even more lives.
Mayor Bill de Blasio
NYCMayor
Every City government employee will need to show proof of vaccination or a weekly negative #COVID test by September 13. We've been through too much to let our guard down now. New York City is leading the nation in fighting back against the Delta variant. pic.twitter.com/Vr5pB2gD6h

Mayor Jenny Durkan
MayorJenny
I want to say a huge thank you to the hundreds of @seattlefas workers who helped stand up and operate the @CityofSeattle Lumen Field vaccination site. Together we vaccinated over 100,000 in a matter of months. Thank you for your role in protecting the health of our community. pic.twitter.com/4OJ2erkASF
"Due to the recent COVID-19 surge and the availability of safe and effective vaccines, our health care organizations and societies advocate that all health care and long-term care employers require their workers to receive the COVID-19 vaccine," the American Medical Association, American Nurses Association and more than 50 other health care groups said in a statement on Monday. "This is the logical fulfillment of the ethical commitment of all health care workers to put patients as well as residents of long-term care facilities first and take all steps necessary to ensure their health and well-being."
Despite working with vulnerable people, many staff at long-term care facilities are not vaccinated. ProPublica reported last week that only 59 percent of workers at nursing homes and other long-term care facilities had at least one shot, citing government data.
The new call comes as the delta variant fuels an increase in cases in the U.S., primarily among the unvaccinated.
As the vaccination rate lags, many experts say mandates from employers could play a bigger role in boosting the number of people getting the shots, as the role of incentives and persuasion could be fading in usefulness.
"Unfortunately, many health care and long-term care personnel remain unvaccinated," the groups said in Monday's statement, which was first reported by The Washington Post. "As we move towards full FDA [Food and Drug Administration] approval of the currently available vaccines, all health care workers should get vaccinated for their own health, and to protect their colleagues, families, residents of long-term care facilities and patients."
Full FDA approval is also seen as a key step in encouraging more people to get the vaccine.
The health care groups also said they hope all employers will require vaccines for their workers.
"As the health care community leads the way in requiring vaccines for our employees, we hope all other employers across the country will follow our lead and implement effective policies to encourage vaccination," they said. "The health and safety of U.S. workers, families, communities, and the nation depends on it."
The Hill 1625 K Street, NW Suite 900 Washington DC 20006 | 202-628-8500 tel | 202-628-8503 fax
The contents of this site are ©2021 Capitol Hill Publishing Corp., a subsidiary of News Communications, Inc.
Read full article at The Hill
CBS Evening News 26 July, 2021 - 09:10pm
Los Angeles Times 26 July, 2021 - 09:10pm
CNN 26 July, 2021 - 09:10pm
KXAN 26 July, 2021 - 09:10pm
Yahoo News 26 July, 2021 - 01:53pm
California "will have the strongest state vaccine verification system in the U.S.," Newsom said on Monday. "We're experiencing a pandemic of the unvaccinated. Everyone that can get vaccinated —should."
The policy doesn't quite equal a mandate in that workers will be able to keep their jobs without having to get the vaccine as long as they submit to testing. Government employees may be required to comply as soon as next week, while healthcare workers in private and public hospital systems will have until late August to get the shots if they so choose.
"As the state's largest employer — we're leading by example. Vaccines are the solution," Newsom said. "We encourage local governments and other businesses to follow suit."
While Newsom has insisted that the state will not institute a vaccine certification program commonly known as a vaccine passport, he said last month that the state was working on a digital documentation platform that would allow people to voluntarily disclose their vaccination status, providing businesses an easy way to check which of their customers have gotten the shots.
New COVID-19 cases due to the delta variant have spiked 247% in California over the past 14 days, according to tracking by the Los Angeles Times. Southern California currently has the largest share of positive cases in the state, prompting the Los Angeles county government to reinstate an indoor mask mandate last week.
Tags: Healthcare, News, Gavin Newsom, California, Coronavirus, Vaccination
Original Author: Cassidy Morrison
Original Location: California will require state and healthcare workers to show proof of vaccination or regular negative tests
Political leaders in California and New York City on Monday ordered government workers to get vaccinated against COVID-19 or face regular tests, ratcheting up the pressure on reluctant residents in a bid to stem a rise in infections blamed on the Delta variant. New York City will require its more than 300,000 employees to get vaccinated by Sept. 13 or get tested weekly, Mayor Bill de Blasio said. The crackdown came a week after the United States' most populous city passed a vaccine mandate for all healthcare workers at city-run hospitals and clinics.
Phillip Campas, 35, was a five-year veteran of the force and had served as a Marine in Afghanistan.
California state employees and all healthcare workers must soon get vaccinated against COVID-19 or get tested weekly, Gov. Gavin Newsom announced.
U.S. Rep. Marjorie Taylor Greene (R-Ga.) would deport every last Chinese whose loyalty lies with the Chinese Communist Party (CCP), if she had the power to do so. Her plans: Greene, who represents Georgia's 14th Congressional District, made her comments last Wednesday on Steve Bannon's show, "War Room: Pandemic." "The Chinese understand one thing and that is money," Greene told Bannon, who served as chief strategist for former President Donald Trump.
California will require millions of health care workers and state employees to show proof of a COVID-19 vaccination or get tested weekly, announcing a broad measure Monday to try to slow rising coronavirus infections in the nation's most populous state, mostly among the unvaccinated. The new rule, to take effect next month, is the latest example of California and politically progressive cities nationwide cracking down on a virus that has upended life since March 2020. New York Mayor Bill DeBlasio announced a similar plan Monday that requires 340,000 city employees, including teachers and police officers, to show proof of vaccination or undergo weekly testing.
Republicans blame liberals while finally urging vaccines
A woman facing multiple hate crime charges for a string of attacks against Asian Americans in New York City was held without bail over the weekend. What she did: Maricia Bell, 25, was arrested on Thursday for allegedly attacking four Asian Americans, beginning in May. All incidents took place in Queens, according to NBC New York. Bell allegedly punched a 24-year-old man in the face, took his glasses and ran off, as per CBS New York.
New research has found that some men who have had COVID-19 might experience unwanted sexual side effects. tuaindeed/iStock via Getty ImagesContrary to myths circulating on social media, COVID-19 vaccines do not cause erectile dysfunction and male infertility. What is true: SARS-CoV-2, the virus that causes COVID-19, poses a risk for both disorders. Until now, little research has been done on how the virus or the vaccines affect the male reproductive system. But recent investigations by physician
Vaccine hesitancy in the U.S. has proven to be a stubborn issue that is holding back America's ability to defend itself against the particularly infectious Delta variant in certain parts of the country.
Hundreds of current employees from across Activision Blizzard have signed an letter to the company's management calling its response to a recent lawsuit alleging widespread sexual harassment and disclination at some of its offices "abhorrent and insulting."
The following is a roundup of some of the latest scientific studies on the novel coronavirus and efforts to find treatments and vaccines for COVID-19. Most people with allergic reactions to the first dose of an mRNA COVID-19 vaccine from either Pfizer/BioNTech or Moderna can safely receive the second dose, a new study shows. The rates of allergic reactions to these vaccines have been reported to be as high as 2%, with anaphylaxis, the most serious kind, occurring in up to 2.5 of every 10,000 vaccine recipients, the researchers said.
ABC News panelist Margaret Hoover said on Sunday that patients receiving government healthcare should be required to get the coronavirus vaccine.
SEATTLE (Reuters) -Fresh off his trip to space, billionaire businessman Jeff Bezos on Monday offered to cover up to $2 billion in NASA costs if the U.S. space agency awards his company Blue Origin a contract to make a spacecraft designed to land astronauts back on the moon. NASA in April awarded rival billionaire entrepreneur Elon Musk's SpaceX https://www.reuters.com/technology/spacex-wins-us-contract-spacecraft-send-astronauts-moon-washington-post-2021-04-16 a $2.9 billion contract to build a spacecraft to bring astronauts to the lunar surface as early as 2024, rejecting bids from Blue Origin and defense contractor Dynetics.
The Pelicans free up $35 million off their books in 2022-23 with the move while Memphis upgrades draft picks.
The Chinese influencer died after a fall. She often shared clips of her job as a crane operator on TikTok and other sites, The Sun reported.
The actress says her 2-month-old daughter has COVID-19 antibodies because Rossum was vaccinated while pregnant.
State leaders in California have approved a $100-billion plan to further the economic recovery in California that includes new stimulus checks for residents, rent relief and grants to businesses. See:...
"Right now, we just have the closure in place for health and safety issues. ... I really can't say for certain where we're going after that."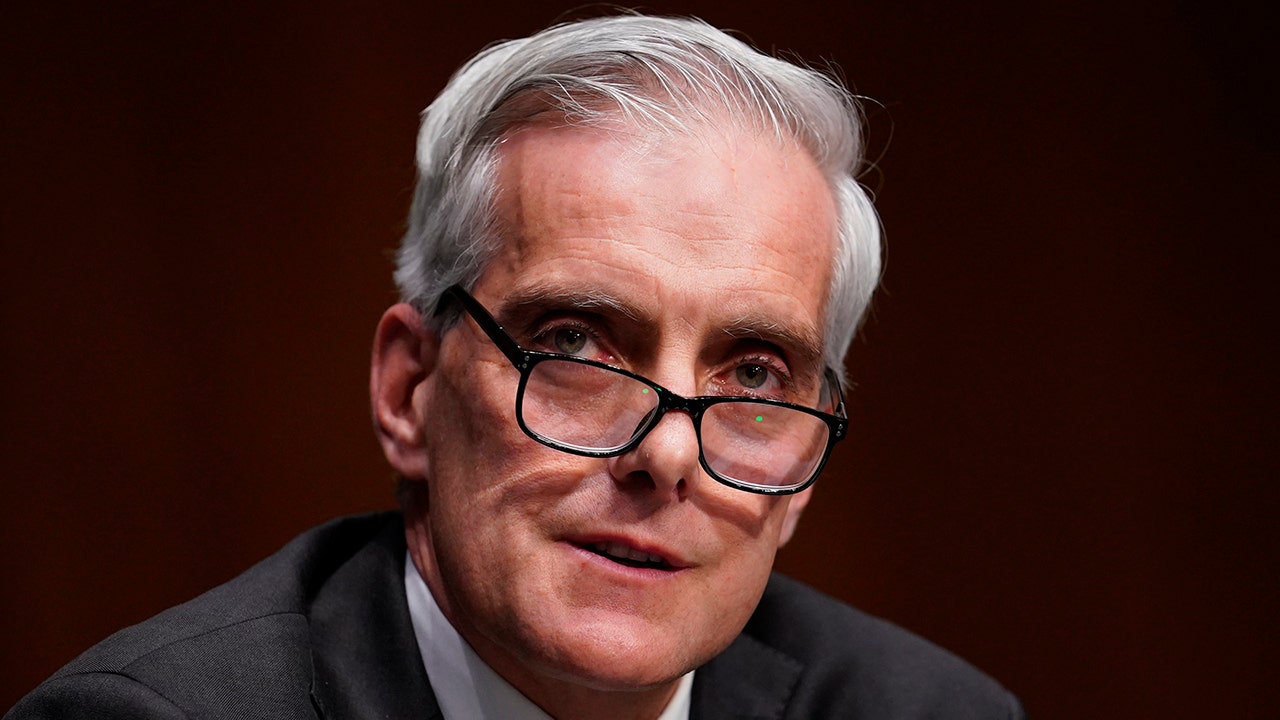 Fox News 26 July, 2021 - 01:15pm
This material may not be published, broadcast, rewritten, or redistributed. ©2021 FOX News Network, LLC. All rights reserved. Quotes displayed in real-time or delayed by at least 15 minutes. Market data provided by Factset. Powered and implemented by FactSet Digital Solutions. Legal Statement. Mutual Fund and ETF data provided by Refinitiv Lipper.
Fox News Flash top headlines are here. Check out what's clicking on Foxnews.com.
Veterans Affairs Secretary Denis McDonough on Monday made COVID-19 vaccinations mandatory for all VA health care personnel, the first such mandate by a federal agency.
The mandate includes physicians, dentists, nurses and others who work in patient-facing roles.
The VA said it was taking this "necessary step" to keep the veterans it serves "safe." The VA said each employee will have eight weeks to be fully vaccinated.
"We're mandating vaccines for Title 38 employees because it's the best way to keep veterans safe, especially as the delta variant spreads across the country," McDonough said Monday.
"Whenever a veteran or a VA employee sets foot in a VA facility, they deserve to know that we have done everything in our power to protect them from COVID-19," he continued. "With this mandate, we can once again make – and keep – that fundamental promise."
An administration official stressed the importance of the move, saying it was imperative for patients to feel safe and not risk getting COVID from their health care providers. At this point, the Department of Veterans Affairs is the only federal agency that will require some employees to be vaccinated.
The announcement comes after the VA lost four employees to COVID-19 in recent weeks. All four were unvaccinated. The agency said at least three of the employees died due to the delta variant of the novel coronavirus.
The announcement also comes amid an outbreak among unvaccinated employees and trainees at a VA Law Enforcement Training Center, which the VA says it the third such outbreak during the pandemic.
The agency stressed Monday that all VA employees are eligible to be vaccinated "at no personal expense at any of our facilities."
The department said employees would also receive four hours of paid administrative leave after demonstrating that they have been vaccinated.
"The safety and well-being of our veterans and personnel is paramount," the VA said in a statement Monday.
Get all the stories you need-to-know from the most powerful name in news delivered first thing every morning to your inbox
You've successfully subscribed to this newsletter!
This material may not be published, broadcast, rewritten, or redistributed. ©2021 FOX News Network, LLC. All rights reserved. Quotes displayed in real-time or delayed by at least 15 minutes. Market data provided by Factset. Powered and implemented by FactSet Digital Solutions. Legal Statement. Mutual Fund and ETF data provided by Refinitiv Lipper.
WTHR 26 July, 2021 - 03:54am